Saturday
Hot! High in the low 90°s.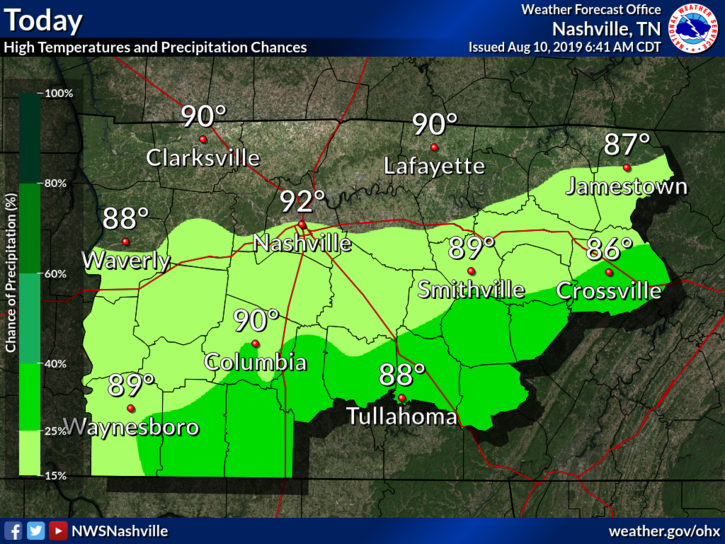 Now that doesn't sound too bad initially… but wait there is more.
Our dew points will be lingering in the low 70°s.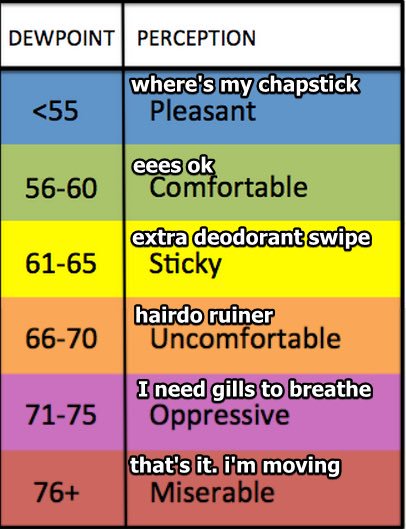 Here is what NWS-Nashville has to say:
Hot, REALLY Hot, and "Hey, that`s not so bad for mid August" will be the main weather story for this upcoming week. Until then, today will be what you would consider your typical August seasonal kind of a day once the patchy morning fog dissipates. Highs in the upper 80s across the Plateau to low 90s everywhere else look reasonable for today. Best chance for any kind of convection looks to remain south of I-40 today which is the case early this morning too. Any storms that develop should push south of the area by this evening leaving mostly clear skies and light northerly winds over the area.
It's going to get worse.
Rain chances are very low. Got to get pretty far south of I-40 for a better chance of rain.
Sunday
Almost the same as Saturday, with an ever so slight decrease in dew points.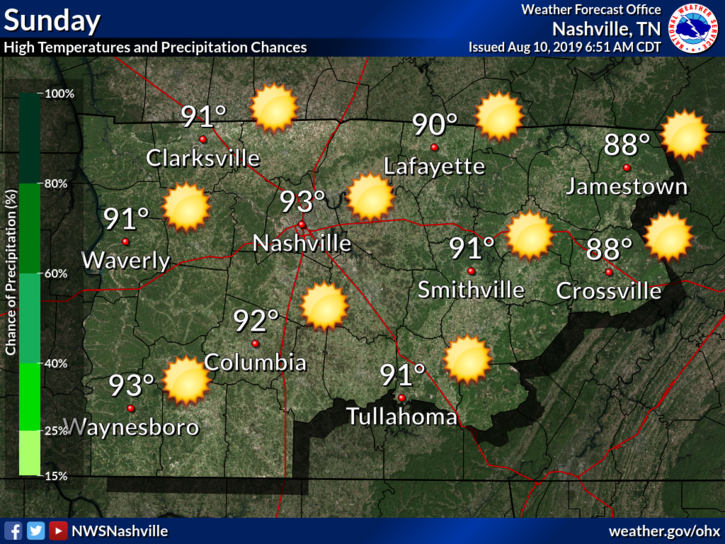 Rain is very unlikely.
Get out and enjoy Sunday, because it's about to be HOT.
Beginning of Next Week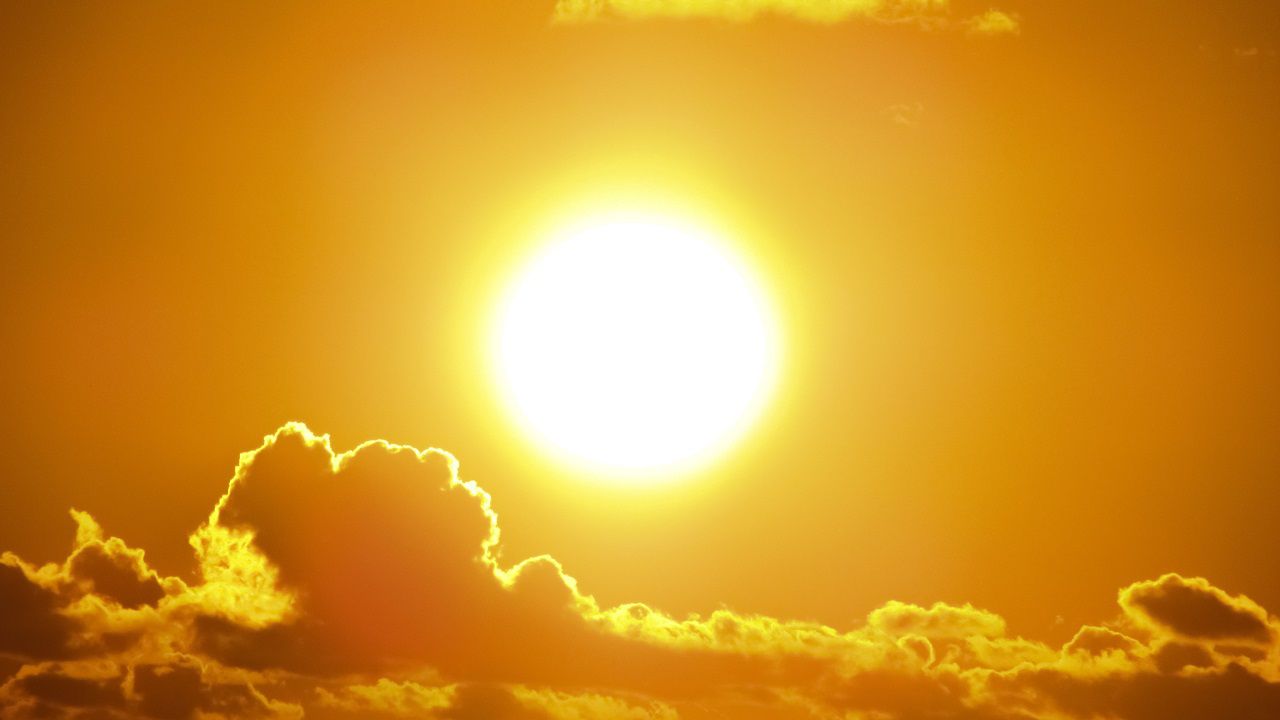 Highs potentially reaching into the mid 90°s with dew points in the low 70°s. That's normal for Baton Rouge or Mobile, but here that's about as humid as we get.
This means high heat index values.
NWS-Nashville has more:
Now for the REALLY HOT portion of the forecast…Monday and Tuesday look to be no joke as far as the heat as the highest heat index values of the summer can be expected. Moisture returns Monday and especially Tuesday allowing dewpoints to climb into the 70s during peak heating while Highs reach the mid to upper 90s. With that kind of combination, Heat Index values should have no problem reaching above 100F+ and some locations near the Tennessee River will be even higher. There`s a little uncertainty for Tuesday as the next system approaches the area bringing the next decent chance for storms.
Much of this heat will be around for both Monday and Tuesday before the next system moves through.
Editor's Note: From Canada? Lack common sense? Here are some heat tips!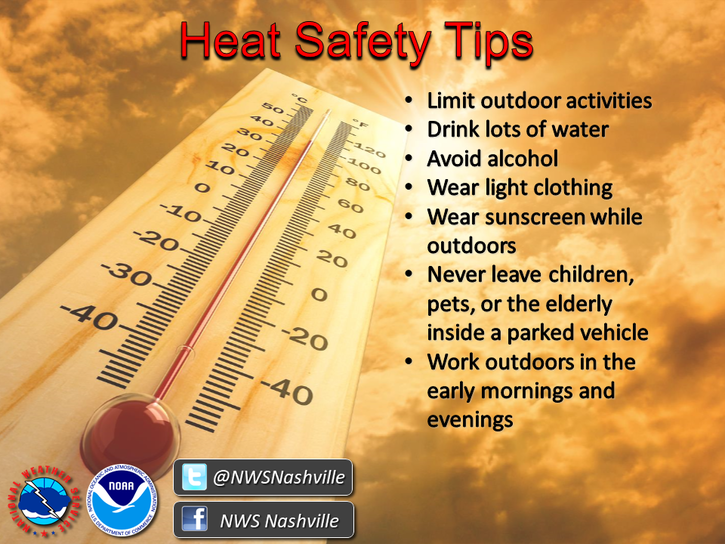 Rain is expected to extinguish the heat wave. When it'll arrive remains uncertain. The ETA range is Tuesday afternoon into Wednesday afternoon, the most likely time for rain in the wee hours of Wednesday morning.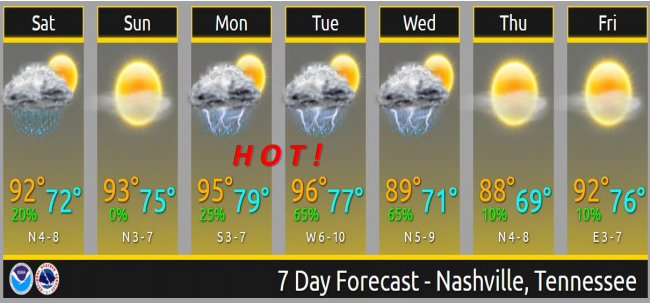 Check back for updates! Also, be sure to follow us on Twitter @NashSevereWx for the latest information!
---