Scattered light rain was in West Tennessee at 12:50 PM, moving this way.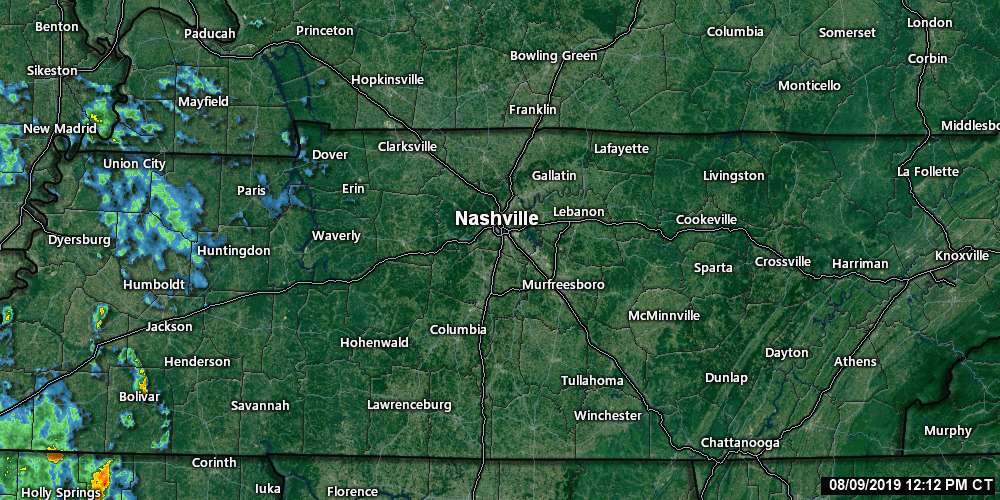 Not everyone will get a rain or storm today. Models have different ideas.
Honestly, it looks meh, but we may see afternoon action.
Rain accompanied maybe by a lightningstorm is most possible between 4 PM and 8 PM, but not affecting everyone, so predicts the HRRR model: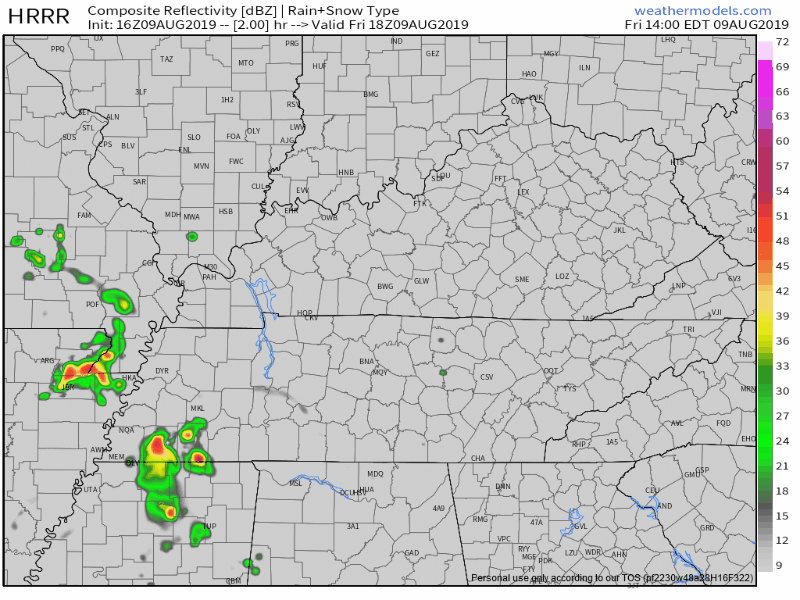 The NAM3 model's prediction machine thinks the rain and storms will nerf out, none of us getting much if anything: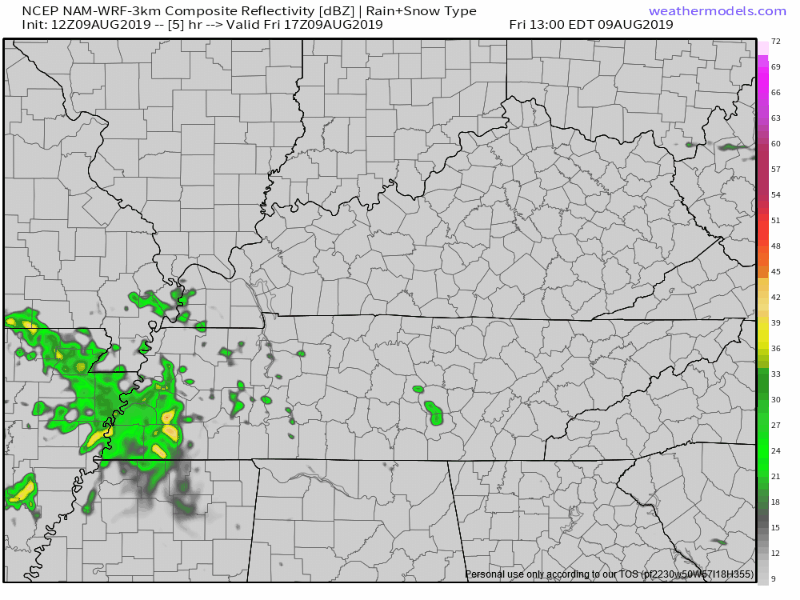 Which model is right? That's like asking whether Ned from accounting or Angela from HR knows how many TD passes Titans QB Marcus Mariota will throw this year. Ned and Angela are Titans season ticket holders. They are not dating, even though they take "separate" lunches AT THE SAME TIME and no one ever runs into them. Ned thinks Mariota will throw 22 TD passes and Angela, a fellow native Hawaiian, thinks Marcus tosses "at least 30." Ned's pessimism comes from the Lewan 4 game suspension. Angela's confidence in Brett Kern is so great that she's sure Mariota will have excellent field position "during his one punt per game."
Both have educated opinions, neither flawless.
Future prediction is hard, but it's not like we're all totally helpless to understand what may happen in the future.
Most outdoor plans will be fine, but be prepared for the potential for a passing shower or thunderstorm with heavy downpours, especially in and around Nashville Metro. (NWS-Nashville).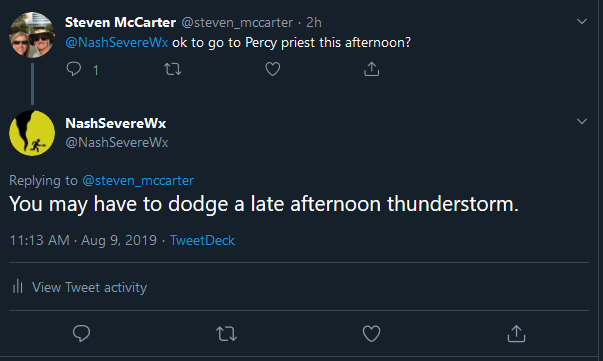 SOOO HOOOOTTT.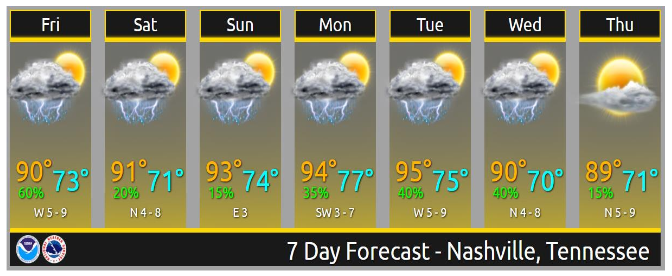 NWS-Nashville says the heat index will pass 100° Sunday through Tuesday.
WEEKEND RAIN? MEH.
Rain chances decrease this weekend but excessive humidity and pop-up storms may occur mid/late afternoon lasting into the early evening. Where? Place your bets.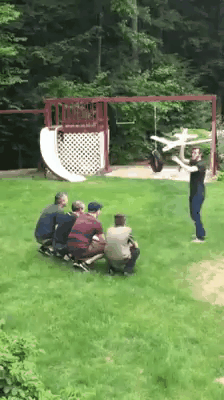 Weekend dewpoints will be borderline Oppressive, definitely not the day you want to dress up as Barney for an outdoor birthday party, which I once did in these temps.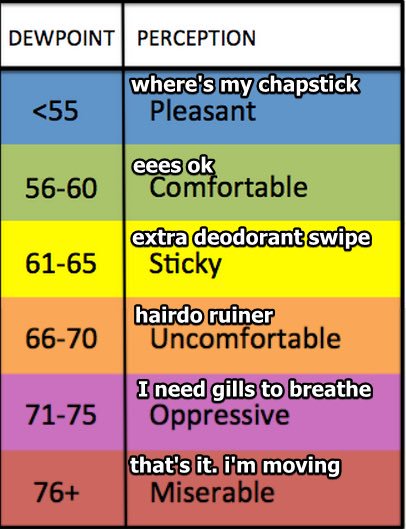 (It was a long time ago!).
(Pro-tip: Barney cannot safely operate a 1998 Mitsubishi Eclipse).
Speaking of OPP, shout out to the best traffic enforcement department in the USA.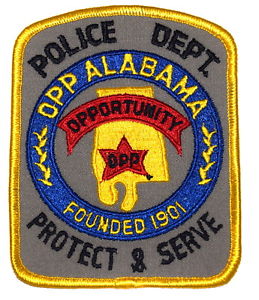 Do not leave kids, pets, in parked car.
Tuesday we may need a Heat Advisory for heat index approaching 105°.
NEXT BEST RAIN CHANCE
Tuesday & Wednesday.
Rain chances increase on Tuesday and Wednesday . . . with a frontal boundary approaching. GFS and Euro [models] are not in agreement on how fast the front drops south. Kept rain chances below 60%-70% for now until models are in better agreement with the frontal timing. (NWS-Nashville).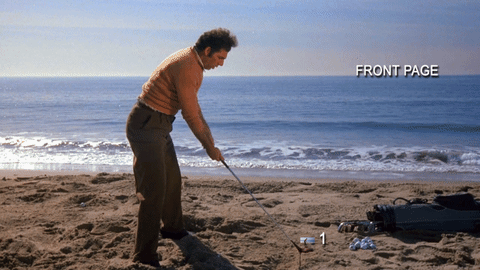 More on the Twitters, or if you hate the Twitters, you can still follow along here.
---