Thursday
We start off with a foggy morning. Much of this fog should have finished mixing out by now.
As the fog mixes out, our temperatures should start to rise. The high could reach into the low 90°s today.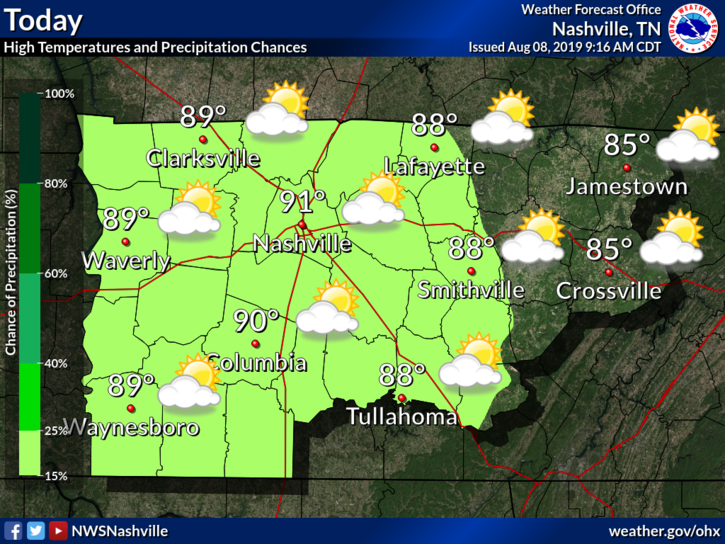 Some showers and storms are moving through West Tennessee. Much of this should stay to our west for today.
The HRRR keeps the showers to our west, good news there: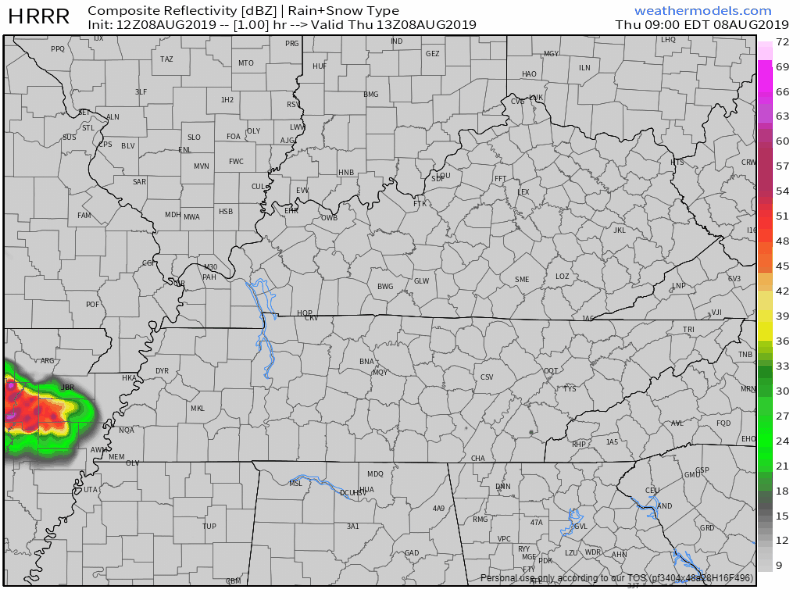 and the NAM3 is following suit, noticeably lighter on the storms: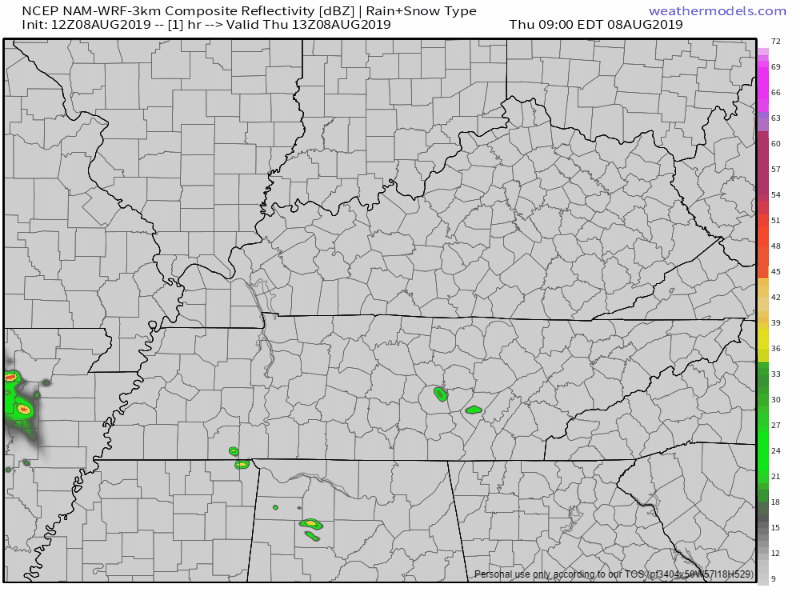 Friday
Rain chances will increase as the system moves toward our area. With these rain chances, more cloud cover and a high into the upper 80°s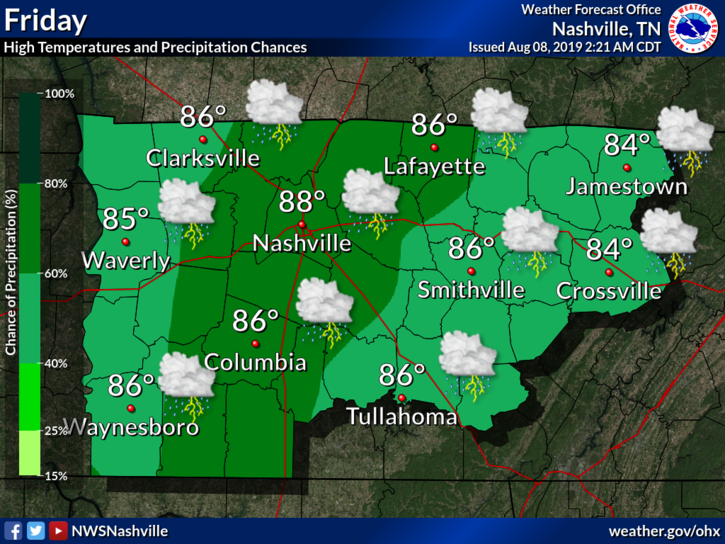 What NWS-Nashville has to say:
Models have been persistent showing increasing PWAT values with tomorrow`s shortwave with values increasing to area 2 inches or even above 2 inches. This could lead to intense rain rates and localized flooding. A couple strong storms will be possible with effective bulk shear increasing to 30 kts ahead of the shortwave. On the downside, CAPE profiles look a bit on the skinny side for this time of year.
This could very well lead to a wet Friday afternoon. The severe threat will be on the low side but flash flooding and lightning will be a concern.
Friday Night Lights Forecast
The greatest rain chance will be from 12 PM to 4 PM, with the potential for rain to be around into the night.
HRRR has the bulk of the storms moving through between 2 PM to 4 PM, with more scattered storms through 8 PM: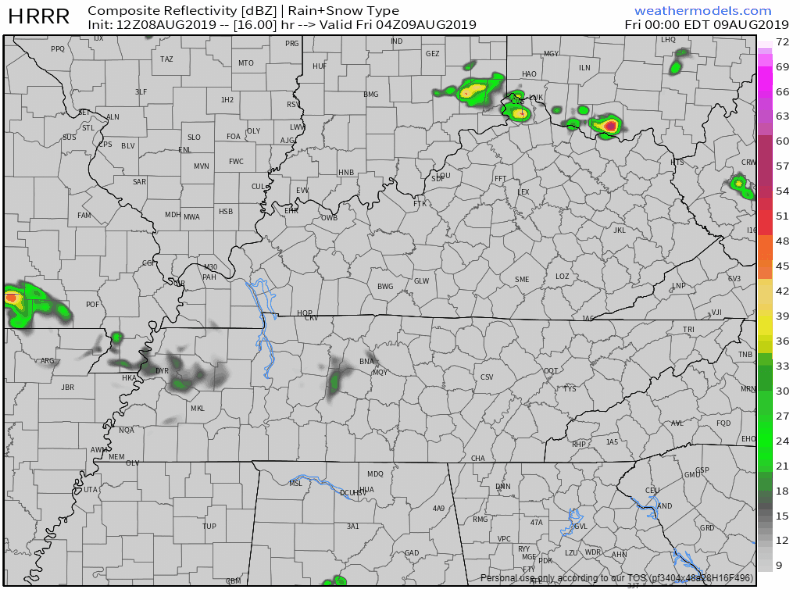 NAM3 is significantly lighter with both storm intensity and coverage, with some scattered storms moving through 6 PM to 8 PM: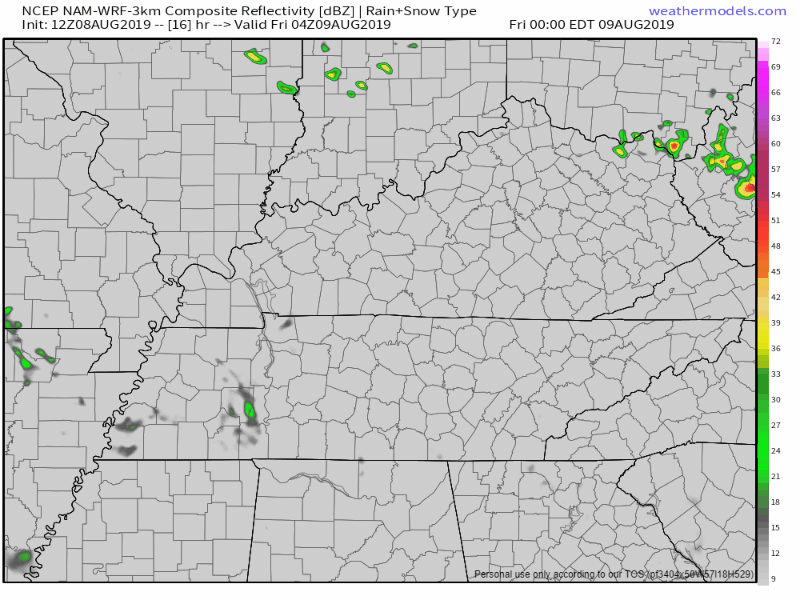 Both of these models are disagreeing a lot. Recently the HRRR hasn't been doing the best job.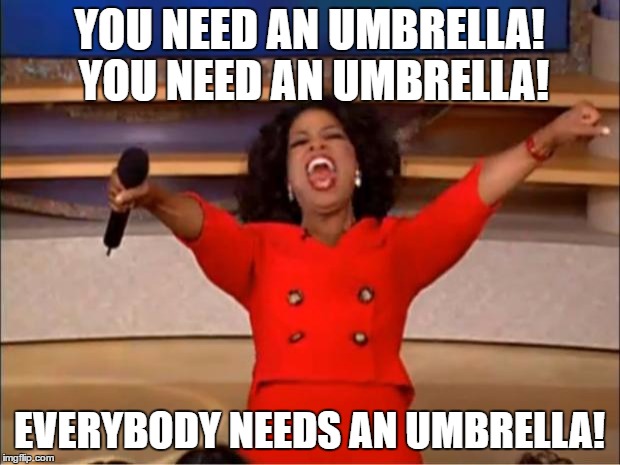 Definitely keep an umbrella on you, just in case. Perhaps even throw in a poncho too.
The Weekend
Rain chances should taper off into the start of the weekend.

NWS-Nashville with more:
A few scattered diurnal storms will be possible on Saturday especially south of I-40, but chances will be much lower than Friday. The upper high that has been camped out over the Southwest U.S. will slowly be shifting eastward over the weekend and the influences will be felt on Sunday with enough subsidence to suppress storm activity to just a couple of isolated storms.
Our weekend may be spared after a potentially wet Friday.
Check back for updates, especially for an updated Friday Night Lights forecast tomorrow!
Also, be sure to follow us on Twitter @NashSevereWx for the latest information!
---