ETAs
No specific reliable ETAs due to model uncertainty and storm setup. But we have an idea: around 1 PM to 5 PM.
Rain and storm activity should "increase substantially late this morning, peaking mid to late afternoon." (NWS-Nashville).
The HRRR model expects thunderstorms to develop to our NW just after lunch then swing through Nashville and Williamson County between 1 and 5 PM: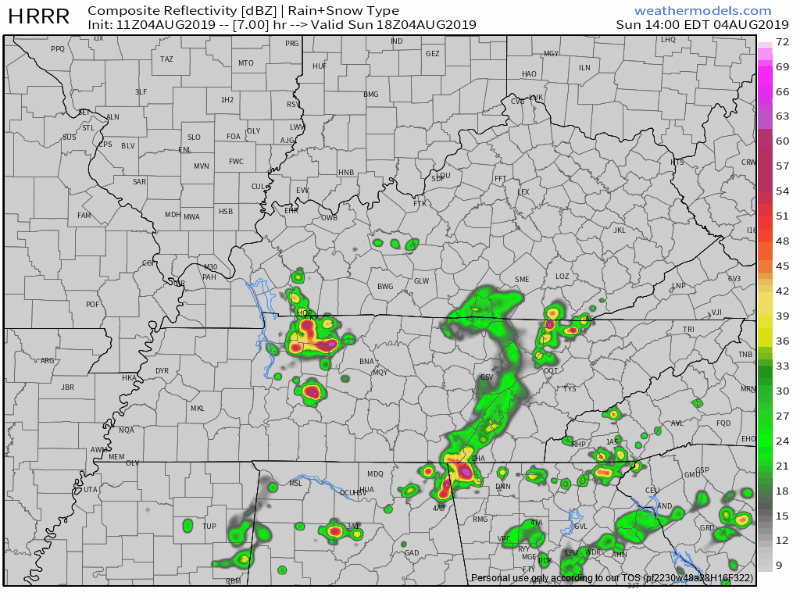 The NAM3 model predicts storms will develop later in the afternoon, creating a small amount of forecast uncertainty.
New weather balloon data is not yet in. That data provides a temperature at which storms should form. Yesterday that temperature was in the mid-80°s, which we reached mid-afternoon. I bet that happens again today. Today before 8 AM temps were low 70°s and rising. We should hit mid 80°s around lunchtime, so I am leaning toward the 1 PM to 5 PM ETA for all storm activity.
NWS-Nashville is confident we will see some rain and storms so factor that into your plans. They think rain is likely around 1 PM and very likely around 4 PM for Nashville and Williamson County.
Flexible plans recommended in case that changes. If you don't think it may change, welcome to Nashville! You must be new.
HOW BAD?
Neither tornadoes nor especially strong winds expected (winds 40-50 MPH max).
Slow movement of the storms is expected again, so localized flooding is possible. As usual with summer storms, a few strong wind gusts will develop – perhaps enough to blow down some limbs, but we do not expect widespread or organized severe weather. (NWS-Nashville).
Frequent cloud to ground lightning will likely be your most outdoor-interrupting hazard.
Hot and humid. With cloud cover the high should only reach 89°, heat index around 93° in the shade.
RADAR TIP
One reason we use RadarScope is tilts. When the radar is tilted close to the ground, you only see what's . . . close to the ground (obviously). When it's tilted up, you can see what's happening higher up the sky. Tilt 1 is close the ground, tilt 2 is higher, etc.
You might care because higher tilts are water balloon detectors.
Summer storms often form like giant water balloons. Water is held in a giant water balloon, then dropped.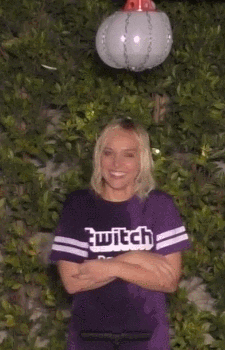 Let's use west Franklin as an example from yesterday. There Tilt 4 showed us what was going on 5,100 feet above ground. Tilt 1 showed the same spot, 1,800 feet above the ground.
Use Tilt 4 to see the location of the water balloon before it's dropped to get an idea where it may fall.
This was yesterday, just before 5 PM. Notice the circled area.
Tilt 4, at 5,100 feet, that's a lot of water in the balloon: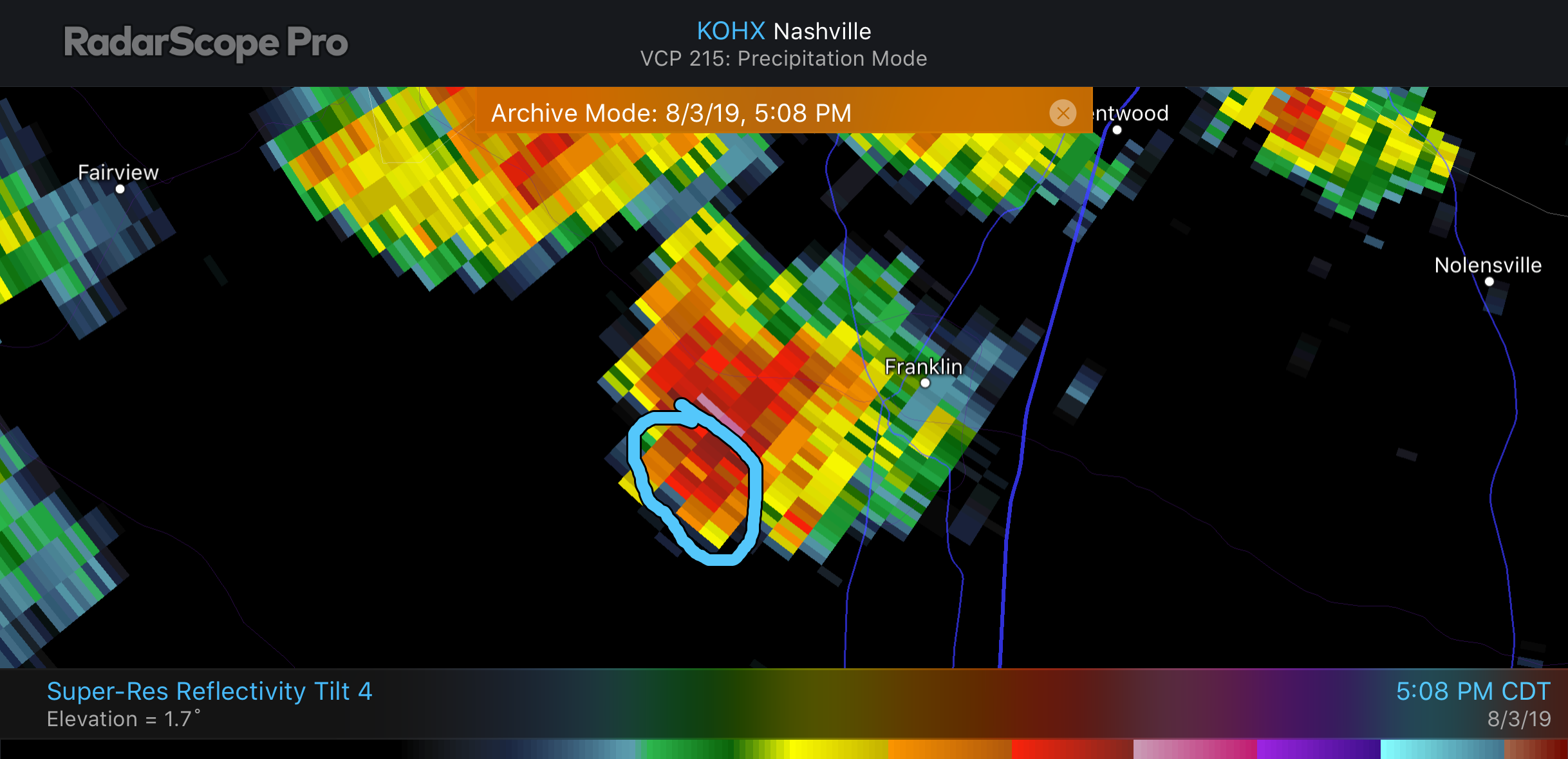 Tilt 1, 1,800 feet, most of that water had not yet dropped: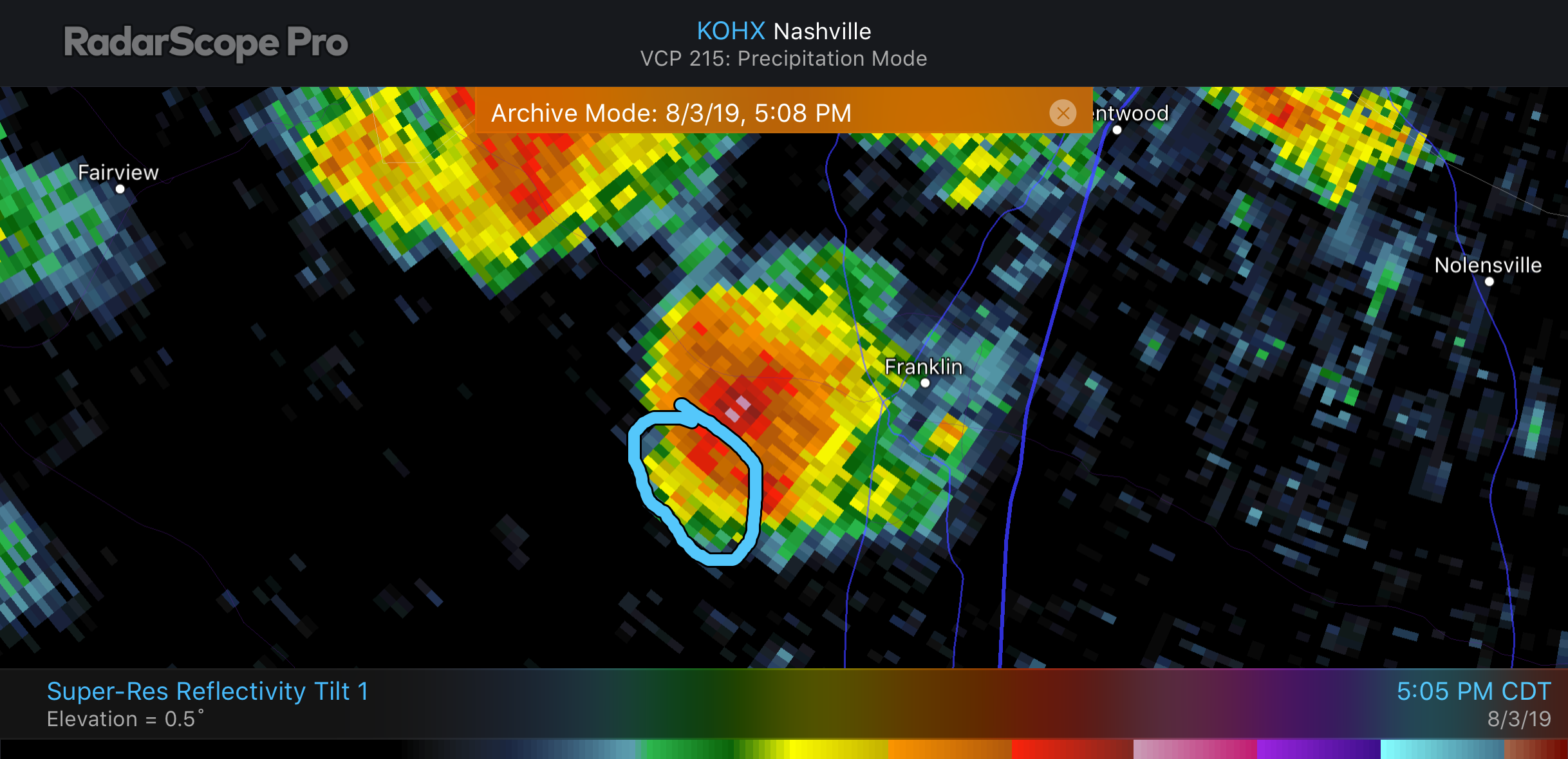 From these two images we could tell the storm was growing towards Leiper's Fork and the area circled was about to get a lot more rain.
Choose Tilt 3 or 4 on RadarScope to get a sense of where the next giant water balloon will be dropped. Stay on Tilt 1 and you only get what's already happening.
Once that balloon forms, it's gotta fall. Gravity, y'all.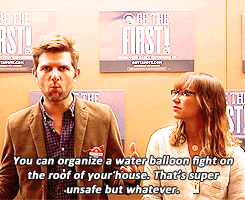 NEXT WEEK
Drier air will arrive tonight from the NW, decreasing rain chances late tonight into Monday. The air won't be cooler or less humid.
NW winds will blow a few waves of showers and thunderstorms into Middle Tennessee, most likely sometime Tuesday night into Wednesday. Then again Friday. As usual, timing is as reliable as Cousin Eddie.

We will be covering this afternoon storms on Twitter @NashSevereWx. Not on Twitter? You can follow our tweets here.
---