Saturday
We've got another sunny afternoon ahead of us today! As this high pressure continues to move off to the Southwest, we'll be in great shape to reach the low 90s this afternoon. A bit warmer than earlier this week, but near normal for this time of year. Humidity increases a bit as well along with the temperatures, into the mid 60s, or at the top of the "sticky" section of our dewpoint perception chart: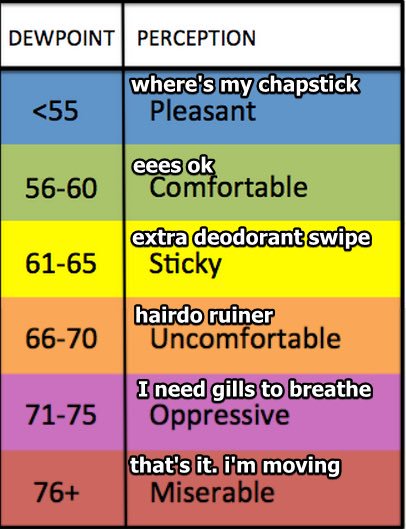 No chance of rain, however, a few clouds building into the afternoon. Any afternoon plans should be in great shape today!
Sunday
The end of our weekend is shaping out to be another sunny and warm one. Temperatures continue to rise a bit, along with the humidity, up to 91° for the high. Still, we remain mostly dry throughout the day, with a slight chance of a pop-up shower in the afternoon.  The NAM3 model shows a few pop up showers developing in the afternoon, but definitely not a washout by any means: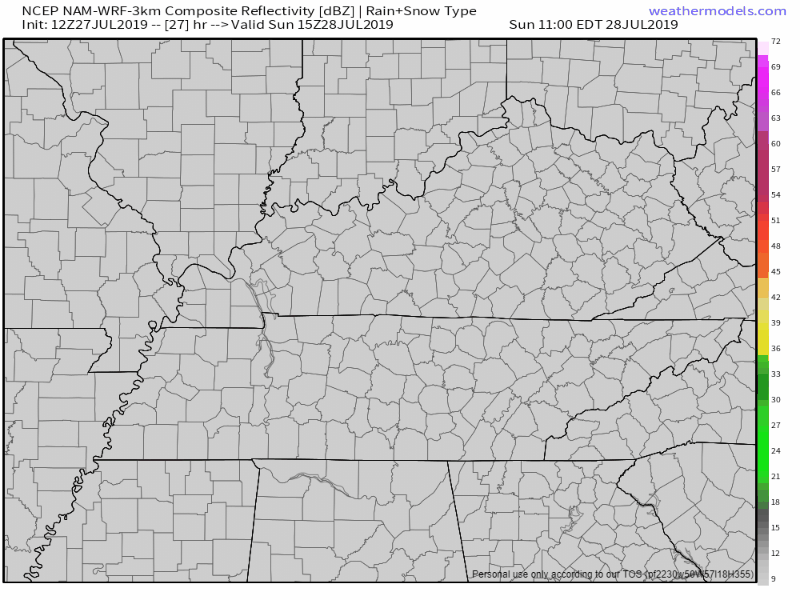 Start Of The Work Week
The beginning of our next work week will end our dry streak and break back a decent chance for some rain.
Monday will start off mostly cloudy, rain chance increasing during the afternoon, but not very widespread. We'll reach a near-normal 91° for the high,  higher humidity sneaks back into the forecast as well.
Tuesday will be the best chance for some more widespread showers and storms. No severe weather is expected as of now. Still lots of uncertainty for ETA's as it is a few days away, but Tuesday will definitely be our best chance for some decent rain. We'll be a few degrees cooler for the high at 89°, dewpoint values climbing to 70°.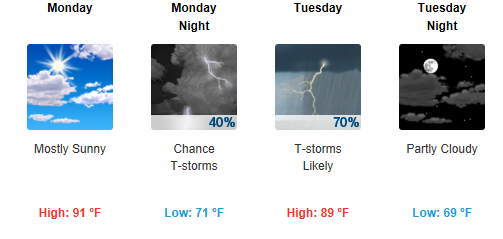 Check back for more updates as we approach the beginning of next week!