Monday
Our high today will reach into the mid 80°s. This is due to all of the cloud cover Tropical Depression (TD) Barry is bringing our area.
Rain will be the main story as the remnants of Barry moves further north.
Currently, the center of the weakening tropical system is in southwestern Arkansas.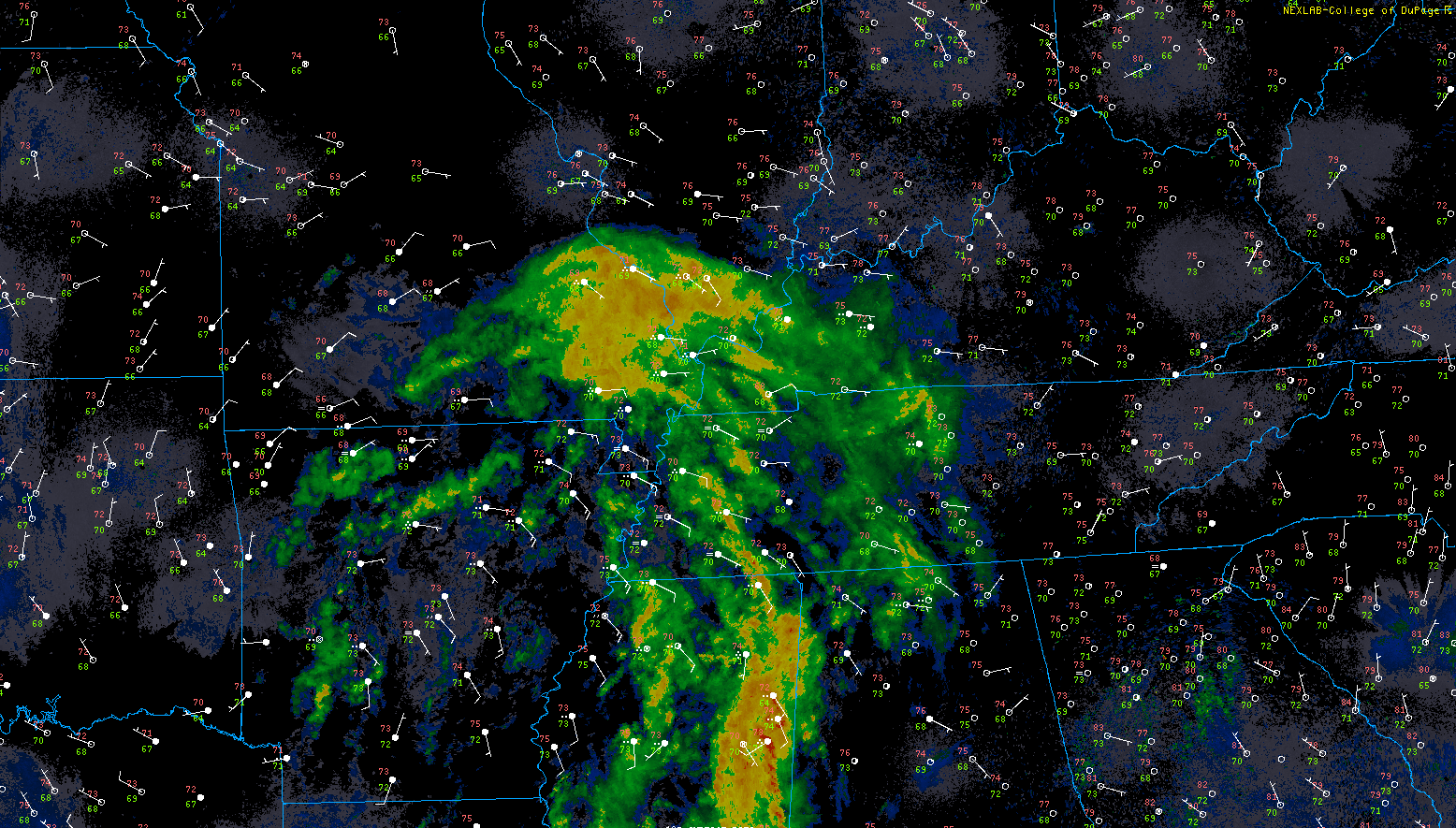 Heavier rain bands are moving through eastern MS at the moment and will be heading north.
NWS-Nashville has more:
This will keep our weather unsettled into at least late week. As for today…areas west of I-65 are likely to see most widespread [rain] as remnants push up through AR. Parameters are marginal most of the area but are elevated enough for a few strong storms across the west today. Similar parameters exist of Tue as well, although instability is a bit higher than today, meaning scattered showers/storms roll on and are expected to be a bit more numerous.
That means most of the rain/storms will be west of us.
Localized flooding will be possible if these heavier bands move over us. Again, the highest chance of rainfall exists to our west.
Tuesday
Rain chances increase slightly, along with a small rebound in our highs.
TD Barry will continue to weaken, but will not give up on bringing us some rain.
The Storm Prediction Center placed us in a MARGINAL risk (1/5) of severe weather Tuesday, main concerns being associated with wind and a brief, weak, and isolated tornado: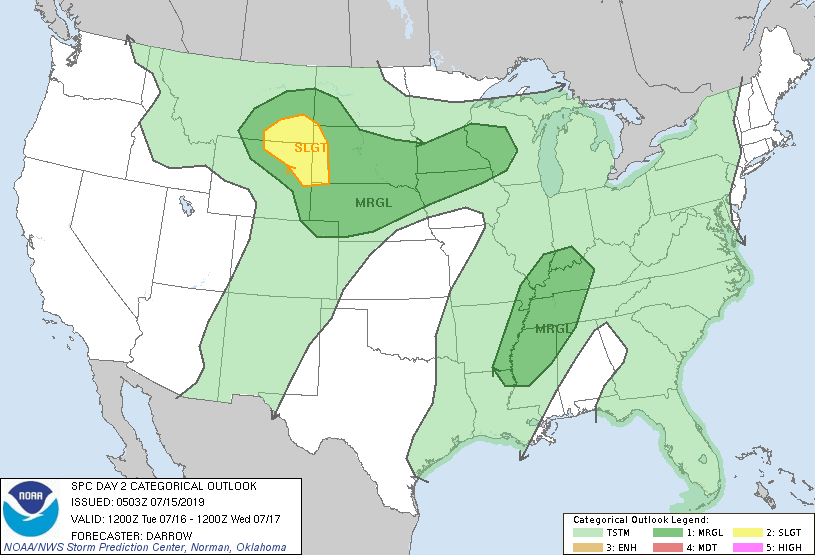 To break this down, the wind threat isn't as high. That being said, wind gusts up to 45 mph cannot be ruled out.
And for the small tornado threat…tropical systems tend to have a favorable environment for quick tornado spin-ups.
Neither one of these are very likely to happen as the system continues to disorganize and weaken, but it's worth mentioning. Probability-wise, 5% of a wind event or weak tornado within 25 miles of you.
That's pretty low end and of no real concern. But be aware, and have a way to receive warnings in the unlikely event one is issued on Tuesday into Wednesday.
Wednesday
The remnants of Barry will not give up. It chugs on to the north and continues to give us rain…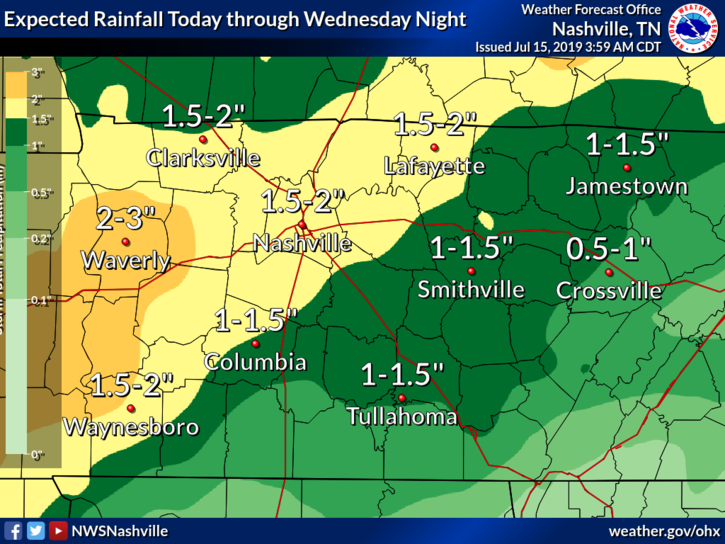 NWS-Nashville talks about this and more:
Parameters are more enhanced on Wed as well, which is when the bulk of what remains of Barry is expected to affect the mid-state. Early in the day, with ML/UL trough approaching, both shear and instability ramp up a good bit, and moisture remains very deep. While the threat of severe storms seems low end, precipitable water values go above 2, giving us potential for some very heavy rain.
By the end of it all, around 1.5 to 2 inches of additional rain is expected to fall from Monday through Wednesday.
If that's all we get, we should be able to handle it.
Super Hot & Humid Thursday and Friday
As we move into the end of the week, Barry bids us a farewell.
Rain chances will drop, and the sun will come out again. With this, our temperatures will bounce back up.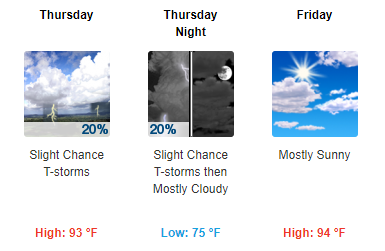 Of particular concern is the dewpoint, which should increase late week, sending heat index values well over 100°.
Keep us in your stream of weather information as Barry continues on, and as always, check back for updates!
---