EDITOR'S NOTE:
Ladies and Gentlemen, I present Tropical Storm Barry.
  
BTW: Only the WMO names storms, and only tropical cyclones. When the weather channel does it in the winter they're trying to scare old people. 
Sunday
As Barry moves further north, we could see some scattered showers today, though not everybody will get caught underneath one.
Here's the HRRR model: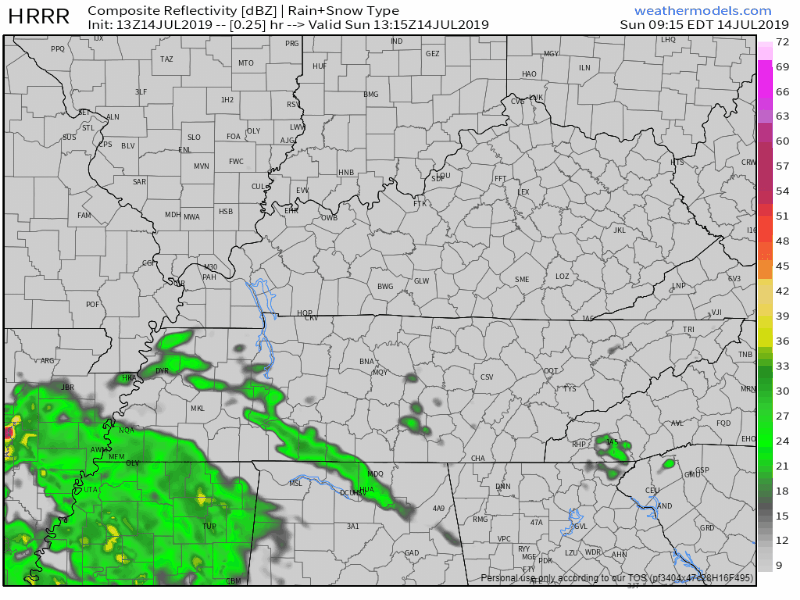 Those showers are expected to stay widespread overnight, though the heaviest should continue to stay west of us.
Here's a look at satellite.
All that cloud cover will help keep our high temperature down to 88° today. Dewpoint temperatures will reside in the upper-60s.
Monday-Wednesday
Barry is still expected to stay well to our west, but we will still see some rain. Here's the current predicted path: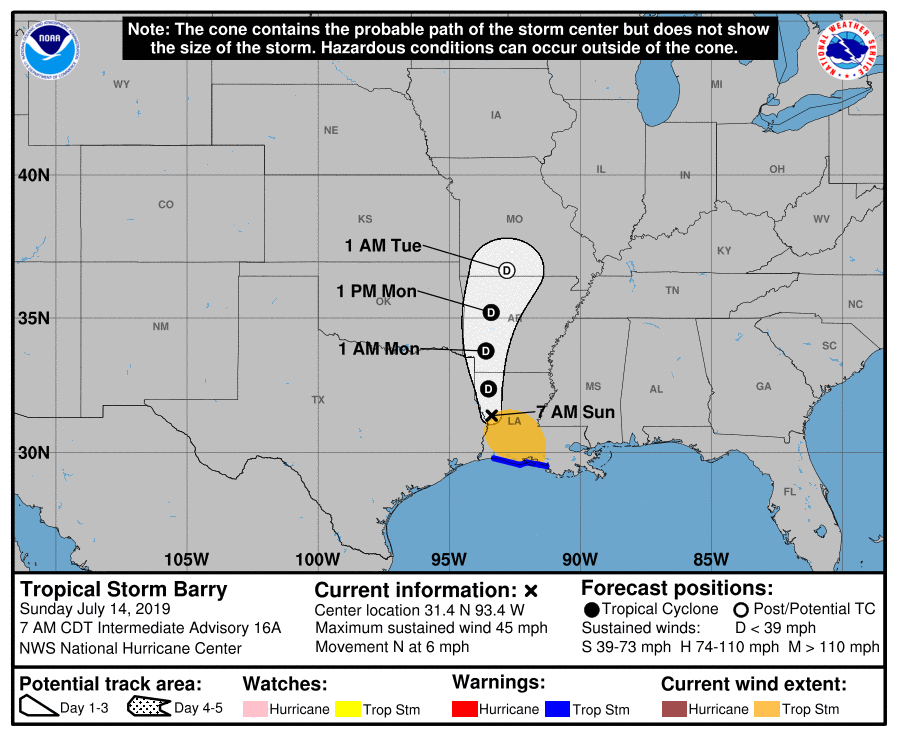 NWS-Nashville says:
"This all translates to our current trend of scattered/numerous showers/storms continuing really into the middle of [this] week. Precipitable water values likely to stay 1.75-2+ which will continue threat of localized flooding with slow movement of storms at times. While local amounts may be higher, overall widespread rainfall amounts of around 3 inches west to 0.5 to 1 east now most likely with track and weakening of tropical system."
Here's the expected rainfall totals from the National Hurricane Center: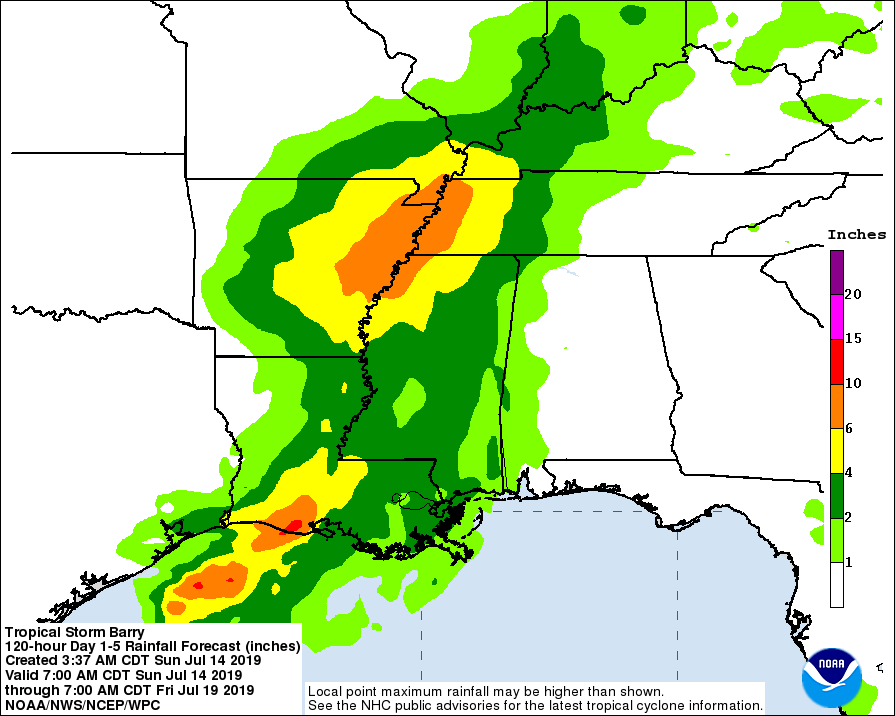 So, what could we expect as of right now?
We will see some scattered showers and potential storms from Barry, but the heaviest rain should stay to our west if Barry keeps to its current track. If it moves further east, we could see more rain. Localized flooding is possible if caught under a slow and heavy shower.
Currently, the highest chance of seeing rain from Barry is Wednesday.
Winds will also ramp up some at 10-15 MPH, but we could see gusts as high as 20 MPH.
Humidity? Gross. Dewpoint temperatures will be in the lower to mid-70s.
On a better note, temperatures will continue to stay in the mid to upper-80s thanks to cloud cover.
End of the Week Clearing
Once Barry finally moves out of the region Thursday, we will see a turnaround in the weather.
Of course scattered showers will not be ruled out because it's summer and it's hot and humid, but we should generally see drier weather and clear skies.
Unfortunately, temperatures will rise into the 90s again.
As for Friday and Saturday, there is some uncertainty due to model differences.
"EURO favors ridging across much of the east, centered up in the OH valley. GFS keep ridging further west, with almost a summer clipper type trough over the east, which brings a front/pcpn though the area Sat. Have to wait and see on that one." @ NWS-Nashville
We may see rain or we may not. Current precipitation chances are low, but this could change if the GFS's vision comes true.
For now, all we can do is wait until we get a little better guidance as we get closer to next weekend.
Don't put up the rain gear, and keep checking back for updates!
---