Friday
Happy Friday everyone! Classic July afternoon today.
A hot and humid afternoon, high of 91° with sweltering dewpoints in the low 70s.
Heat index will be in the upper 90s again so hydrate.
There's a small chance of a couple pop-up showers, especially south of I-40. HRRR model predicts most showers south of the city: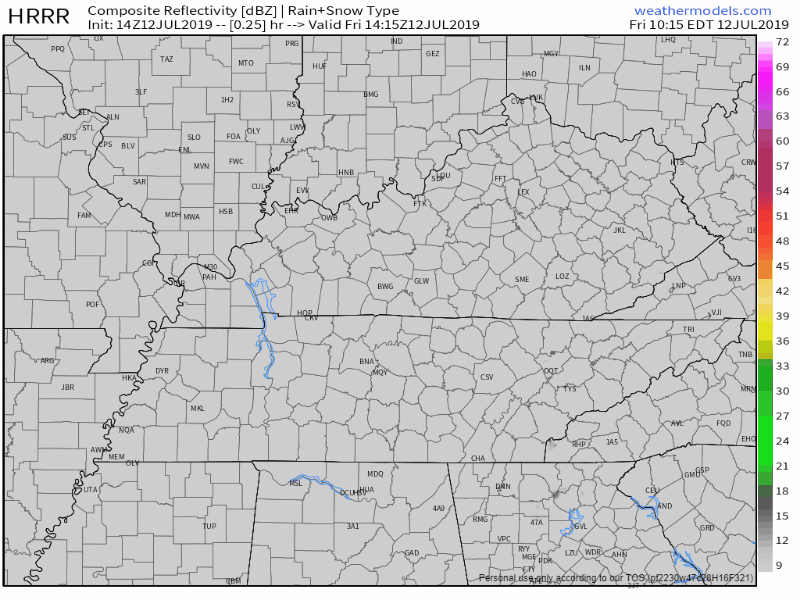 Storms could be on the stronger side.
While severe storms are unlikely, a few gusts up to 50 mph will be possible. The other caveat is a lack of storm motion. With only 5-10 kts of storm motion from this morning`s [weather balloon], storms won`t be moving much. This could spell localized flooding issues if storms hang out in any one area for an extended time. These will both be things that will have to be watched once storms begin to increase in coverage today. (NWS-Nashville)
That rain risk increases the further south you go.
The Weekend
Saturday morning and early afternoon look probably dry.
Another hot one, high of 91°, heat index values into the upper 90s again.
By late afternoon/early evening, Barry-inspired tropical moisture + daytime heating could spark showers and storms.
The latest NAM3 model runs have a line of showers and storms moving in from our southwest after 6 PM and probably lasting through the Saturday night hours, maybe even into Sunday morning: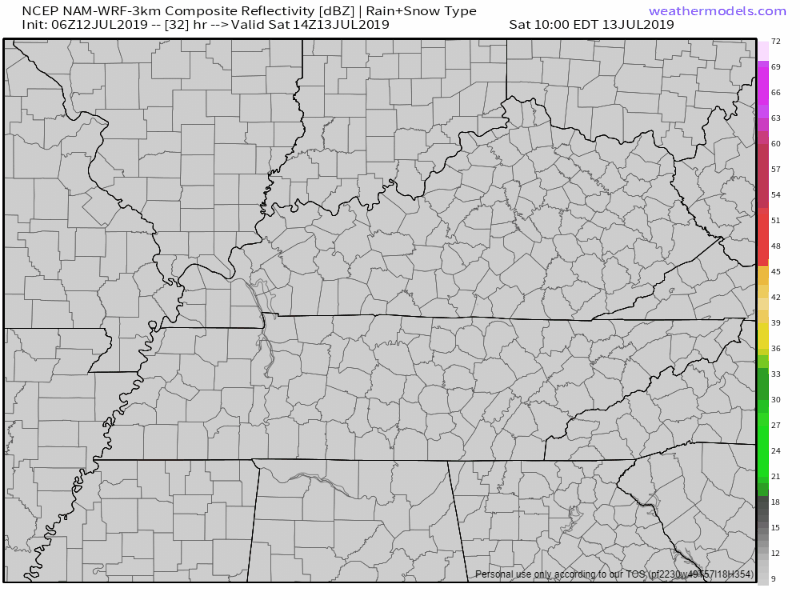 Yes, that's a rainband from Barry.
Sunday afternoon and evening will probably be a wet.
With cloud cover/showers, it'll be a little cooler, high near 87°. 
Remnants of Tropical Storm Barry currently forming in the Gulf of Mexico will make its way into our area late Sunday afternoon and into the evening.
The latest path from the National Hurricane Center has Barry weakening to a depression as it approaches our area, bringing lots of rain for our region, especially west of I-65.
Tropical storm force winds are not expected. This should be mainly a rain event.
Into Next Workweek
Tropical Storm Barry should set off waves of showers and thunderstorms Monday and Tuesday.
Rainfall Saturday through Thursday, below: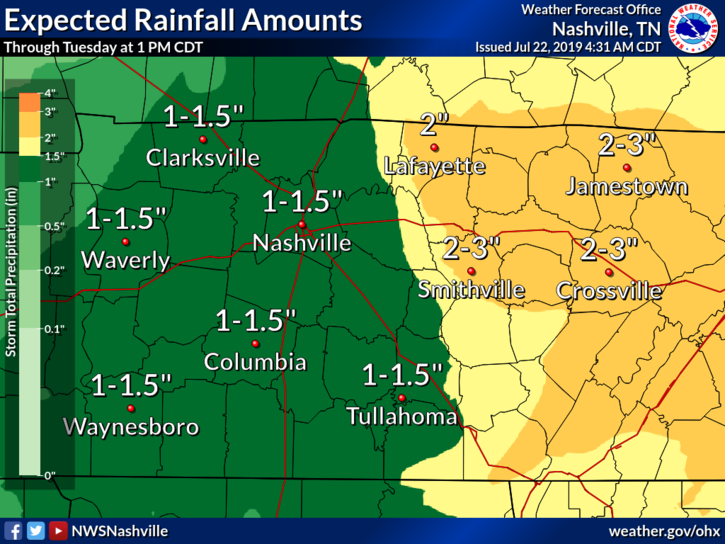 Localized flooding is going to be possible this week, mostly west of I-65.
If Barry tracks further east, we should see more rain. David thinks his softball game Tuesday night will rain out.
Be sure to check back for more updates and changes as Barry approaches our area.