Saturday
If you've been around Middle Tennessee the past few days, you probably have a good idea of what today is going to look like. We'll start off partly sunny through early afternoon, temperatures quickly rising to a high of 89°. Grab the hairspray for your plans as well, dewpoint values will be in the mid 70s so it's sure to be a very sticky one outside.
Showers and storms will start to pop-up and develop this afternoon, the HRRR model believes they start sometime after 1pm-2pm: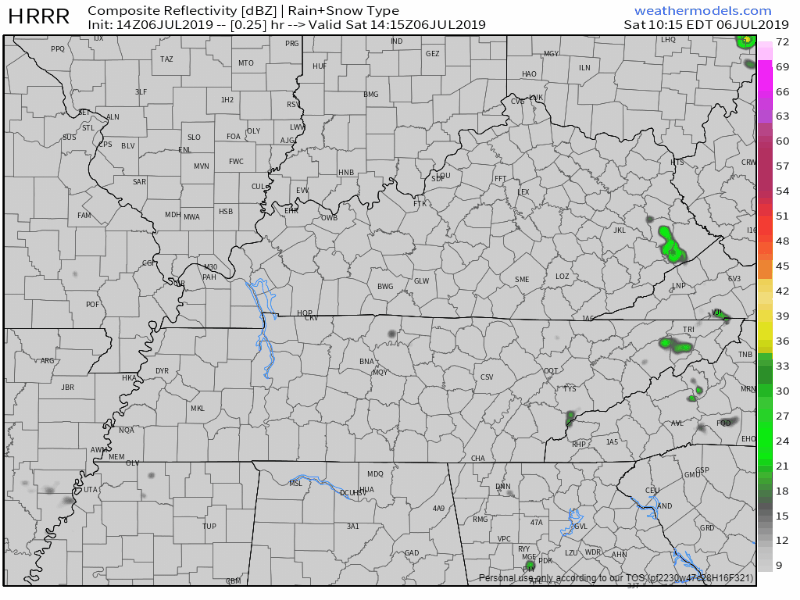 We're not looking at a complete washout this afternoon, but if you have outdoor plans, have a plan in case a storm pops-up near you.
Sunday
For Sunday, it's going to look a lot like our Saturday. Mostly cloudy during the morning hours, pop-up storms and showers developing during the afternoon, mainly after 2pm. Another hot and humid one, high of 89°, and the heat index of a steamy 98°. Dewpoint values once again will be in the mid 70s.
The NAM3k over the past few days has been underestimating storm coverage for our area, and I think it is still doing that today: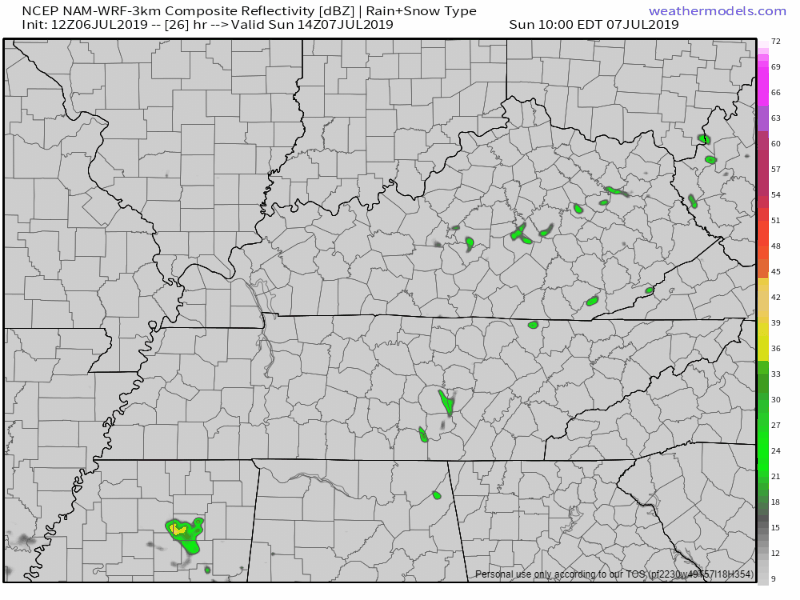 Showers are going to be a little heavier with more widespread pop-ups than the NAM is showing. Widespread rainfall amounts won't be much, but some areas could see heavy downpours at times with these showers.
Beginning Of The Work Week
Next work week brings smaller rain chances along with it. Monday will remain mostly dry and partly cloudy with a small chance for a couple of pop-up showers in the afternoon. It'll be a hot and humid, go figure, the high reaching 90°. Dewpoint in the low 70s.
Tuesday will be a lot like Monday, but a little warmer. The sun will be out and warming us up to 93° for the high. Another small chance of showers and storms in the afternoon.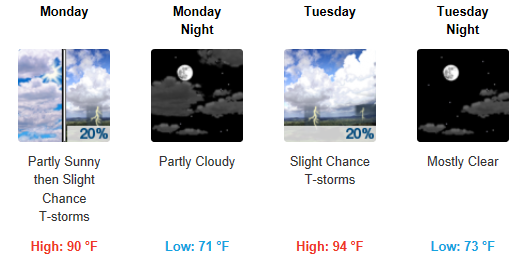 The rest of the week looks pretty good. Rain chances increase just a bit for Wednesday and Thursday, especially during the afternoon. Highs will remain in the low to mid 90s all week, with heat index values approaching 100°. Have a great weekend!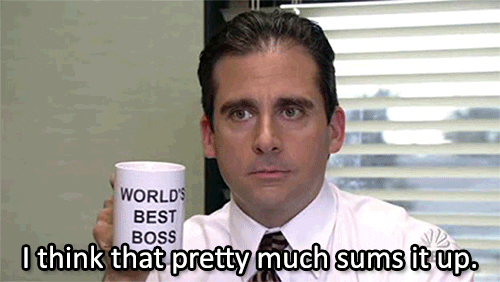 Check back for more updates!