It looks like summer continues this week. The main story is going to be this heat and humidity.
Monday
As of 8:14 AM, it is 73°F with a dew point of 68°F. Ugh.
It isn't getting much better than this.
The high today is going to reach 94°F. Dew points hanging out in the low 70°s. Heat index values could approach the low 100°s today. Take extra precautions if you are going to be out for an extended period of time today. Keep water close, and shade even closer – if possible.
The HRRR feels like the pop-up storms will be further west.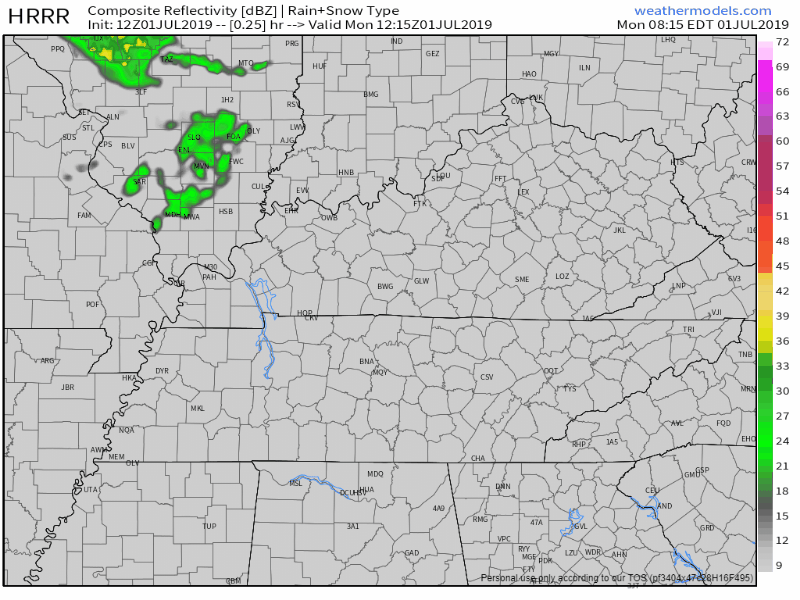 The NAM3 feels similar, with more coverage to our southeast as well.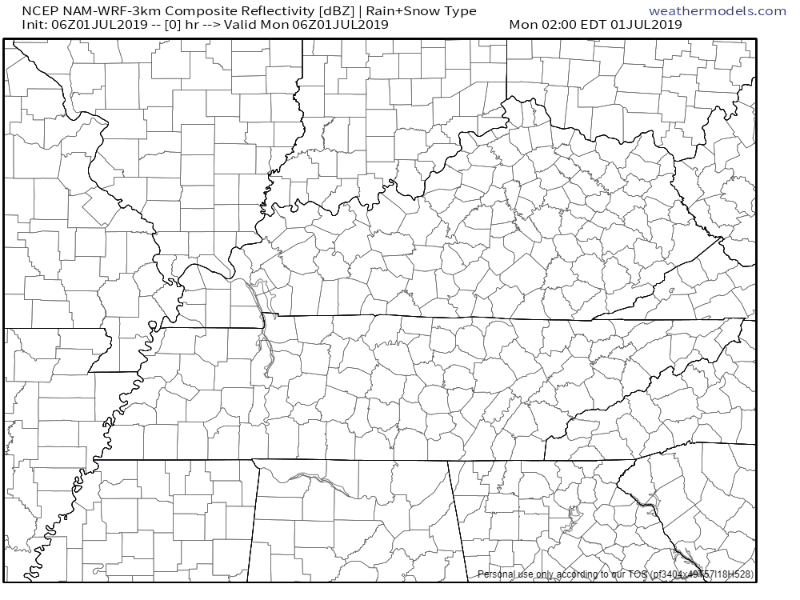 Models don't handle this surface-based heating with pop-up storms very well. The models are at least putting them there, but they can pop-up anywhere.
The current state of the atmosphere is expected for this time of the year. Almost completely dead. The main jet is well to the north. This is the magic bullet train that sends weather systems into our country. Since it is well far north, storm systems are staying north as well.
The action that takes place on the day to day, the pop-up storms, is a result of surface heating from the sun and outflow boundaries from collapsing storms. Outflow boundaries are kind of like miniature cold fronts. The rain cooled air from a storm moves outward and can push air up, much like a cold front. This can develop more pop-up storms.
Tuesday
It's definitely July, no doubt about that. The weather reminds you as soon as you step outside.
Tomorrow looks to be more of the same, but slightly worse. Heat indices might reach to near 104°F.
This is a handy chart used to determine the heat index and the risk of heat exhaustion and heat stroke, based on the relative humidity and temperature.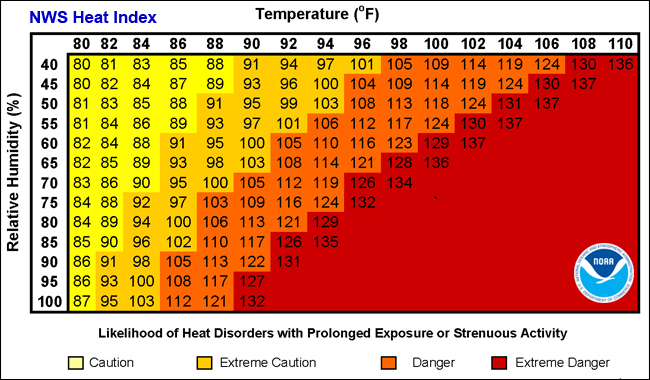 Heat-related illness is serious. Take it easy out there, and take frequent breaks if you are working outside.
Wednesday
Rain chances could slightly increase.
Most likely higher coverage of pop-up storms. This will also start a slow fall in the daily high to back into the low 90°s.
Independence Day
The daytime pop-up storms are possible on the 4th as well. NWS-Nashville has mentioned the possibility for a weak boundary to move through, which could further increase storm coverage.
Not sure how well the models are handling this. It is a subtle feature, and can easily be filtered out as we move into the week.
Be sure to have a plan if rain moves into your area.
Remember to check back for updates, and follow us on twitter @NashSevereWx!
---