Clearing Saturday through Monday
We should have some clearing for the next few days.

We can't completely rule out any pop-up showers. Some of you may get wet. But we aren't concerned with any rain-outs or outdoor plan ruiners.
The HRRR model shows some scattered showers around us Saturday, but they don't quite reach us.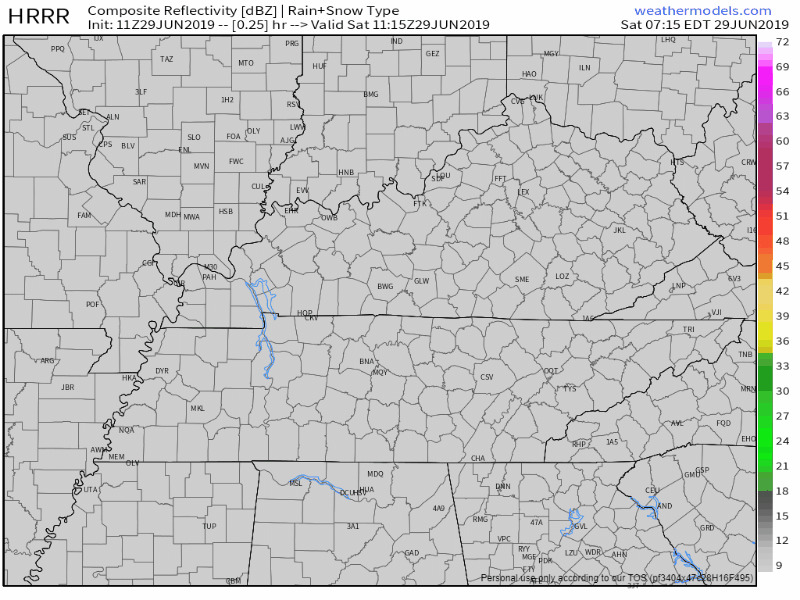 You may see a shower, or you may not. But probably not.
We could see the same thing Sunday – mostly sunny, but a pop-up shower could catch one by surprise.
And Monday has the highest chance of being dry.
Rain Chances Mid-Week
Rain chances return Tuesday, though they're on the lower end.
The greatest chance of rain is Wednesday and after.
NWS-Nashville says:
"By then, both a surface and an upper ridge will be situated to our east, and we`ll start to see some additional Gulf moisture rotate around the high and into Middle Tennessee. Look for even better rain chances from Wednesday onward as a succession of ripples starts developing in the upper flow."
Here's a look at the GFS, which takes us from Tuesday all the way through Friday.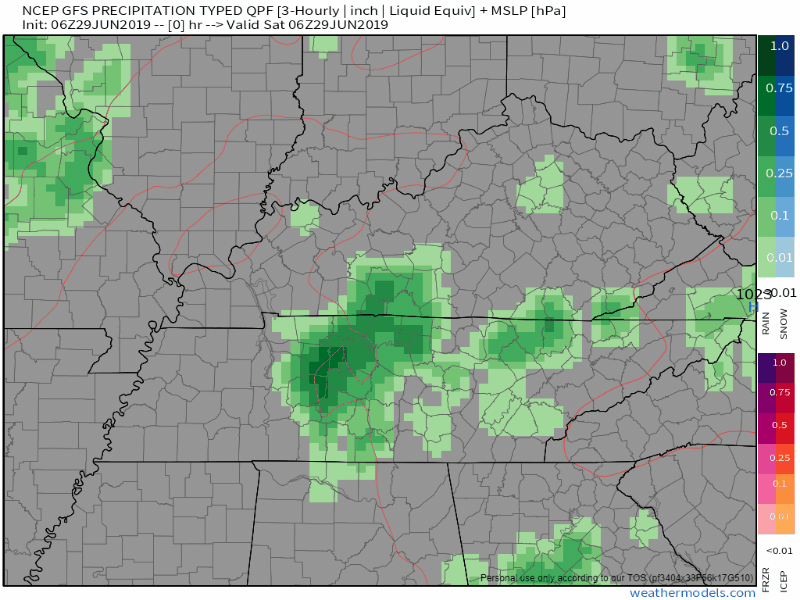 Disclaimer: this is far out and not high-resolution. Don't completely bank on this, especially towards the end of next week. (Editor's Note: the GFS has been hot garbage lately. Not enough to totally discount it though. But the latest run of the better Euro model has us kinda dry Wednesday and wet on the Fourt. The models really don't have a great handle on it, but there is reason to be concerned about rain on the Fourth.)
So far, no severe storm concerns, but we will keep watch over the next few days.
High temperatures will remain in the low to mid-90s.
Summer Heat
"… look for temperatures to slowly creep upward, with readings in the low to mid 90`s common next week and heat indices reaching the upper 90`s to low 100`s across most of Middle Tennessee west of the Cumberland Plateau beginning Tuesday." @ NWS-Nashville
In other words…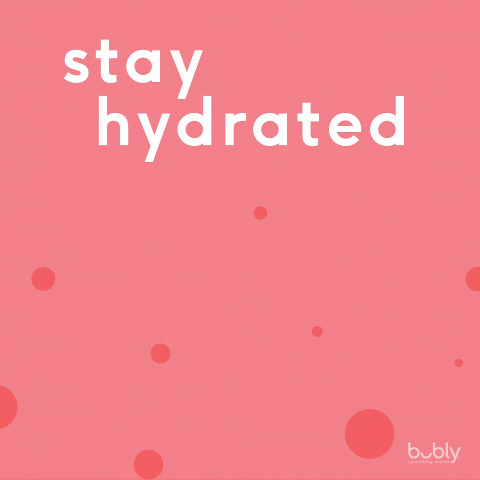 Not to worry anyone, but heat leads weather fatalities in the U.S. in 2018, on a 10-year average, and on a 30-year average.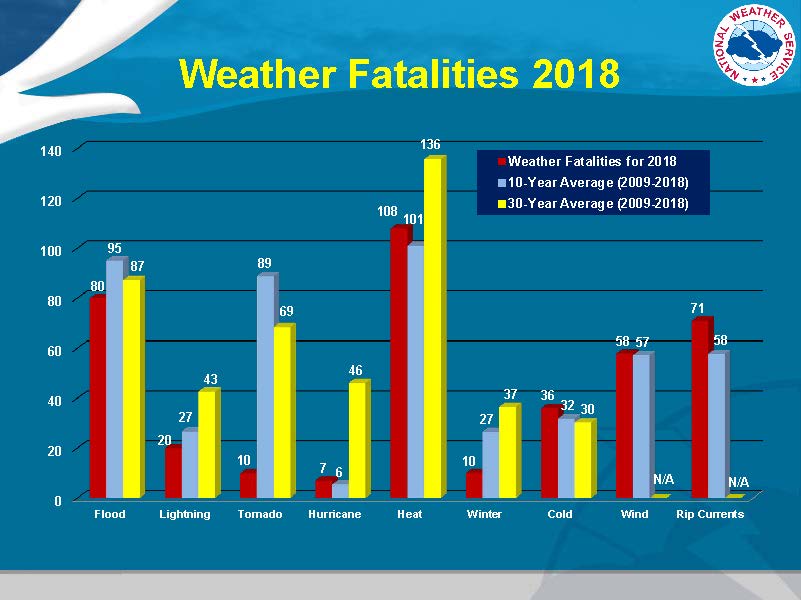 Honestly I was pretty surprised when I learned this back in my natural hazards class.
Jon posted an awesome graphic yesterday from the NWS on how to stay safe in the heat – there are many other factors than just staying hydrated!
(Editor's Note: The numbers are for the United States. Many of those heat related deaths impact most vulnerable people — those without AC, elderly/sick, poor/homeless, those not acclimated to heat waves — and may not impact you. But think about them, how can you help them. That said, heat stroke is a real thing, tough guy, you're not invincible, your organs have needs, and also, don't LEAVE YOUR KIDS IN A PARKED CAR IN THE HEAT. Or, really, ever).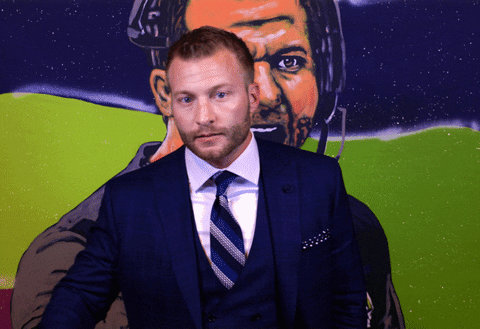 For now, enjoy a mostly clear weekend/start to the week, and stay cool as temperatures ramp up again next week!
---