Yesterday was an eventful day weather-wise as storms bubbled up over I-65. They exceeded our expectations both in how many there were and how long they lasted. The expectation was that a few isolated cells would develop in the heat of the day, rain themselves out as the sun began to set, and leave us with a quiet night. Instead, we had numerous storms develop that were very electrically active and dropped some small hail.
@NashSevereWx Hail in the Brentwood/ Nipper's corner area! pic.twitter.com/KJbaxbD0ix

— Bianca Skartland (@BiancaSkartland) June 27, 2019
Thursday
We could see some similar storms today, although not guaranteed. Some ingredients are in place (nerd speak: deep instability and strong lapse rates) for storms to get a little angry. Also, there are a lot of outflow boundaries laying around from last night's storms that could enhance lift in areas where they lurk. Outflow boundaries are the winds at ground level that ripple out of dying storms as they collapse. They can be the focus of additional storms.
The HRRR model thinks it will look something like this. Loop is from 1:00 pm – 9:00 pm.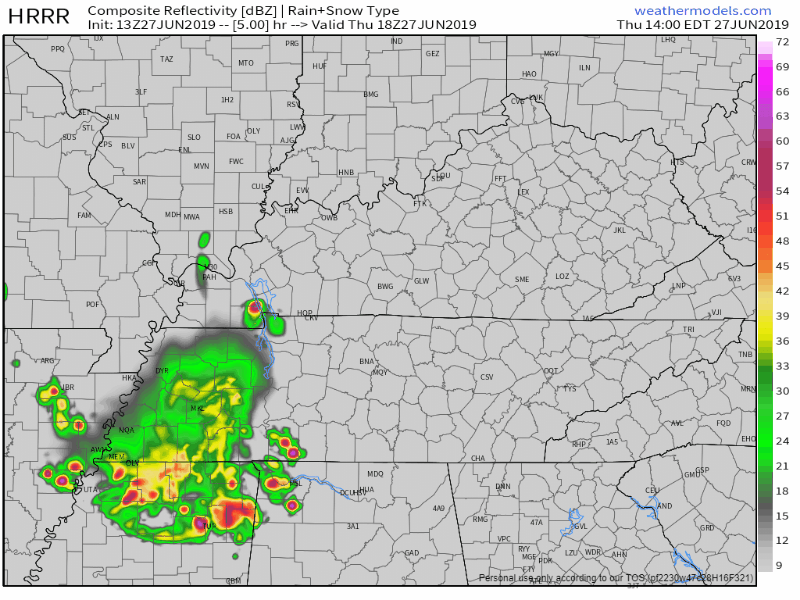 If you have outdoor plans this afternoon and evening, watch for dark clouds. Be suspicious of them. We'll be watching radar.
The Storm Prediction Center believes there's a 5% chance these storms will have winds of 58+ mph within 25 miles of you. Lightning is the big thing to watch out for. Yesterday, a lightning strike hit right in the center of Smith Park in Brentwood from a distant storm. Those on the trails probably won't soon forget what that was like.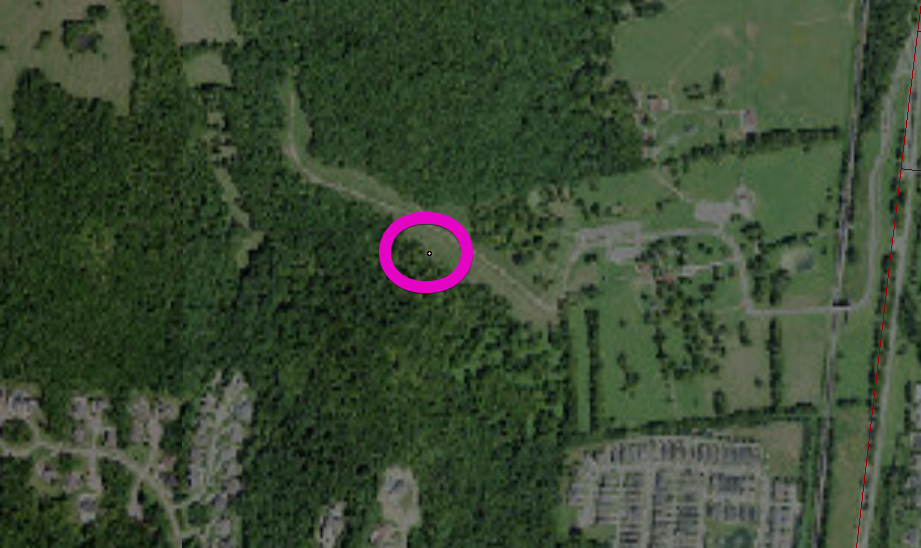 High temps should get to about 90° today.
Tonight
Tonight, storms should start to wind down by 10:00 pm. We'll drop to a sticky 69°, especially sticky for those who receive rain today.
Friday
The energy that is helping today's thunderstorm development will push back to the west as we get into the weekend. The expectation is that the rain/storm chances will go down beginning Friday….but won't be zero. We're left with a 20% of storms Friday and a high of 91°. Heat indices will start to climb into the mid-90s, however, as the dew point creeps upward.
Small storm chances will remain with us each day through the weekend and into next week. We expect storm chances to increase by the middle of next week as energy pushes in, but we'll see how that pans out as we get closer. Take frequent breaks and drink lots of water! It's going to be hot!