Wednesday
Notice the H's near us on the map. High pressure is in control today. This typically puts a lid on the atmosphere's willingness to storm. While it's possible the western half of the state could see a brief storm, the odds are against any one place receiving rain. Temperatures will be slightly above average with a forecast high of 91°. There won't be much of a breeze to provide relief, so take frequent water breaks!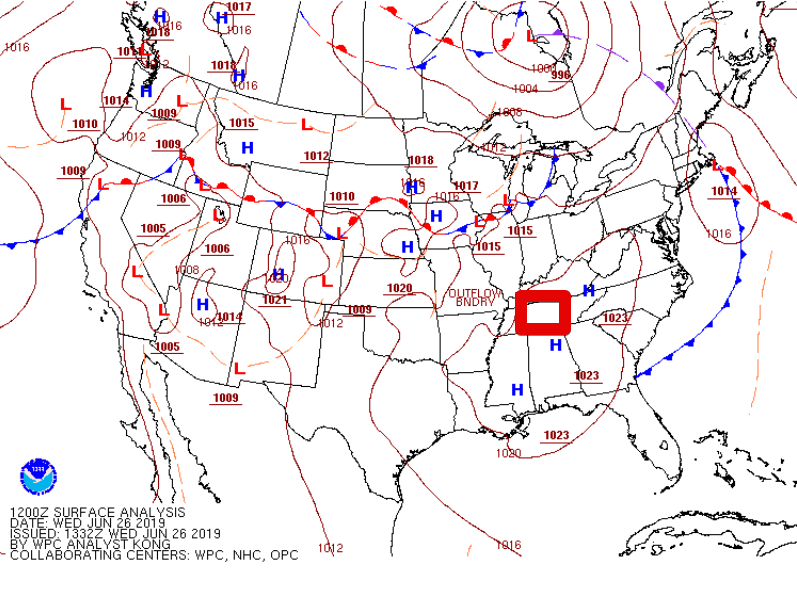 Tonight
*If* anything bubbles up on radar over us, which is unlikely, it will quickly fall apart leaving us with a muggy evening and temps settling down to around 70° by daybreak Thursday.
Thursday
Rain/storm chances go up slightly on Thursday as the ridge of high pressure slips off to our E ever so slightly. Rain chances will be around 20%, so not everyone will see these typical summer-time pop up storms. Temps go up, too. 93° is the forecast high. HRRR illustrates the possible storms. Loop from 1:00 pm – 7:00 pm.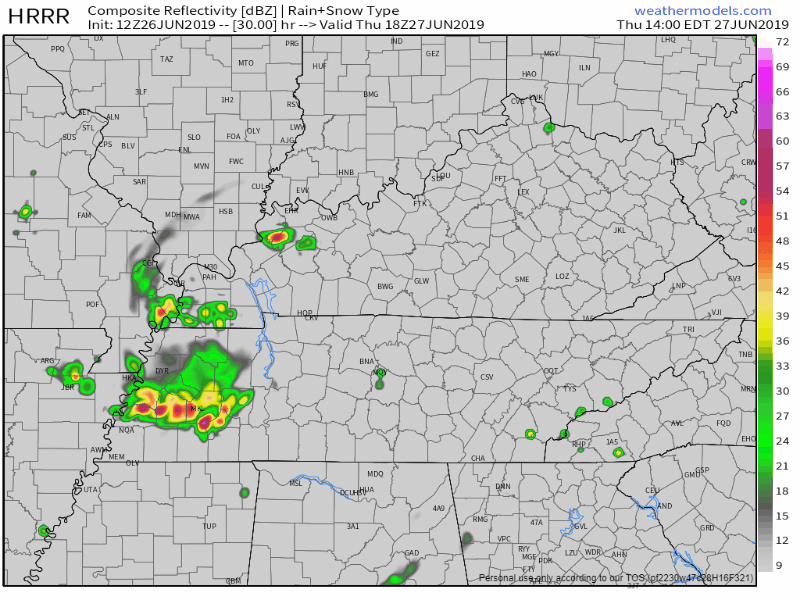 Friday Through The Weekend
Afternoon and evening storm chances remain in the forecast through the weekend. It will be toasty with highs in the low to mid-90s. If you're lucky enough to get a thundershower to cool you down, the sun will then come back out and steam the neighborhood up. Summer is definitely here in Mid-TN!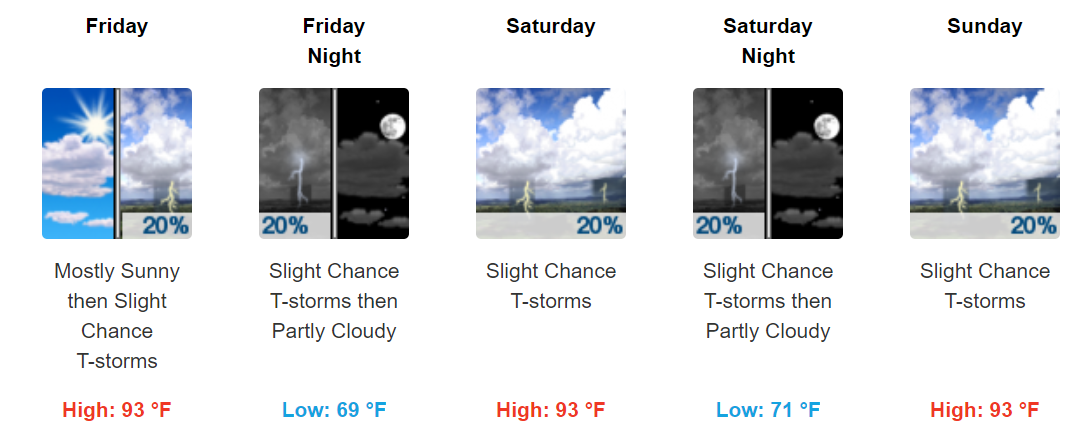 The Tale of Two Months
May was D.R.Y. It's usually our wettest month of the year. It turned out to be our driest month year-to-date by far. The graph below tells the story pretty well. We received about 29% of our normal rainfall.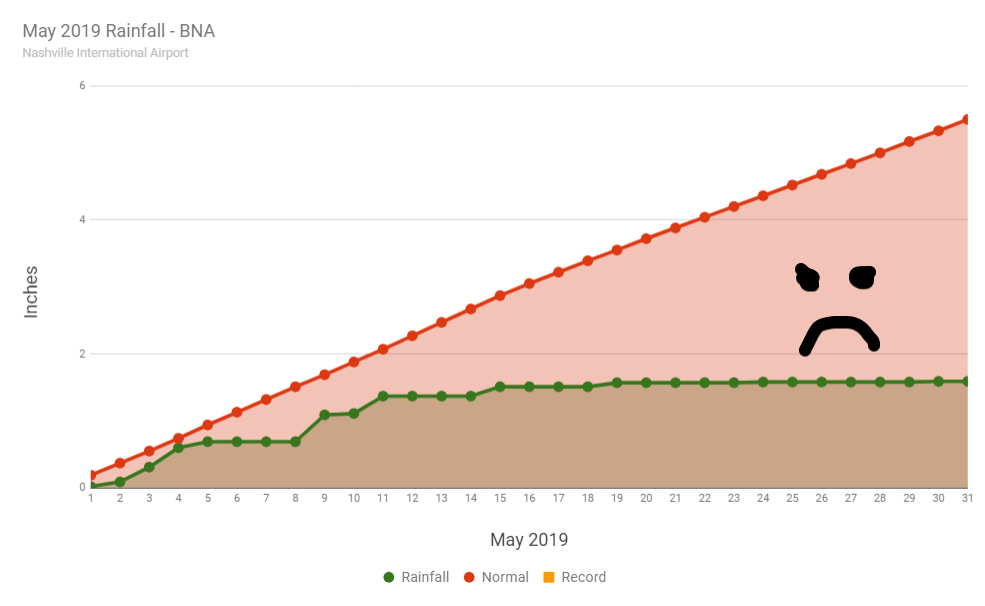 We've snapped out of our dry episode for June, it seems. We're currently 3+ inches above normal for the month.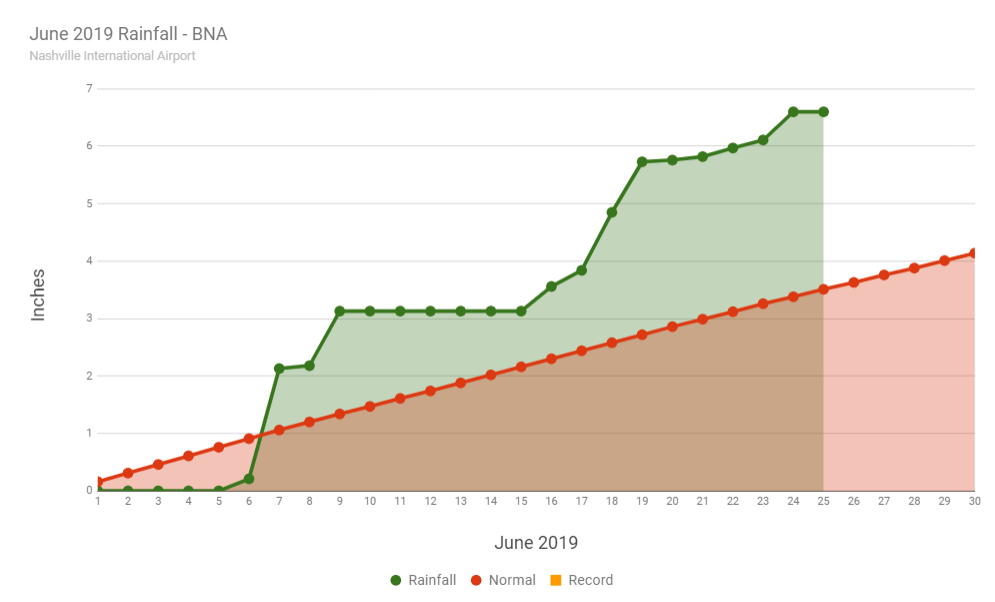 For 2019, we're still in a big surplus due to the huge rains we had early in the year. Remember when we had over 13 inches of rain in February alone? For the year, we're about 11 inches above normal.