SEVERE THUNDERSTORM WATCH CANCELLED
At 853 PM.
No more severe weather expected tonight.
Just some light rain.
STORM REPORTS
My fave photo of the night:
@NashSevereWx @NWSNashville @FOXNashville @WKRN pic.twitter.com/CgtEwG5Bq9

— David Howe (@DHdeeder) June 22, 2019
Trees are down, furniture scattered, etc., all over Nashville and Will Co. Our mentions and #tSpotter tag are full of them. Great work, y'all.
I don't remember this many wind reports across such a large area. So many power outages.
Keep them coming. Send reports of tree/wind/structure damage with specific locations (cross streets, etc) to NWS-Nashville by tweeting them with the tag #tSpotter. They will see them.
BEST ADVICE
We have received multiple reports of downed trees and power lines.

PLEASE TURN AROUND if you encounter a downed power line. These lines may still carry a charge.

To report outages:https://t.co/xpP5d33ziuhttps://t.co/n32aClDfkA

— Williamson County TN EMA (@WCTNEMA) June 22, 2019
WORST WEATHER AWARENESS
— NashSevereWx (@NashSevereWx) June 22, 2019
WAS THAT A DERECHO?
Maybe.
Ask a weather nerd about it and you'll get a SUPERNERDY LECTURE about derechos, Attn nerds: derecho debates do not impress potential non-meteorologist companions.
First you have to define derecho, which as our intern Jon Parker pointed out when he Slacked me this article, is controversial.
Mercifully, Wikipedia to the rescue:
A common definition is a thunderstorm complex that produces a damaging wind swath of at least 400 km (250 miles),[9] featuring a concentrated area of convectively-induced wind gusts exceeding 30 m/s (90 km/h; 50 kn; 60 mph).[1] According to the National Weather Service (NWS) criterion, a derecho is classified as a band of storms that have winds of at least 30 m/s (90 km/h; 50 kn; 60 mph) along the entire span of the storm front, maintained over a time span of at least six hours. Some studies add a requirement that no more than two or three hours separate any two successive wind reports.[10] A more recent, more physically-based definition of "derecho" proposes that the term be reserved for use with convective systems that not only contain unique radar-observed features such as bow echoes and mesovortices, but also for events that produce damage swaths at least 100 km (60 miles) wide and 650 km (400 miles) long.[2]
The six hours of 60 MPH winds requirement will have to be met. That requires significant data gathering.
So yeah, maybe it was.
We will see.
WORST JOKE
The furniture must not have had a reservation. https://t.co/I1iEuBgpog

— NashSevereWx (@NashSevereWx) June 22, 2019
But seriously, this is why to be inside, especially downtown. You never know what'll be lofted and dropped onto the sidewalk.
SIRENS & THE TORNADO WARNING
Tonight a suspected tornado (it will have to be confirmed via survey) formed on the very southeast tip of Davidson County, just north of Lakewood Village.
I got a little excited, typing 777 PM as the time of the warning. Correct time: 807 PM.
New Tornado Warning for spinup just N of Lakewood Village moving fast out of SE Davidson County. 777 PM pic.twitter.com/46VwCEsJX5

— NashSevereWx (@NashSevereWx) June 22, 2019
Off went the sirens.
Less than 7 minutes later the storm raced out of Davidson County, into NW Rutherford and SE Wilson Counties, and the warning for Davidson County was cancelled.
But the sirens still blared, causing the usual confusion and, in some cases, needless local panic.
This is not the first time this has happened.
But here's where my rant ends because the end of this is near.
The fight over this ended months ago. Metro is fixing them. The money has been allocated.
Now, it just has to happen.
Give them time. Costs a lot of money and resources. I've been in the meetings, it's a big project. They'll do a good job.
ANOTHER ROUND OF STORMS SATURDAY?
It's possible (not certain) another storm complex will develop NW of us overnight, then sink south tomorrow morning after sunrise.
Should such a complex develop it would likely take a similar track to today`s system, eventually ending up in Kentucky and Tennessee near or shortly after sunrise. The threat for severe storms will be lower with this system unless it slows down enough to arrive after 10 AM or so, in which case a destabilizing airmass will make damaging winds a threat once again. (NWS-Nashville)
The HRRR model from Saturday 6 AM to 2 PM shows this happening, and just barely missing to our NE: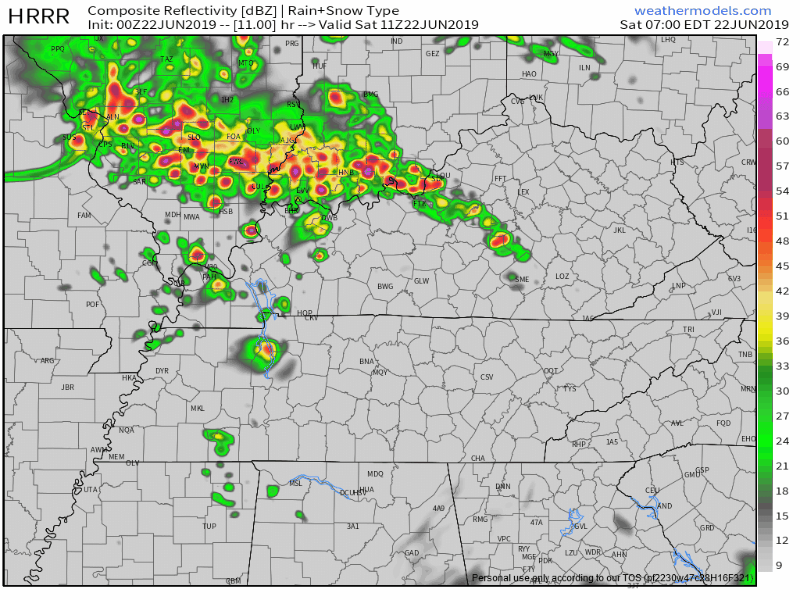 However note today the HRRR thought the exact same thing would happen – it would miss us to the NE – and that was sooooo wrong.
Another model, the Euro, thinks another line will drop through Saturday morning.
We checked the NAM3 model but it's drunk and lost in a field somewhere. It has nothing intelligent to contribute.
Models aren't that much help.
Best advice is to wake up and check the weather. I'll be up early to watch soccer and do some weather.
OPPRESSIVE HUMIDITY
Humidity Saturday will oppress. Dewpoints near 70F with a high temp to 91° will cause heat exhaustion for the unprepared.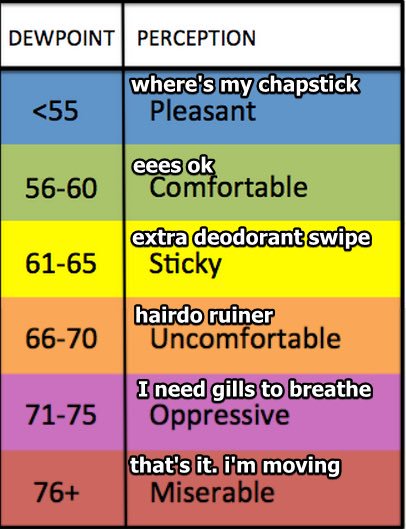 Hydrate.
More heat and similar humidity Sunday, when pop up storm chances are possible, but the least likely of the weekend.
More rain expected Monday.
More info tomorrow.
Get your zzzzzz.
---