There is a lot of uncertainty in the forecast from today into the weekend. I will do my best to convey that information, so bear with me. This is a difficult and lengthy forecast.
Editor's Note: Yes, it's a difficult forecast. Simple crap app clipart doesn't do it justice.
TODAY AND TONIGHT
As of 9:30 AM, it is 77°F with a dew point of 68°F. Yikes. The humidity is on.
Our average high for June 21st is 88°F. We are in above average territory for the high today. We will be approaching the low 90°s.
Taking a look at satellite, this is what we have: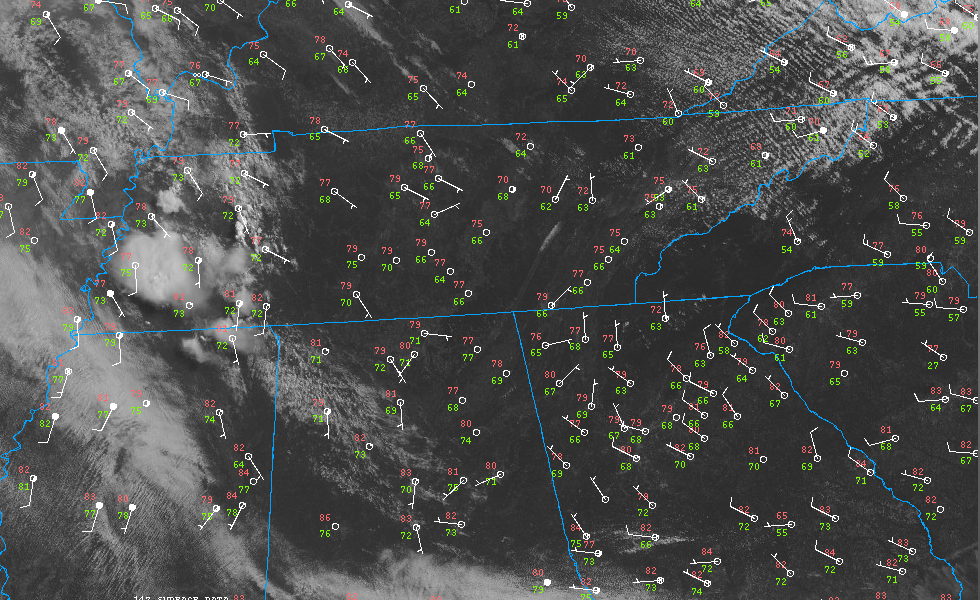 Temperatures are in the red, dew points are in the green. Higher dew points = more storm fuel. You can see some convection (i.e: storms) firing off in West Tennessee.
That is a nice segue into the main topic of the forecast.
There is the potential for some storms this afternoon. The models have a lot of disagreement on when it may happen.
The HRRR is showing two waves of storms. Round #1 start around our area between 9-11 PM with Round #2 on Saturday between mid morning and early afternoon.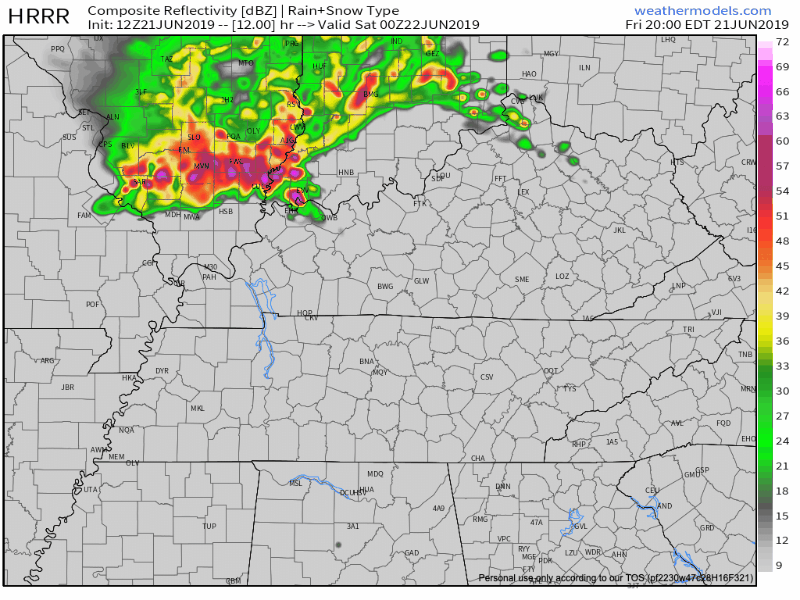 The NAM3 shows Round #1 happening later, like midnight, and Round #2 breaking apart around mid-day.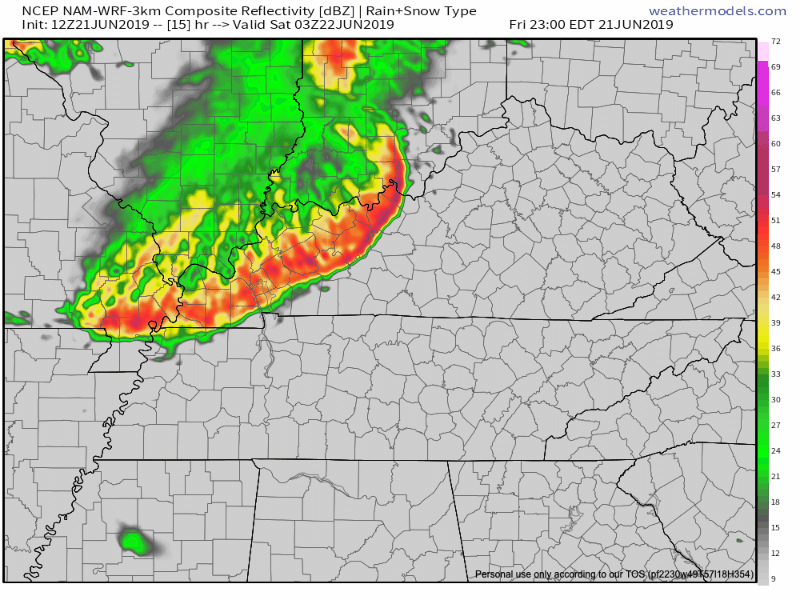 Be prepared for both rounds to pan out. The earlier storms are better positioned to miss us to the NE, but you should stay aware and prepared.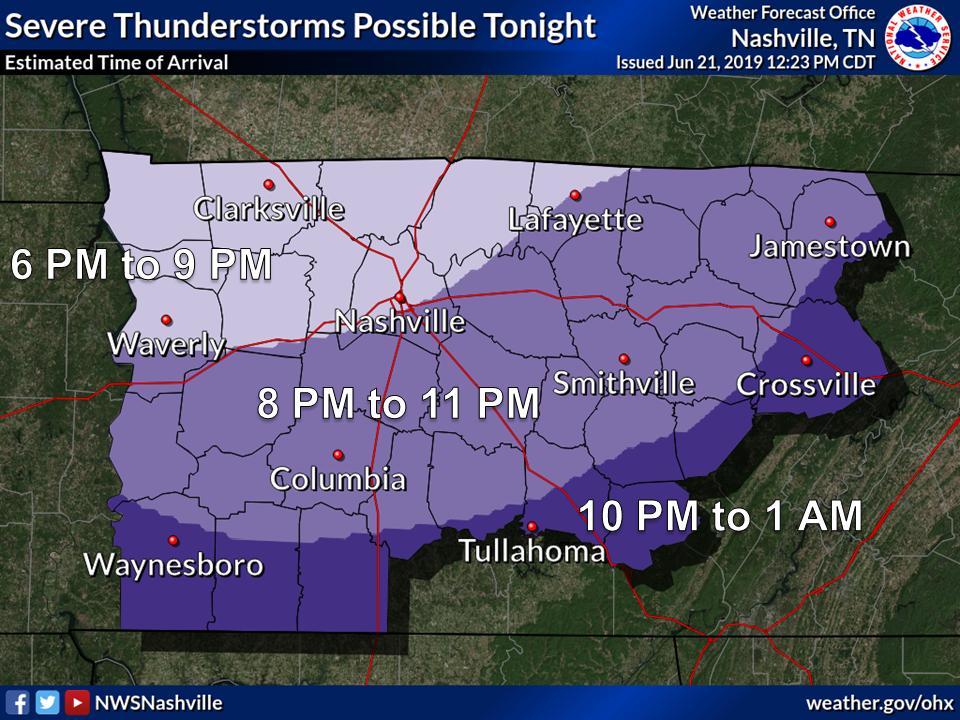 THE SEVERE THREAT
Here is a portion of what NWS-Nashville has to say, there is a lot of fantastic information in here – mad props OHX:
Models do agree on the severe parameters, largely, during the day today and into Saturday. Warm front will move northeastward today and provide plenty of MLCAPE this afternoon and through the weekend, with values in the afternoon around 2000 J/kg and still holding on around 1500 J/kg overnight. However, with the models that show the warm front moving through the area, very warm 850/700 mb temps move in as well, and a pretty strong cap does develop by the early afternoon which may limit afternoon convection and keep the first MCS out of the mid state. Deep layer shear will weaken later on Saturday and Sunday, but for today and tonight, 30 to 35 knots of 0-6km shear looks likely, and will be enough to support damaging winds should the MCS move through this evening and/or overnight.
Editor's Note: Translation Below…
Basically, the models agree on most of the ingredients needed for severe weather. Models agree there will be sufficient instability for storms to fire off. Models agree there will be enough shear to support strong winds.
But of course, the models are no where near perfect.
The acronym MCS has been a frequently used term this week. This stands for mesoscale convective system. It's  a complex of storms that can bring about damaging winds, small hail, heavy rain, and frequent cloud-to-ground lightning.
The Storm Prediction Center includes our area in an Enhanced Risk (3/5) for severe weather until Saturday morning.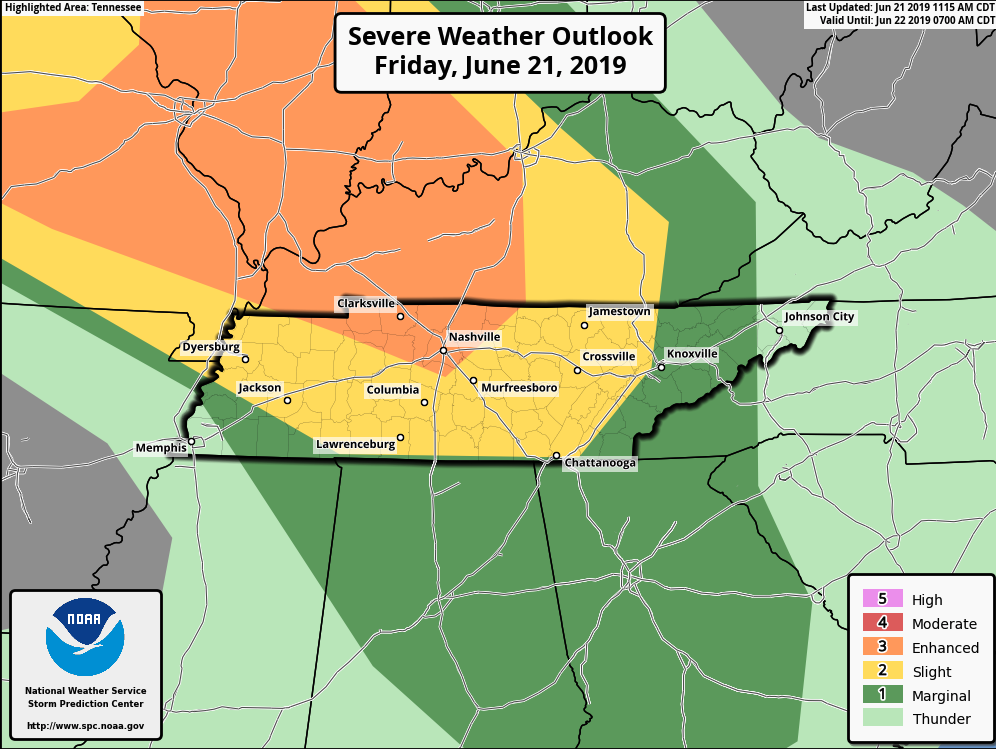 The main threat will be winds up to 60 mph. This is a graphic showing us with a 30% chance for damaging wind. You can a portion of our area, Davidson County, is in that red 30% area.
Hail is possible as well. The graphic below shows us with a 5% chance for damaging hail.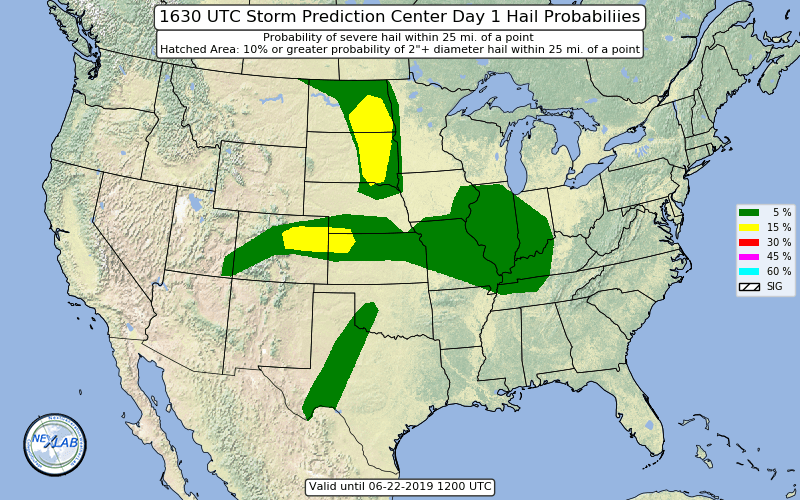 There is a 2% chance for tornadoes. This graphic illustrates that threat.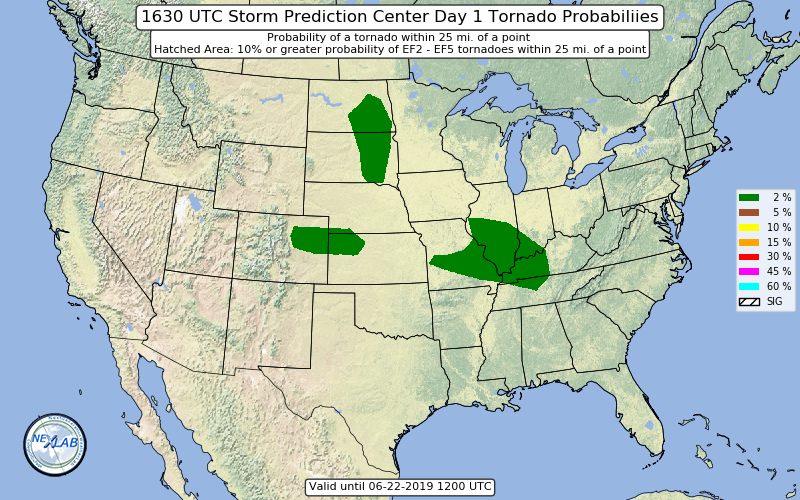 UNCERTAINTY IN THE FORECAST
Timing, strength of the storms, and number of waves… there's a lot of uncertainty in this forecast.
As far as timing goes, the models have the main event in the area hours apart from each other. 11 PM Friday or 1 AM Saturday? How long will they last and when will it end? There's not a specific ETA for this one.
The strength of the storms. Any storms that fire ahead and before the main event will use up some of the available energy in the atmosphere. Less energy means weaker storms. If the storms that are going in West TN move over to our area this afternoon, some of that energy will be used up.
The number of waves. This ties into the second point. If there is less energy, chances are there won't be as many storms either. There are a lot of possibilities.
THE CAP
Now for the main focus of it all, the cap.
What is the cap? It's another word for an inversion. An inversion is a part of the atmosphere that is warmer than other parts. It prevents air from rising. Usually inversions are near the surface.
This is important to this forecast. If the cap is really strong, it will prevent most if not all storms from firing at all. This was important when I went out on my storm chase back in May.
In the field we call it being "cap slapped". You can have all of the ingredients for severe weather, but then nothing happens. Why? Because the cap was too strong.
Think of it like a lid on a pot of boiling water. If the lid does not have any holes in it, most of the steam is held within the pot. Just like the cap in the atmosphere, it keeps all of that hot air at the surface and prevents it from rising. If air cannot rise, storms do not form.
Here is a basic graphic which shows that, the red line is the temperature from the ground: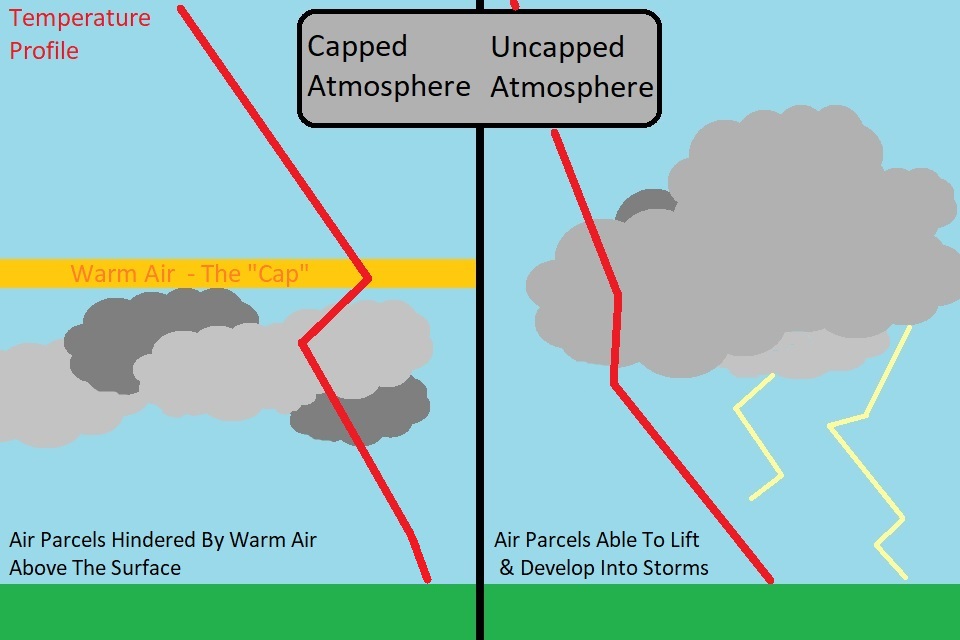 A cap can make or break severe weather.
If there isn't a cap, storms fire off too quickly and don't stick around long enough to organize.
If the cap is too strong, storms don't fire off at all.
There are ways to break the cap. Usually a front does most of that work to push the air up and let storms form. It's hard to get a strong cold front this far south in the summer, which is why the cap is a big deal for this forecast.
SATURDAY AND SUNDAY
The chance of storms decreases, but doesn't entirely go away.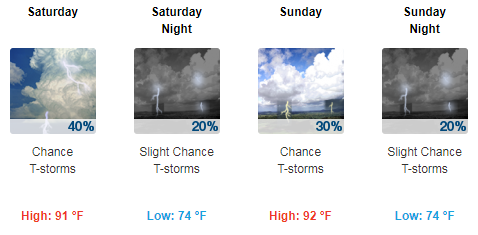 Also, the humidity is going to be unnecessary.
Dew points could be reaching into the mid 70°s. Heat indices could reach near 100°F.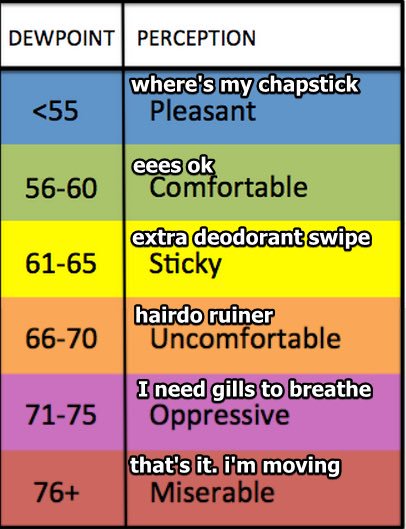 Just in time for the summer solstice, too.
There is a lot to digest with this forecast, so check back for updates as they come and remember to follow us on Twitter for even more information.
---