SEVERE THUNDERSTORM WATCH
A Watch means conditions are favorable for severe thunderstorms.
A storm system is expected tonight, coming in a large line down I-24 from Kentucky.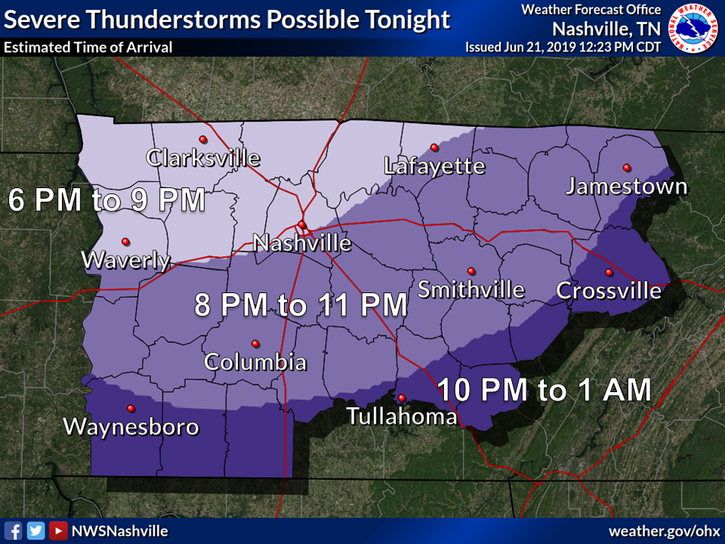 Do not get hung up on Williamson County's exclusion. A second Watch may be needed, to include Will Co., if storms stay severe tonight as they cross the KY/TN line.
HAZARDS
Damaging winds are the main concern.  Winds may be strong enough to topple trees. Vulnerable people include those outside, campers in tents, those in cars/mobile/manufactured homes located beneath large trees, and drivers attempting to navigate torrential rainfall.
Those caught outdoors will have little time to react because storms will be moving fast.
Hail up to 1.5″ is the next biggest concern.
Tornadoes are unlikely, but can't be ruled out.
Below consult SPC's probability guide for various hazards inside the Watched area.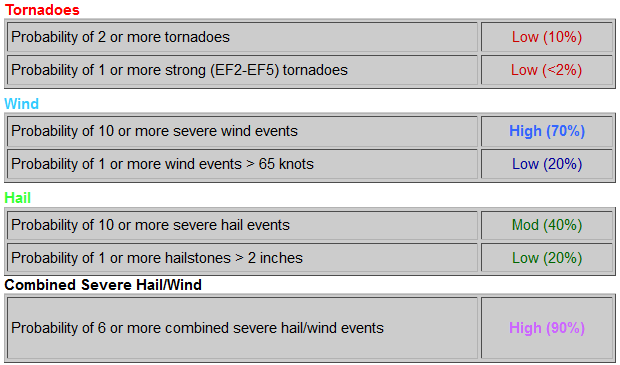 You are best protected from most hazards inside a sturdy, enclosed structure such as a site-built home or building.
Lightning and heavy rainfall will increase driving hazards, especially those traveling I-40, I-440, and I-840 because winds will be screaming in from the north, across your lanes.
STORMS MAY WEAKEN . . . OR MISS ALTOGETHER
Models contradict each other on exact storm path, diminishing forecast confidence. Two of three good models have this system coming through here tonight. A third has it missing to our NE, but that solution makes little sense considering the available thunderstorm fuel currently in place over middle and west Tennessee. Storms should be able to tap that fuel and rage by, but to be intellectually honest not all models share that view.
Two other things.
First, as storms congeal into one long, gnarly line, they may produce an advanced, weaker line of storms ahead of it. These advanced, weaker storms would sponge up available storm food, and deprive the main line of the storm food it would need to reach severe thresholds.
Second, even thought storms will delight in substantial available local storm energy, the higher shear values are confined to our N/NW, which may hobble local storm intensity.
Both will be closely watched.
SATURDAY MORNING
A second line of storms following a similar path and shape of tonight's storms may arrive Saturday morning after sunrise.
As much as there is uncertainty about tonight, there is more uncertainty about tomorrow morning.
These storms should not be as strong as what we get tonight, but that cannot be said with much confidence at this time.
Here's NWS-Nashville's technical discussion:
Will then need to watch the potential for yet another storm complex developing on the heels of this one later tonight, as a strong low level jet interacts with a stalled boundary over MO/IL and likely sparks off another area of storms over that area after midnight. Should such a complex develop it would likely take a similar track to today`s system, eventually ending up in Kentucky and Tennessee near or shortly after sunrise. The threat for severe storms will be lower with this system unless it slows down enough to arrive after 10 AM or so, in which case a destabilizing airmass will make damaging winds a threat once again.
REST OF THE WEEKEND
Rain chances linger Saturday afternoon, but are lower than chances Saturday morning. Again, timing on this is messy.
Humidity will oppress. Dewpoints near 70F with a high temp to 90° will cause heat exhaustion for the unprepared.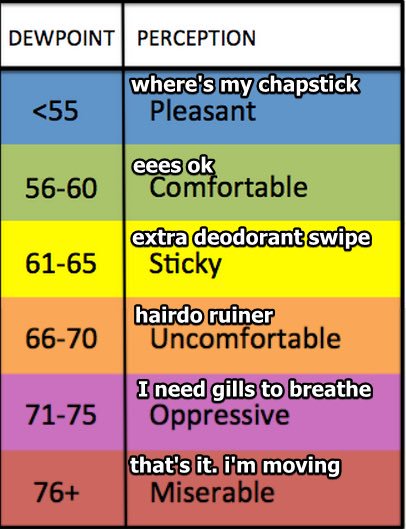 Hydrate.
More heat and similar humidity Sunday, where pop up storm chance are possible, but the least likely of the weekend.
---