Severe Weather Potential Wednesday
Today we will see some rain and thunderstorms, some possibly severe.
Looks like two rounds.
The first round, early evening, but we aren't sure about that.
The second round, later tonight, we're more confident this will happen.
The most recent update of the HRRR model shows some scattered showers east of us early this afternoon, with more rain later tonight around 7pm. It shows the majority of the rain/storms staying just north of us; don't totally count on this being right. They may smack us.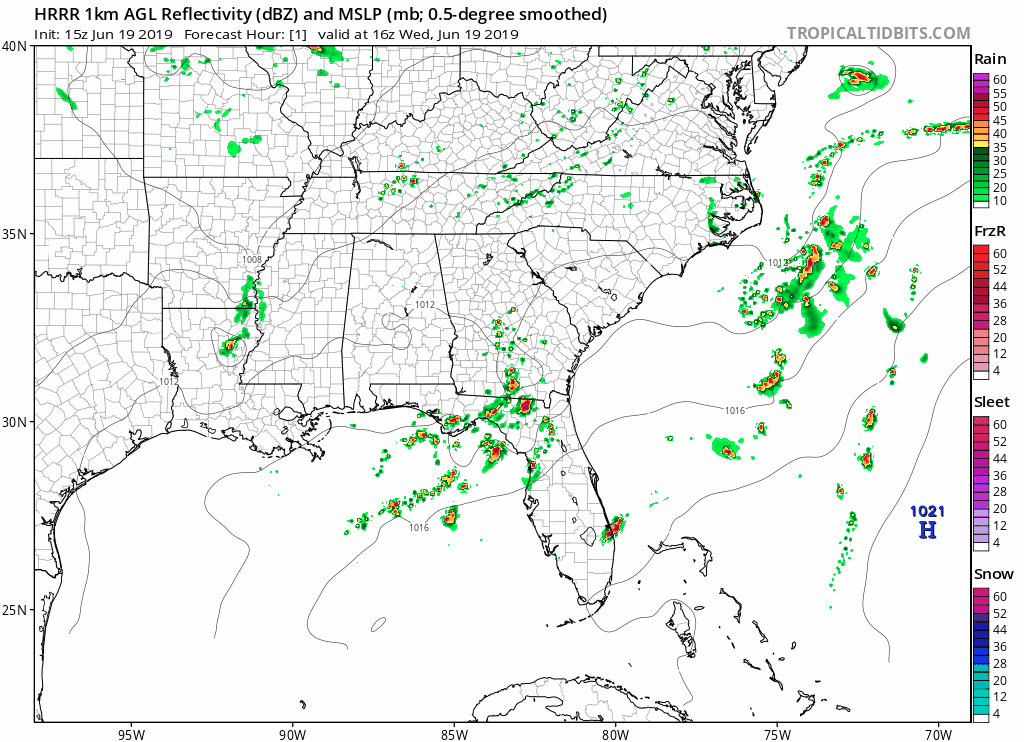 The NAM3 model also shows round one rain and storms at 7pm, with that second round coming in around 10 to 11 pm: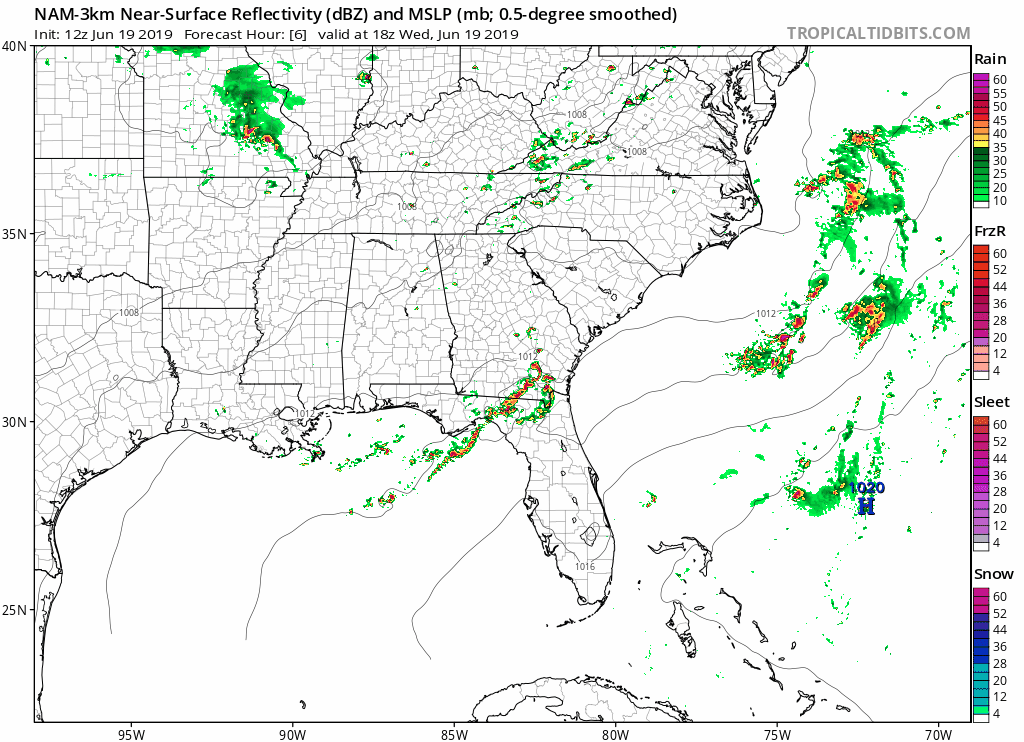 The HRRR has the second round arriving around 2 AM: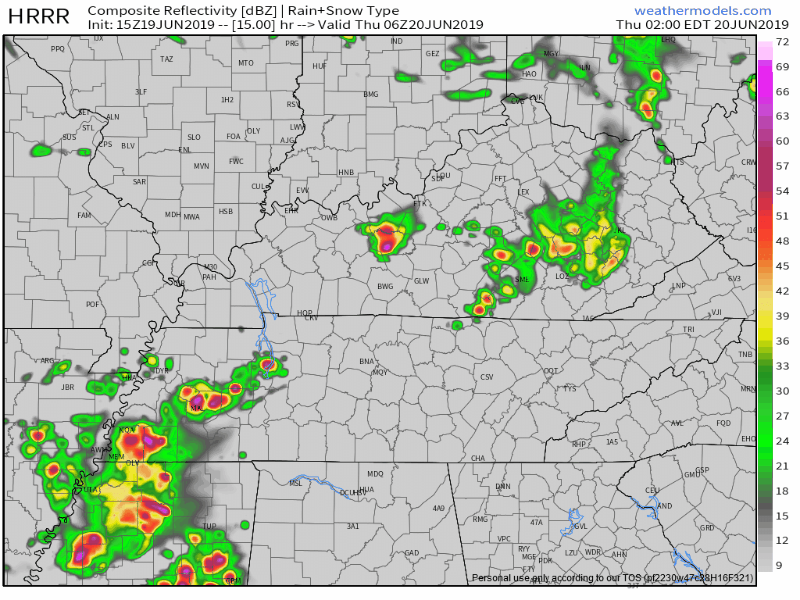 Don't count on this exact timing, but know these will move into the area this evening into the overnight hours.
Now to the severe threat these storms could pose.
NWS-Nashville says:
"In translation, there are enough ingredients in place for storms to become severe from early evening through early Thursday morning. Damaging winds will be the primary concern, followed by heavy rainfall, and an isolated tornado. The flash flooding potential remains marginal/very conditional and will need to be assessed as the situation unfolds. Regardless, these storms will be taking advantage of a very moist environment and are expected to drop a lot of rain very quickly…"
The Storm Prediction Center (SPC) has us under a slight risk, or 15% chance of seeing severe weather within 25 miles of you.
NWS-Nashville also breaks down threats in a graphic: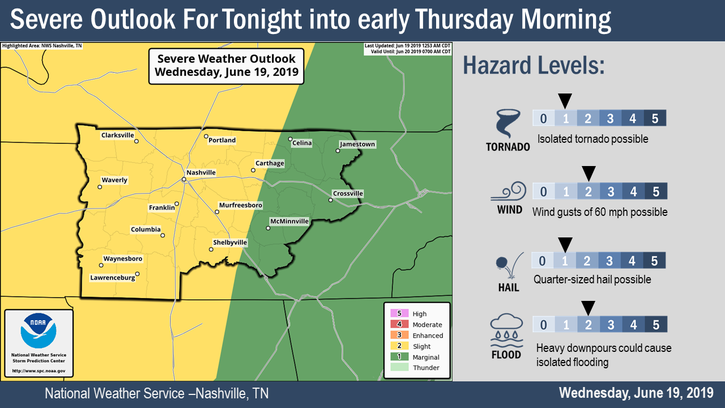 Risk assessors rejoice, the lunchtime SPC outlook arrived. Probability of X within 25 miles of you tonight:
Damaging thunderstorm winds: 15%,
1″ hail: 5%,
Tornado: 2%.
There is more concern with the second round of rain and storms becoming severe, though the first round will also be monitored closely.
Again, ETA for the second round varies by model, arriving as early as 10 PM, most likely around midnight or so, or as late as 3 AM. This will be updated and covered extensively today, tonight, and overnight on Twitter @NashSevereWx.
Be sure to stay weather aware in case any storms turn nasty, and keep updated on our Twitter page.
Aside from rain and storms, the high will reach 88° with dewpoints around 70°. Gross.
Rest of the Week/Weekend
The chance for showers follows us throughout these next few days.
Temperatures also reach back up into the 90s beginning Friday, when our heat index (feels like) should reach up to 100 in the shade.

We don't expect anything severe from any storms that show up.
I guess the dewpoint temperatures like where they're at, because they'll still linger around 70° over the next few days.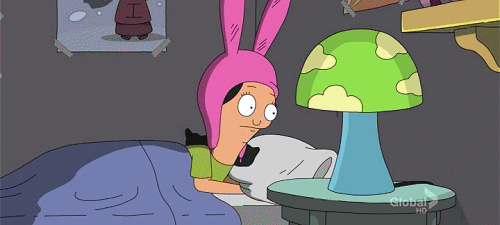 In the meantime, stay weather aware throughout this evening and don't hang those rain jackets up just yet.
Keep checking back for updates!
---