June is back, a hard adjustment after last week. That's weather for you.
Dew points (humidity) are rising, and so are rain chances.
Today is only the beginning of an active weather week.
Monday
Our high should reach around 88°F by mid afternoon. Meanwhile, clouds should increase, swelling and growing into the afternoon. With it, the chance for rain.
Below is the HRRR model. It predicts lines of rain/storms popping up by mid-afternoon, although most activity is to our east: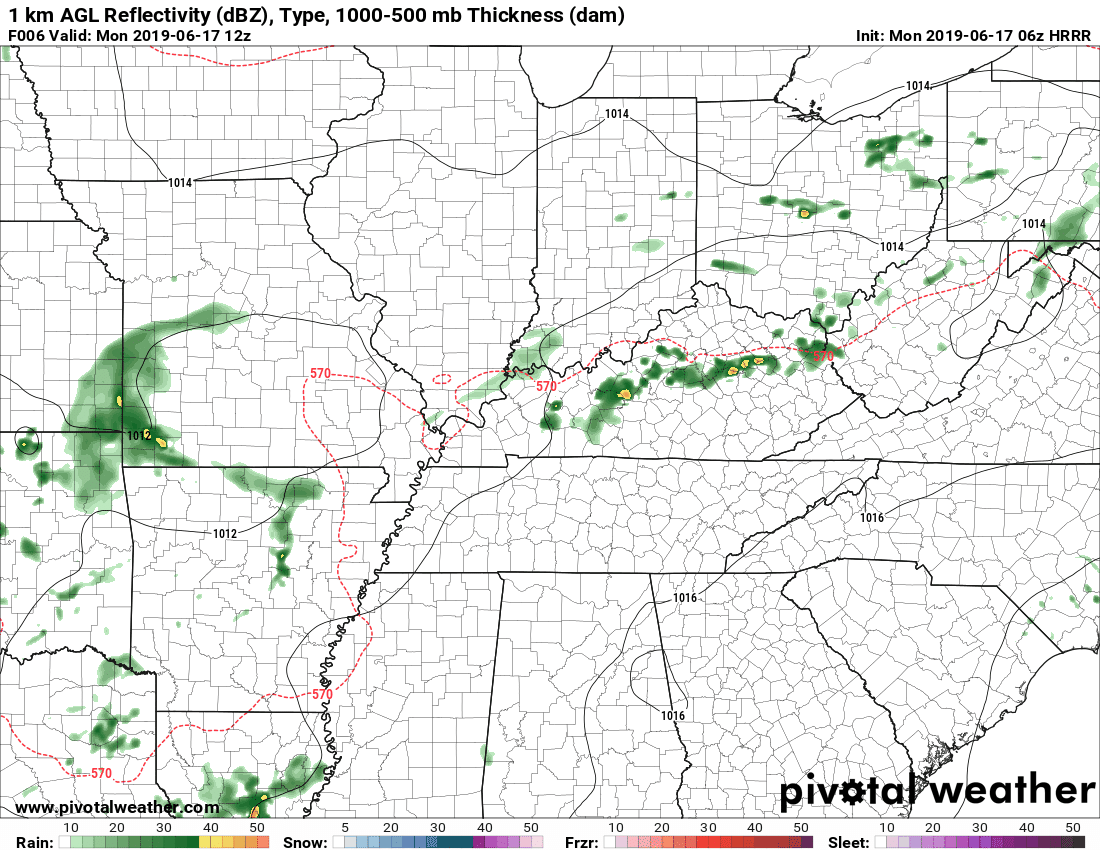 Next is the NAM3 model, predicting a similar picture: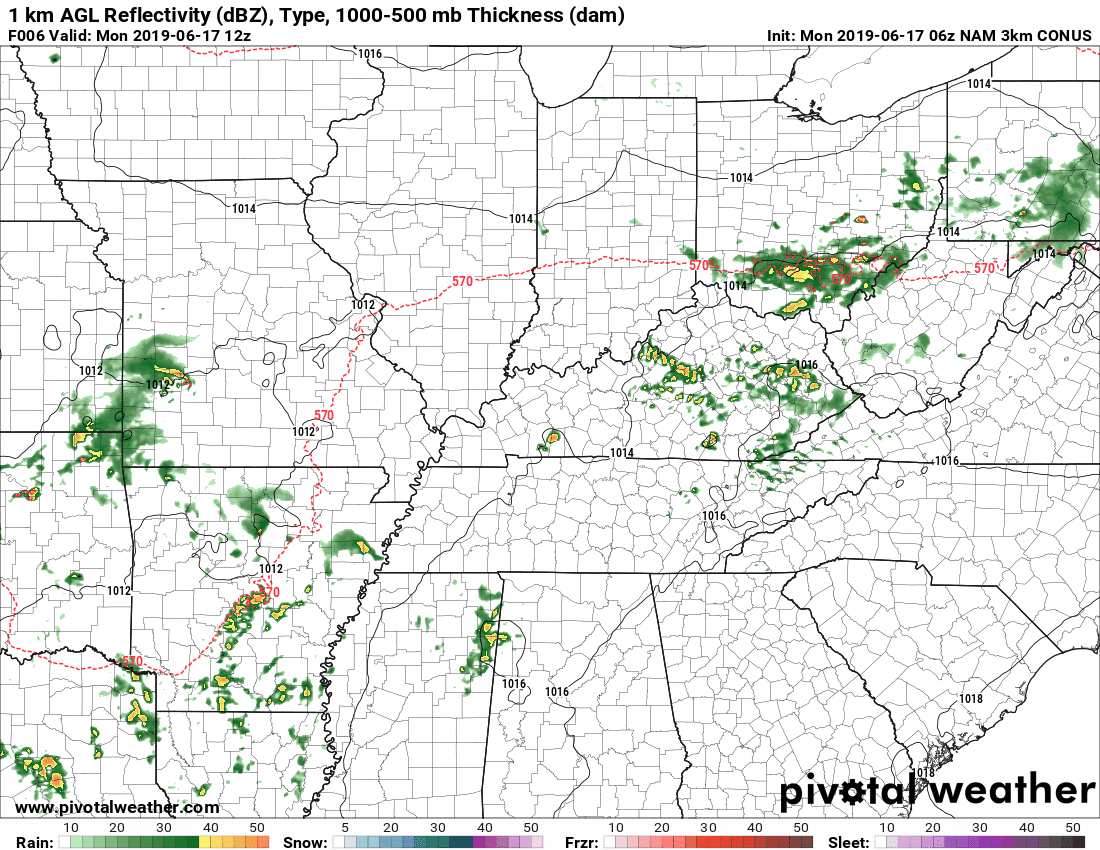 Specific ETAs are hard to give with scattered showers and storms. The window for highest rain chance will be somewhere between 4 PM and 7 PM.
The Storm Prediction Center says our risk of severe weather is "marginal." If you need a scale, that's one out of five. Basically, any of these pop up storms could have strong winds and/or small hail associated with them. The threat is not too substantial, but it's always worth being weather aware.
There are no tornado concerns.
Really, lightning is the main issue for any nearby storms.
Tuesday
More of the same. Rain chances will be a bit higher tomorrow, with similar temperature trends. Be sure to keep an umbrella or two on stand-by throughout the day. It never hurts to be prepared for rain!
ETAs on these showers and storms will be the same: mid to late afternoon, with convection dying into the evening. These pop up storms are a result of the diurnal (translation: "during the day") heating and cooling of the surface. The sun comes out and starts to heat the Earth during the day. This heats builds up into the afternoon and air begins to rise. Clouds develop and before you know it, there's a storm 10 miles away, or right on top of you.
As the sun sets, the source of energy that initiates convection goes away and the existing storms begin to fizzle out. The process begins again the next morning, throughout the summer for the most part, unless there is a strong high that hinders convection.
The SPC keeps us within a marginal severe weather risk tomorrow as well. These pop up storms, though not high risk as far as severe weather goes, can still pack a punch.
Wednesday and Thursday
This is the most interesting time period of the week, though any specifics are hard to pinpoint. NWS-Nashville has more on why it is interesting:
Wed night into Thu seems to be to winner this period for the most organized dynamic setup. Decent upper trough/shortwave consistent on both GFS/EURO swings through Thu afternoon. While main frontal boundary stays well north, there is a hint of a shallow SFC/LL boundary that passes Thu late morning/afternoon, but quickly washes out early Fri. Not only is instability enhanced, shear also increases sharply as a more favorable jet structure crosses. Could be some strong to severe storms, will have to see how this evolves.
These models have us with the most ingredients for severe weather we've had in a while. They mention enhanced instability and an increase in shear, both are important for severe weather conditions.
The SPC has a slight risk of severe weather, that's a two out of five, not for us but instead located to our west on Wednesday. So far, they have nothing for Thursday due to a lack of confidence in the models, but we may end up "outlooked" for then.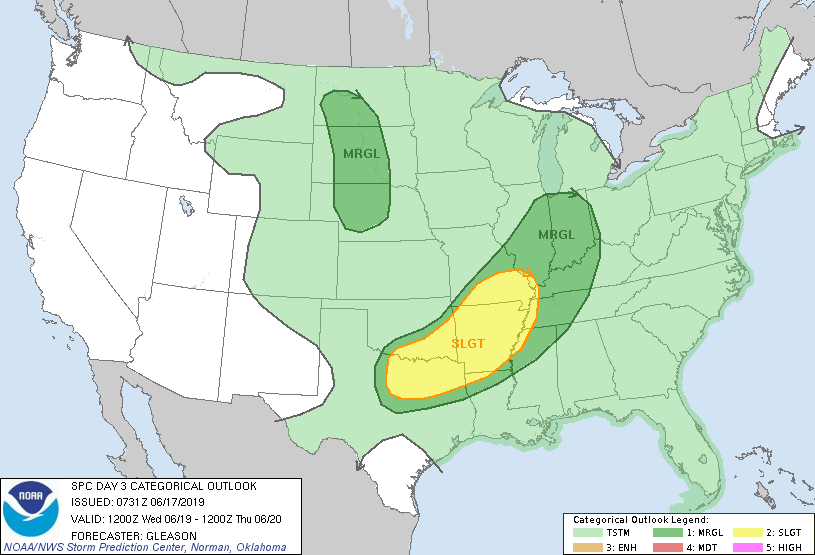 Will be worth keeping an eye on this as we progress into the week.
The Weekend
Things could slow down into the weekend, but the models are not in much agreement. It looks like a high pressure ridge will begin to take over, which would lower rain chances.
This is quite the active week, so be sure to check back here for updates to the forecast and also our Twitter account for more streamlined information.
---