Beautiful Tuesday
We've got a picture perfect afternoon ahead of us today! Temperatures are going to be several degrees below normal, only reaching 72° for the high. Humidity is going to be a lot lower as well. Light and pleasant winds out of the North will set us up with a quiet, and beautiful Tuesday!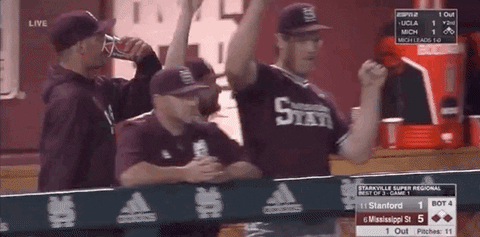 Editor's Note: the above GIF is what happens when some of your interns are from State.
I counter with this display of baseball smarts from VandyBoys:
Storm Chance Wednesday
Our next chance for some rain and thunderstorms will be moving in starting early morning on our Wednesday.
The NAM3k model is showing showers starting to develop early morning on Wednesday, and then some heavier showers coming into the area early afternoon.: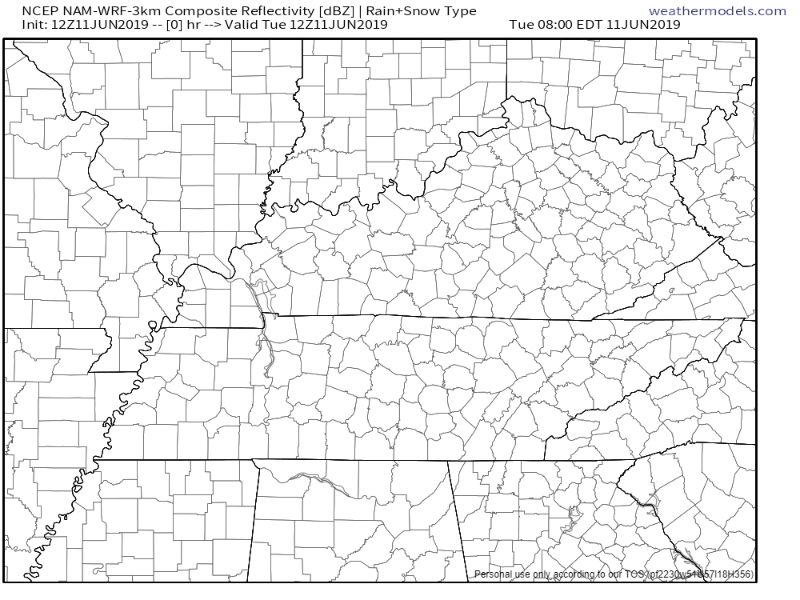 The HRRR model thinks just after lunch, storms form along I-65 then mature and strengthen as they push east.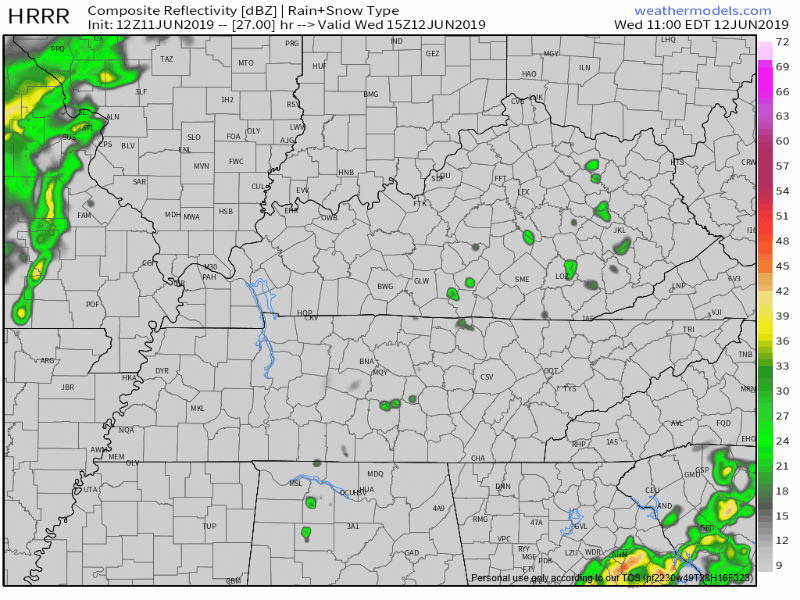 Exactly where these storms form will be key.
They may form on top of us, east of us and miss us, or the models may be wrong and they form west of us, soaking everyone in Nashville and Will Co.
For now the best thinking is the storms will start forming along I-65 then reach peak power as they move east and out of our area.
A few isolated storms may be strong to severe.
The main threats are low probability, including damaging winds up to 50 MPH and small hail.
The Storm Prediction Center currently has under a "Marginal" risk for severe storms tomorrow, meaning there's a 5% chance of seeing severe storms within 25 miles of a point.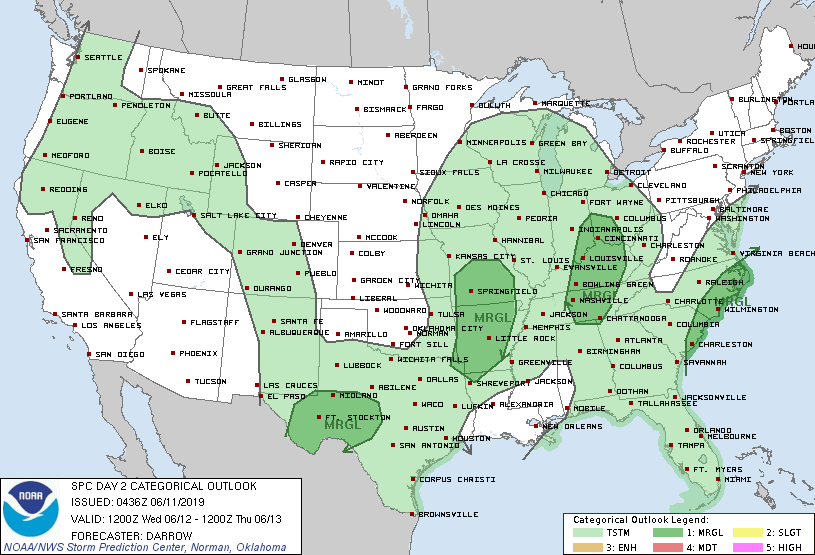 Afternoon temperatures will still be a bit below normal, climbing to 77°. 
Storms should race away and leave things quiet by Wednesday night.
Thursday and Friday
To end off the work week we're going to hop right back to the sunny weather! Thursday is working out to be a beautiful one, although a bit windy. Wind speeds 10-15mph, potentially gusting to 20mph. Temperatures still a bit below normal for this time of year, only reaching around 74° for the high.
Friday looks to be great as well. Another quiet, and sunny day. A bit warmer for the high, climbing to 82°, more normal for this time of year in Middle Tennessee. This high pressure allowing for all this sun will stick with us until we move into Saturday.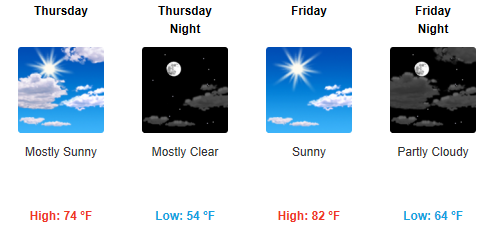 The Weekend
Saturday afternoon has a small chance of rain tagged along with it, but not expecting much of anything. Mostly sunny through the afternoon, with highs in the upper 80s. The next storm/rain system will be moving in overnight Saturday and into Sunday.
Sunday is looking like another wet one for us. The NWS-Nashville is calling for a 60% chance of thunderstorms throughout the day. The GFS model is being a bit jumpy and has showers on and off through the afternoon: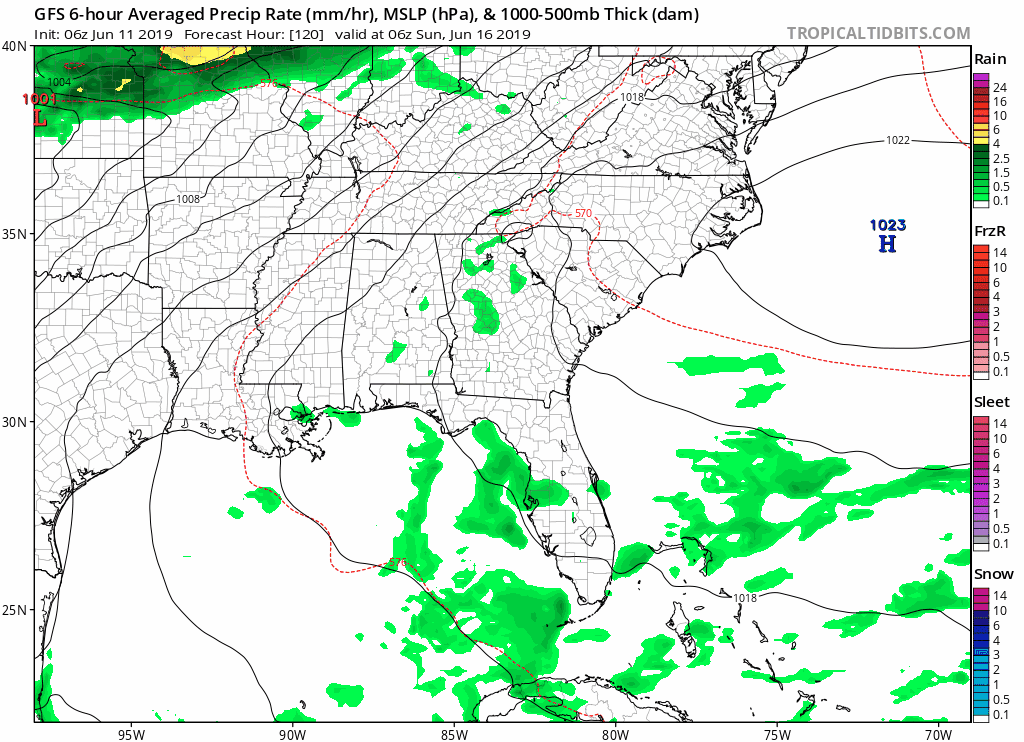 ETA's are still too far out and uncertain to say when all of this will start to happen on Sunday, but prepare for a decent chance of a wet end to the weekend.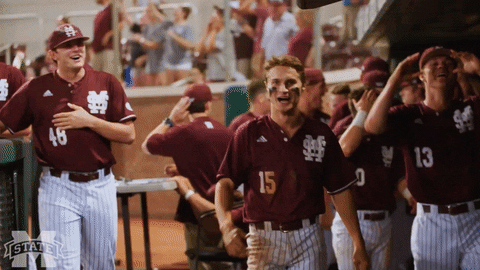 Oh, and Mississippi State is going to the CWS, so Hail State!
Keep checking back for more updates!