YESTERDAY'S FLASH FLOOD
Yesterday's storms did not move.
"No movement" storms are common in the summer. Mid and upper level winds that move storms have gone north.
So the storm's entire life — and all its rain — gets one spot.
Yesterday that spot was in and around Goodlettsville, Rivergate, Hendersonville, Old Hickory, and Lakewood.
Flash flooding is ongoing in Rivergate, Hendersonville, Goodlettsville, and surrounding areas. Do not drive through flooded areas. Here we see the satellite view, like a giant water balloon was dropped on us from space. pic.twitter.com/7hpTWSWpFK

— NashSevereWx (@NashSevereWx) June 9, 2019
A few photos:
@NashSevereWx Flash flooding in Hendersonville from all of this rain. Indian lake rd/Cherokee rd area pic.twitter.com/sPumq7Bbeq

— Eli West (@ile3000gt) June 9, 2019
Person stuck in a flash flood:
Old Hickory and Lakewood. pic.twitter.com/sZOrylG3VL

— Lisa Corbin (@2sphynxcatmom) June 10, 2019
MONDAY
We woke up to high humidity (dewpoint 70°). By 10 AM the dewpoint dropped to 66°. The dewpoint will drop more this afternoon and tonight.
HRRR model illustrates the removal of humid air, replaced by a comfy, drier airmass. Going to feel fantastic tonight.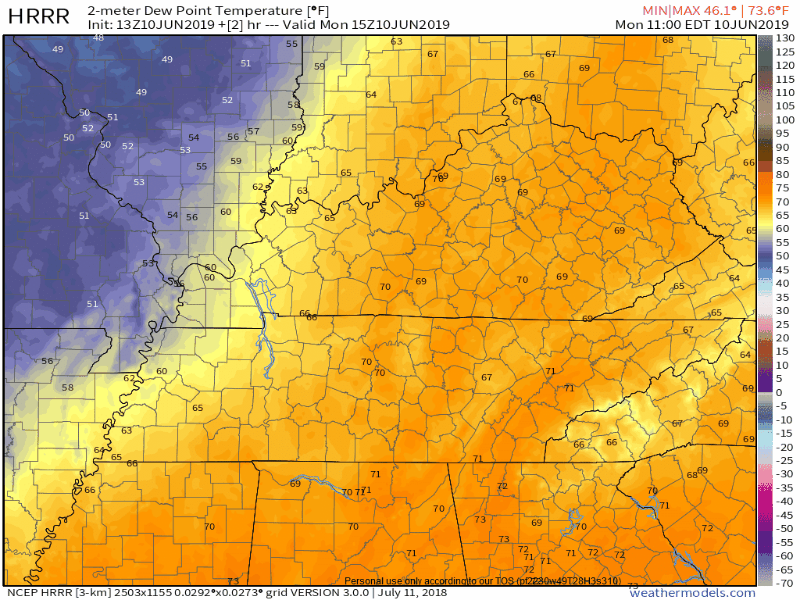 As we transition from humid to dry, an afternoon sprinkle might squeeze out. However, HRRR/NAM3/Euro models all think that'll happen east of us.
No rainouts tonight.
THIS WEEK
Quiet Tuesday. 56°/78°, a perfect day.
Wednesday rain chances return.
On Wed/Wed night, another upper trough and weak front boundary pass. Deeper moisture with these features seemingly a bit limited. Instability and effective shear do ramp up a bit Wed afternoon. Expected scattered showers with a isolated storms…some of which could become strong. (NWS-Nashville).
The models:
Latest Euro runs develops Wednesday afternoon rain to our south along I-65. Wednesday night the system then lifts north and curves east of us, mostly missing us. A close call, though, so we'll have to watch. Rain chances appear higher the further south you are Wednesday.
The NAM3 model agrees with part of what the Euro is selling, except it thinks additional showers and storms will develop west of us and maybe approach us very late Wednesday night.
The GFS model is a blend of both. It thinks rain comes from the south but baaaaarely misses us east. It also has rain coming late Wednesday night from the west, fizzling out before it gets to us.
Without model consensus, we'll have to wait for future model runs and hope for an agreement if we are to arrive at any measure of forecast certainty.
For now, looks like we may miss out on rain, but it'll be close. Given mixed model signals, forecast confidence is low.
Thursday (high 77°) and Friday (high 83°) look nice and rainless, although humidity will slowly creep up each day.
NEXT STORM SYSTEM?
Saturday maybe, but more likely Sunday.
[A] SFC low moving out of the plains into the great lakes ahead of an upper trough likely to bring showers/storms back to the mid-state maybe Sat but mostly likely Sun. There is quite a bit of instability and moderate shear on Sun. Will have to wait and see how severe potential evolves next few days. (NWS-Nashville)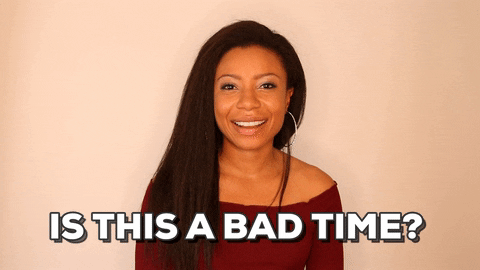 ---