The story for the next five days – rain, rain, and more rain.
Dewpoints yesterday skyrocketed. You could almost drown by breathing in the air – well not really, but definitely felt like it.

That makes the weekend look like constant rain, doesn't it?
It's not going to rain the entire time.
In fact, rainfall totals have decreased since yesterday.
What looked like a 3″ to 4″ event Thursday through Monday now looks like less; overnight models shifted the heavier rainfall just east of us.
Still, we're going to get a nice soak. Details below.
Thursday: Best Rain Chance Early/Mid Afternoon
Below is a composite radar scan from early Thursday morning: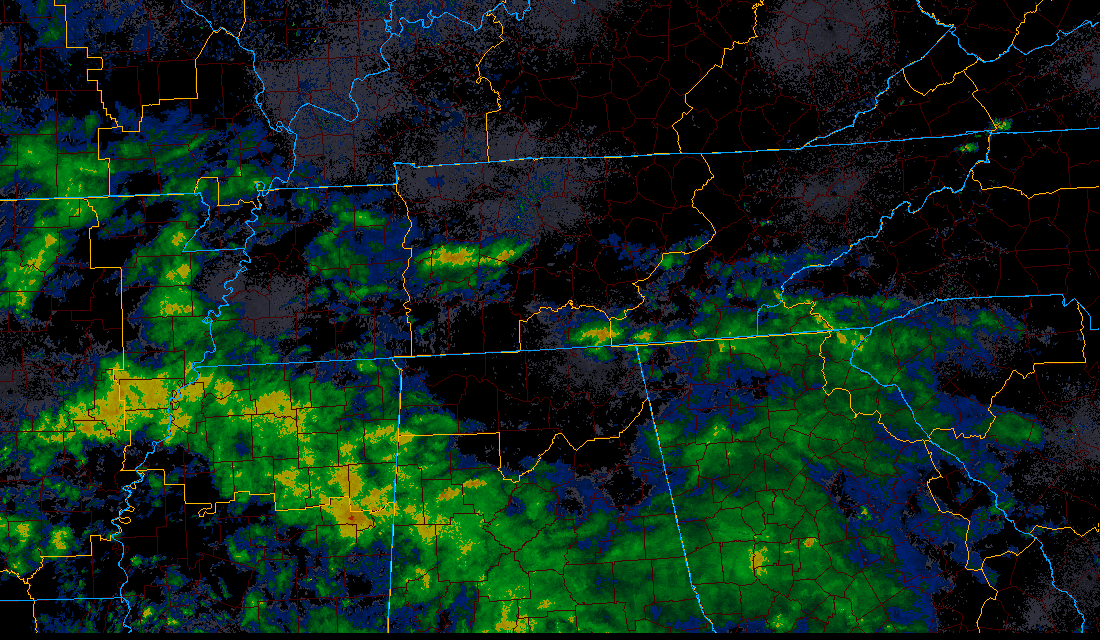 There were showers locally, mostly south of I-40, but notice the rain across Mississippi and Alabama this morning.
That Mississippi/Alabama rain will be here later today. It's our afternoon rain event.
How much of that we'll get remains a bit of a mystery. The NAM3 and HRRR models disagree:
Below is the NAM3 model predicting the radar for Thursday afternoon: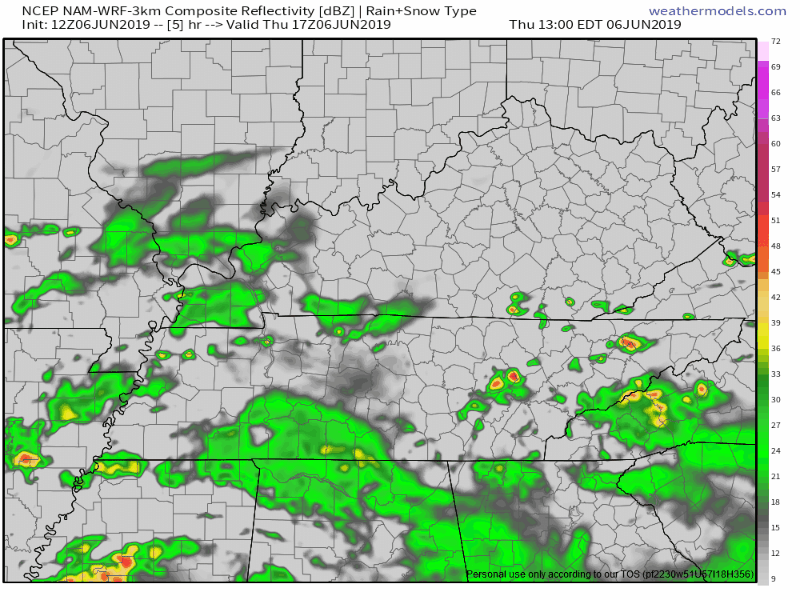 Notice how the rain kinda fizzles out.
However, the HRRR model thinks we will see more rain this afternoon: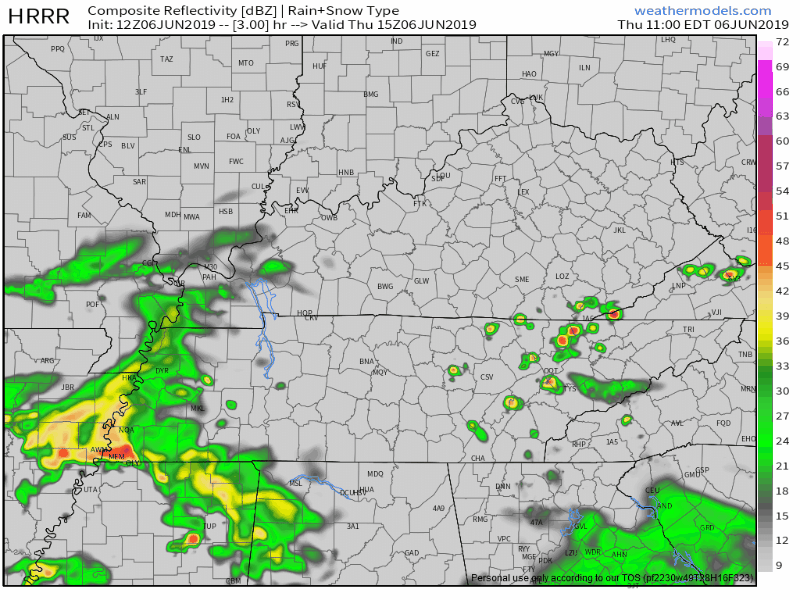 I don't think this will wash out ball games. But it will be close, especially in Will Co where more rain fell this morning.
Friday: Heavy Rain ETA Early Morning
After midnight Thursday night, a heavier batch of rain is expected, ETA Friday morning between 2 AM and 8 AM per the HRRR model: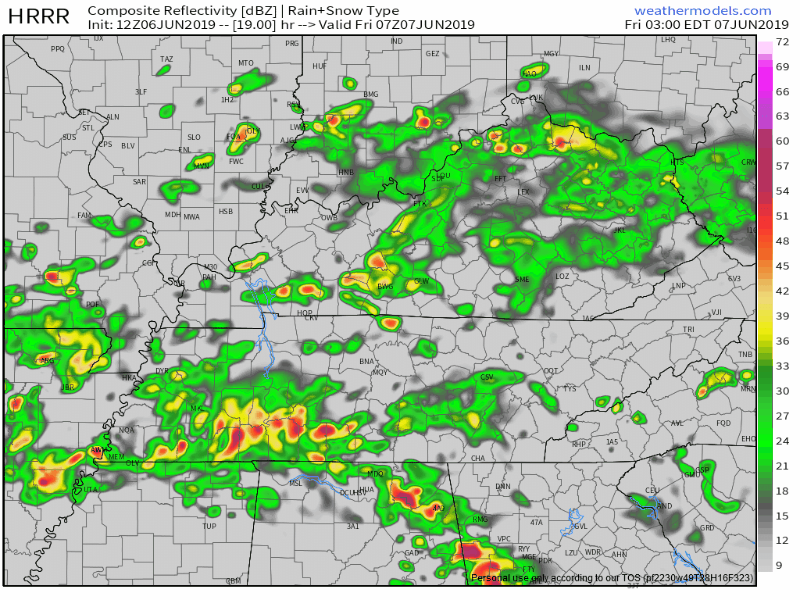 This may contain a few weak thunderstorms.
After that Friday morning heavier rain wave clears, the low pressure system responsible for all this rain will move closer, keeping us in an off and on rain pattern for most of the day Friday.
If during breaks in rain Friday afternoon we get a few hours of sunshine, we may become unstable enough to fuel up a few random, isolated afternoon thunderstorms.
Nothing strong or severe, but if there is any lightning, it'll interrupt/suspend outdoor activities.
Friday Night Through Saturday Morning: Rain Break?
Friday night through Saturday morning, heavy rain may switch off, as the heavier rain moves to our east. This is illustrated below by the NAM3 model, where I've drawn the "spin" of the low and the heavier rain wrapping around us: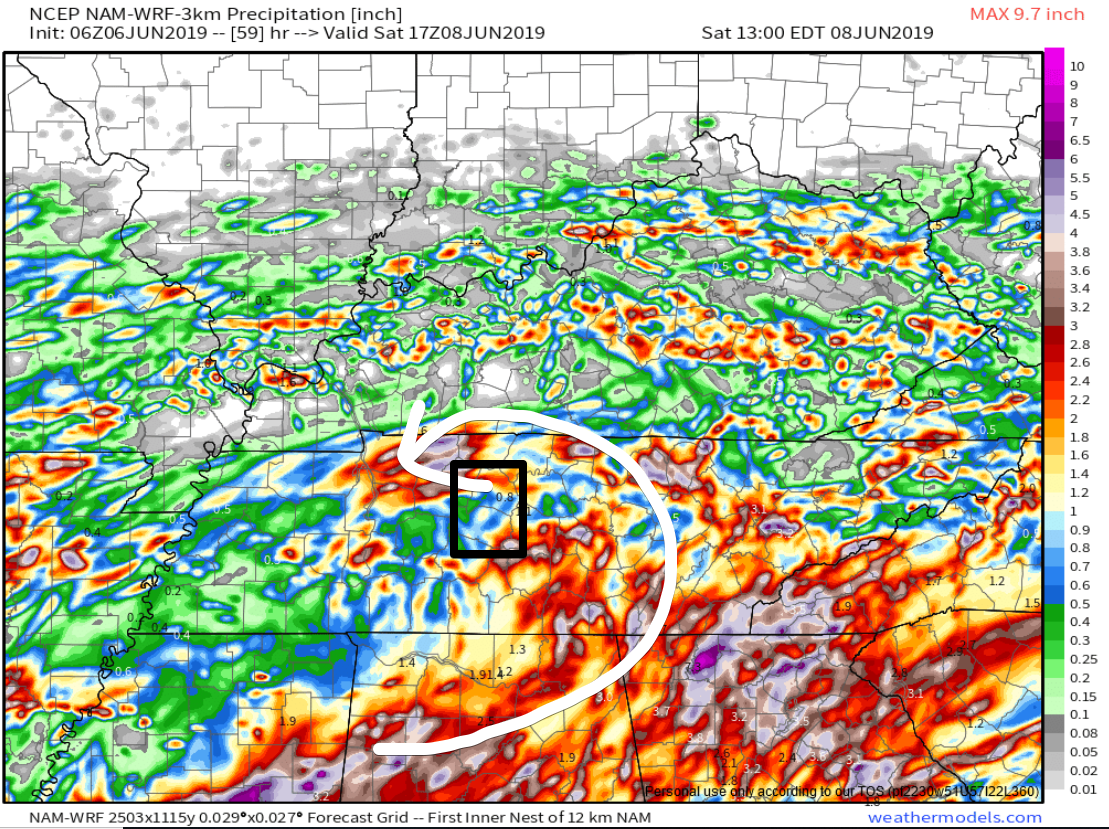 Yet during this time clouds will be packed in and a misty, drizzly, humid Saturday morning should result.
Saturday Afternoon Into Sunday Morning
Upper level low pressure will settle in overhead, bringing additional rounds of heavy rainfall and a few weaker thunderstorms. Rainfall should be heavier, and storm chances higher, during the daytime. Rainfall lighter and storm chances lessened Saturday night, overnight, and into Sunday morning.
The GFS model shows this feature. It places a closed low nearby Saturday.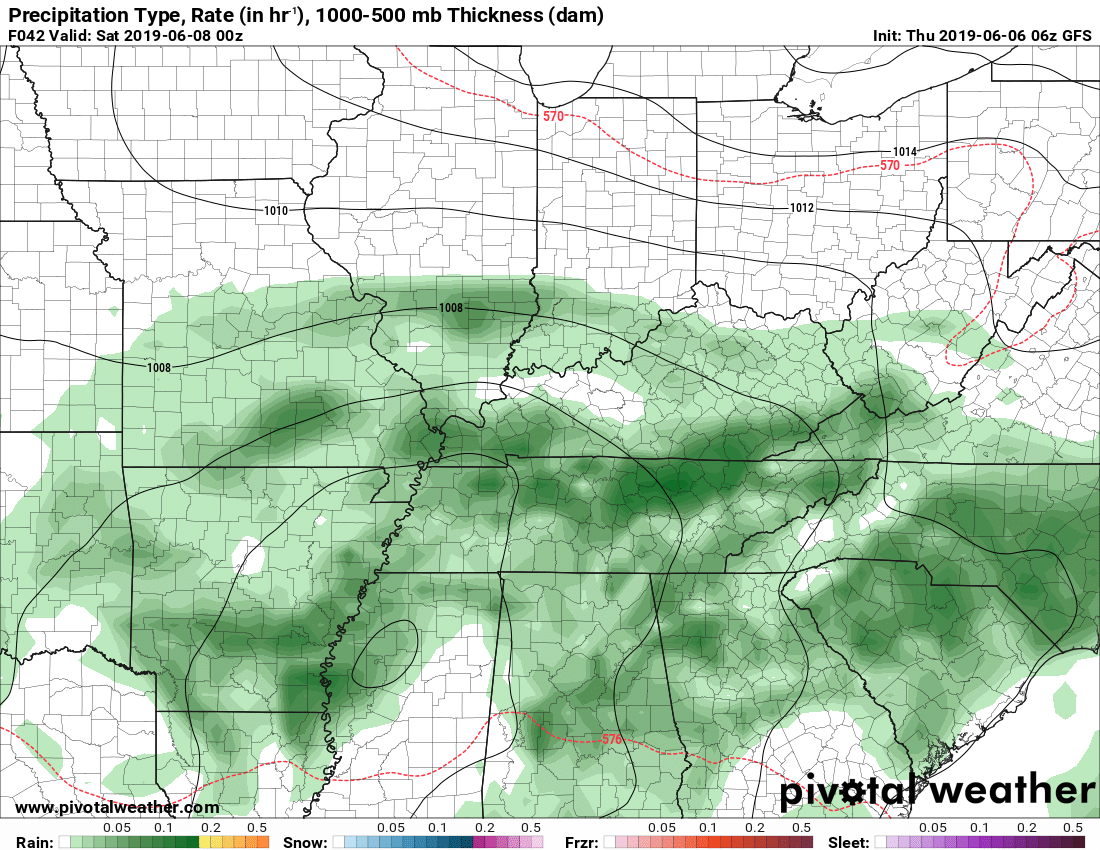 This closed low is not moving. It hangs out to our south, west of our friends in Starkville, MS, drifting here and there, spinning showers and storms toward Middle Tennessee in waves.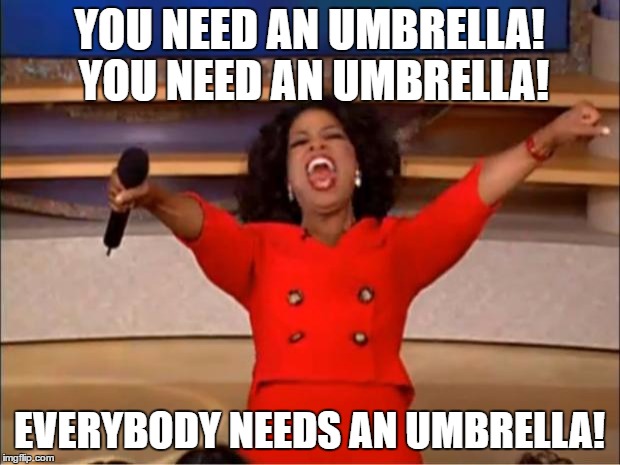 Summary: Flooding Potential
We are "abnormally dry," a low-level drought condition, so we can use the water.
The GFS has around 1.6 inches of rain on the ground by Sunday morning.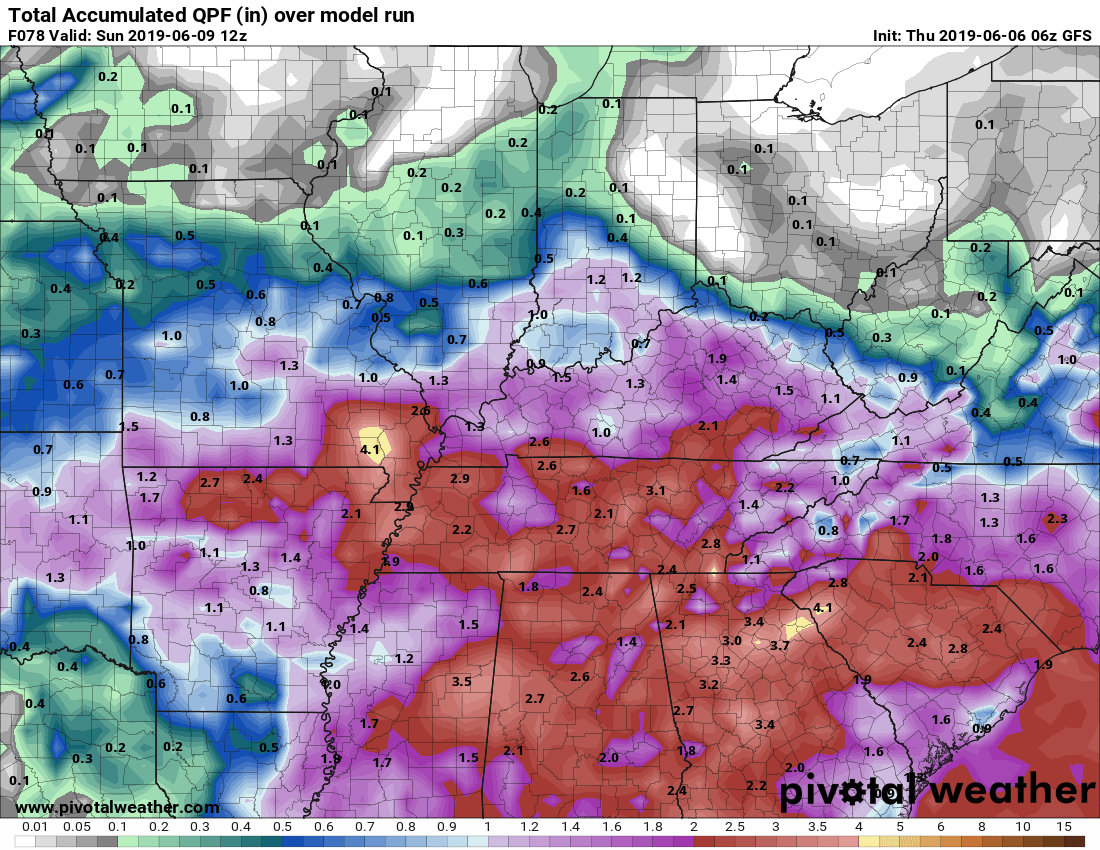 and the NAM has around 1.8 inches: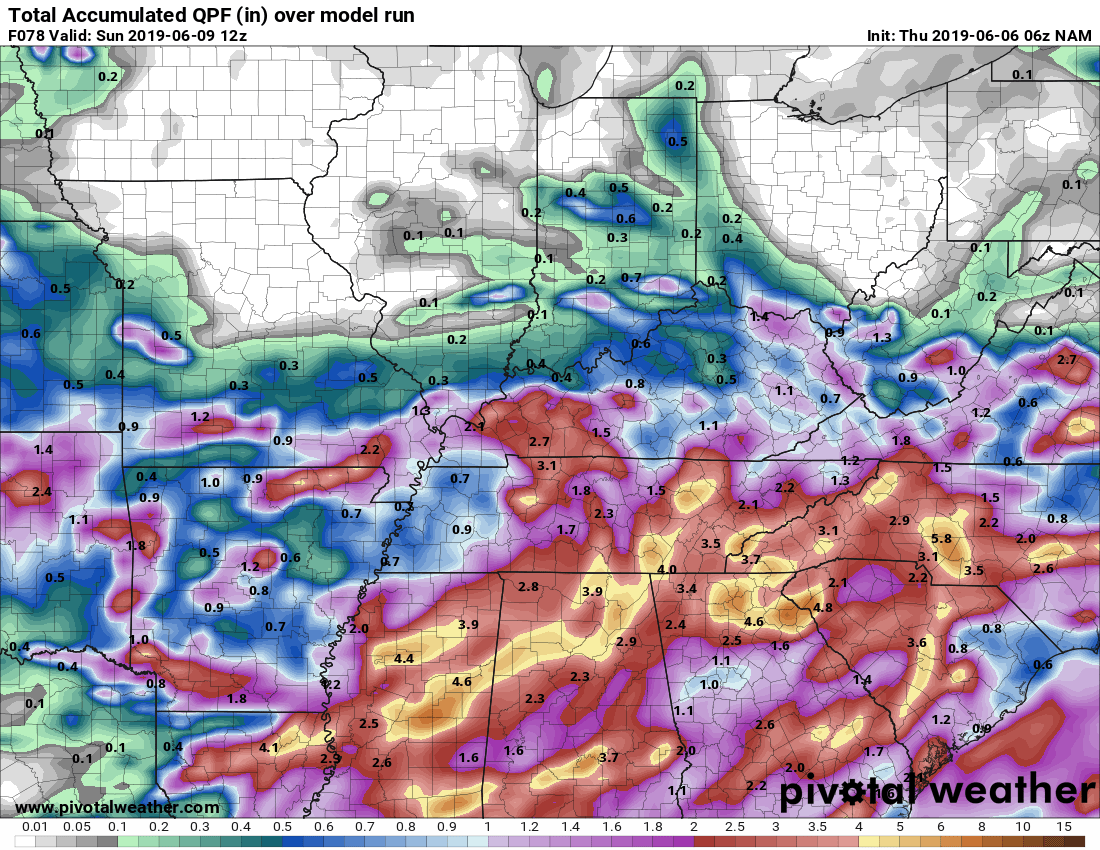 The Euro has around 1.2″ to 1.3″ total through Sunday morning.
Locally heavier rainfall amounts can happen in the Nashville metro and into Williamson County.
But will it be too much rain?
Probably not. Of course this depends on how consistent the rain is and how heavy it is falling, and it assumes that low goes exactly where the models think it will. We can handle this much rain, especially with it being spread out over a few days.
Sunday – Tuesday
The rainmaking low weakens, but lingers. This will keep us in that off and on rainy pattern Sunday through Tuesday. We're pretty far outside the range for Sunday night to give you a good answer about Nissan Stadium. Overall, though, the pattern looks wet, and you'll need a rain gear plan, or an "I don't care about getting wet" attitude.
Remember, weather models — although useful tools — have been wrong before and they will be wrong again. Remain connected on Twitter @NashSevereWx for updated information.
---