Editor's Note: many have stuff going on at specific times beginning tonight thru the weekend. A show. Cookout. Baseball game. Walking outside to tell your neighbor's dog to shut up. Golf tournament. Also I heard there is a big fest downtown.
The approaching several-day rainmaker is not reliably time-able. 
Weather models today through the weekend are unplannably garbled. Each model has its own idea. For sure the pattern is WET, but there are no solid answers about ETAs. Rainfall total variability in Middle TN will be high, some may see 1" or so, others maybe 3". pic.twitter.com/63CoelXilg

— NashSevereWx (@NashSevereWx) June 5, 2019
Weather predicting forecast models are inconclusive and change frequently. Expect multiple forecast updates and changes through the perpetual scooter pedal party that has become Our It City.
Your decision to do X or Y is a function of your risk tolerance and ability to be prepared.
If you're looking for a binary answer to the complex question of predicting future weather, go to your app. Your crap app insults your intelligence and assumes you incapable of grasping context and nuance, and spits out one simple answer to the complex problem of predicting what a massive fluid will do at a time and space in the future.
Forecast accuracy decreases the further out in time you go.
Wednesday (and CMT Awards Night!)
Less than 24 hours ago the dewpoint was a comically low 49°. That's no humidity.
At lunchtime today (Wednesday), the dewpoint is up to 68°, a massive increase in moisture and sweats. And it'll stay there for several days.
Tonight Carrie Underwood performs at the Parthenon and maybe you have something to do too.
Despite this huge influx of moisture and earlier model runs predicting rain tonight, recent model runs of the HRRR and NAM3 both show showers staying clear of our area for the remainder of Wednesday: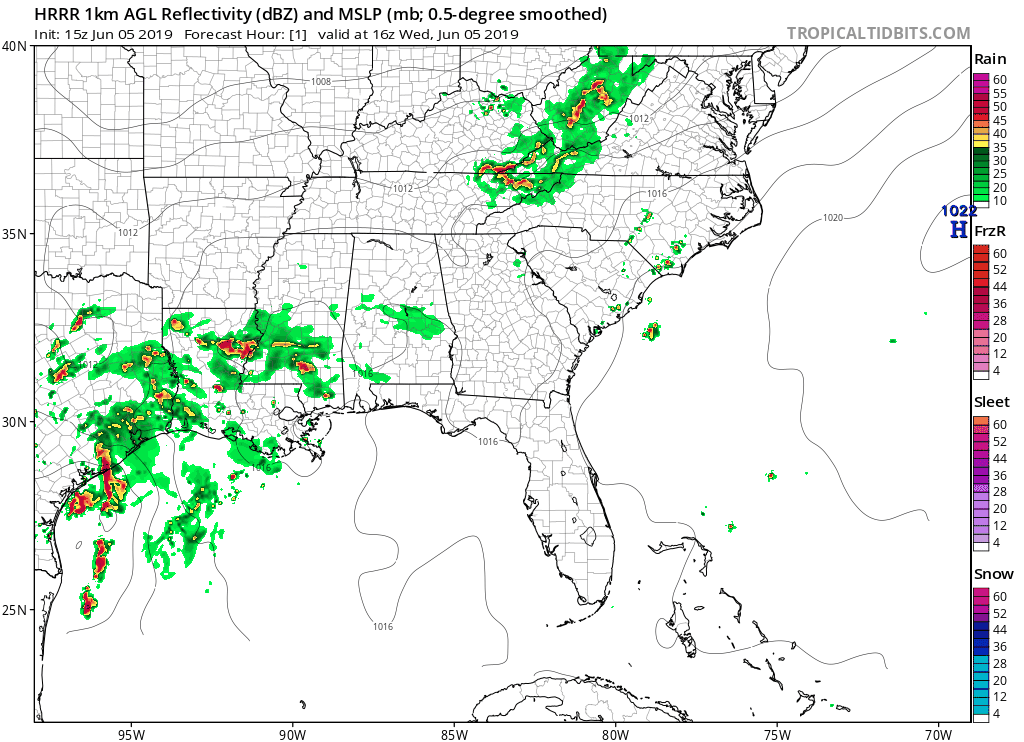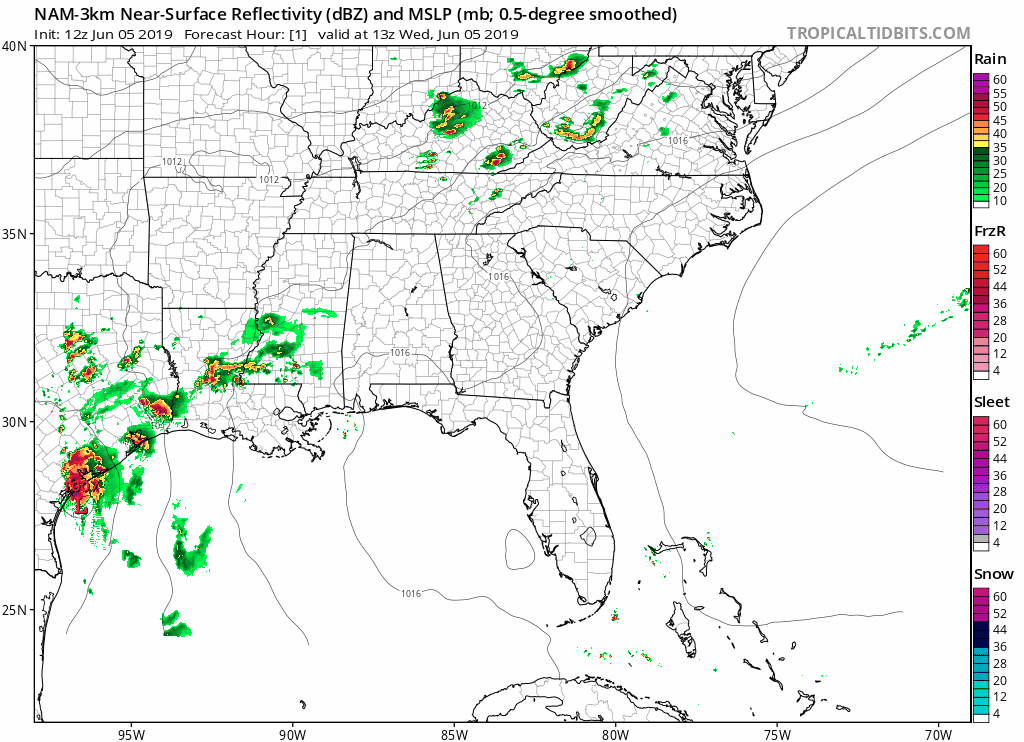 However, don't rule any pop-up showers out. Skies are expected to clear later this afternoon, which will destabilize the atmosphere and could cause some rain and even a thunderstorm or two to pop up. Any rain/storms will be scattered, exactly where no one really knows.
Temperatures will reach a high of 90° today, and for those of you out later this evening for the CMT awards, temperatures will reach the lower-70s by midnight.
Beware: Dewpoints will approach and stay near 70s today, leading to uncomfortable humidity.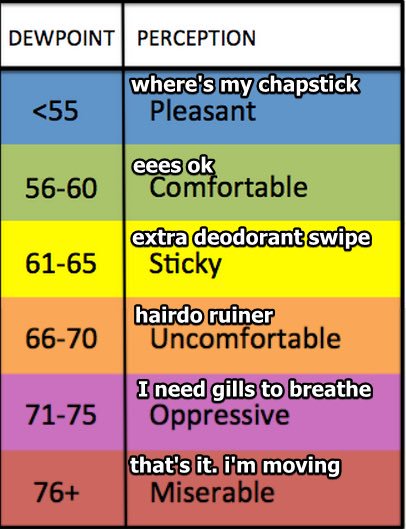 Rainy End of the Week
The rest of the week (and the weekend) looks wet and possibly stormy. Here's the comic strip:

I guess one upside are the cooler temperatures, though dewpoints will still linger near 70.
Greatest chance of rain Thursday looks to be around the afternoon hours, aside from a possible scattered shower or two beforehand: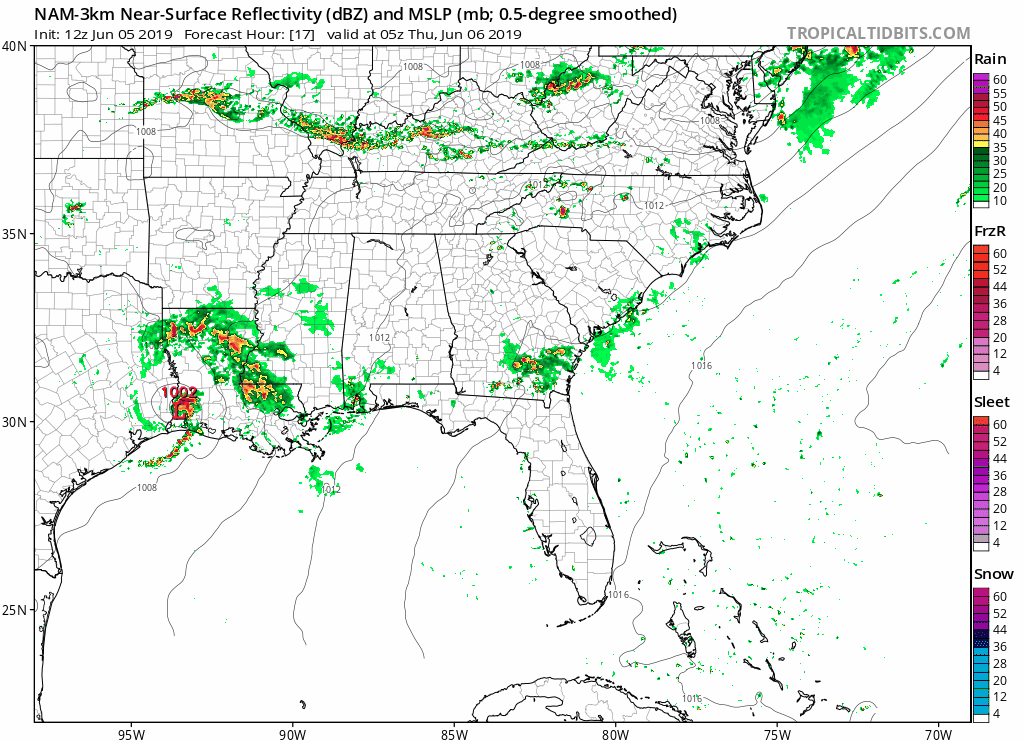 The NAM3 does show most of it staying to our southeast, but it does cut very close to us. Be ready in case this does shift.
Weekend ETAs are still uncertain as models disagree. Hopefully they reach a peace offering soon.
For now, keep any rain gear handy and make sure it works (don't let this be your umbrella):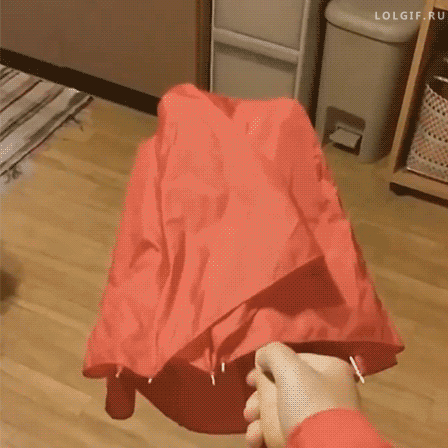 For Friday, Saturday, and Sunday, if you divided up each day into four 6 hour chunks (which most models do), we think it's likely you'll see rain at some point in each 6 hour block.
However, rainfall totals should be generally light Thursday and Friday.
Appears the bulk of the rainfall will come Friday night, Saturday, and Sunday. It should not be a continuous rain.
Severe Weather Concerns?
Not really.
SPC has the Nashville area in a marginal risk for Wednesday, or 5% chance of seeing a severe weather event within 25 miles of you: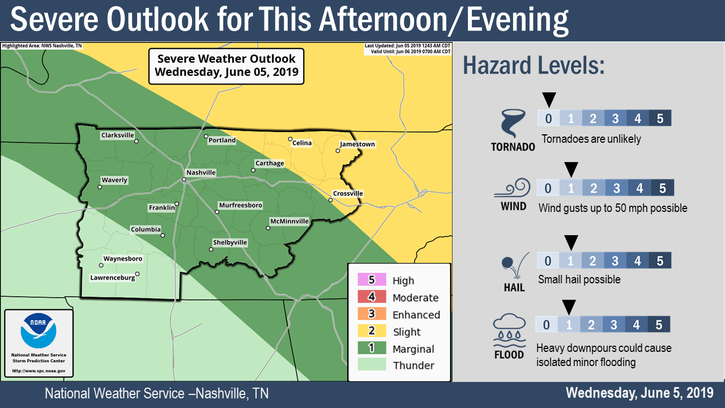 There is thunderstorm potential over the next few days, but we aren't concerned with anything widespread and severe. As always, we will monitor.
Of course, if there is lightning nearby, seek shelter in a fully enclosed structure. Seeking shelter under a pavilion, tree, or tall person is no protection.
Flooding Concerns?
Also low, but note that we will see 2-3″ of rainfall through Monday night (those of you in southeastern Williamson county could see 3-4″):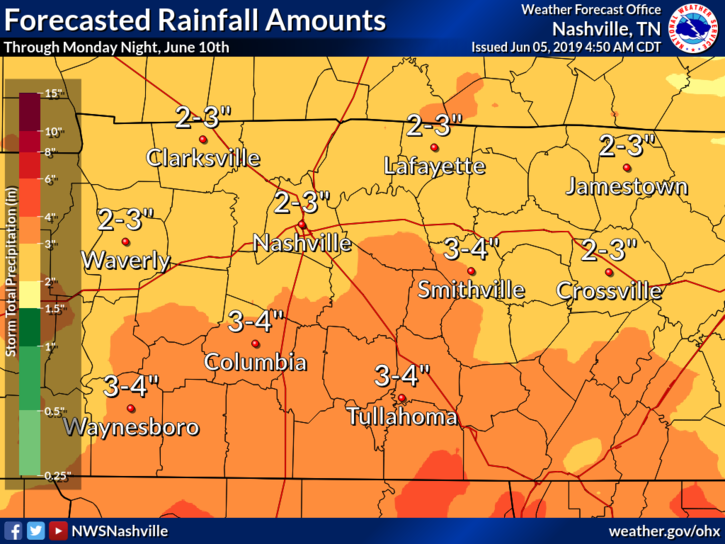 Of course any bands of heavy rainfall or thunderstorms could lead to ponding in low lying areas or areas with poor drainage, so do keep an eye out. Friday and Saturday, the Weather Prediction Center puts the risk of flash flooding pretty low, between 5% and 10%.
As always, check back for updates!
Editor's Note: Throughout this event we will regularly tweet updates concerning the next 12-18 hours with new runs of the HRRR and NAM3 models. We will also tweet any storms or heavy rain seen on radar. Stay informed. Often information gets old, so seek updated info regularly if you're going to be exposed to scooters, foul balls, songs, and other people.
---