ALERT! INDULGENT STORY BY THE EDITOR!

If you just want the forecast, scroll beyond the blue.
Watching those Ohio tornadoes on radar last night took me back to when I was a small boy, living not that far from Dayton. Mom, dad, baby sister and I lived in Mason OH, not far from Xenia, not long after their F5. Tornadoes were on the mind in SW OH in the late 1970s.
We all lived in split level homes, no brick. The only "basement" in our neighborhood was across the street.
When TORNADO WARNING would flash across the TV screen or that high tone would scream from radios, dads would crack the windows (that's what you did then) while several families would grab their small kids and we'd all RUN to the house across the street.
Their "basement" was really just the lower level of a split level home dug into a hill. It had one room with two pool tables, a fridge, a keg, another room was a small laundry room, a third room had seating and a TV and of course shag carpeting. Men near the keg, women on the carpet, kids on the cold hard floor beneath the pool tables, or on the carpet, depending on how bad they all thought it was going to be.
Every severe weather event was a neighborhood party. To the adults.
But man, not to us kids. I was pre-school aged and I remember everything. Being sound asleep and suddenly pulled from my bed by mom or dad, carried by a running parent into the house across the street, told to sleep on the floor on the sofa if the belief was tornado unlikely, or on the floor beneath the pool tables if the sound was too close or lightning too severe. But I was super wide awake, watching it all, looking from under the pool tables up at the rectangular small translucent window just above the grass, wondering what exactly the worry was, then terrorized when one of the dads would tell everyone To Shut Up so we could all listen, he Thought I Heard Something, we'd all be listening for the Sound of a Train Getting Closer, the tornado was feared, and no one really knew exactly where it was.
One late evening dad was out of town on business and mom had to get me and my sister across the street. She had to carry my sister and could not carry me too. So I had to run alongside her in those footy PJs (still the best jammies BTW). We got out the house and it was dark, and silent, but there was a wind and in the distance it was rumbly noisy. Mom may not have been panicked but she was in a hurry. There was a storm out there somewhere, the air weirdly sticky humid, there was no mistaking the distant noise. No tornado was coming but at that time no one knew that. As we ran across the street those footy jammies got me and I fell. Mom's momentum kept going, for a second or two I was untethered to mom, outside, in the dark, looking up in the sky. Quickly she scooped me to my feet, and everything was fine, until we were told to crawl under the pool tables, someone Thought I Heard Something, and the wave of wonder and fear came back over us.
I became a weather nerd right there, on that street, then in that basement. Even today my nightmares are tornadoes and trains.
Rest of the summer, whenever it got really humid, I would run down the street yelling "tornado's coming! Tornado's coming!"
Compared to today's tornado warning technology, we knew almost nothing then. In Ohio, I learned tornadoes are to be respected & you need a plan, tornadoes are a time for community, they are a time to open your home to others and care about each other. Get through it together. Just about every time, it'll miss you, but those "false alarm" times were never inconveniences, it was never time badly spent huddled with your friends, your family, and your neighbors, caring for each other, because the best way to cope with the risk of a low probability, high impact event was, and is, together.
---
Tuesday and Wednesday
We are in for another day above 90° this afternoon, climbing up to 92° for our high. Clouds will build in a little more during the afternoon leaving us with mostly sunny skies.
We could see a popup summer shower or two later this afternoon as a system moves in from West TN, but nothing that is going to wash us out. The HRRR shows a few scattered popup showers moving through between 5pm-7pm: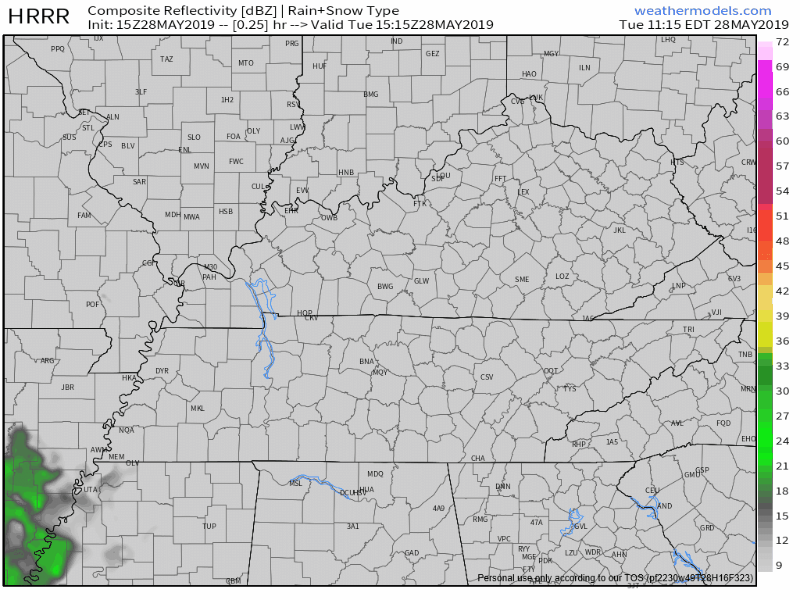 Wednesday will be the warmest day of the week, temperatures climbing up to 94°. Morning dewpoints will be high, but afternoon dewpoints will be down a bit from today, to 60°, allowing for a little bit more comfort when you step outside.  Rain chances stay off to our North and we remain mostly sunny through the afternoon with a few clouds building in.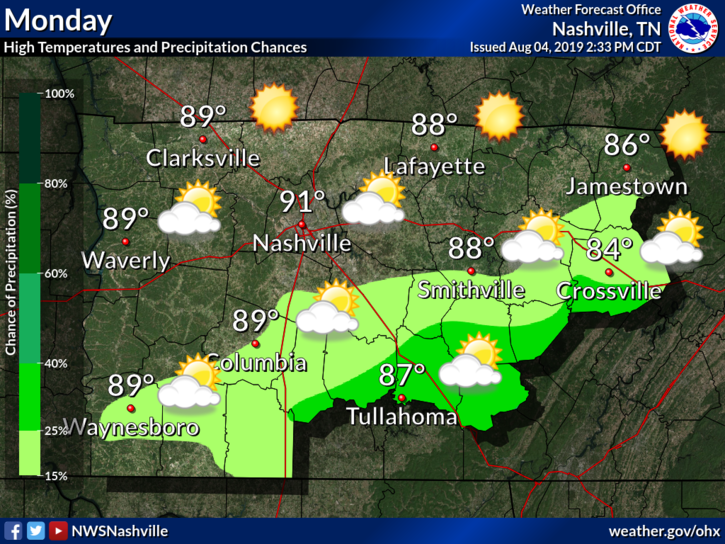 Thursday and Friday
Expect increased rain chances. We start off Thursday partly sunny however, until our chance for some thunderstorms arrives during the afternoon hours. Looking at some time after 6pm. Temperatures will cool off for us as well, the high reaching 88°. 
Friday will be close to the same, but a little bit cooler. Temperatures will be up to 86° for the high, and clouds will build in to stick us with mostly cloudy skies for the end of our work week. There is another slight thunderstorm chance on Friday, especially during the morning hours, but there is still some uncertainty on timing.
The good news? Cooler temps for the end of the workweek.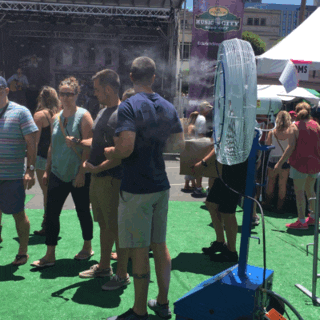 The Weekend
Saturday so far looks pretty nice! Partly cloudy through the morning and afternoon, high up to 87°.  A small chance for some showers and thunderstorms Saturday night into Sunday.
Sunday showers are possible, but this far away the data is inconclusive. Highs up to the upper 80s once again for another humid summer afternoon. Rain chances decrease and we head into the beginning of next week.
Check back for more updates!