Editor's Note.
It's Memorial Day.
You honor a sacrifice when you stop and remember the man and his sacrifice.
We remember Army Spc. Jason K. Edens.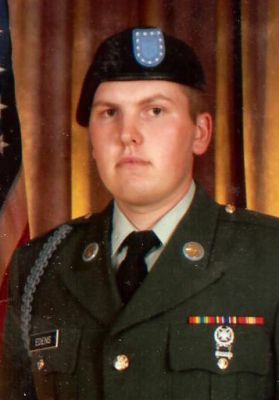 He was born in Nashville. He graduated from Franklin High School in 2007. After a few semesters in college, he joined the Army then married Ashley.  Assigned to the 1st Squadron, 13th Cavalry Regiment, 3rd Brigade Combat Team, 1st Armored Division at Fort Bliss, Texas, he was deployed to Afghanistan in the fall of 2011.
He was 22 years old, when, on April 15, 2012, while on small arms patrol in Laghman province, Afghanistan, he was injured when his unit was attacked with small arms fire. He was transported to Germany then Bethesda, Maryland, where he died of his injuries on April 26, 2012.
"Team Bliss and the 1st Armored Division deeply mourns the loss of an outstanding soldier; we are keeping Spc. Jason Eden's wife, family, friends, and fellow Soldiers in our thoughts and prayers during this difficult time," stated Maj. Gen. Dana J.H. Pittard, commanding general of the 1st Armored Division, in a news release in 2012. "He was a fighter and gave his life on behalf of our nation."
He was the recipient of the Purple Heart, Combat Action Badge in addition to numerous other awards. He and Ashley had been married 3 years. They were planning a formal wedding when he returned from Afghanistan since they didn't get to have one before. He had 85 days left on his first deployment.
I did not know him, but was among the thousands who lined the streets of downtown Franklin when his funeral processional came through. I don't know his wife Ashley, parents Janet and Mike Crane, Jim and Jan Edens, half-brother JR Edens, step sister Kelly Crane, or step brother James Crane.
All I know to do is honor his memory by taking this time to ask you to do the same. If you know his family, or if you're part of his family, I don't know what to tell you other than that I remember him, I wish I had known him, I hope others stop in their tracks today and remember him as well.
---
Memorial Day
The May 27 record high is 95° from 2012.
Today's forecast is 93°. Add the humidity and it'll feel up to 95°. Likely much hotter than that on your car baking the sun.
Satellite this AM shows not many clouds coming this way: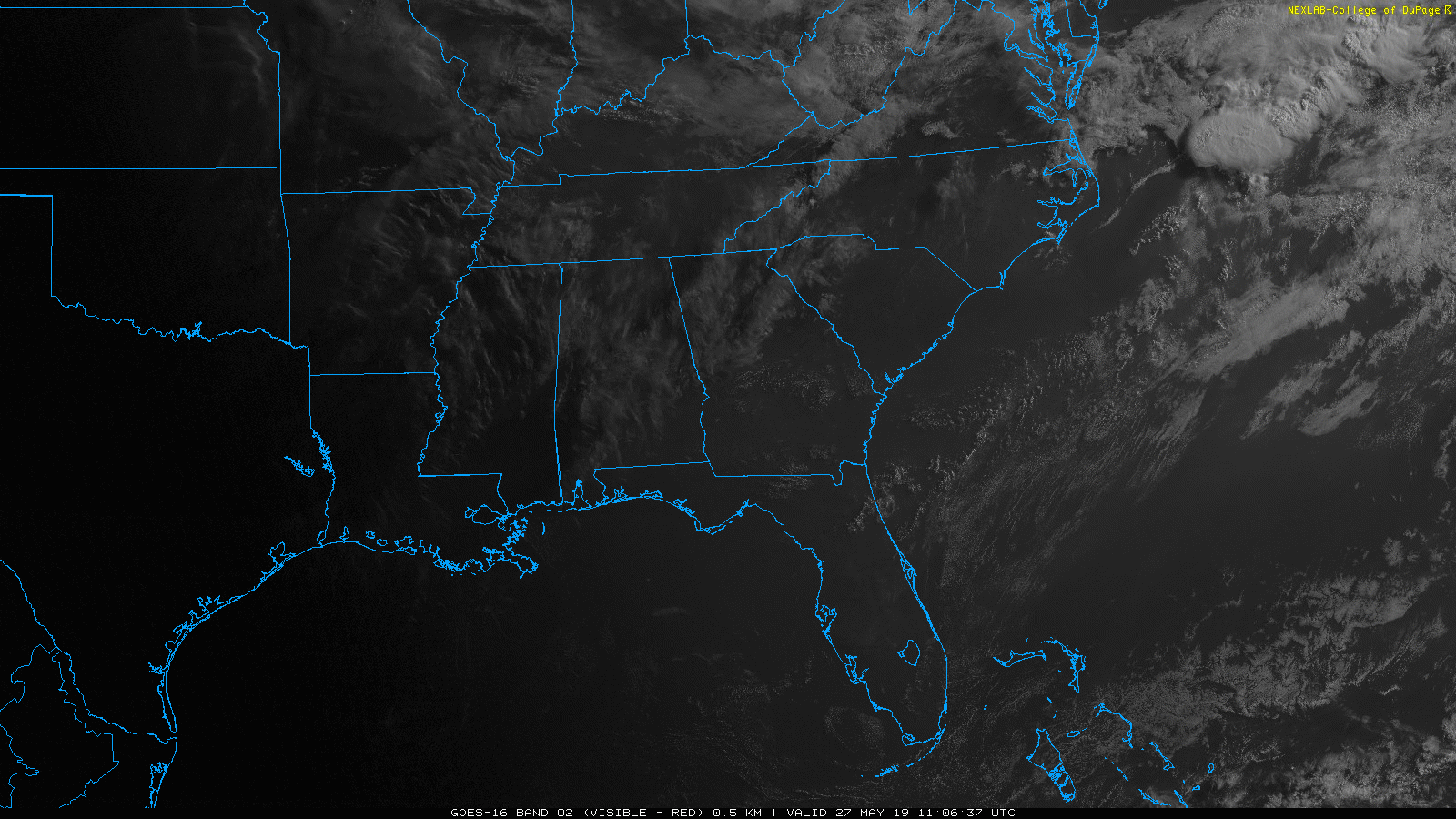 No rain expected. Although, the HRRR model shows a little drizzler streaking across late afternoon/early evening: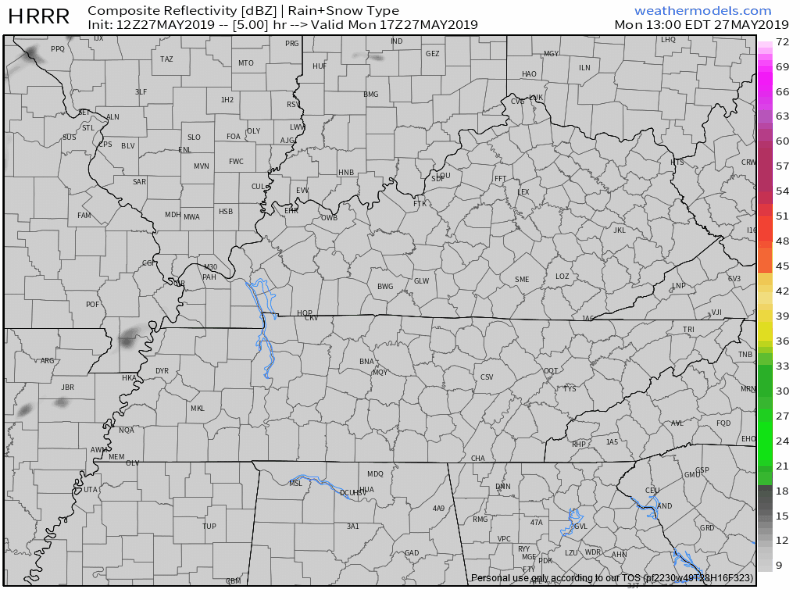 Daytime heating could cause some afternoon clouds and perhaps scattered storms. This is unlikely because of the high pressure still holding control. High pressure causes sinking air ("subsidence"). Sinking air presses down, preventing or eliminating upward motion required to develop rain and storms.
Tuesday through Wednesday
More of the same. Hot. Humid. The forecast is straight-forward.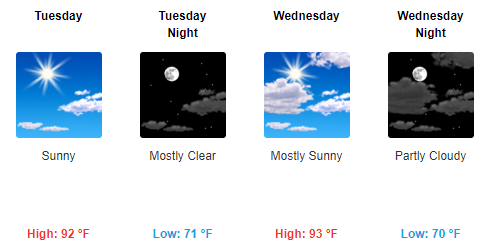 High pressure slowly disappears. Expect more clouds middle of the week.
Thursday
This is the most interesting part of the forecast this week. A small chance of rain! NWS-Nashville has more:
Thursday is the day when I think the subsidence will finally be overcome and we`ll get a slight airmass change. A low pressure system is expected to develop near Oklahoma and push northeastward into the Ohio River valley Wednesday night. By Thursday afternoon, a weak, diffuse frontal system should reach Middle TN and we should see some scattered thunderstorms.
Any rain we get on Thursday will be in the afternoon hours. Think 2 PM to 6 PM.
Rain chances, more clouds, less sun, lower high temps.
We are currently 3.26 inches below our average rainfall amount for May. As far as the year goes, we are 8.82 inches above average because of all the rain we got in February.
The Weekend
We could see some more afternoon "pop-up" thunderstorms on Friday, but there is uncertainty between the models on this. Summer is likely to continue throughout Saturday and Sunday. If high pressure continues to decrease, it will give the heat and humidity opportunity to pop up those random, isolated, late afternoon/early evening showers and storms common for the summer.
As always, check back for update and forecast changes.
---