Thursday through Saturday
Turning hot and increasingly humid with dew points rising into the mid and upper 60s…Yuck! A few isolated showers or non severe thunderstorms are possible but nothing widespread is expected.

[Editor's Note: You'll notice above we have a 20% chance of thundershowers this afternoon. While a passing pop-up storm is possible, it's not likely. Chances are small. The HRRR model thinks we'll stay dry this evening. So, I'd keep my outdoor plans for tonight. If you get a quick downpour, you won the rain lottery. It will be exceedingly hard to win today.]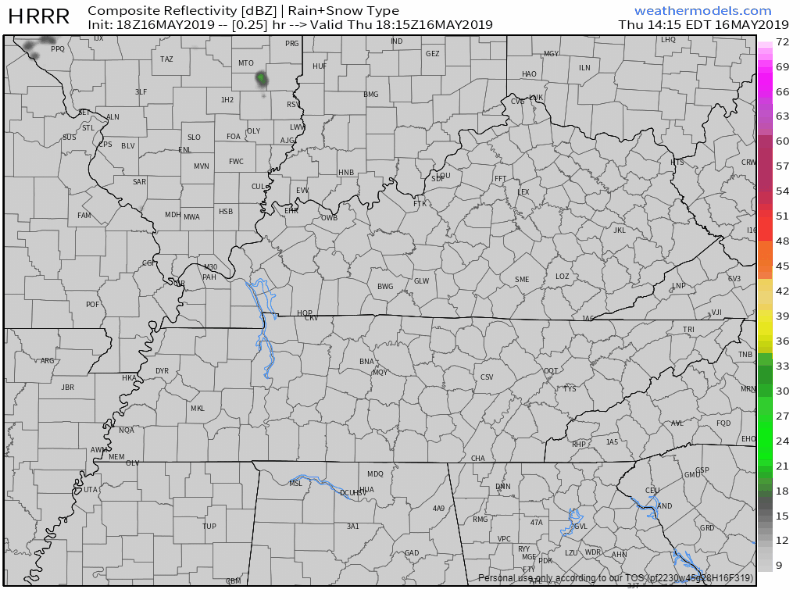 Editor's note: Over the next few days, humidity will make a noticeable return. If you're new here, this is our signal that summer is coming…soon.]
Here is a chart showing what happens as the dew point temperature rises: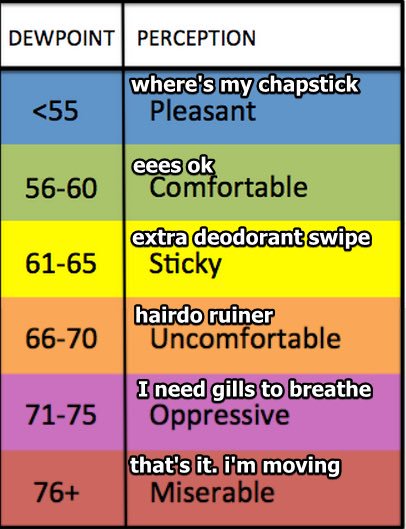 Sunday
Remaining warm and humid with a high near 85 degrees. Showers and thunderstorms with no severe weather expected at this time, however, the National Weather Service has this to say:
Instability and shear line up nicely along the Mississippi and we could see a tongue of nearly 2000 max CAPE slide east Sunday morning toward the Tennessee River. This would bring the threat of strong to severe storms into western Middle Tennessee during the day on Sunday. However, upper level support will diminish throughout the afternoon as the upper low heads northeast and the storms moving through Middle Tennessee should lose steam as they move east Sunday afternoon.
[Editor's note: A beta version of the upgraded GFS model illustrates the wording from the NWS. Storms fall apart as they move E on Sunday. The leftovers would arrive Sunday evening in this model run. We'll see how this evolves as we get closer, but severe weather is not being forecast for our area on Sunday.]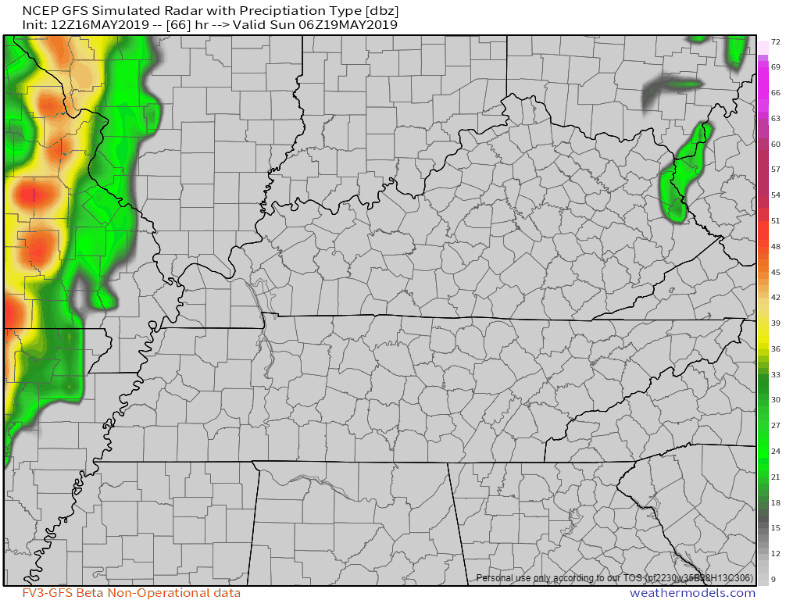 As always, be sure to check back for updates and remember to stay cool!
---