Tuesday Afternoon through Wednesday
Mid to upper 80s today (Tuesday) and Wednesday.
Wednesday will be the last good time to get any yard work done before higher humidity and rain arrives Thursday.
The NAM3 model thinks rain will fizzle before arriving Wednesday night:
Thursday
First, humidity will feel oppressive.
Widespread showers and thunderstorms are likely as a storm system arrives from our west.
ETA is Thursday afternoon. The latest NAM3 model organizes a line of thunderstorms arriving mid-afternoon: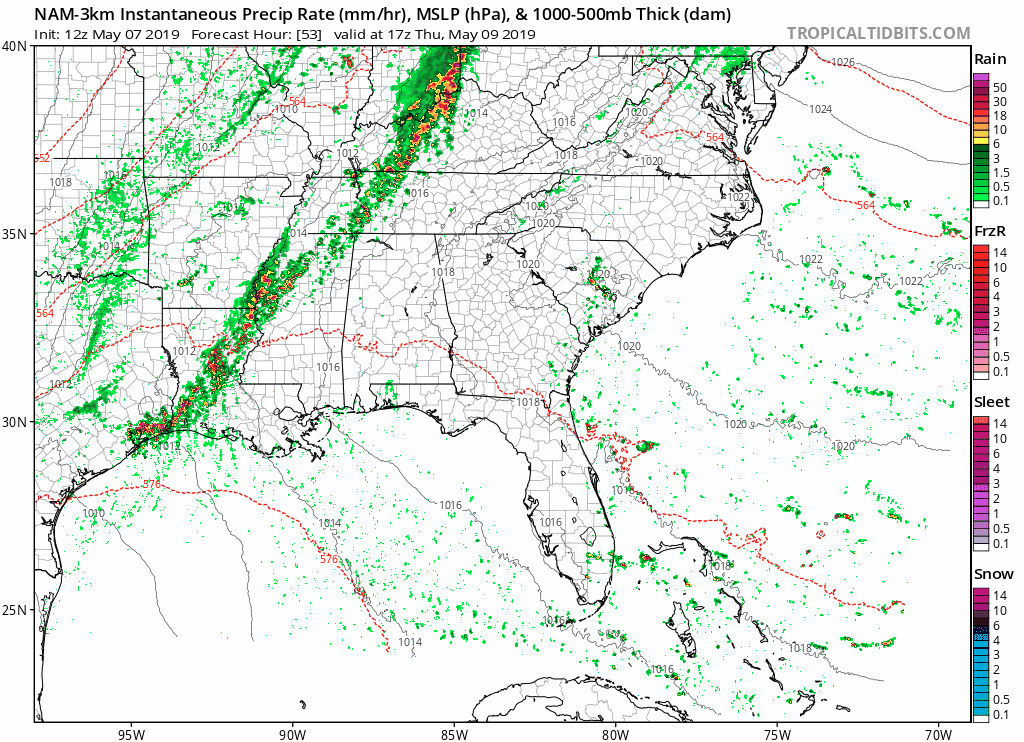 Strong storms are possible and an isolated severe thunderstorm can't be ruled out. The National Weather Service has this to say:
A cold front will sweep across the mid state Thursday with scattered to numerous showers and thunderstorms possible. It is also possible that some of these storms could be strong to severe, especially for locations around and west of the I-65 corridor.
Here is the graphic by the NWS showing the potential hazards with these storms: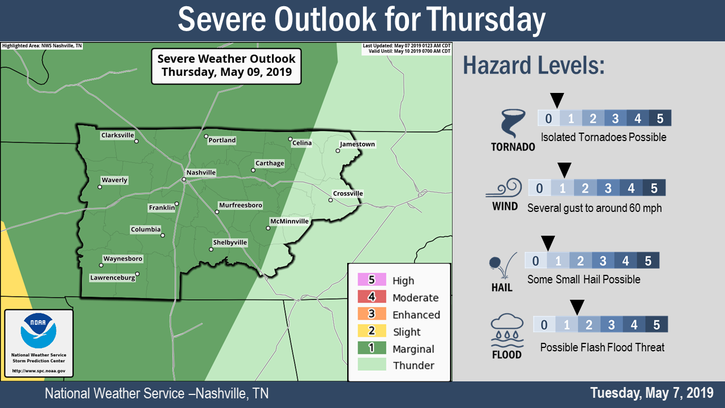 This is a very low severe threat. However, some fields may not tolerate the rain, and/or they may be interrupted by lightning.
Friday Into The Weekend
Humidity will drop but models are slowly coming into agreement that we will have a rather wet Friday through the weekend, so make sure to plan accordingly.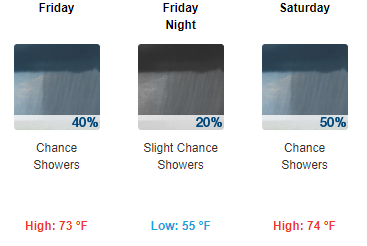 The latest NWS rainfall outlook shows this for Thursday through Sunday: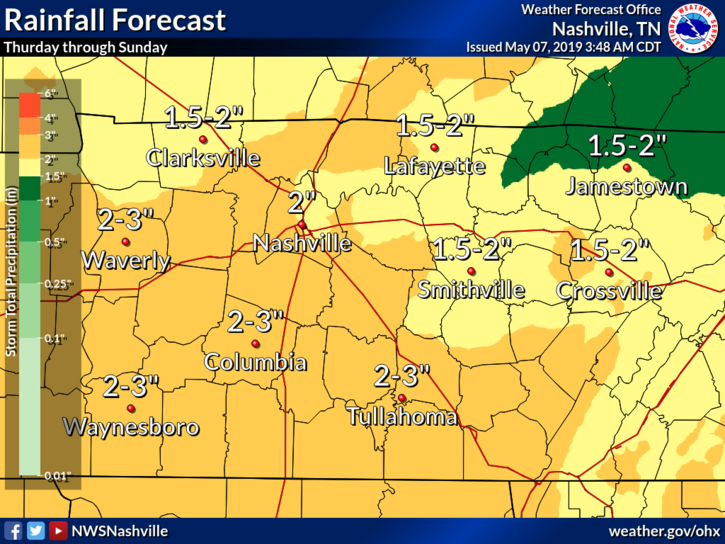 Editor's Note: Weekend rain/storm timing is a mess. Rain will form along a boundary stretching across SW to NE, but exactly where it sets up in Middle Tennessee will make all the difference between rain and no rain. The latest Euro model run has the rainmaking boundary setting up just SE of us Friday and Saturday morning; I really don't know what to tell you about Saturday afternoon and evening because that boundary could easily wiggle this way or that and rain us out. No outside activity is safe from rain. Right now we think most weekend rain should fall Sunday. Sorry Moms. I bet this will change again tomorrow.
As always, be sure to check back for updates!
---