Rain ETA as early as Wednesday night, but bet on a Thursday rain ETA. Right now outdoor events Wednesday night look safe.
Very little good high res data available between hours 60 and 90, which is how many hours we are from this event. Thankful for Euro model 90 hour data which suggests rain arriving sometime middle of the day Thursday and lasting Thursday night into the overnight hours. But one run of one model is no way to plan life, so expect updates/changes/refinements to this prophesy.
Storms? Yeah, probably. How bad? So far not that bad, really. Looks better today than it did yesterday.
Storms possible anytime Thursday afternoon through Thursday night but most like Thursday night, when instability (storm food, see below) will be highest: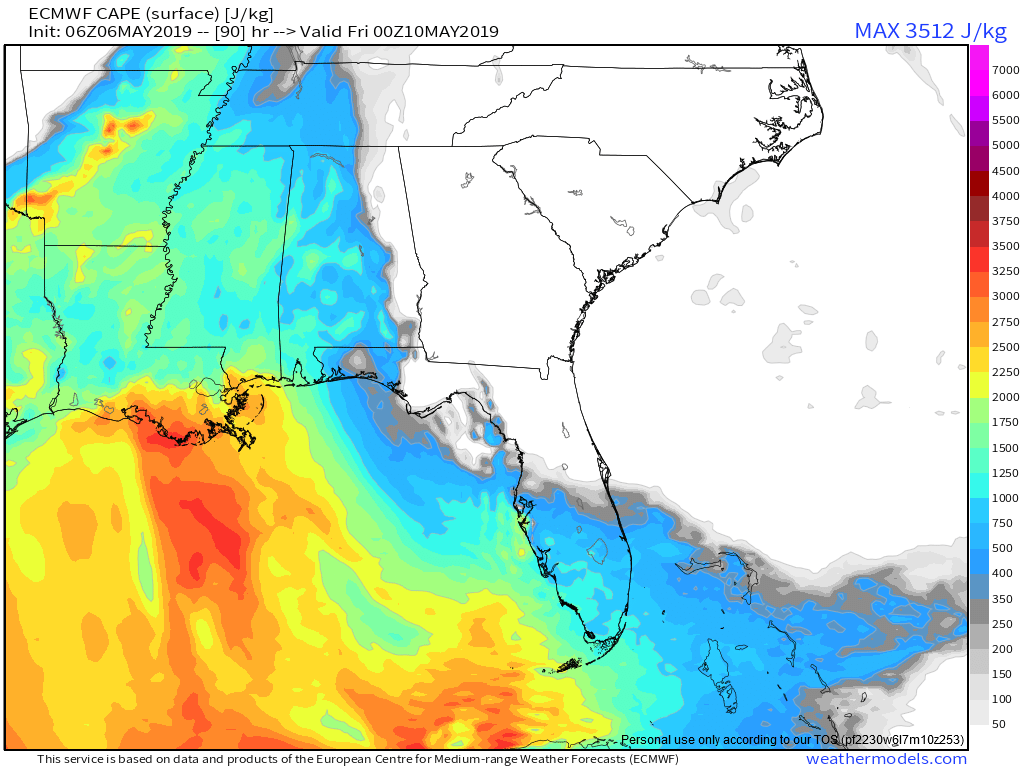 Alert weather nerds will say that's not a lot of storm fuel. True. Below I copied and pasted what NWS-Nashville had to say about this storm food deficit and other ingredients in place for strong/severe storms:
[I]nstability does look to still stay marginal. Storm Relative Helicity (shear) peaks above 300 with overall bulk shear around 40knts or so. This will bring isolated strong/severe storms into the fold on Thu… maybe even into the evening as well…for much of the area.
Our severe (58 MPH winds, hail, and/or tornado) risk is low but not non-zero. Severe weather probabilities increase as you go west, in the yellow-shaded area below, and threats are mostly just hail and those 58+ MPH winds. Not ruling out tornado but not expecting it either.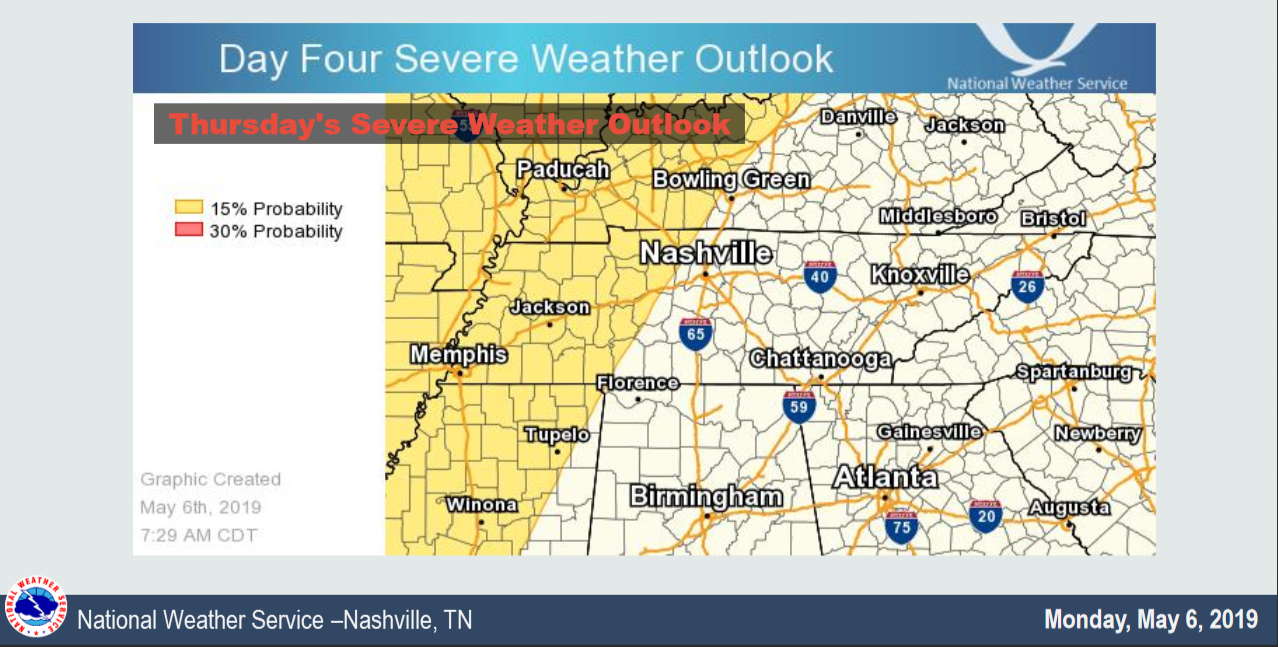 Even without severe weather, expect lightning, gusty winds, and widespread downpours Thursday afternoon and evening. Avoid @ing us about your x at y time, we don't know, and if we did, we'd tell you. Stay general when getting specific makes lies.
The weekend is an even bigger box of uncertainty. One weather model keeps us pretty dry (GFS), the other (Euro) very wet. Forecasters are unsure which veiled path leads astray, so forecasts are splitting the difference by calling for 30% to 60% chances of rain Friday through Sunday. So went this morning's forecaster lament:
EURO [model] continues trend of keeping frontal boundary over the mid-south as well as heavy precip axis. This pattern would likely result in a few inches of rain or more area-wide. GFS [model] however sticking with pushing the front much further south…and the precip axis with it. We have been employing some blend of those solutions, really no good reason to change at this point.
Bet lightly on the Euro, Steeplechasers, by planning for rain. For added pretention, call them "galoshes" and pretend your feet aren't sweating and starting to smell like horse. Alternatively I recommend additional alcohols, sure to relieve wet hat and muddy leg anxiety. At least it shouldn't be hot, high 75°.
Science: May is usually our rainiest month.
Nashville: let's hold several major large events outside.

— NashSevereWx (@NashSevereWx) May 6, 2019
---