Today: Warm and Partly Sunny, Possible Shower Tonight
The high pressure is still sitting off to our east, meaning partly sunny weather and a high of 85°. It'll be breezy with a southwest wind at 15-20 MPH (gusts may even reach 30 MPH). Low temperatures will reach down to 66°.
It may also feel a little stickier outside with dewpoints reaching the lower-60s.
We could see a pop-up shower today, but the main chance of rain returns later tonight.
The HRRR model shows some rain moving through around 7pm.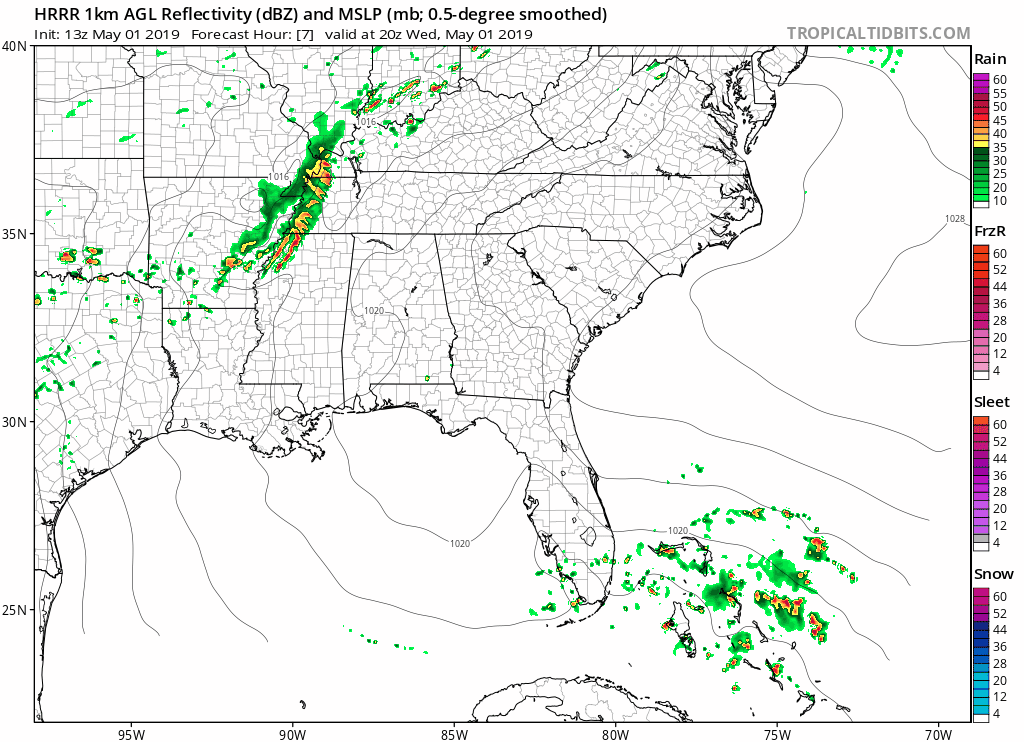 The NAM3 model says most of the rain will stay to our north.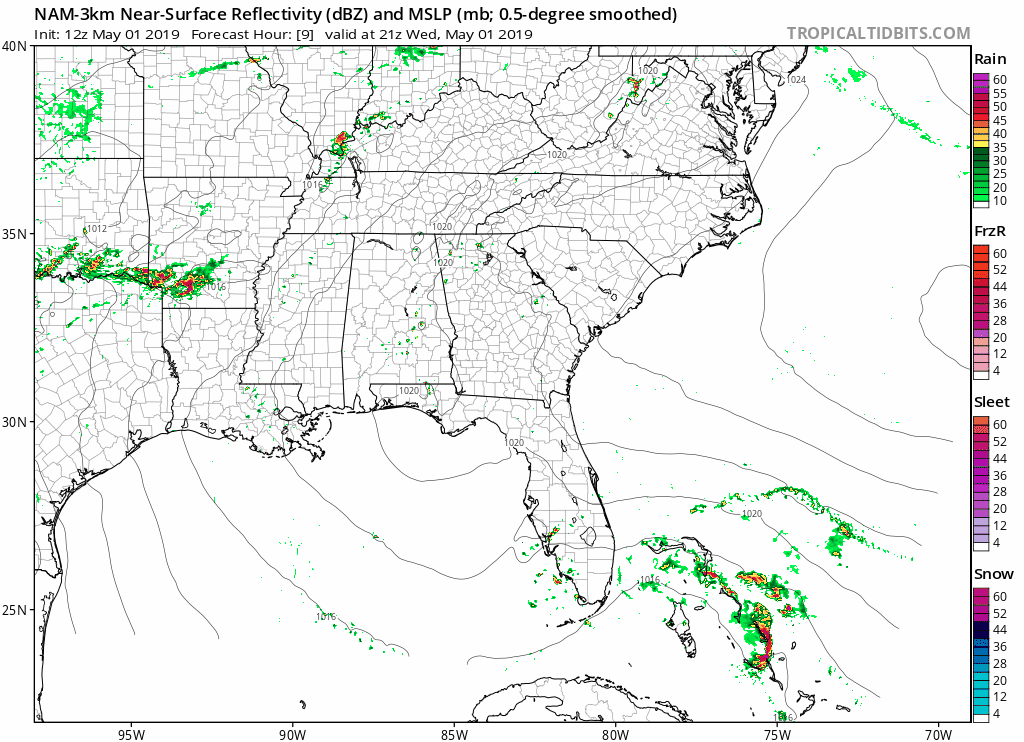 Thursday through Saturday: Chance of Rain/Thunderstorms (Some Severe?)
The chance for rain still remains over the next few days.
Thursday holds a 40% chance of rain right now, with high temperatures reaching 84°. The humidity will also stick around with dewpoints reaching up to the mid-60s today (yuck). Winds will be at 5-10 MPH with gusts as high as 20 MPH.
The SPC has us on the outskirts of a marginal risk for severe weather (5% chance of seeing severe thunderstorms within 25 miles of you) – the highest risk remains to our northwest and north.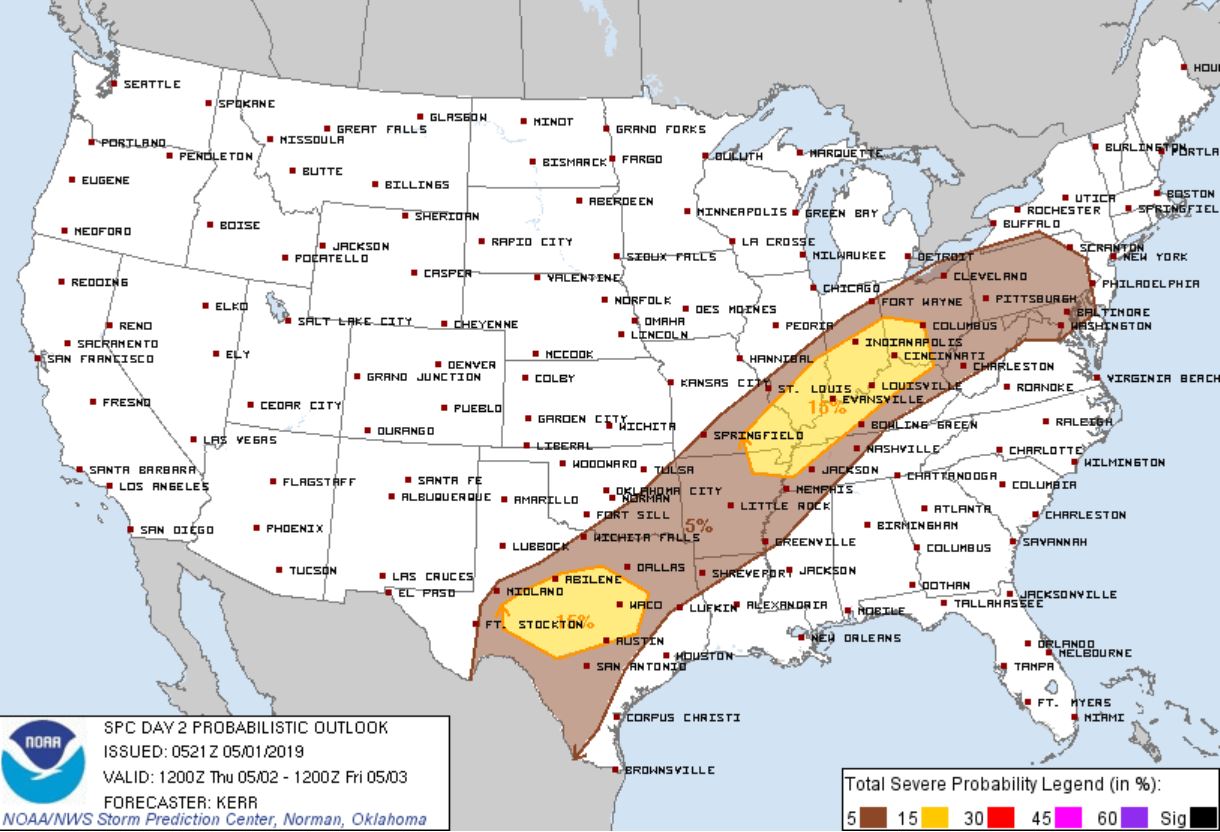 Rain chances seem to increase some on Friday. The NAM3 model shows rain moving through during the very early hours of the morning with some more showers around the early afternoon hours.
Please takes these ETAs with a grain of salt – this forecast is still a couple of days out, so it could change.
Temperatures on Friday will reach 80° with a low of 62°. You can still count on humidity.
On Saturday, a much stronger shortwave will move through the area and bring the cold front with it. What could that mean for us? If you guessed possible rain and thunderstorms, you are correct. However, just like the other forecasts, there are still uncertainties right now, so keep checking back.
As for temperatures on Saturday, the high will drop just a few degrees down to the mid-70s. Low temperatures will also cool off just a little in the upper-50s.
Now to assess the severe thunderstorm chances. NWS-Nashville says:
"We may see a few strong to severe storms during the period of Thursday through Saturday. Forecast soundings do show good instability numbers, mainly during peak-heating times, and the SPC suggests at least a marginal risk of severe storms."
To quickly break this down: the storm food (instability) looks like it could be there. Any strong/severe thunderstorms would occur during peak-heating times, aka the later afternoon hours. As for the marginal risk (5% chance of thunderstorms occurring within 25 miles of you), the SPC only has us in that risk for Thursday as of right now.

Sunday
Sunday looks like we could return to sunnier weather with highs in the mid-70s.
There are still uncertainties, so make sure to keep checking back as the forecasts are refined and updated!
---