This Afternoon Through Wednesday
High pressure to our east means south winds bringing return-to-summer temperatures.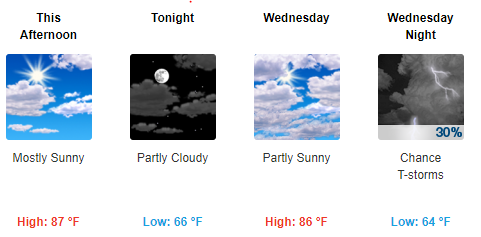 Thursday and Friday
A frontal boundary sets up bringing daily chances for showers and maybe an isolated thunderstorm beginning late Thursday. Severe weather is not expected at this time, but a few strong storms are possible in spots.
It will remain warm and humid with highs in the low 80s on Thursday and near 80 on Friday. Dewpoints are expected to be in the mid 60s which will make it feel a bit sticky out there. Humidity arrives with May.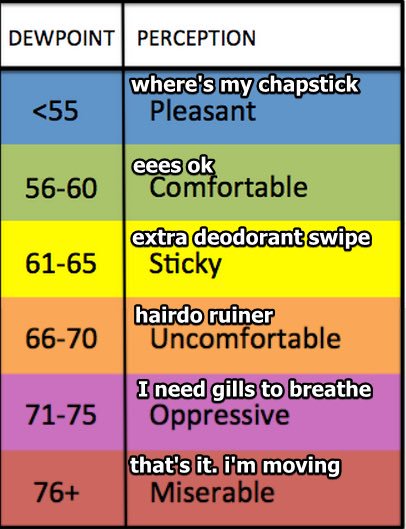 As we tweeted this afternoon:
Thursday night through Saturday, (1) SW winds, (2) a weak "boundary" across Middle TN, and (3) the arrival of summery humidity = off and on storms sure to confound those seeking hat hangable ETAs. Outdoor event planners, embrace the uncertainty. pic.twitter.com/wEobVmCjI4

— NashSevereWx (@NashSevereWx) April 30, 2019
Below is the NAM model for Thursday morning through Friday evening. It shows scattered areas of showers but not the whole time. There is uncertainty with the location of these showers because we are still a couple days out and models don't do well at this range in these situations, so be sure to keep checking back for updates.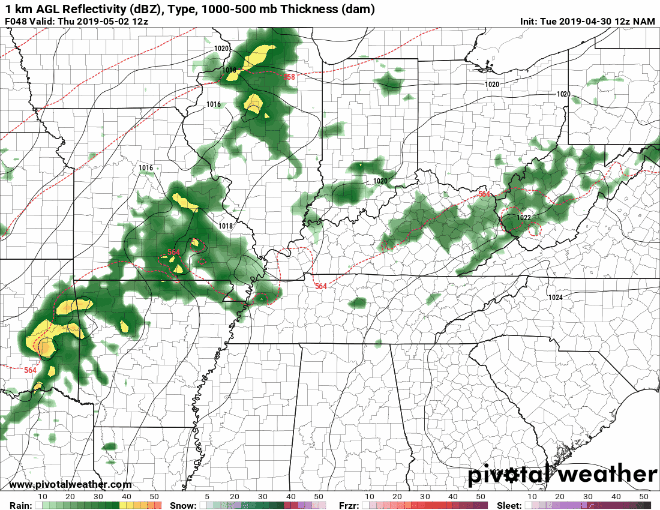 Don't trust any summertime airmass forecast more than 36 hours away. Inside those 36 hours, be wary.
A Look Ahead to the Weekend
Considerable uncertainty remains as to whether it will be mostly dry or wet, although cooler temperatures are expected due to increased cloud cover. Probably some off and on showers, more likely in the afternoon during peak heating, and less likely overnight/morning. However, a shortwave could ride across our boundary and cause rain/storms at any time. Your results will vary.
Editor's Note: we're entering the time of year where your crap app is crappiest. Instead of systems emerging from a clear source (low pressure dragging a cold front from west to east) that are subject to being timed, we're transitioning to a humid season where shortwaves come and go unpredictably, and storms form just because it got hot somewhere or cold aloft somewhere else. Your crap app expresses all uncertainties with clip art and a percentage best read for the region as a whole, not your specific location. If you planned something outside in May, I'm sorry.
As always, be sure to check back for updates!
---