We anticipate fair weather today with warmer temperatures than we had over the weekend. Our high should reach into the mid 80°s. Cloud cover may increase this afternoon. There was rain out west but models think it'll dry out before those clouds get here mid-afternoon.
Tuesday into Wednesday
Hot. With a humidity increase. Should feel more like summer than spring.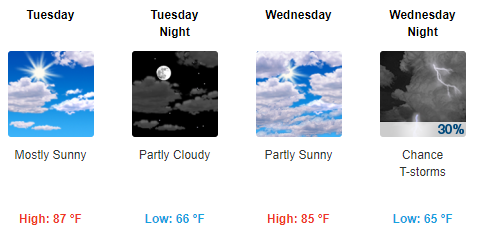 Rain chances return Wednesday night.
Thursday and Friday
Thursday should be the most humid day of the week. Forecast dewpoint 63°.
Editor's Note. Sorry to say it's time to consult this handy dewpoint/feel conversion chart: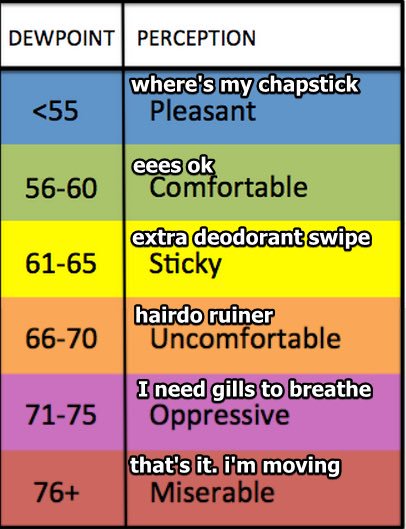 The NAM model Wednesday morning through Thursday evening shows rain approaching Thursday: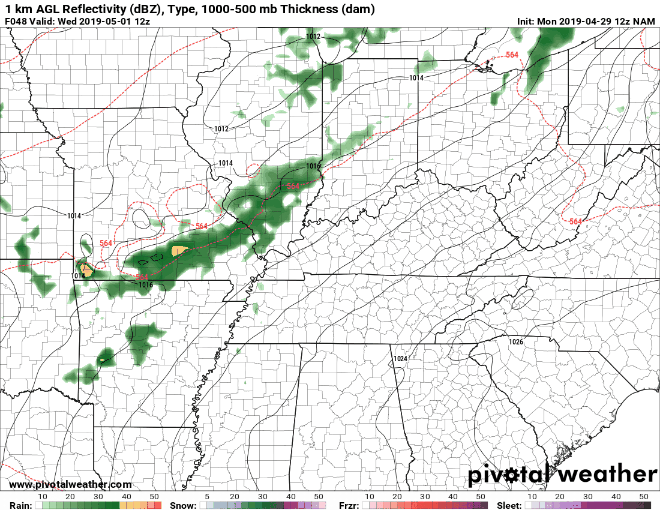 From NWS-Nashville:
Look for the best rain chances from Thursday midday through Friday . . . While weak in nature, this front should provide enough lift to spark more rain and thunderstorms, particularly mid-morning through early afternoon, across much of the area. Organized severe weather is not expected and rain amounts look to stay near or below one-half inch through Friday.
The severe weather threat is low. A few non-severe thunderstorms could develop, so lightning is the main concern.
The Weekend
Confidence with the models decreases for the weekend. It's a flip of a coin. It was dry, but now there is rain popping up in the models on both days despite slightly more comfortable air. Draw no conclusions.
Stay tuned as conditions evolve and more data becomes available!
---