Today: Warm, Potential for Scattered Showers
Today we can expect to see mostly sunny skies with a high of 83°.
There is the chance for a shower or two, though they are more likely to pop up in the late afternoon/early evening hours. The HRRR doesn't show any showers here, but a front boundary (responsible for the potential shower or two) could drop close to the TN/KY state line. I would carry an umbrella just to be on the safe side. Tonight, lows drop to around 61°.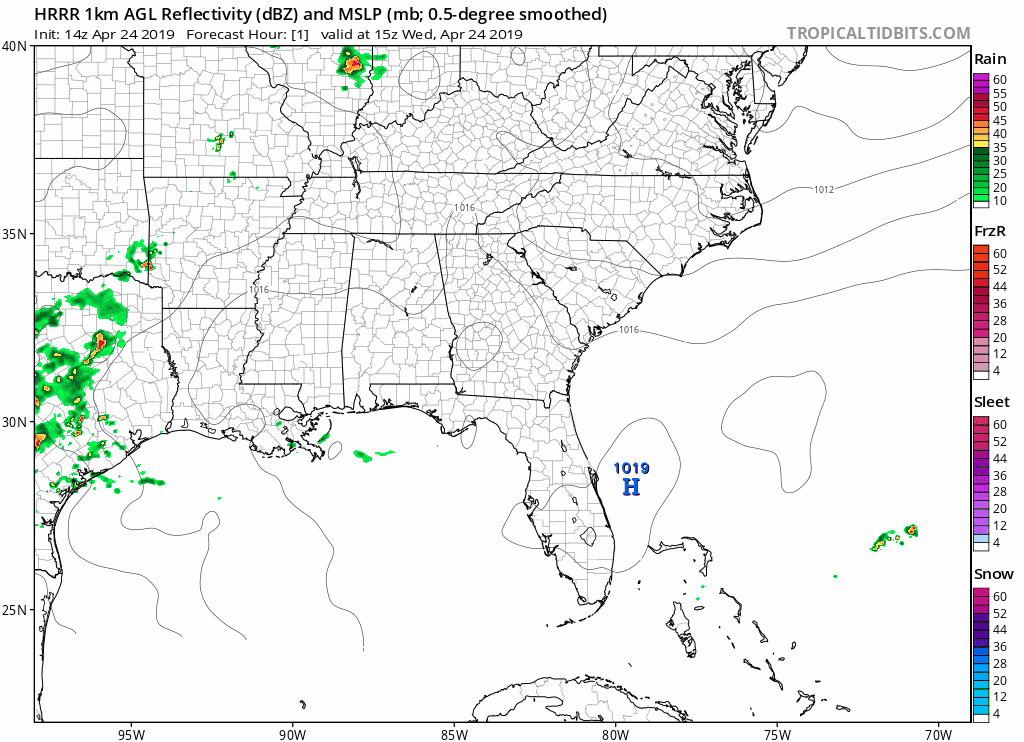 Tomorrow/NFL Draft Night: Rain, Potential for a Thunderstorm
Thursday and Thursday night look like they have the highest potential for rain. An upper level low (that is currently in Texas) will make its way eastward, bringing rain and maybe some thunderstorms.
The NAM3 model shows scattered showers in the late morning/afternoon hours with some heavier rain moving in later in the evening (beginning around 6), then a final line of rain moving through overnight.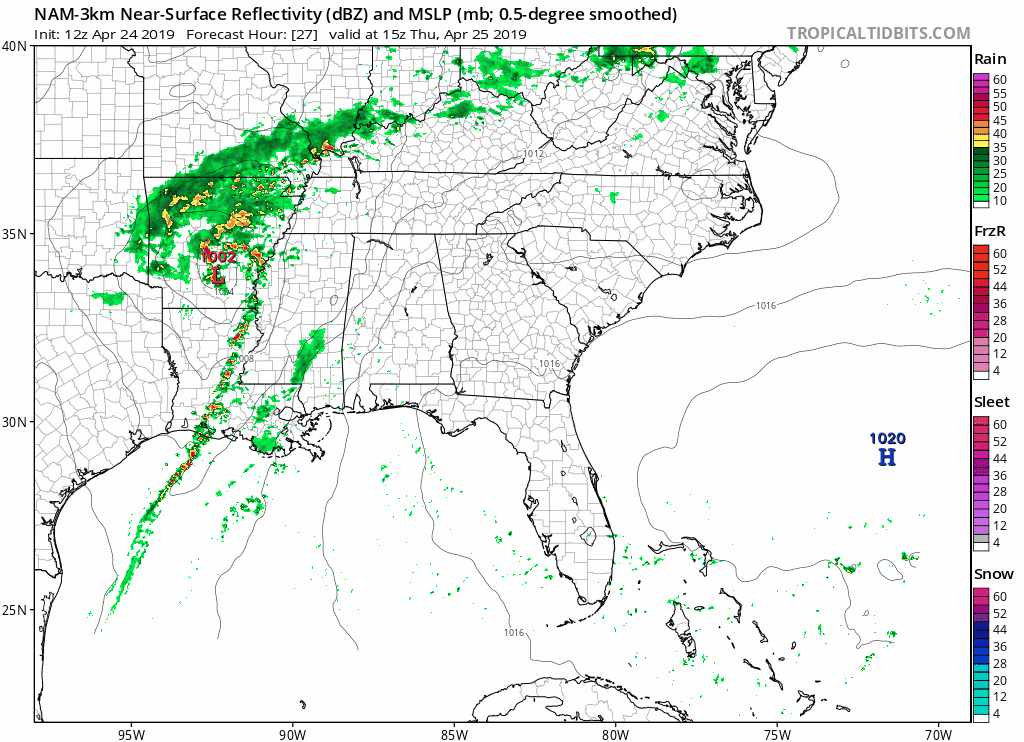 ETAs still aren't certain. However, here is what NWS-Nashville currently says on timing:
"Starting with a possible passing shower first thing in the morning, the bulk of the activity should start pushing across the TN River mid-afternoon, then spread across Middle TN through the rest of the afternoon and evening. Forecast soundings still show the potential for scattered thunderstorms mixed in, with the peak time across the Metro area looking like 6-10 pm."
As for thunderstorms: nothing looks like it will be severe, but we could see lightning and gusty winds.
Aside from the rain, Thursday's high will be 72° and drop down to a low of 56° overnight.
Friday, Saturday (Marathon Day!), and Sunday: Mostly Dry
Friday should begin to dry out, but it will be breezy. We will have northerly winds at 10-15 MPH, though gusts could reach up to 25-30 MPH during the afternoon hours. Skies should be mostly clear with temperatures reaching up to the mid-70s.
Saturday looks like it'll be a beautiful day for the marathon. Right now, the starting temperature will be 54° and reach 76° in the afternoon. Dewpoints will hang in the upper-40s, which will make for comfortable running weather. Winds will be around 5-10 MPH.
We could see some showers Saturday night as a weak front moves into the area. Right now, it doesn't look like much will come from it except maybe a shower and a thunderstorm.
Sunday also looks sunny with a high of 74°! Any chances of rain will be early in the morning (before 8am).

Be sure to check back for updates!
---