Big storm system churning through Louisiana, Arkansas, and Mississippi today will be here tonight.
Local worry level: low.
Before-Storm Winds
Before storms, gusts to 40 MPH possible. Blowing in from the south, crossing perpendicular to east-west highways (I-40, I-840, and I-440*), so be especially careful driving big trucks. Don't get blown out your lane.
(*Nashville's newest east-west parking lot).
ETAs
HRRR model thinks rain starts between 6 PM and 7 PM, heaviest rain/storms starting about an hour after that: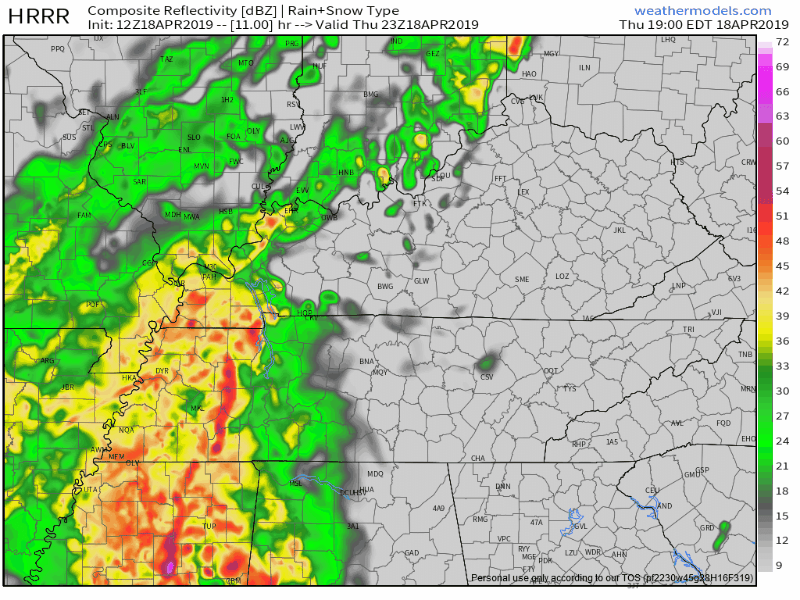 NAM3 model agrees rain starts around 6-7 PM, with heaviest rain/storms holding off until 10 PM or so: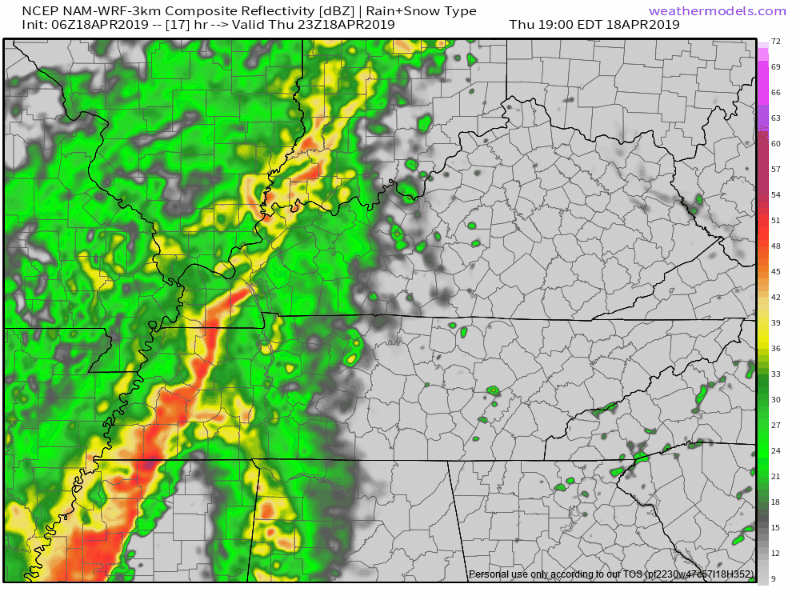 Give ETAs margin of error a few hours either way. Models are like a driver texting at a stop sign: don't trust them to go when it's their turn.
What to expect (and not) when the storms get here:
Damaging Thunderstorm Winds
Storm system will nerf as it approaches tonight. Damaging thunderstorm winds are the main "threat," according to the Storm Prediction Center the probability is only 5% you'll get a 60 MPH wind gust within 25 miles of you tonight. So says this map: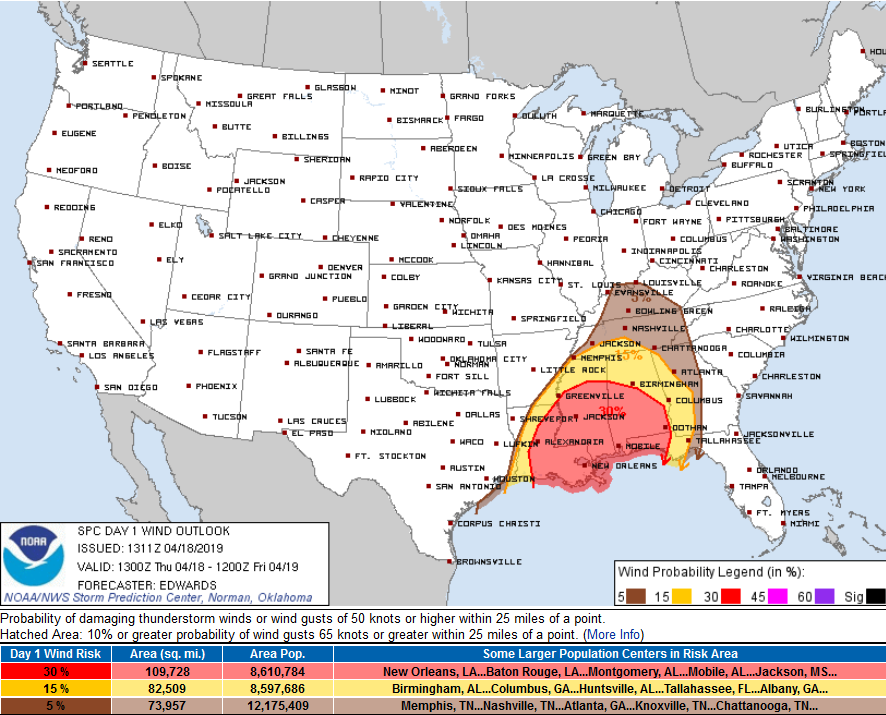 Tornado, Hail
Meh. SPC removed Nashville and Will Co from both risk areas. Those threats exist further south.
Why? The system should run out of CAPE, especially surface based CAPE — basically tornado fuel — when it gets here. Puny updrafts reduce storm height, decreasing hail concerns. Behold the disappearance of surface based tornado fuel: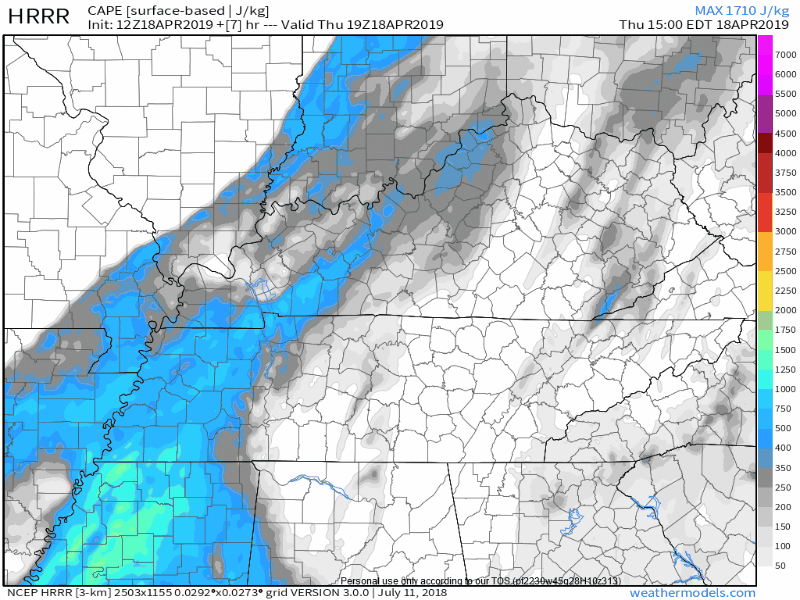 Don't want to totally rule out small hail or an isolated tornado – to account for the models potentially being a be a bit off – but I'm not worried about it. The parent low pressure center is expected to pass directly overhead tonight. For more CAPE and bigger storms, that low has to be much further away from us, and to the north. But, it's not. (Stay connected for changes, remember: models aren't truth, they're speculation).
Hazard summary:

Flooding?
Drink from the source, NWS-Nashville:
[I]t appears the main issue this evening will be very heavy downpours. Very strong dynamics/lift will work on a narrow axis of deep moisture to generate rainfall rates over 1 inch per hour. However, this will occur within a brief time window, so we do not expect a prolonged heavy rainfall event. No flood watch will be issued at this time, but forecast products and social media posts will highlight the local flood potential – brief flooding of streets, low lying areas, and small creeks.
Their rainfall totals map tonight through Saturday (more on Friday rain below):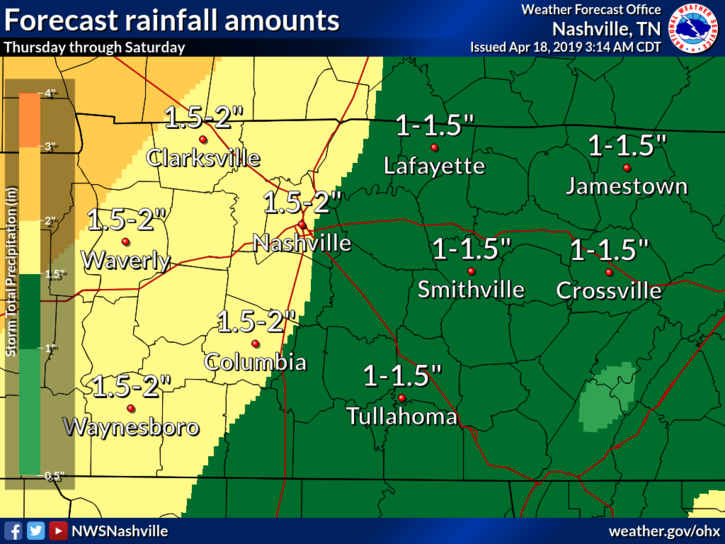 We'll be tweeting these storms tonight @NashSevereWx.
Friday
Much colder! High only 54° with a cold NW wind.
No severe weather Friday but light rain redevelops, lingers, most of the day. NAM3 model shows a cold rain spinning overhead Friday into Saturday morning.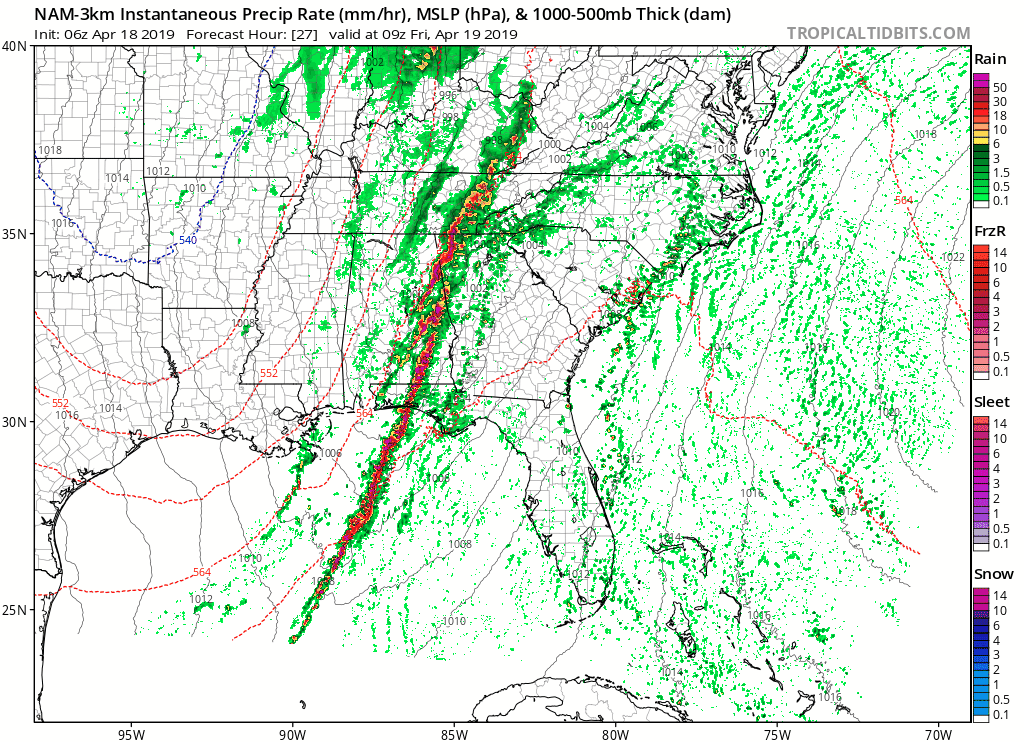 Drizzly-gross.
Saturday Night – Easter
Warm up. Clear out. Risen temps. Excellent.

---