Today: Warm and Mostly Sunny
Today is the last dry and (mostly) sunny day we will have until Sunday, so make sure to get outside and make the most of it! The high temperature will reach 81°. It may also be a little breezy with warm southerly winds at 10-15mph, though gusts could reach up to 20mph.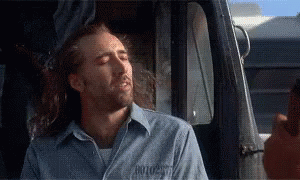 Tomorrow: Rain Begins, Severe Thunderstorms Possible
Temperatures will be warm again as the high reaches 75°. However, a low pressure system and cold front will sweep eastward, bringing rain and the potential for severe thunderstorms along with it. The NAM3 model shows potential for a sprinkle or two tomorrow afternoon and the heavy line of rain moving into the area around 6-7pm.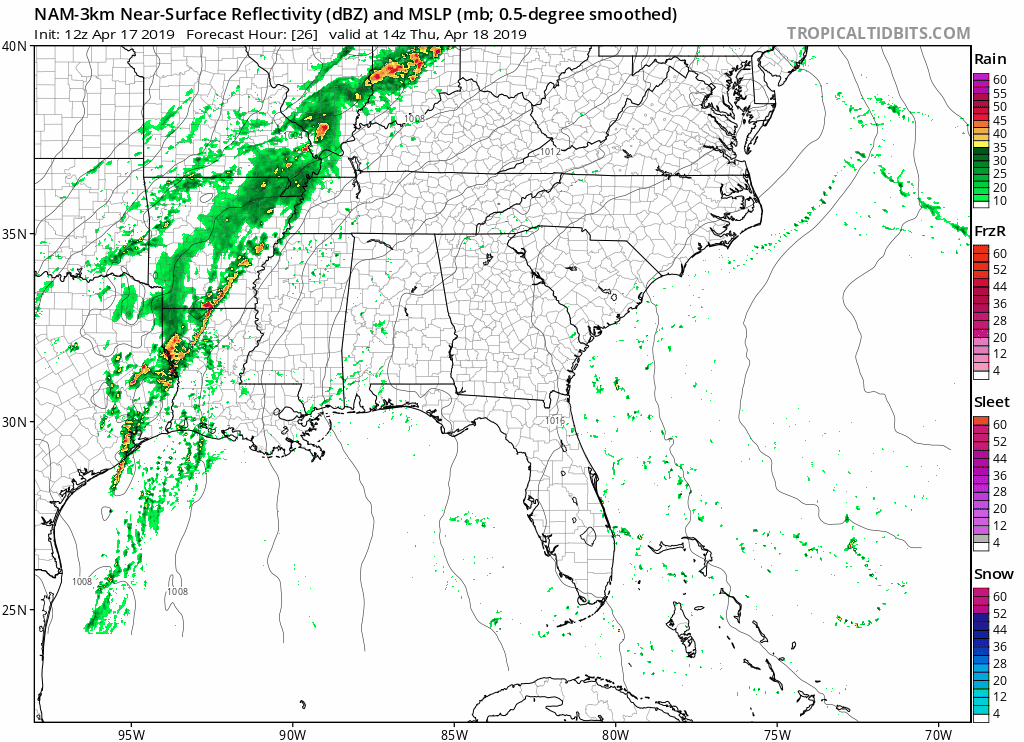 As for the severe threat, the SPC has placed us in a slight risk, meaning that there is a 15% chance that you could see severe weather within 25 miles of you.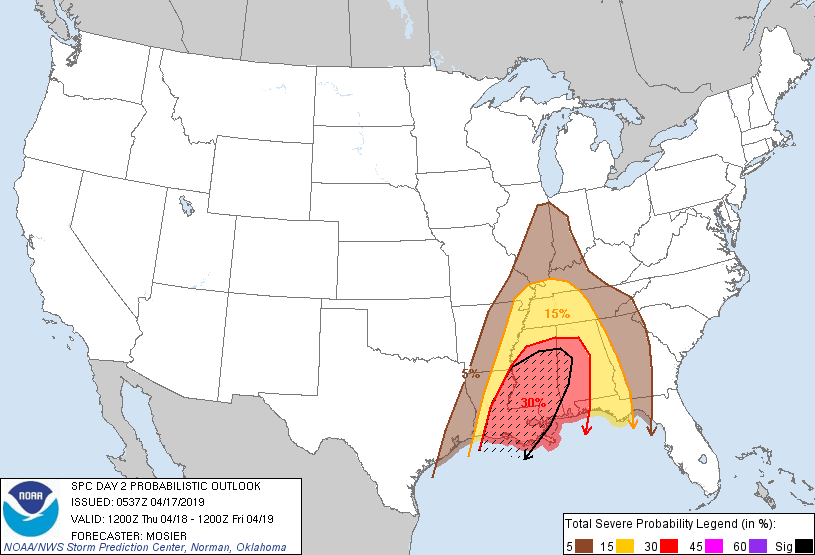 However, this is very conditional. NWS-Nashville says:
"Latest models show one of the surface low pressure waves tracking directly over our area, which would keep the main instability and better shear to our south. Variations in this and other features could easily change, and the large scale wind fields will be quite strong, so we will continue to advertise the risk for some damaging wind gusts. It looks like our southern counties will have the greatest risk, although slight."
In other words, there is still uncertainty on the track of the low pressure. According to the latest models, the low pressure goes over our area, which means the stronger storms would stay to our south. Keep in mind that this can change.
Regardless where the low pressure tracks, there is still the chance for damaging winds. NWS-Nashville breaks the threats down below. Tornadoes, while not completely ruled out, are on the lower end of concern (as long as the shear and storm food stay south). We will monitor. As of right now, there is a better chance for damaging winds, hail, and flooding.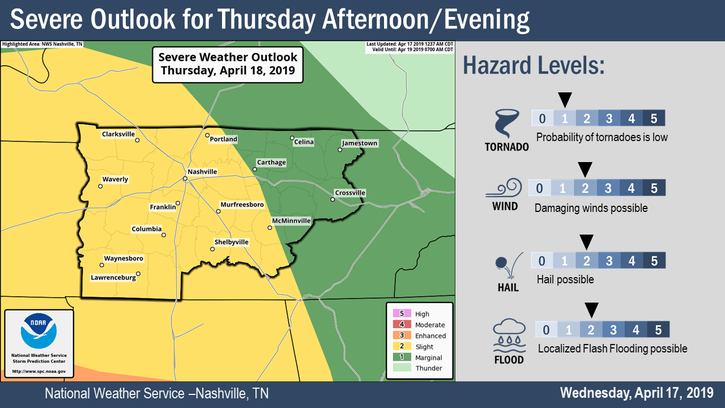 To quickly touch on the flooding threat- this system could bring a lot of rain in a short amount of time, causing localized flash flooding tomorrow evening. NWS-Nashville says:
"Flooding of main rivers is not expected. Totals for the event are expected to be mostly in the 1.5 to 2.0 inch range, but some spots with the heaviest downpours could reach 3+ inches."
Please keep this in mind for tomorrow night! Flooded areas are dangerous and can be even harder to detect at night.
Friday and the Weekend: Cooler, then a Warm-Up
We can expect to see cooler temperatures on Friday as the high will only make it to the mid 50s. Rain showers will still linger from the low pressure system, though all the heavy rain and storms will be east of us by then. The low on Friday night will be in the lower 40s. Northwest winds will help make it feel cooler – we can see 10-15mph winds with gusts up to 25mph.
Saturday will warm up by about 10°, pushing highs into the mid 60s. There's a chance for showers early in the morning, but those should clear up and the sun should begin to make a reappearance later in the day. Again, winds will range from 10-15mph with gusts as high as 20mph.
Our weather finally makes a turnaround on Sunday. We can expect sunshine and high temperatures in the upper 70s again!

Keep checking back for updates!
---