This Afternoon and Tonight
We start out the day with showers thanks to a new system out of the Southwest, some of these showers will be heavy at times. Get ready for an off and on rainy day.
The HRRR is showing scattered rain and thunderstorms possible throughout the afternoon and into the evening.  Here is the latest HRRR model (below), showing these scattered showers push off to our Northeast around 7PM. 
The winds are going to pick up tonight, gusting to 35-40 mph. For our high today, we're going to top out at 65°-70°. The low will be around 54°. 
Severe Threat For Sunday
During the early morning hours of our Sunday, a strengthening storm system will move in from the Southwest. Low pressure will push this storm Northeast into our area and set the stage for a stormy day. This is the HRRR beginning at 11PM through 11AM. It shows a line of heavy rain and possibly severe thunderstorms sweeping across our area.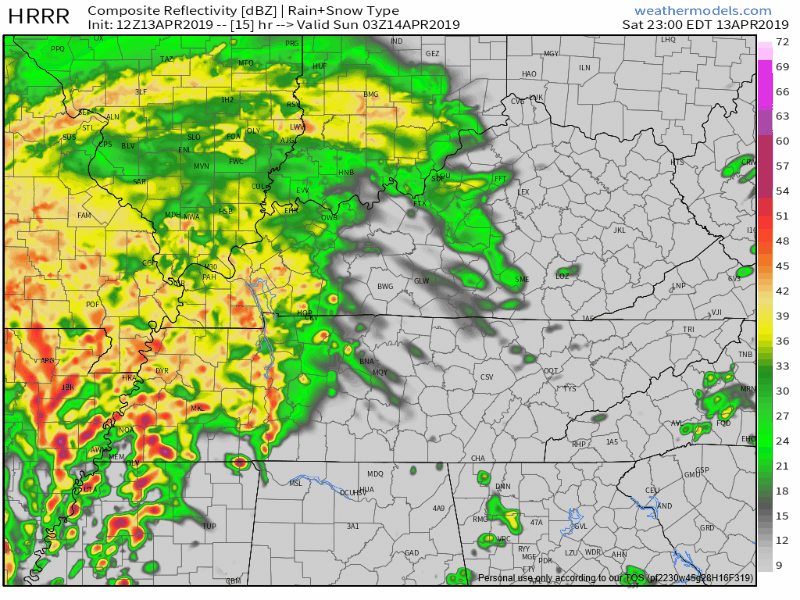 The NWS-Nashville is forecasting two waves of possible severe weather. As we saw above, the first wave arrives Early Sunday morning. The main threats associated with this line are damaging winds up to 70mph, a few isolated tornadoes, and hail are possible. Here is Round 1 of ETA's from the NWS-Nashville: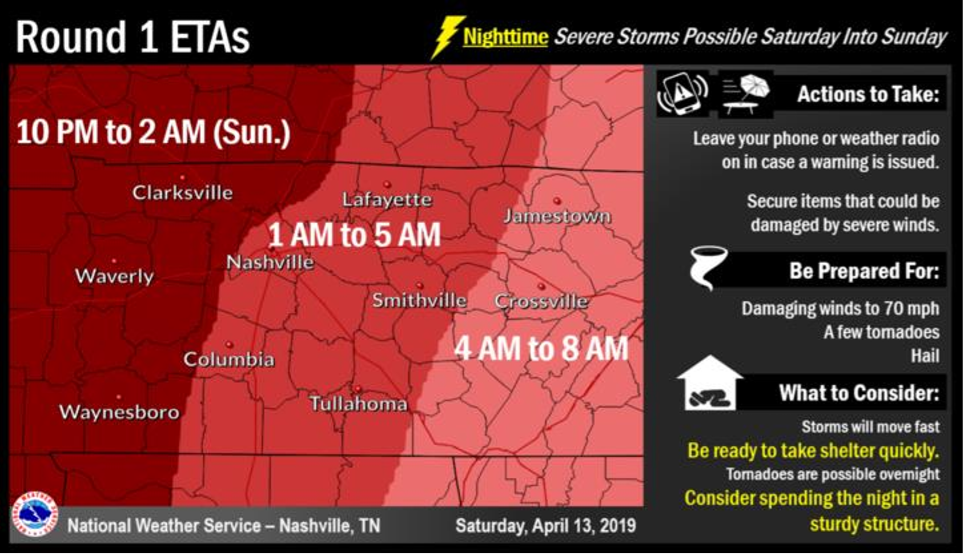 The second wave arrives late Sunday morning, through afternoon. The possibility exists again for damaging winds, a few isolated tornadoes, and some possible hail. Here is the Second round of ETA's from NWS-Nashville: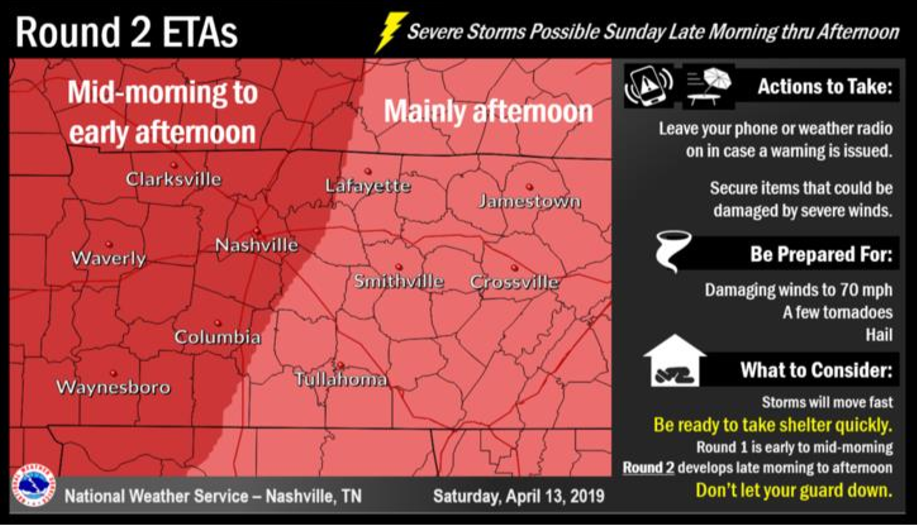 The Storm Prediction Center still has us under a Slight risk for severe storms on Sunday, meaning that there is a 15% chance for significant severe storms within 25 miles of a point.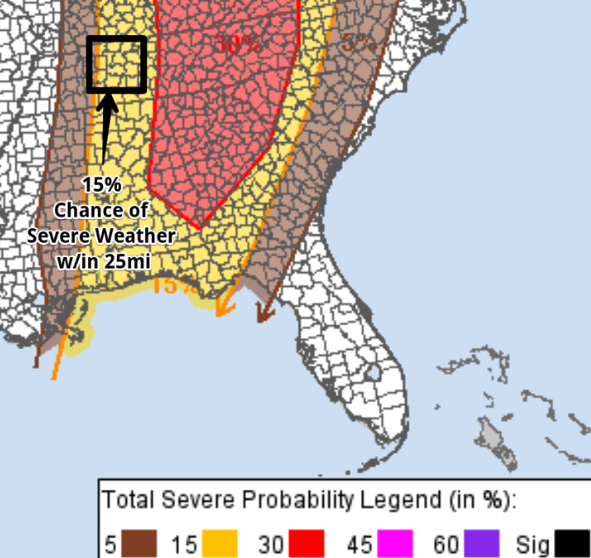 One to two inches of rainfall is expected through Sunday, however the flood threat remains low. Below, is the excessive rainfall outlook from the Weather Prediction Center. This means we will see a 10-20% chance of flash flood worthy rainfall.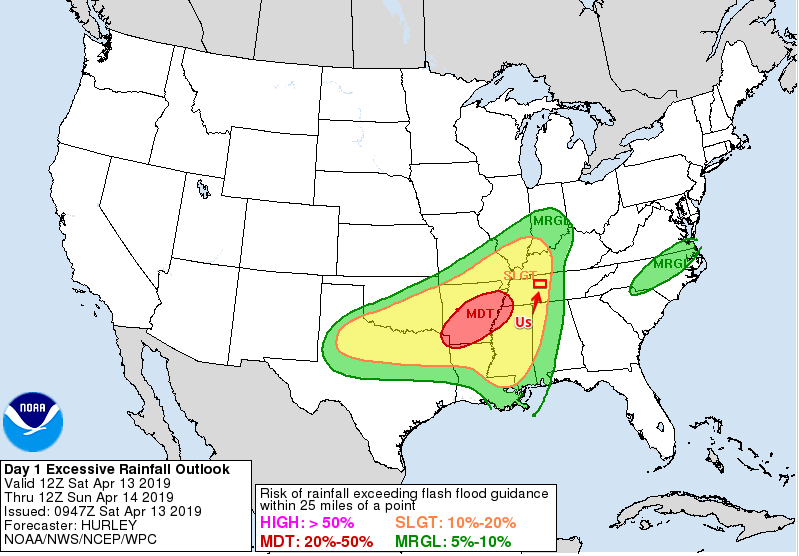 I thought to include this quote from the NWS-Nashville:
"Regardless if severe weather occurs with this event or not, it's a good reminder that April is the most likely month for tornadoes across Middle Tennessee-so know your safe place to go ahead of time to keep you and your family safe in case of severe weather."
Here is a helpful hint from the NWS: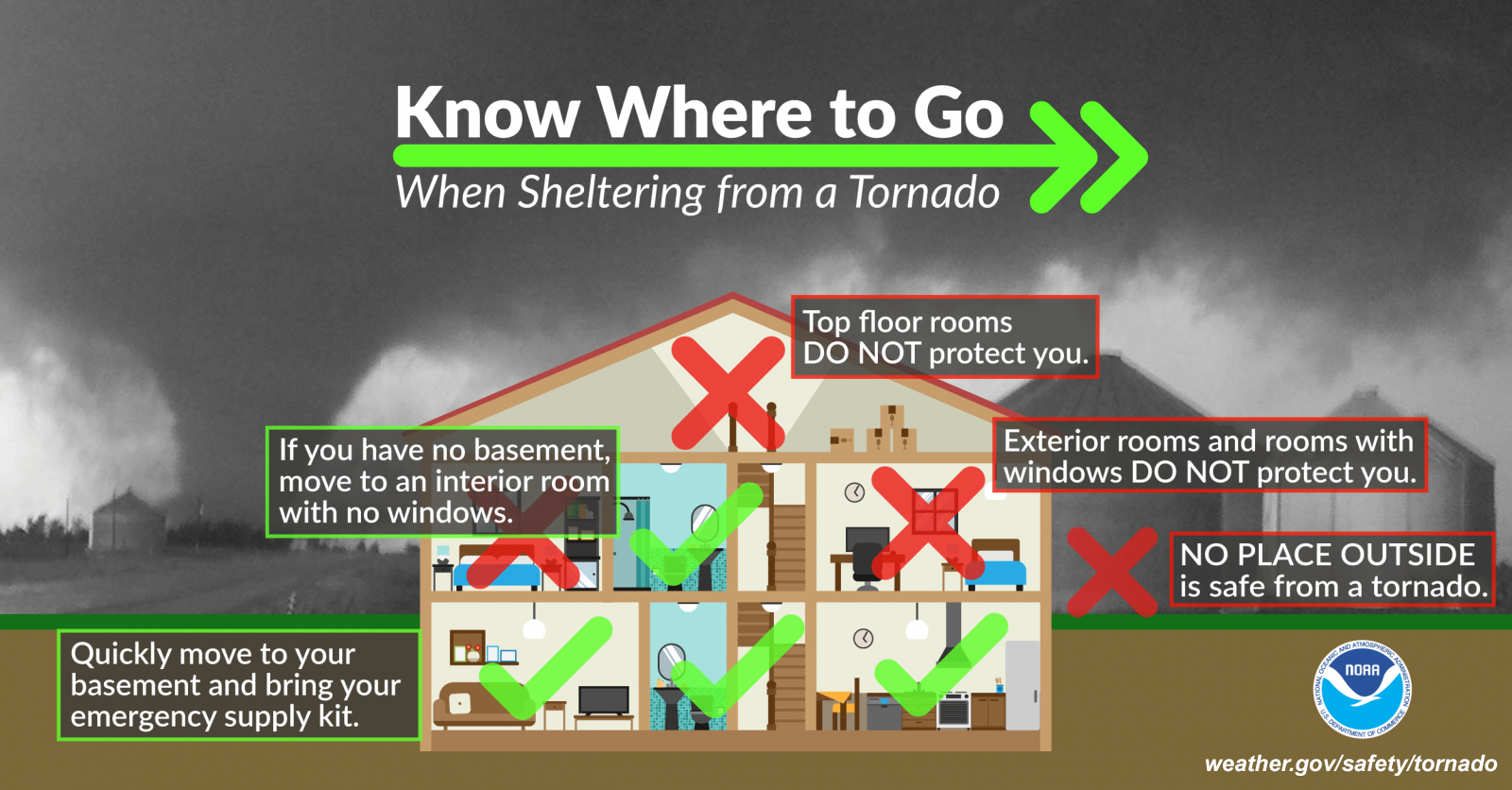 Monday into Tuesday
We will see a cold front move into our area very early Monday morning and a couple showers still lurking from the previous system.This drops our temperatures, down to nearly 40°. Once the sun comes up, our temperatures will rebound back up to the low 60s with partly cloudy skies, giving us the chance to say hello to our good friend, the sun once again. Tuesday looks to be the same, but a bit warmer, up to the mid 70s and lows in the low 50s.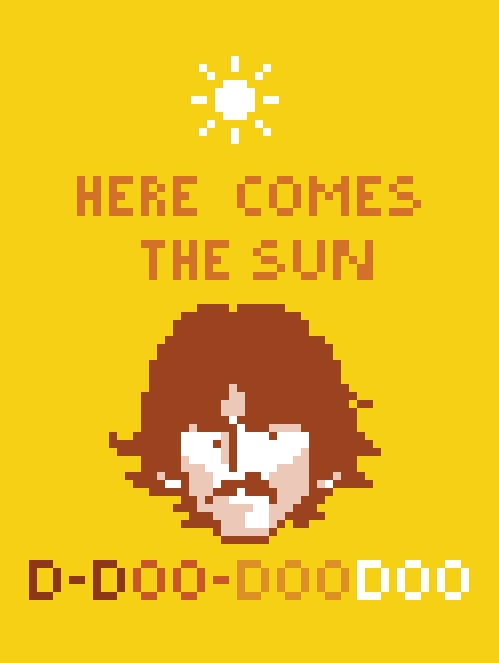 Be sure to check back here for updates!