This Afternoon into Tonight
It is an absolutely beautiful afternoon out there today! As you can see in the map below, most places in our region are in the mid and upper 70s with abundant sunshine. These conditions will continue into the evening with temperatures topping out right around 80 degrees. Skies will remain mainly clear overnight as an area of high pressure moves into the region bringing light winds and near normal temperatures with lows near 50 degrees.
Wednesday and Wednesday Night
As a weak ridge of high pressure moves across Tennessee, another sunny and warm day is on tap with highs around 80 degrees. High clouds moving in during the evening will thicken overnight keeping temperatures well above average, with lows in the lower 60s.
This is the National Weather service forecast map for high temperatures on Wednesday: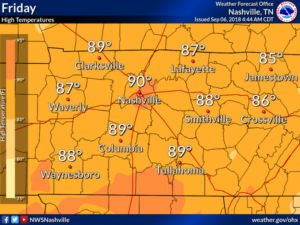 Here are the Wednesday night low's forecast by the National Weather Service as well: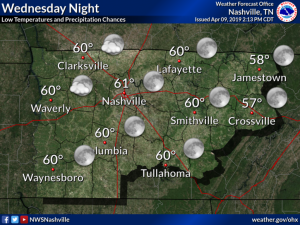 Thursday
Our attention turns to a storm system that will be forming across the Plains states which may bring us a chance for showers and thunderstorms later in the day. Earlier this week, the Storm Prediction Center had us in a 15% chance for severe weather within 25 miles of the Middle Tennessee region, that has now changed as details have become more clearer on the track of the storm. The latest outlook by the Storm Prediction center has moved that risk away from our region to our north and west, as shown below: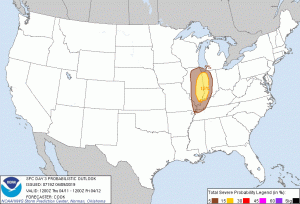 Thursday will feature a mix of clouds and sun with warm and breezy conditions as mild southwesterly flow sets up. Highs will reach the lower 80s with southwest winds 15-20 mph gusting as high as 30 mph. An isolated shower or thunderstorm is possible late in the afternoon, but there remains considerable uncertainty with the arrival of the cold front.
Below is the latest NAM3 model which only goes out to 7PM Thursday, but it shows the line of showers and storms well off to our west, so this is something we will need to monitor over the next couple days.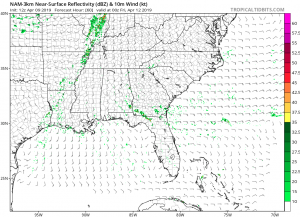 This line of storms could intensify beyond what models are showing. ETA would be very late Thursday night into Friday morning. That's a good timing for us, during the wee hours of the morning when the atmosphere is most stable.
Friday – Weekend
Unsettled.
A few showers may develop Friday and Saturday afternoons, but that's unlikely.
Sunday looks like a washout. A potent storm system will streak across the area producing heavy rain and even thunderstorms. Severe weather isn't being forecast right now, but it is also not being ruled out.

---