Weather models are lighting up with storms overnight tonight through Sunday. Timing, and how bad they may be, ↓↓↓↓.
Timing
Timing and model runs vary. No real ETAs or time-specific details available. Rain and storms will come in irregular waves.
Wee Hours of the Morning – Noon
HRRR MODEL, midnight to 11 AM Sunday: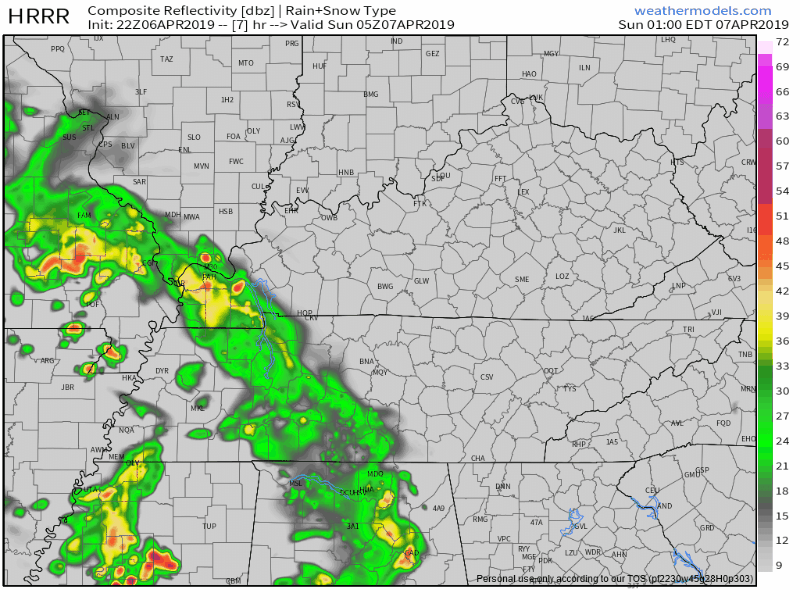 Notice this latest model run keeps the heaviest/strongest storms NW of us. This model has varied over the past few runs so don't pay too much attention to just this run. Some runs drag those strong storms to us instead of NW of us. But the trend NW is encouraging for those with outdoor plans.
The point here: these may wake you up.
Or rain you out early in the morning.
NAM3 MODEL
This is similar to the HRRR.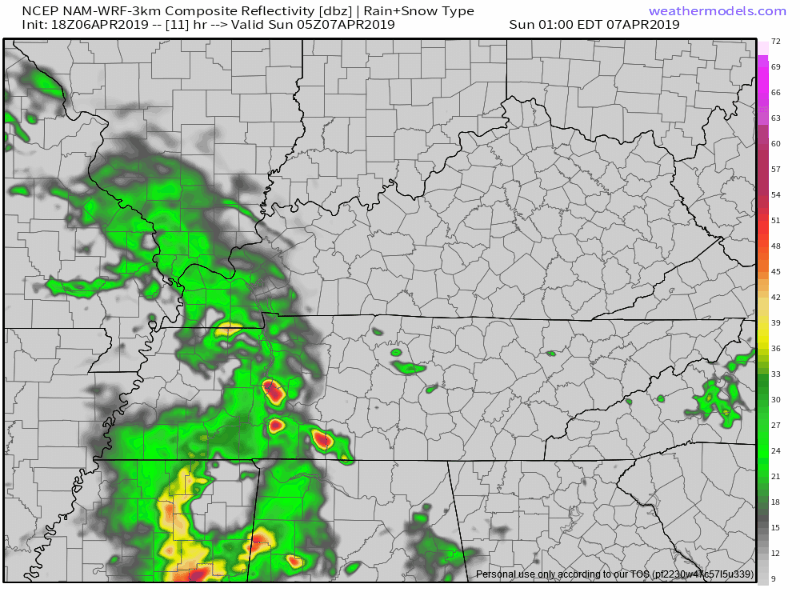 Waves of rain, no reliable ETA or ETD (estimated time of departure).
Sunday Afternoon – Evening
The NAM3 model is pretty quiet: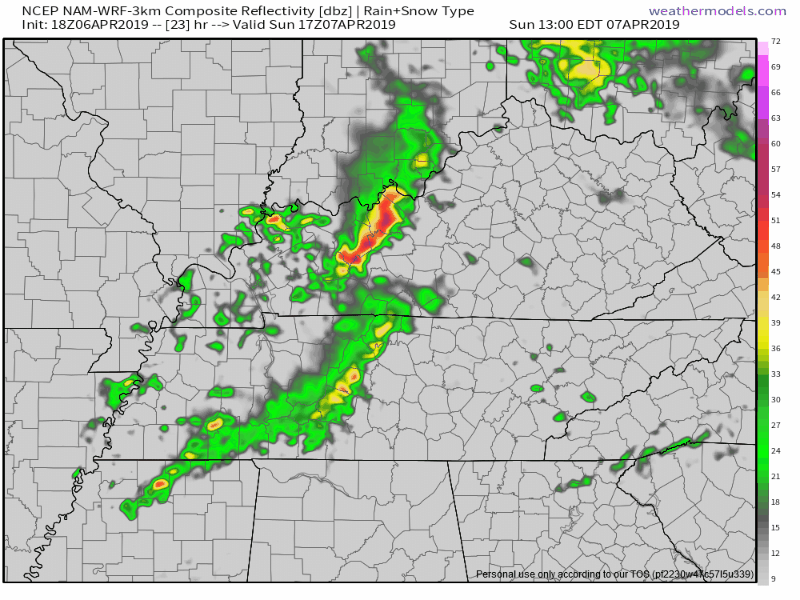 But the 18z run of the HRRR is way more active/stormy: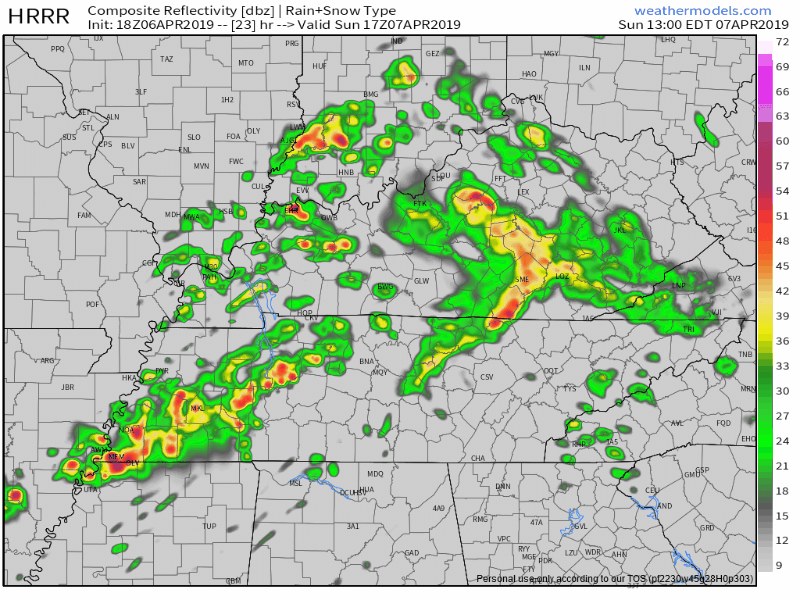 How Bad Sunday's Storms May Be
EXPECT SCATTERED STORMS AT ANY TIME SUNDAY…AND COULD SEE A FEW STRONG TO SEVERE STORMS AS CAPES REACH INTO TO 1000-1500 J/KG RANGE PLUS WEAK TO POSSIBLY MODERATE WIND SHEAR. STORM PREDICTION CENTER HAS HIGHLIGHTED THE NW TWO-THIRDS OF MIDDLE TN FOR A SLIGHT RISK. –NWS Nashville
Damaging winds are the primary threat. Heavy rain and frequent cloud-to-ground lightning are also expected to accompany heavier cells.
The probability of a damaging wind event occurring within 25 miles of you Sunday is 15%.
No one is ruling out hail or tornadoes but those threats are quite low.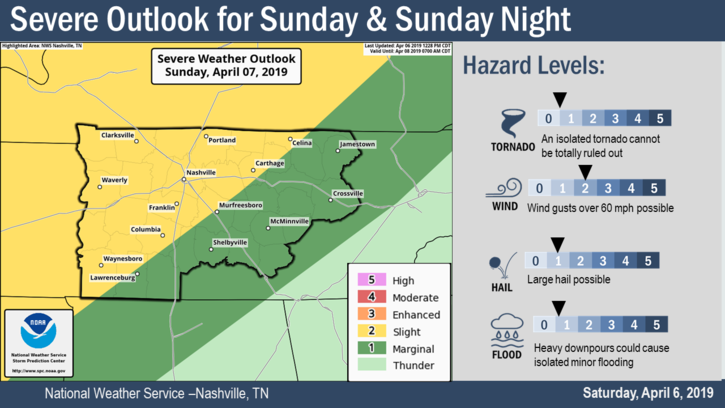 Monday
More rain, may be a few storms but those should not be as strong.  These will arrive in several waves. ETAs are all over the place. Not a steady rain. Expect it off and on.
Total rainfall through this time [Sunday morning through Tuesday morning] is expected to be 1 to 2 inches, although a few locally higher amounts are possible. If this occurs, minor flooding will be a concern. –NWS Nashville
Rest of the Week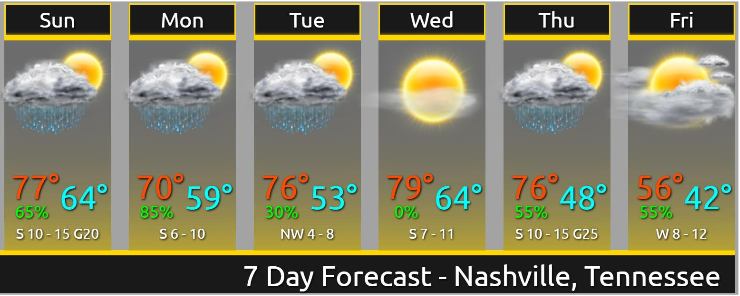 Next system expected Thursday.
THUNDERSTORMS CHANCES RETURN ON THURSDAY AND ESPECIALLY THURSDAY NIGHT AS A DEEP SPRING STORM MOVES FROM THE CENTRAL U.S. TO THE GREAT LAKES. SHOULD BE A BIT OF A BREAK ON FRIDAY BUT ANOTHER STORM SYSTEM SHOULD APPROACH THE REGION SATURDAY. –NWS Nashville
More on Twitter tonight/overnight/Sunday. Expect another post here Sunday morning.
---