EDITORS NOTE: As Alex mentions below, this is his last blog for us. He has grown into a fine communicator and we wish him all the best as he continues his education. Cheers, Alex!
Friday is Here!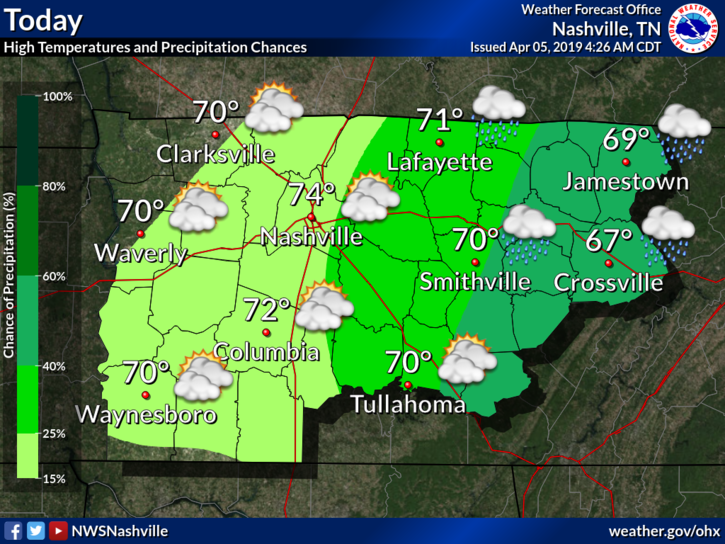 The rain is outta here! Weak high pressure has taken the reigns of our weather and will keep us dry for the remainder of the day as temperatures soar into the middle 70ºs and dew points stay in the 50º. The only issue outside is the pesky yellow stuff that people like to store on their cars!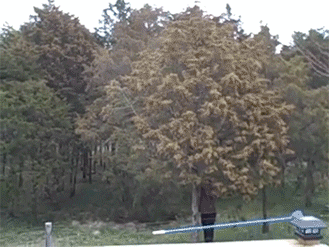 80º! 
That is the forecast high for Nashville tomorrow. It will be much like today with a south-southeast wind bringing warmer temperatures from Alabama and Georgia. Get out and enjoy it!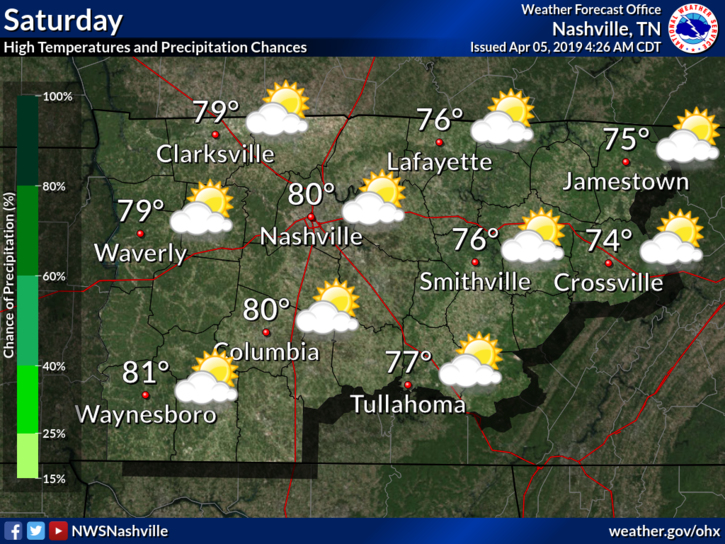 Well after sunset tomorrow, the NAM wants to bring some scattered showers to Williamson and Davidson Counties. See below: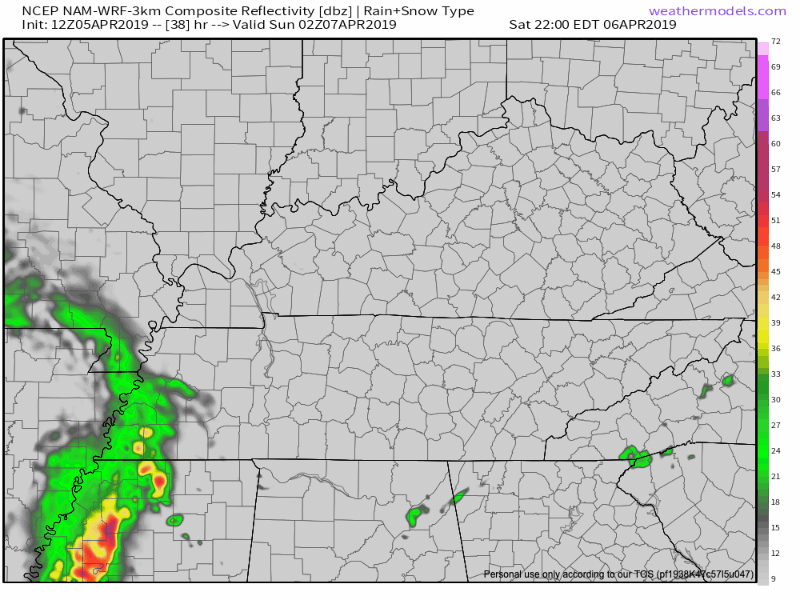 We'll see how much of that actually reaches the ground. The Dry Air Monster may be in full force tomorrow night, meaning we see little in the way of rainfall. Regardless, whatever does reach the ground will be out of here by sunrise on Sunday.
Severe Weather Sunday?
The Storm Prediction Center slid Nashville into the "Slight Risk" zone for Sunday. What does slight risk mean? It's an area of organized severe storms, which is not widespread in coverage with varying levels of intensity.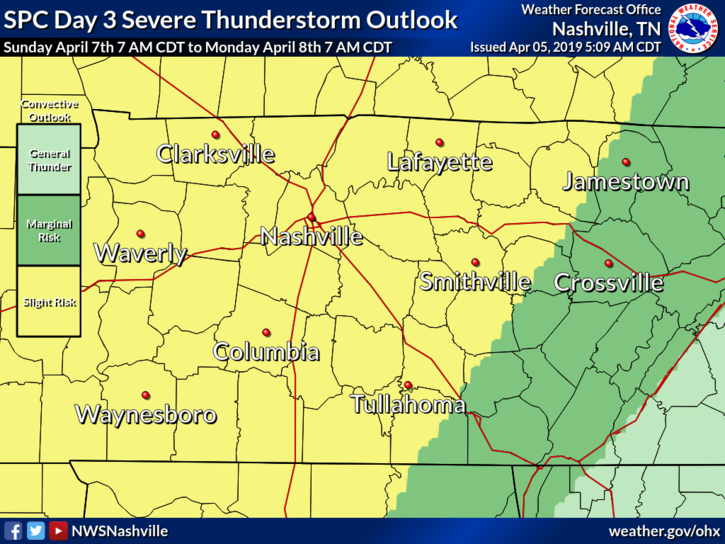 Here is what NWS Nashville had to say about it this morning:
This time of year, its important to notate the synoptic setup and whether it mirrors the typical strong spring severe weather set up. Well, in this case it does not. The surface low is weak and the upper tilt is positive. However, on Sunday, the forcing regime does match up favorably with stronger capes and descent 850 mb wind fields/mid level jet. Thus, Sunday afternoon will feature the potential for strong to possibly severe storms.
GFS's thoughts on CAPE (storm food) are here: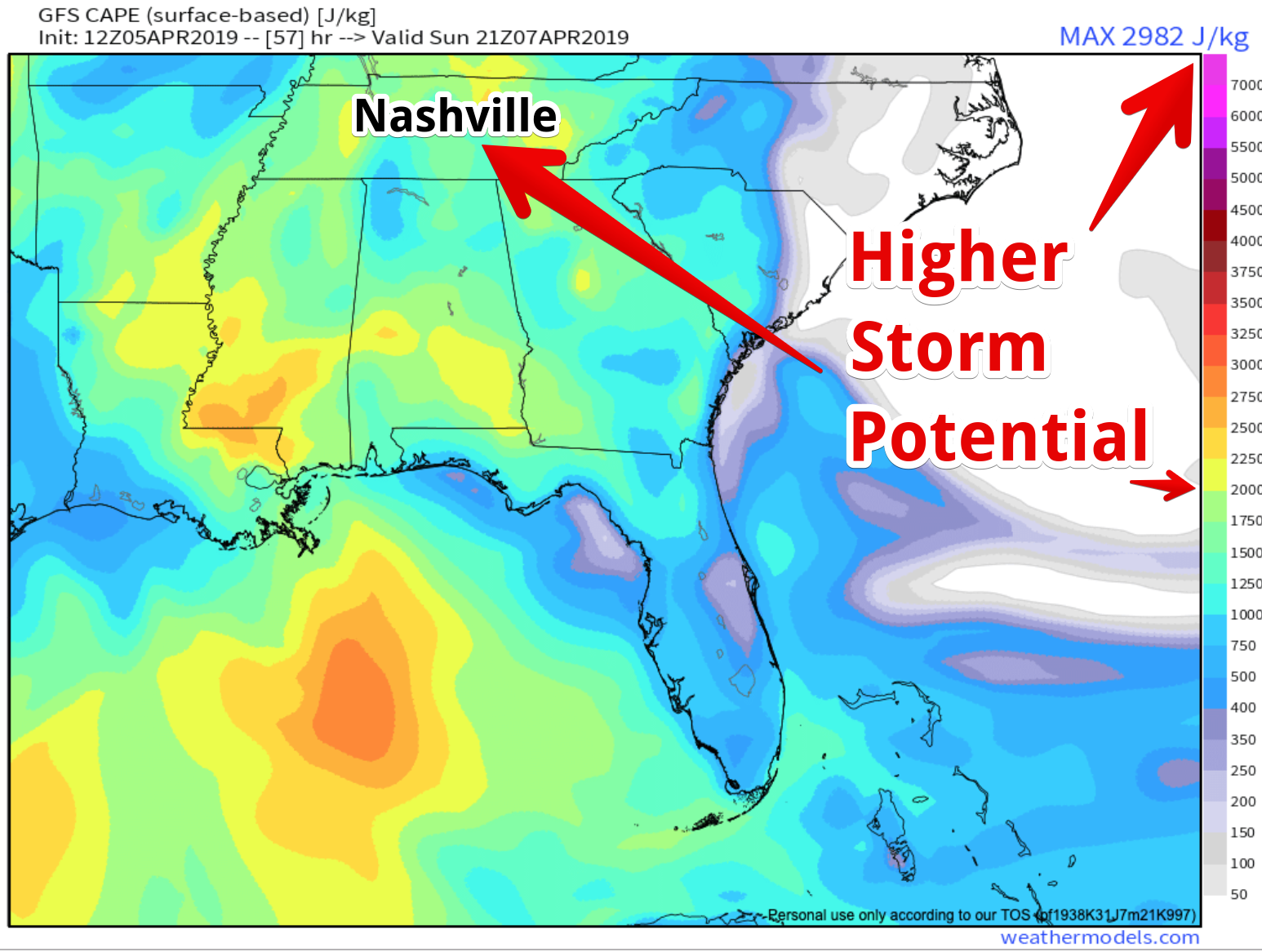 Overall, Sunday doesn't appear to be a washout, but it is too early to nail down the exact timing of this event. Right now WPC predicts rainfall totals around 1″-1.5″.
—
Andddd, this is my last blog for NashSevereWx! I've enjoyed keeping up with the weather in Nashville as I study to become a meteorologist at Mississippi State University. I want to thank the guys who run this awesome website for the opportunity. It's been fun! And who knows, I just might show up on TV in Nashville someday! Thanks!
---