Today's our last day of dry, sunny skies until Sunday. It'll be breezy today, with a few gusts of 10-20 mph possible in the afternoon.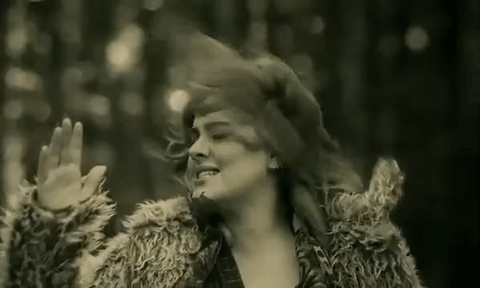 Afternoon high will try to reach mid 70°s, but some overhead clouds could keep us a degree or two cooler this afternoon.
As for rain, we'll remain dry here in Nashville today and tonight. Tonight, we'll drop down to around 50°.
On and Off Rain for Friday
Clouds invade ahead of rain, keeping high temp in the low 70°s.
Rain will move in early Friday morning ahead of cold front on Saturday. We should see periods of on-again, off-again light rainfall throughout the day. Nothing severe expected.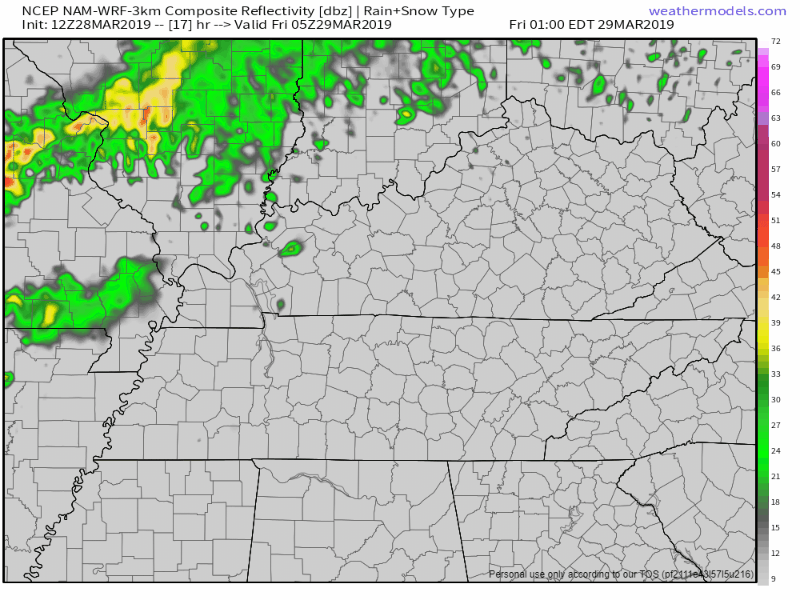 Saturday Storms (Mostly to our West)
Cold front will push through Saturday. The Storm Prediction Center has placed western portions of Davidson and Williamson Counties in the Marginal (1 out of 5) Area for severe weather. [Editor's note: This means there is only a 5% chance of seeing some type of severe weather within 25 miles of you within the dark green shading. The setup is "meh."]
A few strong storms could go up on Saturday afternoon accompanied by strong winds. Those should remain far to our west. Over Nashville, we lack the setup needed for severe weather.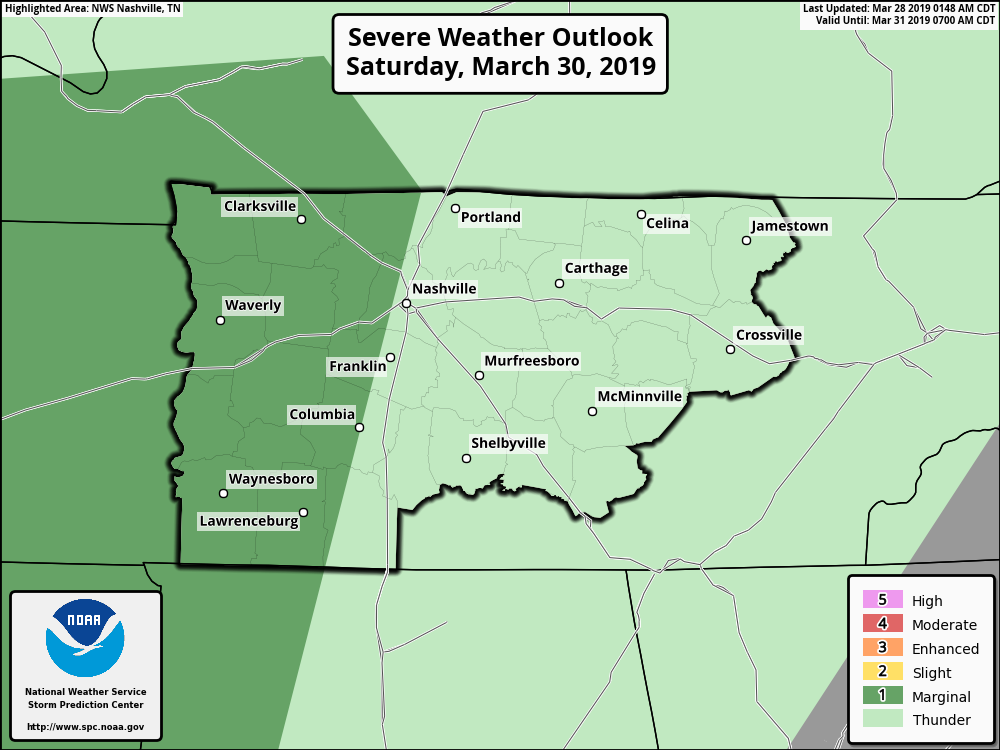 The NAM below shows the line of storms developing to our west in the morning. The rain will quickly push through in the evening and should be clear by sunrise Sunday morning.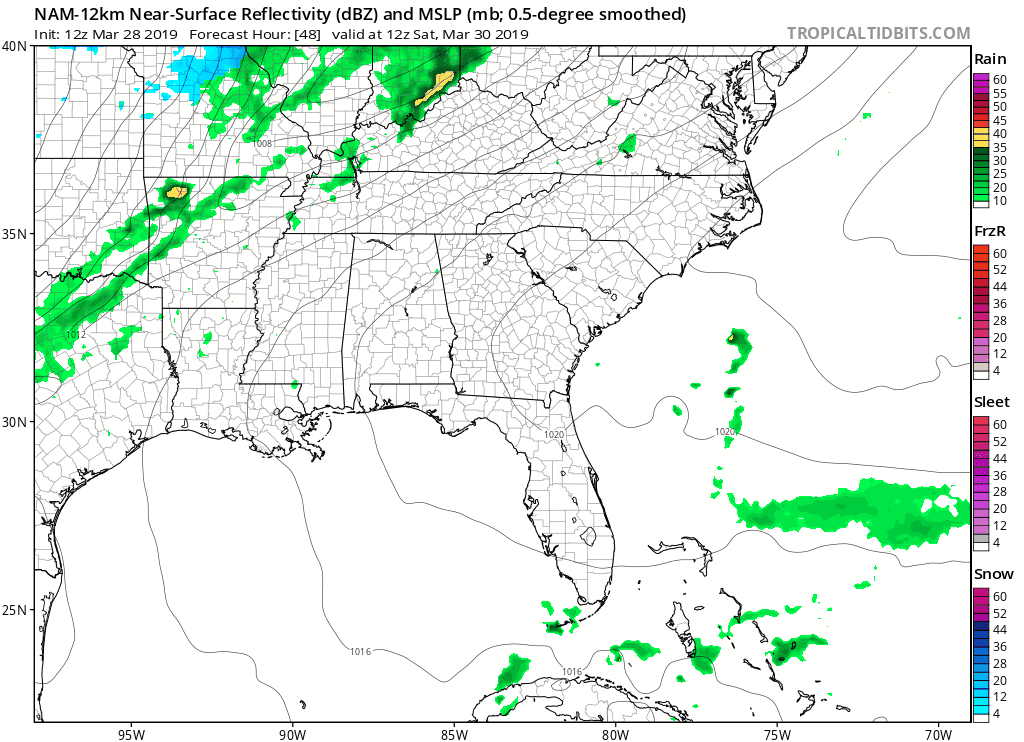 Greater rain totals should remain to our north with the heaviest showers. This swift-moving line could bring 0.25″ – 0.5″ to Nashville.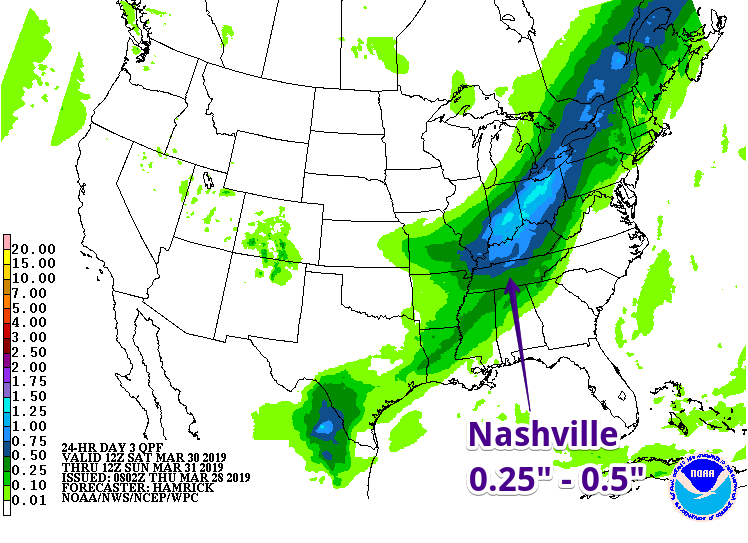 Cold Front Invades Overnight
After the rain is gone, cool, dry air will spill down into Middle Tennessee overnight. Sunday's high will warm into the mid 50°s – a far cry from the Springtime temps we've had these last few days!
Morning low on Monday will be flirting in the low 30°s, and some light frost could be expected in low lying areas. Other than cooler temps, it should be a chilly, but dry start to the next work week!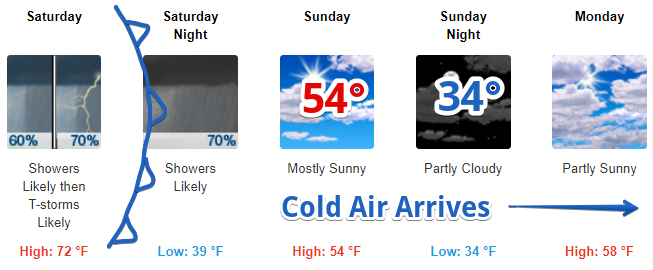 ---