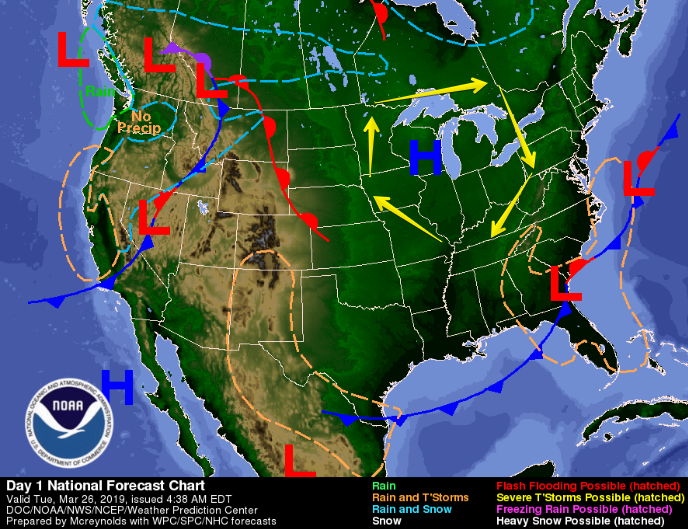 Cooler weather paid us a visit this morning. Temps were in the upper 30s when we walked out the door. We will remain on the cooler side today, high temps will hover in the mid 50°s.
Why the return of cooler weather? A high pressure bubble has settled right over the Ohio River Valley. Clockwise winds around the high are pushing cooler temps from the northeast down into Middle Tennessee.
High pressure will keep us dry today and through the remainder of the work week.
Temperatures!
We'll be on a week-long rollercoaster of temperatures:
Wednesday morning low temp will drop into the low 30°s, warming into the mid 60°s by afternoon. Winds will turn to the south in the afternoon, increasing temps by a few degrees Thursday and Friday.
Thursday morning low in the mid 40°s, warming to the mid 70°s. Few clouds.
Friday morning low in the upper 40°s, warming to the low/mid 70°s. Clouds move in ahead of a cold front on Saturday.
Late-Friday Drizzles and Saturday Rain Chances
We'll end March on a cold and wet note. A surface front will develop to our west on Friday before swinging down through on Saturday. The EURO illustrates this below.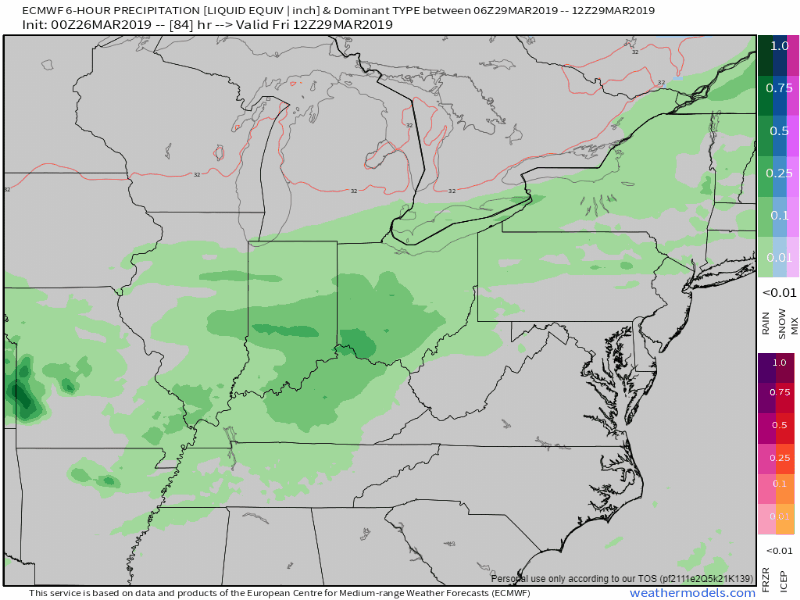 Friday Night
As the front nears Tennessee, we could see a few very light showers spread over Nashville. Drizzly rain could last throughout the night.
Saturday
Rain will increase from west to east, arriving in Davidson and Wilco by early afternoon. A few rumbles of thunder can't be ruled out, but we won't have the right ingredients in place for widespread severe weather.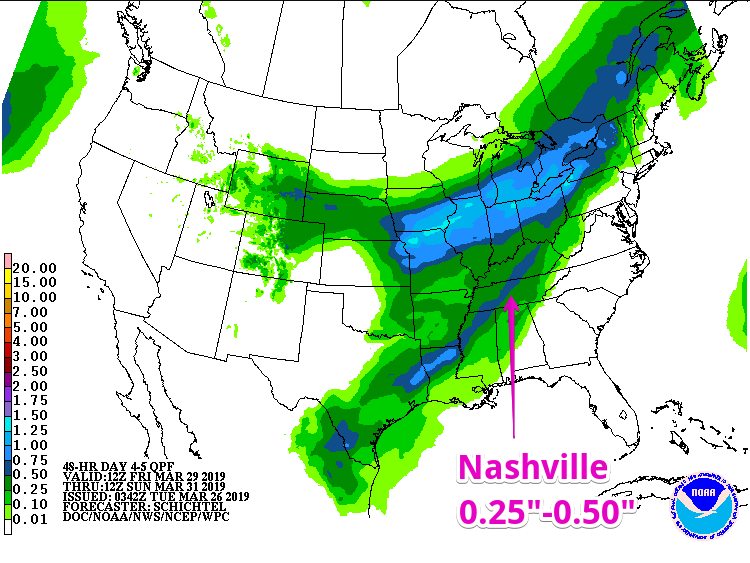 EURO says we'll get about an inch of rain from Friday to Sunday morning, but NWS Nashville says about a quarter of an inch. What we'll be waiting to see is where this line of heavier rain sets up. It could shift west or east from where it's drawn right now.
We're several days away from this event, so expect the forecast to adjust from day to day. Stay clicked here for further updates throughout the week!
---