Earlier sprinkles moved E, and we enjoyed some good sunshine today! The rest of the week will be dry and pleasant!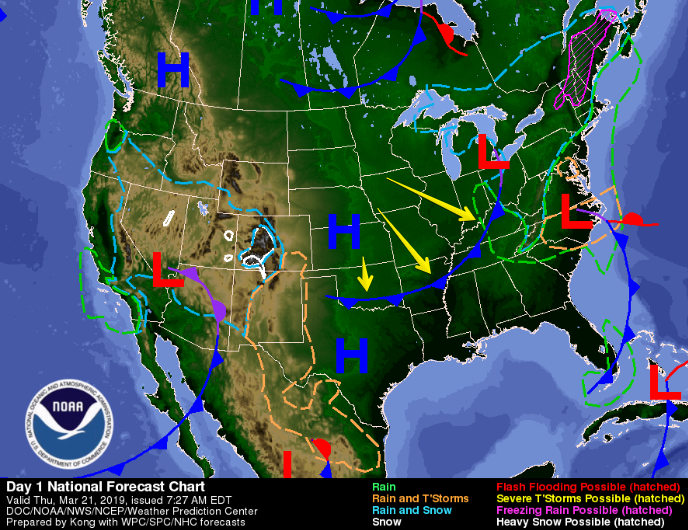 Today, a cold front draped across western Tennessee brought us breezy conditions. This weak front will slowly work its way eastward, passing Nashville tonight into Friday.
We made it up to 61° this afternoon, but we'll cool down to 37° tonight.
Beautiful Weather for Friday and Saturday

Thanks to the cold front, northwestern flow returns to the Midstate. This means dry skies and pleasant temps. High temp should reach into the low/mid 60°s. Breezy winds in the early afternoon Friday.
Expect similar conditions on Saturday as high pressure will settle in over Tennessee. High temps in the low 60°s with a calm wind.
Enjoy the beautiful weather on Friday and Saturday because rain returns Sunday.
Light Rain Sunday, Possible Storms Monday
On Sunday, a weak upper level trough will dip southward out of the Great Plains. This will usher the high pressure further to our east and shift our winds to the south.
The afternoon/evening will likely see periods of light rainfall. About a tenth of an inch is expected. Heavier rainfall and some storms are slated to arrive Monday.
Monday
This upper level disturbance will push through Middle Tennessee on Monday. We'll likely see a few rounds of rain throughout the day: morning should be steady rain, with heavier rainfall and thunderstorms Monday evening.
Heavier rainfall means we could get 0.25″ to 0.5″ of rain, as the Weather Prediction Center's graphic shows below.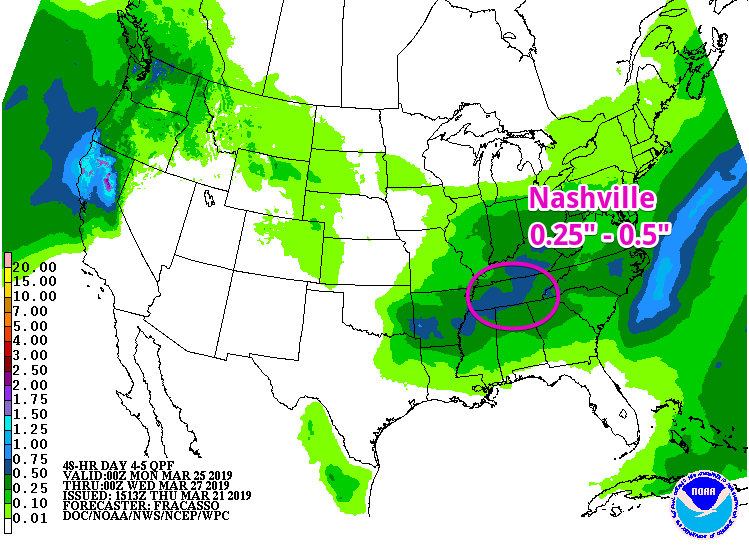 We're a while out from Sunday and Monday, so specifics are up in the air. As we draw closer to the weekend, we will keep you updated here and on Twitter, so stay tuned!
---