Possible Severe Weather Today
Today will be another warm day with morning lows around 61°, but highs warming to around 73°. Southerly winds could gust even higher than today as a strong system approaches from the west. As far as storms go, let's start general and work toward specifics.
SPC Severe Risk: 3 out of 5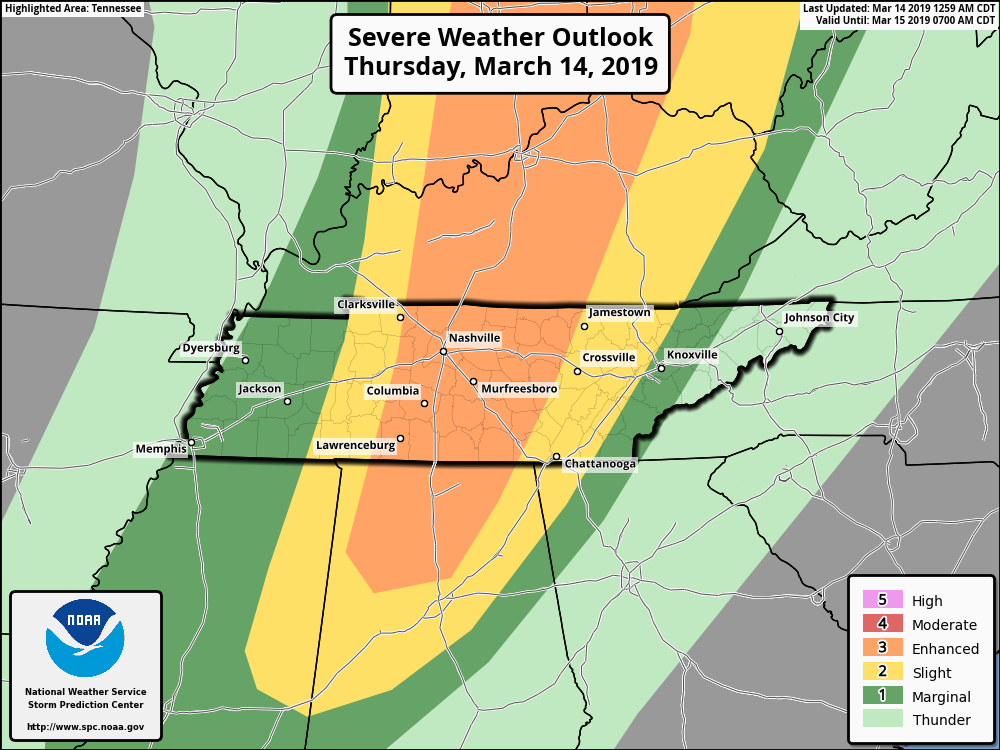 SPC's risk translates to a 15% chance of seeing severe weather within 25 miles of you. To break it down further, here are the chances for each severe weather type, again, occurring within 25 miles of you.
Tornado: 10%,
1″+ diameter hail: 15%,
58 mph+ straight line winds: 30%.
Or to say that another way,
No Tornado: 90%,
No 1″+ diameter hail: 85%,
No 58 mph+ straight line winds: 70%.
Timing
The HRRR model below illustrates two potential rounds of storms, with varying severe potential.
The first round arrived at the Tennessee River after midnight, but fizzled as it approached Nashville during the wee hours. If the HRRR solution is "mostly right" (no model is exactly right), round one won't be a problem for us. If the line keeps trucking east, it could be a bumpy night. We don't think this will happen, but we'll watch it closely.
Round two arrives around 4 pm, give or take a few hours. This line does look to push all the way through our area and is the main severe weather concern for Today and the reason the above severe probabilities were issued by the Storm Prediction Center. HRRR model is below and runs through 5:00 pm this evening.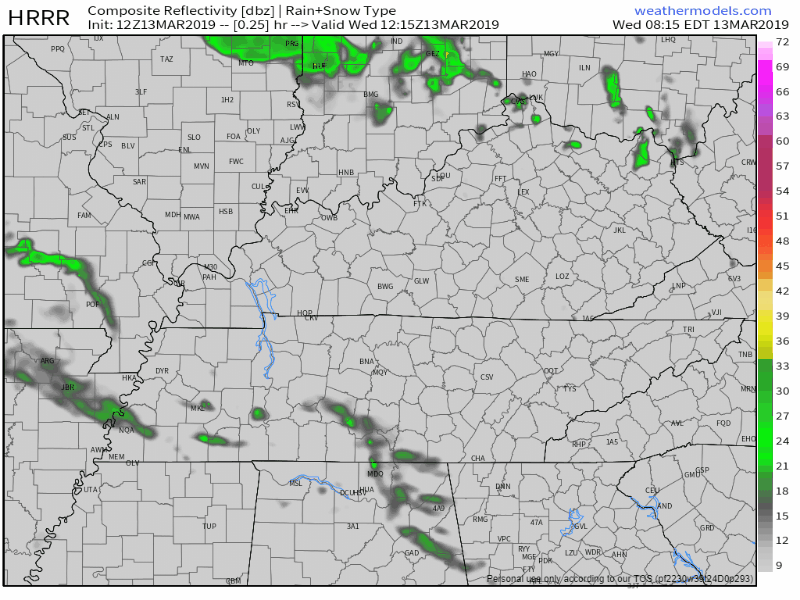 NAM3 model agrees with a 4 PM ETA, plus or minus a few hours.
The line doesn't look all that robust on these models though. Begging the question:
Are the Ingredients There For Severe Weather?
Instability (CAPE): Yes, but mostly for Round 2. HRRR and NAM3 models both think sufficient CAPE will be present for the late afternoon/early evening round. The first round this morning, not so much. HRRR illustrates the CAPE arriving in time for the late afternoon/early evening round.
Shear: Our NWS had this to say about shear. Spoiler alert: yes.
With such a strong upper low, 0-6km shear will be 50 to 70 knots, and 0-1km shear will be up to 40 knots.
Moisture: Dew points should reach 60° and maybe a little higher if models have their way. So, moisture appears present.
Limiting Factor
There are caveats to Thursday's setup. Basically, the strongest dynamics will be north of us, closer to the parent low. Also notice how models depict a broken, kinda weak looking line coming through in round 2.
Heavy Rainfall
This is not the setup where we expect to receive multiple inches of rainfall. However, if you get underneath a storm, it could drop a quite a bit of water in a few minutes as the storm races through. The WPC says there's only a 5-10% chance of seeing flash flooding within 25 miles of you on Thursday.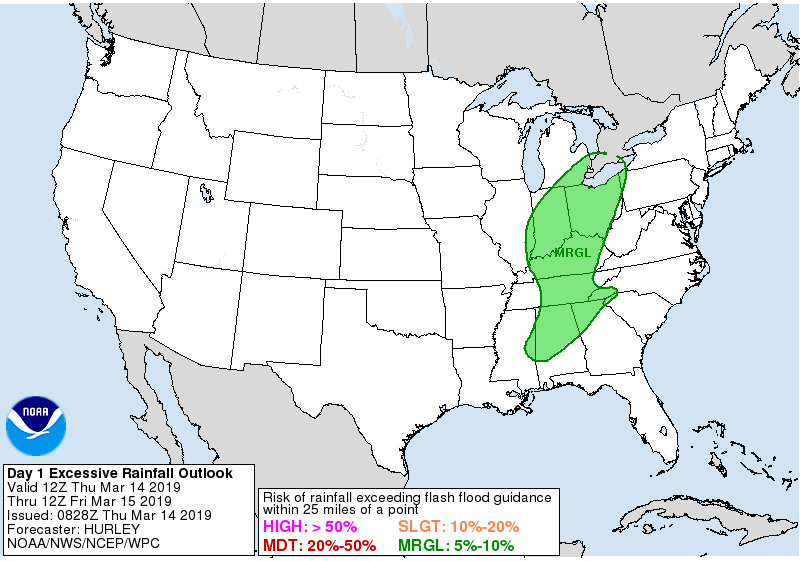 Forecast rainfall totals dropped dramatically since two days ago. Under 1″ appears in the NWS-Nashville forecast grids.
When Is It Gone?
The late afternoon/early evening line of storms will signal the end of the severe threat. Temps will drop to 45° overnight into Friday as the cold front pushes through.
Friday Into the Weekend
The sun returns Friday, but highs will reach the mid 50°s; say goodbye to the 70°s we're enjoying now. Lows will be right around freezing. Interestingly, there are hints of a quick system bringing in a few flakes Sunday night. But, models are off in a corner arguing about that. Each has its own opinion. I overheard the Euro yelling "NO" at the GFS and Canadian models who brought up the whole thing in the first place. We'll check back with them later and see how that's going. Usually the Euro has more credibility but like most people arguing in a corner no one is completely right.
---