Last night's storm reports weren't from storms but from the Wind Advisory. "Non thunderstorm-winds," they call it.

Rain reached 2″+ in spots yesterday. Creeks and streams rose quickly and fell not as quickly. A few rivers reached pre-flood "action stage." For more on that, this.
Insufficient storm-making instability prevented last night's "storms" from tapping off-the-charts storm shear. More than a few storms rotated but fell short of producing a local tornado.
Now We Dry Out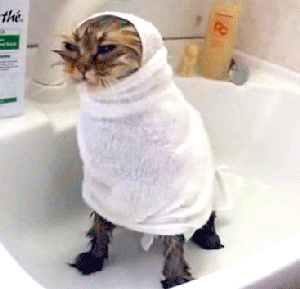 Sun today, low to mid 60°s.

Next Rain Event Thursday
May begin Wednesday night. But mostly a Thursday thing.
A few strong thunderstorms with gusty winds and heavy downpours may occur Wednesday night -Thursday. (NWS-Nashville)
Models show unfavorable winds aloft. This "limit[s] confidence in any more than a marginal severe [thunderstorm] threat developing across any part of the lower MS Valley, TN Valley, and Southeast on Day 5/Thursday." That's from the Storm Prediction Center. Several days away, expect changes, but nevertheless that's a good sign right now.
Still, another soaking rain. 1.5″ to 2″ total: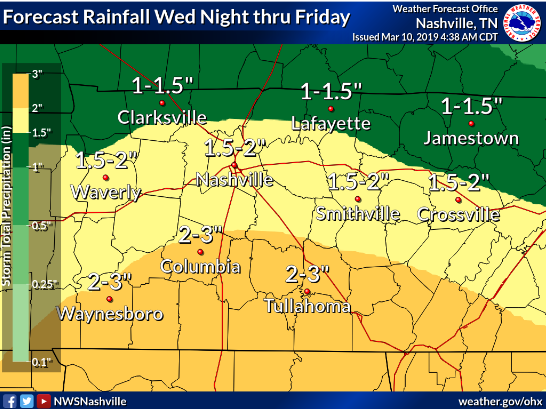 20.91″ has fallen in 2019. 11.93″ more than normal.
Are Snow Chances Over?
I see no model support for a surprise late winter/early spring snow.
Although, there is a slight "it may get cold enough" signal in the Euro ensemble data toward the end of March. This means very little. Merely a hope glimmer for sled enthusiasts.
But consider Nashville records:
Latest measurable snowfall: 1.5″, April 25, 1910
Latest snowfall, 4″ or more: 4.5″, March 24, 1940
(Data from NWS-Nashville).
---