Today we'll be mostly cloudy, cool, and dry through the early evening hours. Afternoon high will be around 50° here in Nashville.
Rain chances will increase after sunset as our next big rainmaker arrives. Scattered drizzles could begin around 9PM tonight, becoming rain by midnight.
Overnight Rain for Friday
The NAM 3km shown below begins running around 8 PM Thursday and it continues until Friday at midnight.
Heaviest rain will fall before sunrise, but expect your morning commute to be rainy. Morning temps will be in the low 40°s, while the daytime high should hover in the low/mid 50°s.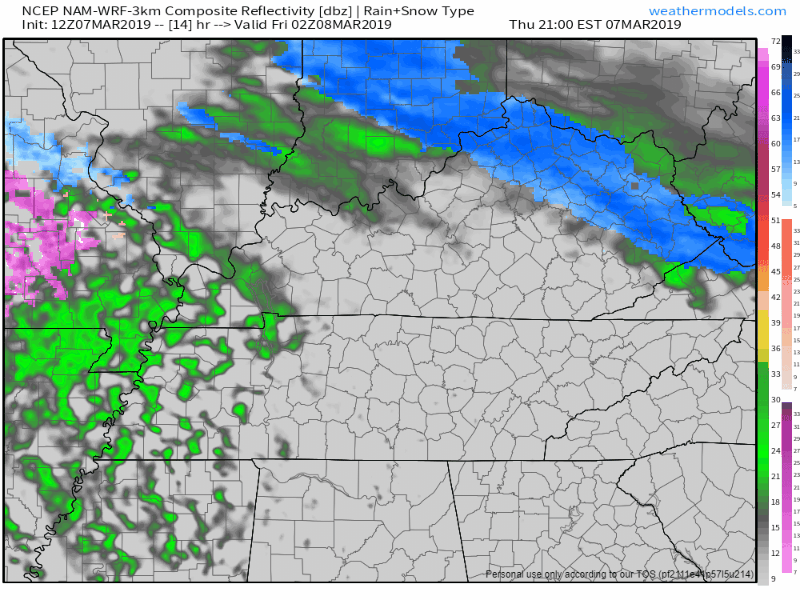 Saturday Storms
First, the temps. It will be warmer, with a high around 66°.
Concerning storms, the Storm Prediction Center has placed us within a Slight Risk (2 out of 5) for Saturday afternoon and evening.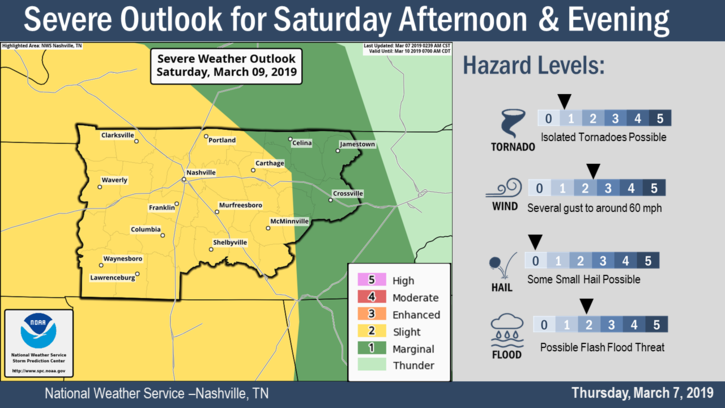 A low pressure system should drop out of the Rocky Mountains on Saturday morning and then track northeast towards the Great Lakes Region. The low will drag a fairly weak cold front along behind it causing our rain and storms.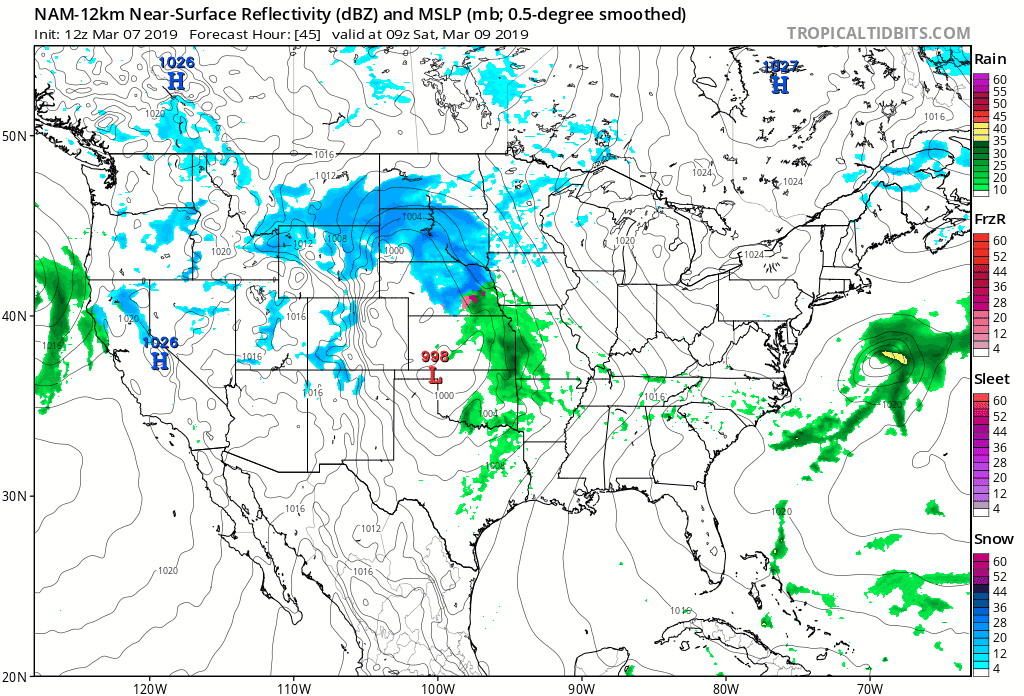 When?
We should see two periods of rain/storms. One will push through around lunchtime, with rain and storms sticking around through the early afternoon. Then we should have a few hours of no rain in the late afternoon/early evening. The second line will pass through sometime in the evening. More detailed ETAs will come as we get closer.
What to expect:
The NWS Nashville office had this to say on the severe weather:
"Main hazards will be damaging winds and the potential of heavy rainfall on already saturated ground conditions. Isolated tornadoes could be possible."
We could receive another 1.5″ to 2″ of rain from late Thursday night through Sunday morning. Our ground is still pretty saturated, so another heavy rain event could raise some flooding concerns along creeks/rivers. Not expecting widespread flooding.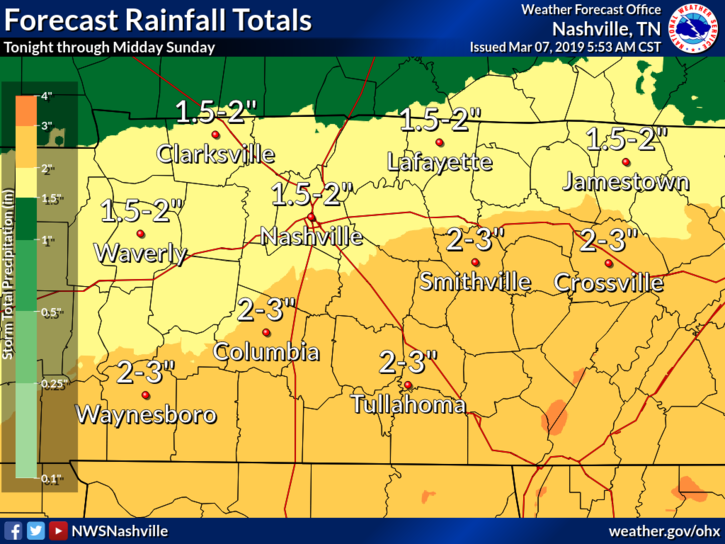 Strong Winds
A thin, dry layer will set up right over central Tennessee just before the rain falls. Within this dry layer we could have fast winds blowing about 40 to 50 mph. As rain begins to fall through this dry layer, it could pull those fast winds down with it, causing gusty winds down where we are.
There is a small chance of isolated tornadoes. I don't like throwing the "t-word" around lightly, but if there is a chance I believe we should look at it.
We need several ingredients to cause tornadoes: low-level moisture, wind shear, and energy to get a storm going. We'll have plenty of surface moisture, and models are hinting at having decent wind shear. The big limiter in our Saturday setup is energy – there may not be enough. We'll have a better idea of this particular hazard when we move closer to Saturday.
As always, remain weather aware this weekend. Make sure you have a place to receive weather alerts. (Like we said yesterday, this weekend is a great opportunity to download StormWatch+ or another weather alert app. We'll keep you posted here and on Twitter.
---