Cold continues. Wind chills in the low 20°s around sundown then upper teens tonight.
Even colder tomorrow morning. Wake up low 19°, wind chill 13°.
I mean, yeah, technically it's still winter.
Wednesday's high is 39° – a meaningful improvement – then Thursday morning another ice boxer 24° (wind chill 21°), but 52° Thursday afternoon.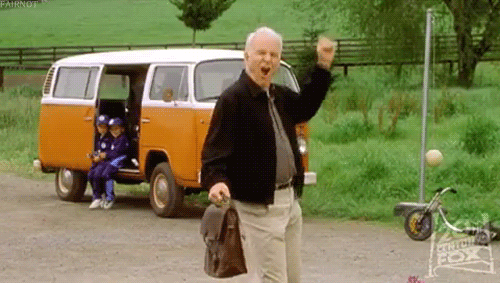 Rain possible as early as Thursday night, but it's more likely Friday morning and afternoon.

Rain Event #1 Friday
It may start Friday morning. Most likely raining after noon Friday, ending sometime Friday night. Thunderstorms aren't expected but don't totally rule them out.
The Euro model spreads about 1″ of rain total through the middle of Friday across an area along, and north and south of, I-40. The 1″ swath-o-rain looks on a map like someone laid a horizontal pickle over Nashville and Will Co, extending east and west. That 1″ total is probably an exaggeration of rain totals but even at half that Friday looks to wash out, and maybe create sporty ball cancellations Saturday.
A second rain and storm "event" may materialize Saturday afternoon into Saturday night.
Rain/Storm Event #2 Saturday
From NWS-Nashville's AM forecast discussion:
Timing differences are still prevalent between the GFS [model] and ECWMF [Euro model] solutions, but likely eventually an organized line of stronger showers and thunderstorms will move across the mid state region sometime during the nighttime hours on Saturday night. Still too early to pinpoint the exact potential of any strong to severe thunderstorms with this system, but with now better agreement between the most recent GFS [model] and Euro [model] solutions, at least the potential for strong thunderstorms is looking better. Expect increasing chances of showers and thunderstorms as Saturday afternoon progresses, with showers and thunderstorms on Saturday night.
It's severe weather season. Saturday expect a negatively tilted system setting up to our northwest. Thing may be too far away to cause us real problems – hence the model disagreement – but negatively tilted March events pack big punches. Where is the big question right now. Currently SPC thinks threat is west of us, but not by much: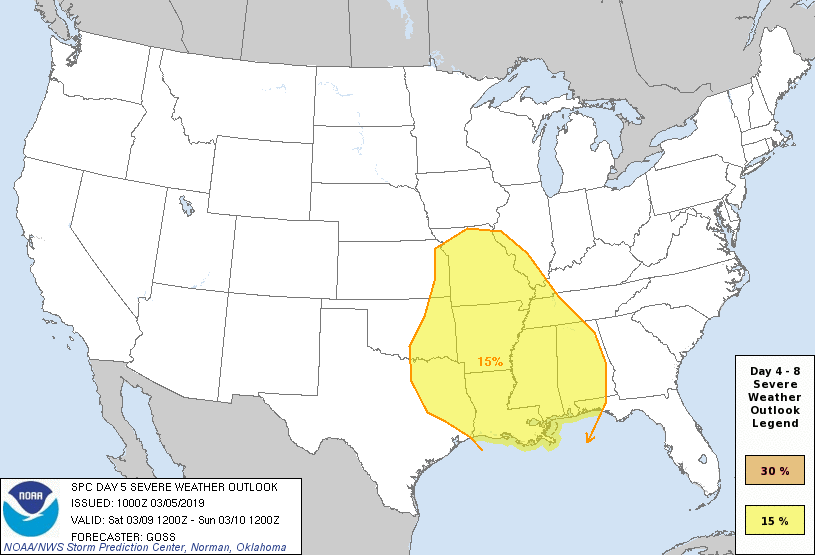 Draw few conclusions, though. Lots we don't know.
If I had to ETA storms it'd be 6 PM to midnight Saturday, perhaps coming earlier or later. I prefer a nighttime arrival, which will limit CAPE and other storm ingredients.
Rain Saturday afternoon and evening should be heavy, departing late Sunday morning.
Rain Totals
From Thu night thru Mon night, it looks like most of the mid state will experience total [rainfall] values from around 2.5 inches to around 3.5 inches.
Dams are releasing water – keeping some rivers up (I'm looking at you, Stones, Cumberland) – to create capacity for what's ahead. Flash flooding isn't being highlighted (yet) by NWS-Nashville, but if we get a series of thunderstorms trucking through here we may be dealing with additional, or at least continued, flooding.
Drying out Sunday and Monday, then:
Another potentially strong weather system looks to approach the mid state region by the mid portion of next work week bringing additional chances of rainfall to the mid state region.
Such goes March.
---