Radar images coming out of Georgia this afternoon are upsetting. Numerous tornado debris signatures, obvious tornadoes, some tearing through towns, from what's fair to say they're enduring: a tornado outbreak.
Locally, the rain is over. So far 0.50″ at BNA. Any additional precip after 4 PM will be snow. But there won't be much more. If anything.
No accumulation expected. When I started writing light snow was sliding through Nashville north of I-40. By the time I publish this thing snow will be gone. Most of it is NE of us and moving away.
I won't hide data so you should know the NAM3 model thinks additional light snow will try and drop by tonight. HRRR disagrees, it's bone dry. So is the Euro. Do not bet on snow tonight.
Dropping temps is tonight's jam.
We'll have a hard freeze after midnight. That means temps dropping below 28°.
We'll drop below freezing this evening. By midnight 27°, 25° by 3 AM, bottoming out at 22°.
At these temps rainwater will freeze. Winds continue to be strong. Wind will continue drying roads overnight. Rainwater runoff should limit freezable liquid. I suppose a few slick spots are possible.
Wake up wind chill 11°. NWS-Nashville issued this Special Weather Statement about the cold: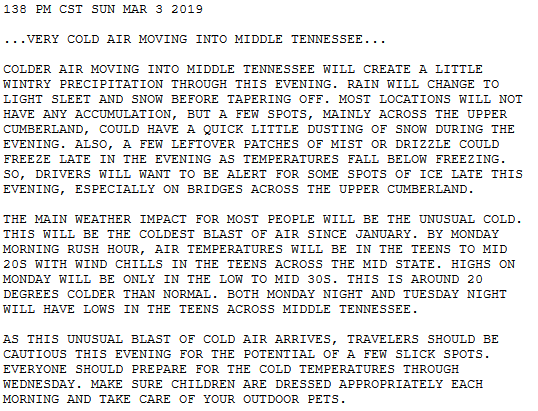 "Coldest blast of air since January," they said. Monday's high only 33°. Wind chills in the 20°s during the day, teens at night.
Another cold one Tuesday. Wake up 18°, wind chill 14°.
I always liked Chilly Willy.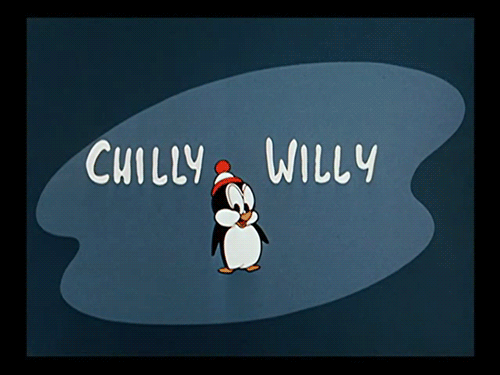 Undervalued member of the USA Cartoon Express.
Annnd another ice box Wednesday morning, low 17°, feeling like 12°.
But a high of 40° Wednesday!
Don't get excited because…
Rain Chances Return Thursday, Increase Friday, Increase More Saturday
Gradually warming temps – up to 60°s this weekend – but "we pay the price as a couple of rain makers cross the region." (NWS-Nashville).
#1 Late Thursday Into Friday. A quarter to half inch of rain.
#2 "Spoil Your Weekend." That's NWS-Nashville phrase-bumming. They added: "the weekend system will be a big soaker with some thunderstorms, producing 1.5″ to 2.5″ of rain. Welcome to March!" Saturday looks wetter than Sunday.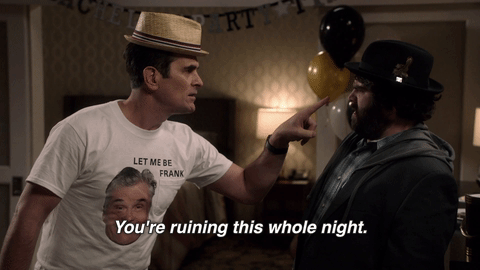 Doesn't look like a flash flood event but rivers downstream of dams are still up as dams try and drain historic February rainfall.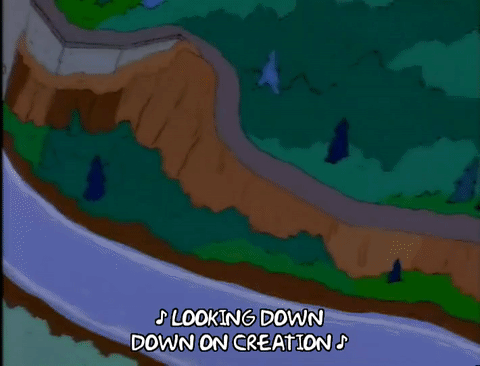 ---