I write from Severe Weather Awareness Day at Trevecca. It's from 9 AM to 4 PM today. The Blue Bell ice cream guy if here with a LOT of ice cream and Erik is here from Storm Watch Plus — we have 200 severe weather alert apps to give away for freeeee! The event is free here too. Parking free. It's all free. Even the ice cream. Free!  All your fave broadcast mets are here. Also NWS people and other exhibitors. Details here.
Cloudy and chilly today. Light north wind will make it feel a bit colder. High 50. Today's the better weather day this weekend.
It's going to rain Sunday and be cold. Much colder.
Sunday looks gross.
The high will 40 but a north wind, steadily increasing through the day, will make it feel like it's in the 30s.
Sunday Rain Start and Stop Times
NAM3 model thinks light rain arrives around 10 AM tonight (Saturday) then goes off an on overnight into Sunday morning. Then it gets steadier and heavier from there. Ends around 3 PM.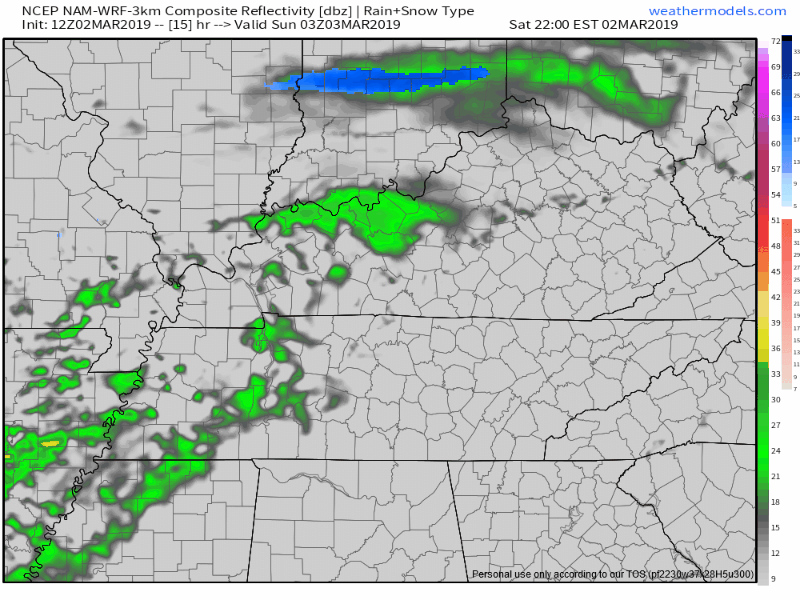 HRRR model thinks rain will start at 7 AM and end at 3 PM.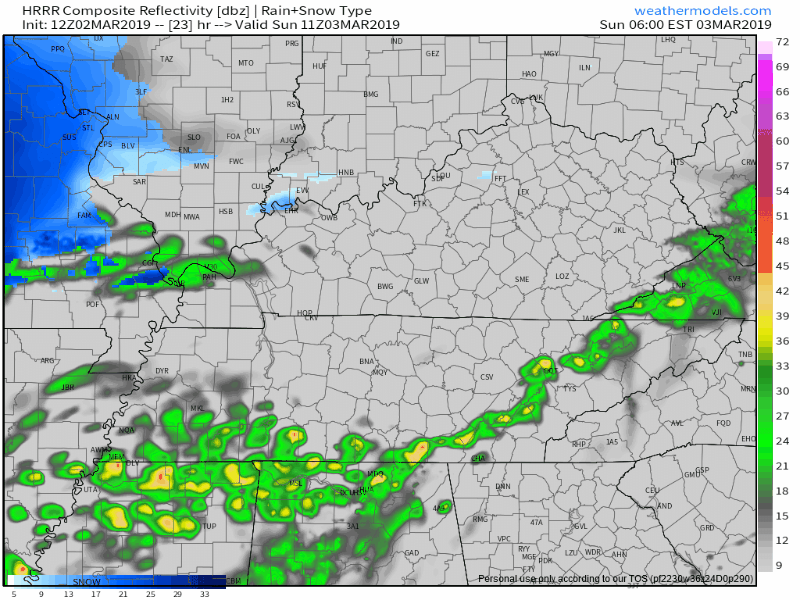 Don't plan specifically around those ETAs. Remember, ETA starts with "estimated." We will update this on Twitter and again here tomorrow morning.
Less than 1″ expected. More southeast, less northwest. Recurrent flooding is not a concern.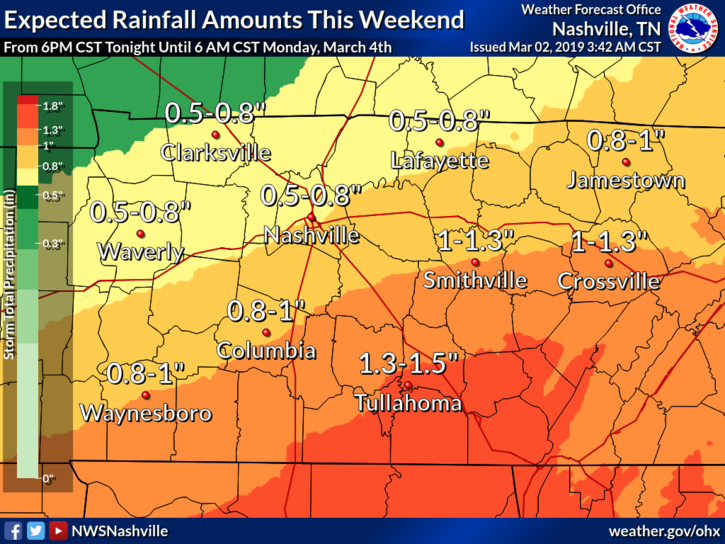 Sunday Night Snow?
Nah.
Sure some models have a few flakes flying Sunday night, but other models do not and nothing is expected to accumulate.
Wind speeds increase Sunday night. Gusting to 29 MPH. Gonna be really cold and feel really cold.
Much Colder Beginning Monday
NWS-Nashville on Old Man Winter:
Old Man Winter may not be bringing any precipitation with him, but he wants to remind everyone that he is not done for the winter season, even though meteorological winter ended March 1st. He is bringing a cold airmass with him when he visits the mid state region the first part of next work week. Afternoon high temps on Mon and Tue will only be in the mid 30s, very close to seasonal overnight lows for this time of year and in some cases 20 plus degrees below seasonal normal highs. Lows Mon and Tue nights will be in the teens. On Wed highs will warm slightly into the upper 30s with lows Wed night mainly in the lower 20s.
Monday morning's wind chill for us: 17F.
Next Precip Event
Thursday afternoon into Friday. Your crap app may have a snowflake on it Thursday but don't party/panic. As precip arrives Thursday, we warm up. Friday will bring the most rain if you believe the Euro model. Dubious to believe any model right now.
3.4″ of rain total expected over the next two weeks per the Euro ensemble model.
---