Wednesday – Sunny in the Daytime, Showers Begin after Sunset
We'll start Wednesday morning in the low 40°s and warm quickly to the mid 60°s by afternoon. Take this opportunity to soak in the sun while you can. Clouds will begin invading in the afternoon ahead of more rain.
NAM 3km shows showers beginning over north Mississippi before spreading to Middle Tennessee by Midnight Wednesday. No storms, just rain.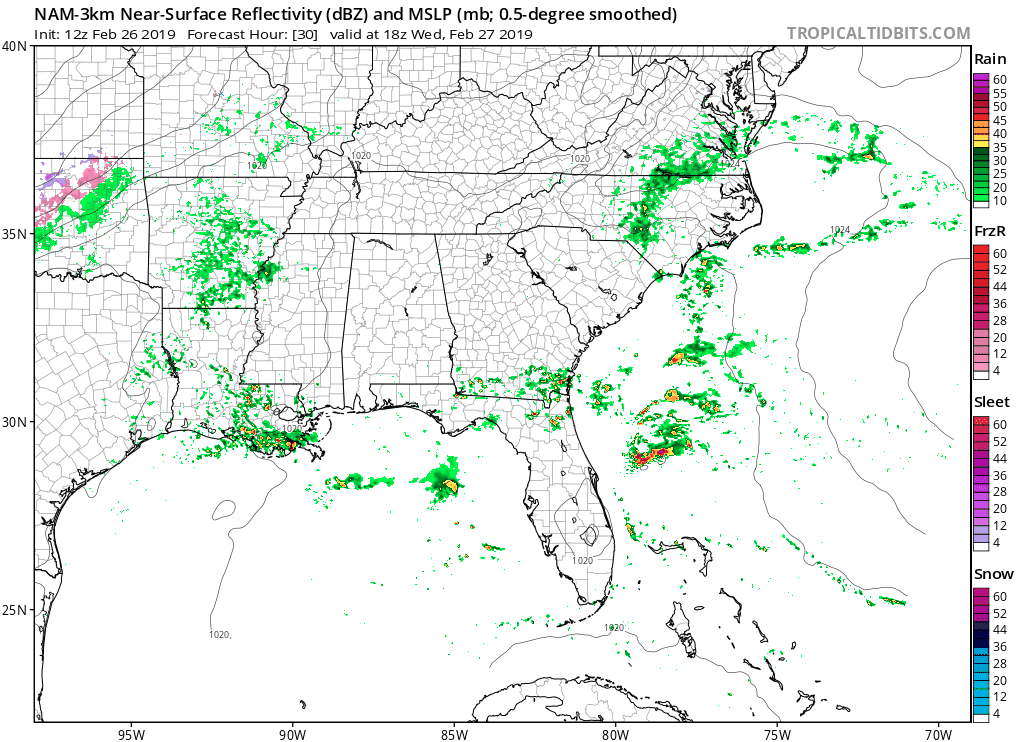 Thursday – Gross and Off & On Rainy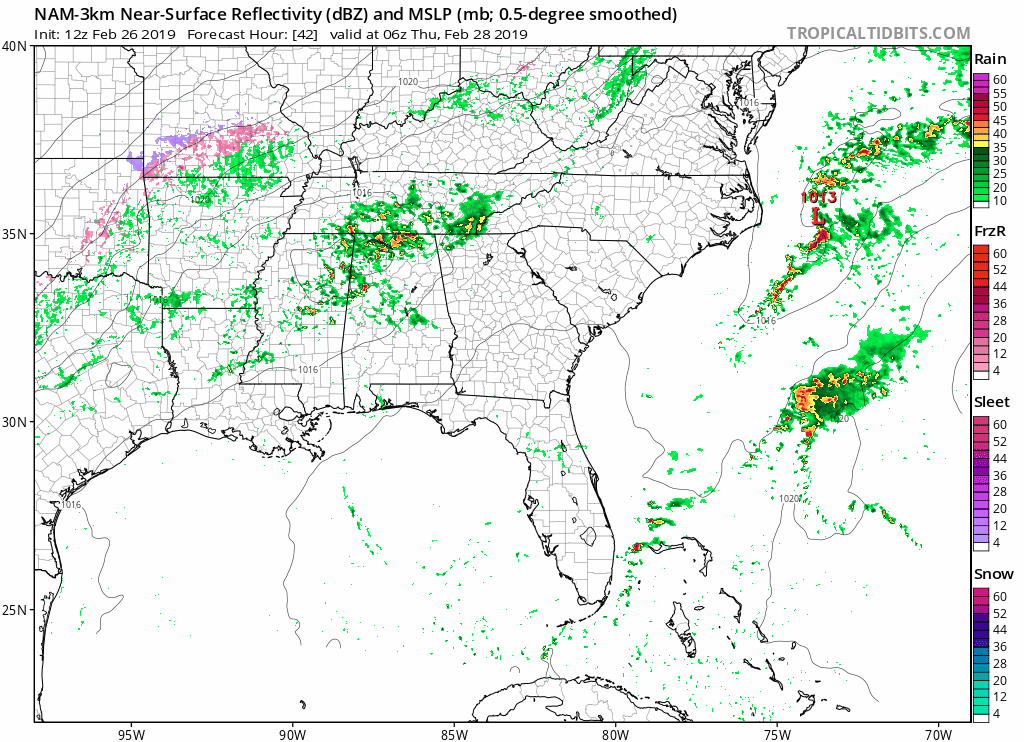 Overnight showers will continue through Thursday morning, becoming scattered as the day goes on.
The last thing we need is more rain, but luckily these showers should be relatively light. Models show that Wednesday night through Thursday night we could see 0.2" – 0.3" here in Nashville. Some will see less. Hopefully that's you.
Clouds and rain will hold our high temps in the mid/upper 50°s.
Rain, then, Wait What? Cold Weather this Weekend? Snow?
Friday will be much like Thursday: light scattered showers with daytime temps in the low 50°s. Rain will be off and on all day Friday and again Saturday but it doesn't look like much. Mild concern exists for rainouts Saturday but I'm more encouraged today that we will play than I was yesterday. As usual models can't agree:
EURO has rain Friday night until Saturday morning and then more rain Saturday night into Sunday morning.
GFS has rain Friday night and Saturday, with a cold front pushing out the rain on Sunday.
We're still a few days out, so as we move closer to Friday, models should begin to find a common solution. For now, we wait.
Editor's Note: I'm in a mood and I'm writing about snow chances Sunday. You've been warned.
Rain and snow showers are in Sunday's forecast. As possibilities. What's that mean? 
We're five days out and no one is sure about anything.
Pretty sure we'll get colder Sunday. As Marti pointed out to me, a high pressure center will set up in the Great Plains, pushing cooler air to the south, so we should at least feel a few degrees cooler on Saturday and then get much colder Sunday.
Freezing cold Sunday, actually.
So much so the Euro model thinks rain will change to snow Sunday.
Where have you heard that before? I have heard this eleventy hundred thousand times, especially for forecasts for five days away. This materializes into reality rarely.
Buuuut, the Euro Ensemble model approach, the most reliable of all liars, thinks 1″ of snow will fall Sunday. Maybe more, maybe less. Euro ensemble also thinks 25% to 33% chance of more than 1″.
Then temps stay below freezing and try to hold the snow in place for a day or so.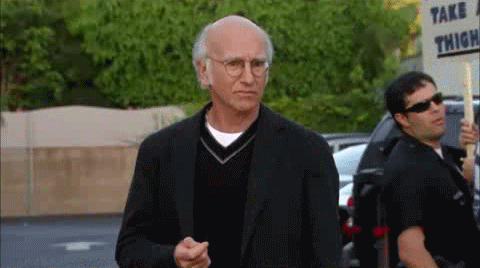 If you're here for
hope unconnected to reason, and/or

you think history isn't something to learn from, but to study briefly for the test then forget,
well, there's your hope. Initiate: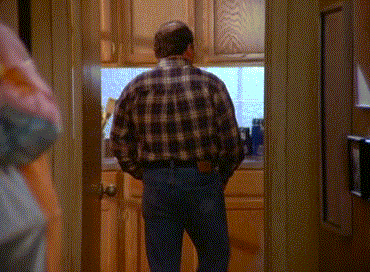 But y'all, slow your snow party/panic roll. One day we'll get another snow and maybe this is it and a blind young squirrel will roll up and say "Y u had no faith?" then drop a huge nut on the table and look at me accusingly with piercing eyes, angered and hurt I didn't believe.
I'm skeptical of the cold air chasing the precip. I'm skeptical of model error — the glistening, shiny Euro everyone loves but is usually errorful at this range shifted a deformation band of snow 100 miles in its last two runs. A hundy miles, y'all. Yeah, it's got this.

But this system may be a bit different, maybe it's got potential, with elongated low pressure passing southeast of us instead of the classic "LOL that didn't happen" north to south cold front coming through. Hmmm, a system passing southeast, that's pro-snow! But that ass/u/mes models have this thing pinpointed and I'm pretty sure they don't.
And the sometimes right GFS is sitting over there snickering at this entire conversation. So until I see some model consistency, put down the crap app, embrace the uncertainty, leap two footed at your peril.
I mean seriously, we're talking about 1″ of snow maybe. An inch.
This is the friend that last time forgot to pick you up but promises "this time dude I'll be there" in the same cavalier, laid back way he told you he'd be there last time but no-showed.
We have no choice to wait and the hope the ride shows up but I'm lining up a Plan B and Plan C because I've been burned before.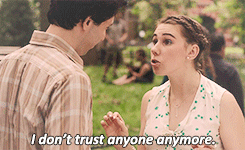 Embrace the limits of forecast certainty. Set reasonable expectations and live unencumbered by disappointment.
---