The Past
It wasn't/isn't May 2010.  But it trapped people in RVs. Required water rescues. Water in basements. Roads closed, impassable. All weather is local and personal. When it is, historical context is irrelevant.
Let it be history then discuss history. February 2019 brought 13.47″, a record for Februarys. Also seventh wettest month all-time in Nashville.
There was rotation aloft in Perry County last night, moving into Hickman County on a path toward Fairview-Bellevue-Nashville. That storm in Perry County set off the Tornado Warning, as it should have. But the storms outran and left behind the big storm fuel. Storms ran out of gas as tornado producers, weakened on arrival, but still produced additional substantial rainfall. Or, to use the ham and cheese omelette is a tornado analogy, the chef, stove, skillet, ham, and cheese all arrived here, but the chef forgot the eggs. She left them in SW Middle Tennessee and NE Mississippi.
The Present
Very windy this morning because the cold front finally arrived. Check out wind gusts in purple at BNA 4:40 AM to 7:20 AM.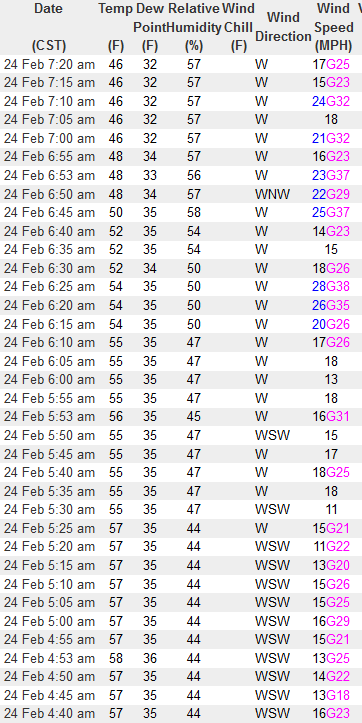 Not shown above but NWS-Nashville reports peak BNA gust of 45 MPH.
One last cloud deck swings through this morning (satellite thru 7:29 AM below).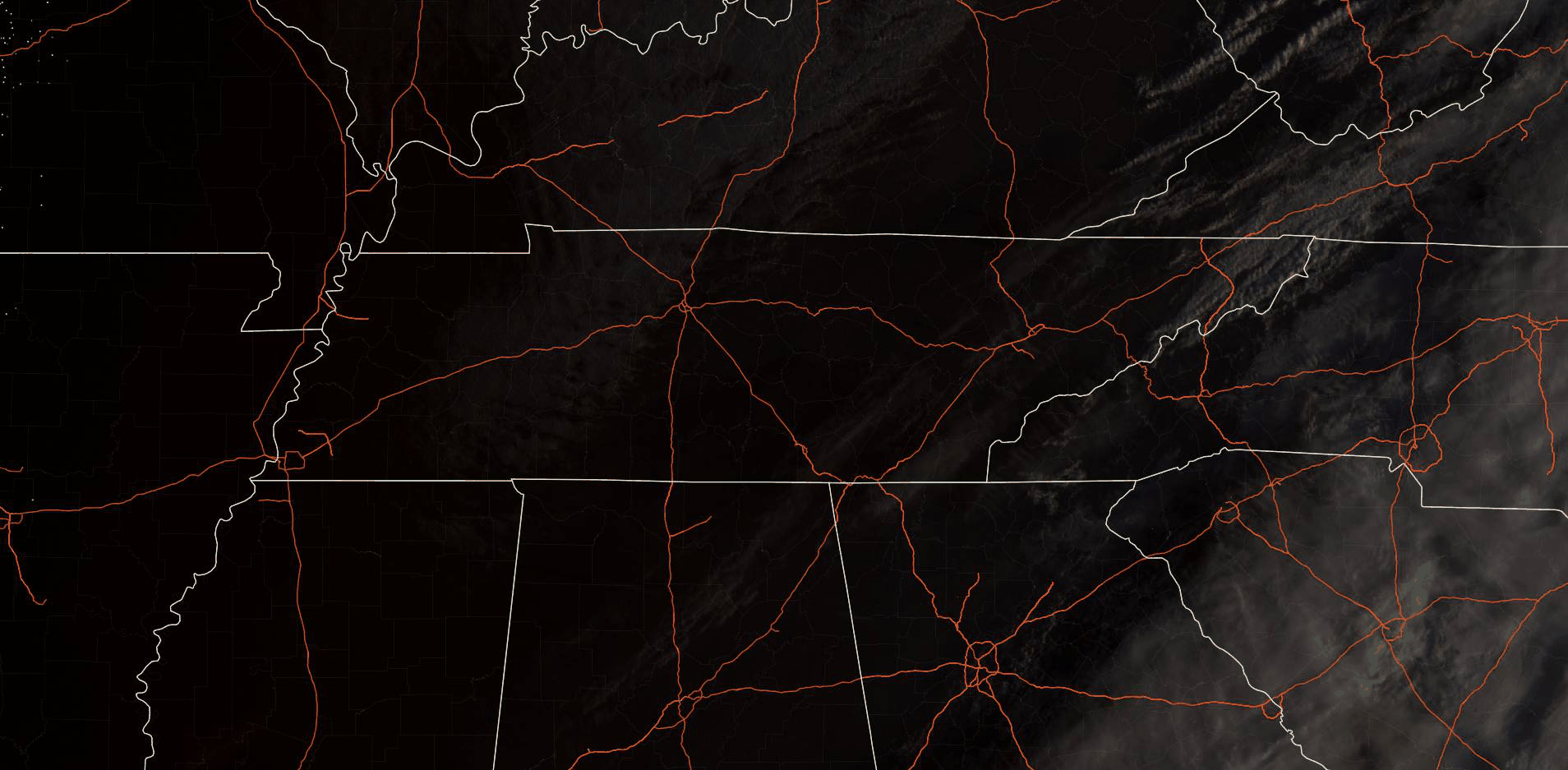 The Future
Sunshine.
Until Wednesday.
Three days of sunshine!
Major/large rivers will still be at various flood stages Sunday into Monday. Monitor flood stages of area rivers, streams, and creeks here.
The Cumberland River downtown was thought to approach Major flood level yesterday. Actually never even made it to Moderate flood stage. It's still up, but should be falling. Levels are well managed.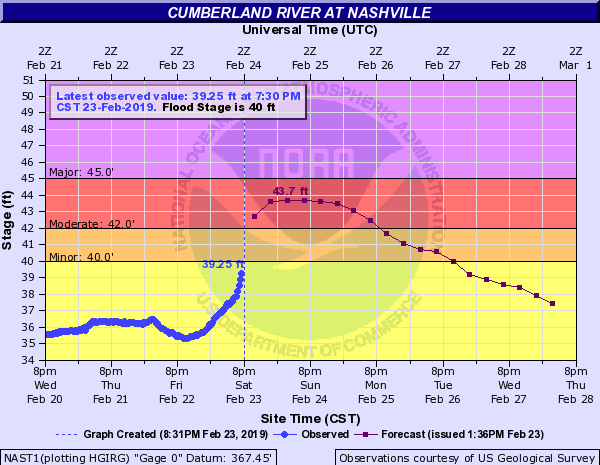 Therefore, "Flood Warnings" remain effective, but this means only that levels are at least in the "action" stage, which is the pre-flooding stage.

Again, this is not 2010, unless it's happening to you. This may have been your 2010.
Rain is possible as early as Wednesday night, but only very little.
We re-enter a light rainy pattern Thursday and Friday.
Friday especially. That's when another warm front will push north into Middle Tennessee bringing moisture and instability with it. ETA for heavier rain Friday night into early Saturday morning. Then another cold front speeds west to east across Middle Tennessee Saturday. More heavy rain and storms. Models think 1″ to 2″ total Friday-Saturday.
Timing and forecast errors are high because models perform poorly 5+ days away. Check back for updates. The above reflects best thinking.
Then it gets colder one week from today, Sunday. It's still winter.
---