A Flash Flood Watch continues until midnight tonight. We're expecting another few inches of rain here in Nashville, so flash flooding is still a concern.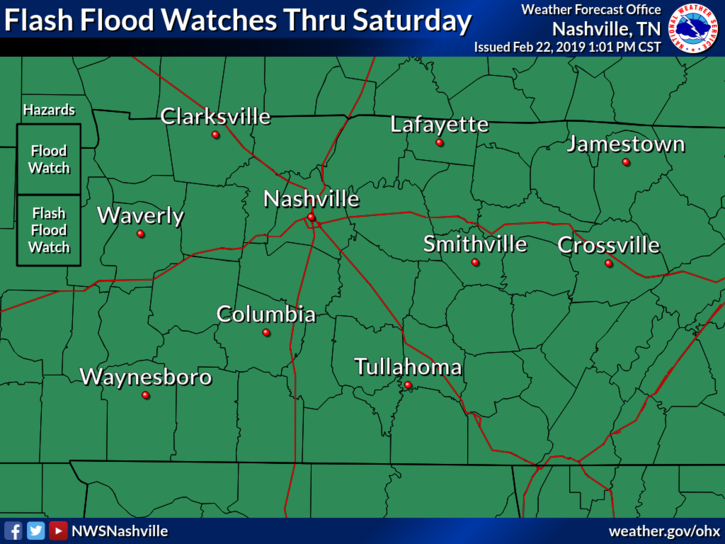 The axis of heaviest rainfall is expected to set up just to our southeast, but we could see another 2″ to 3″ here in Nashville. Rivers and streams already full of water could rise more if this pans out.
Especially as rain falls after sunset, if you're out driving, watch for flash flooding to impact roads too.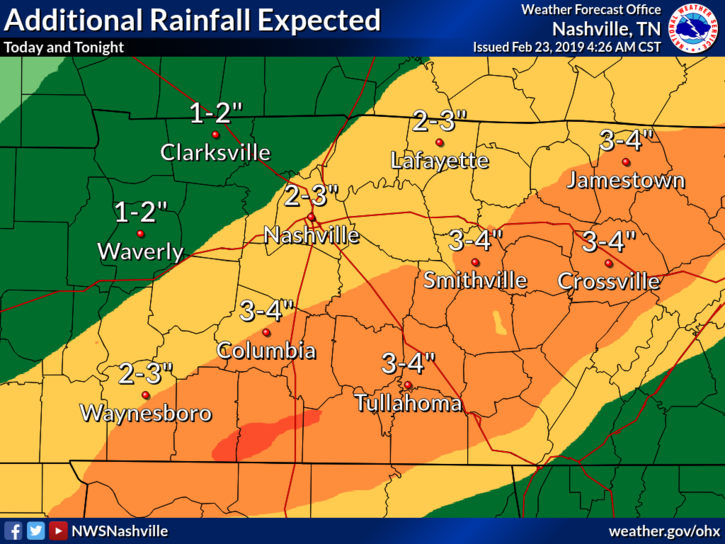 Severe Storms Possible This Evening
Models have been trending upwards, showing an atmosphere that could be more unstable than we thought in previous days. Because of this, the Storm Prediction Center has placed us within the Enhanced Risk (3 out of 5) zone for today's weather.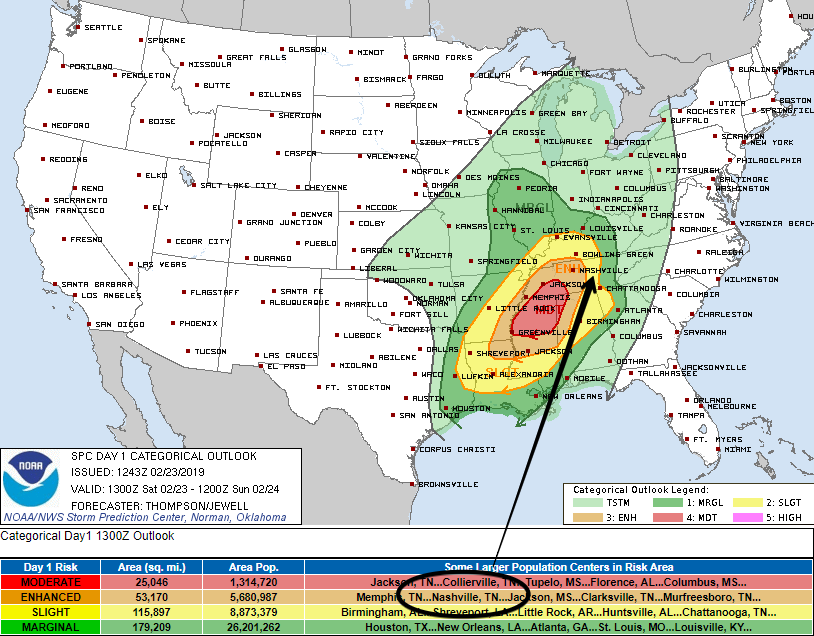 Here's a zoomed-in version of the map above. Greatest chance for storms remain to our southwest, but we'll be keeping a close eye out here for severe possibilities.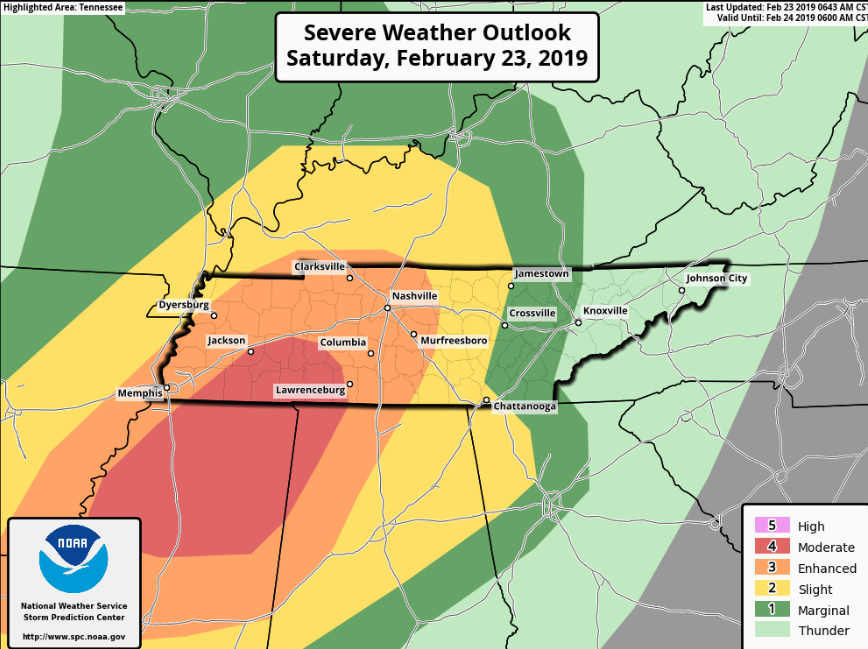 What's going on:
A warm front will lift through Tennessee this morning, bringing warm temps and moist air. This moisture will be used as storm fuel later in the day as a cold front swings down through the midsouth. From the mid afternoon through late evening, severe storms will be possible with concerns being strong straight line winds, more rain [flash flooding], and possibly a few tornadoes.
What Radar May Look Like:
Steady rain in the morning, quick break in the early afternoon, then storms in the late afternoon and evening.
We'll see storms go up on radar out ahead of a main line. Storms that find pockets of instability will be more severe. As the cold front draws closer, storms will likely organize into a squall line and push through. Here's the HRRR model through midnight tonight.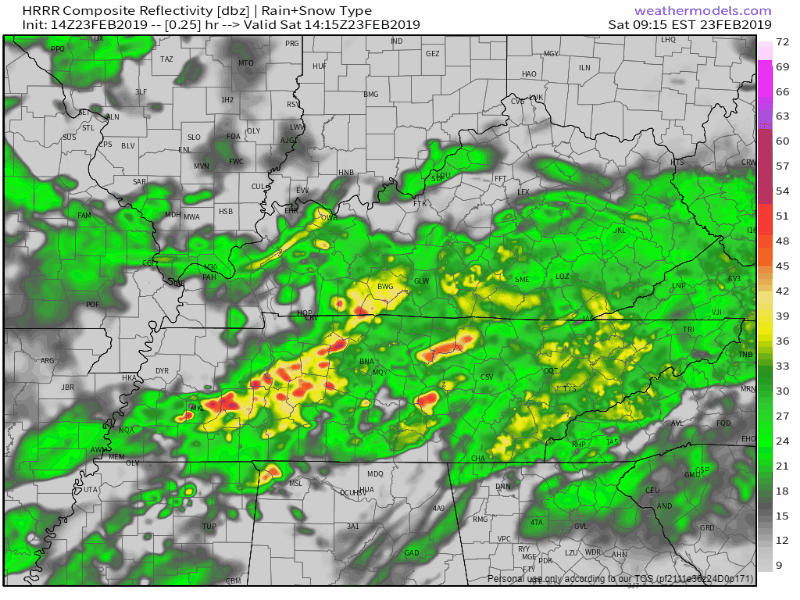 Strong winds just above the surface are already in place, so now it's a race. Who's going to get here first, the storms or the moisture. We're sitting with dewpoints in the low 50°s right now, but if those can reach into the 60°s, storms will have an easier time reaching severe levels. We'll be watching closely to our southwest and west as storms progress throughout the evening.
NWS Nashville has the graphic below to show the bigger concerns today: wind and flooding. Winds can gust up to 30 mph or more as storms pass, but within a storm they could be greater.
Storms will likely be packing a lot of water, so heavy downpours are likely and will make flooding worse.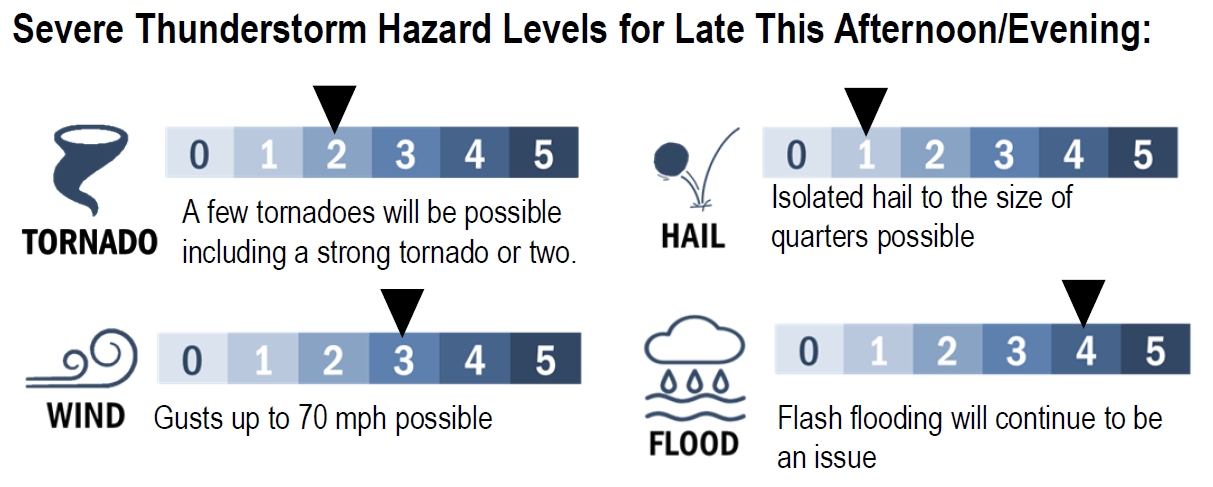 Are tornadoes possible today/tonight? Yes, so stay weather aware all day long.
We need storms with strong updrafts and lots of shear to cause rotation, and model soundings are showing that we could have both in Middle Tennessee. If spin-up tornadoes were to occur, it would be during the late afternoon/early evening push of storms. This is still dependent on how much moisture we get from the warm front. If there's plenty of moisture, our concern goes up.
Watch where you park! The over-saturated ground has caused the root system for most trees to weaken. When strong winds begin to push through this evening, this could cause trees to fall – on you and/or your car. So when you park your car for the night, keep this in mind. Try not to park beneath a tree, especially one that could be prone to falling in the night.
Dry Days are Coming
Get ready to dock your boats! Sunday through Tuesday should be much cooler and dry! We're going to need several days of dry skies to let rivers and creeks fall back to normal. A few showers could be in the mix early morning Sunday, but after that, we should have a dry start to next week!

---