SUMMARY
"A major flood threat will focus over areas south of I-40 this morning through Friday" [then will] "continue for areas south of I-40 and spread northward covering all of Middle Tennessee [including Nashville] Friday night through Saturday." –NWS-Nashville
Heaviest rain starts in Will Co Friday.
The Excessive Rain Outlook indicates the probability of flash flooding today is more than 50% in Williamson County: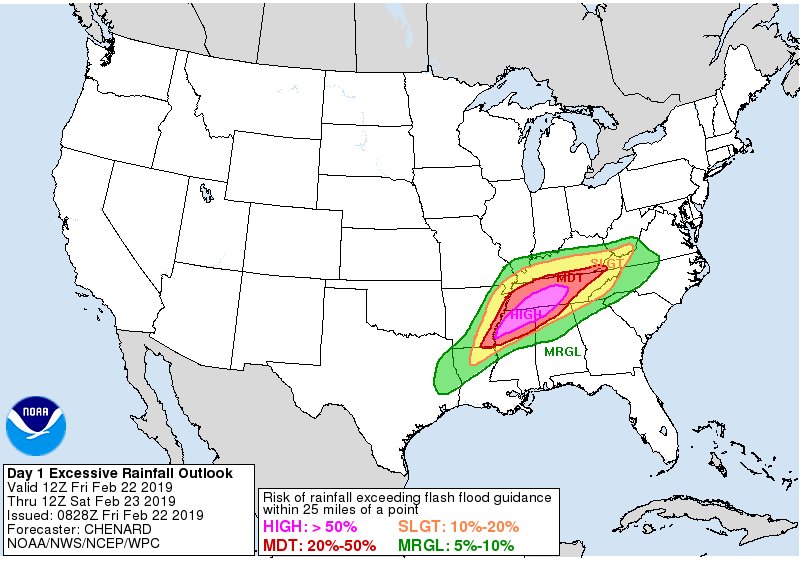 Here's a local zoom-in of that image.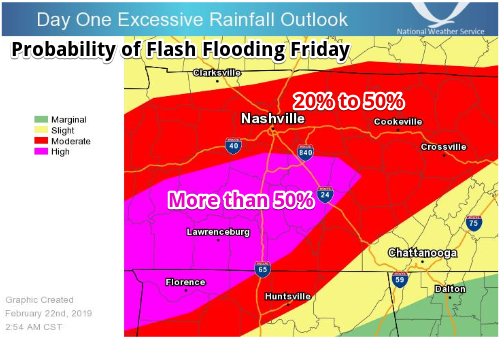 Williamson County roads are already closing.
We currently have 6 road closures and 5 park closures in Williamson County. Road impacts will increase as we encounter more rain over the next 2 days.

Information changes, so stay up-to-date through our Flood Impacts page: https://t.co/y9b1WXigeO pic.twitter.com/MyX7TkNzzk

— Williamson County TN EMA (@WCTNEMA) February 22, 2019
In Nashville the Flash Flooding risk remains high. Nashville's flooding risk increases Friday night and early Saturday morning, when the heaviest rain should shift north into Nashville.
The key is where the heaviest rain will "train" Friday, Friday night, and into Saturday morning.
Models have different takes about rain totals Friday through 9 AM Saturday morning. Here they are:
HRRR MODEL
Watch the more intense rain (yellows, reds) move into Will Co and Nashville tonight. Below, the HRRR model runs Friday morning through 9 AM Saturday: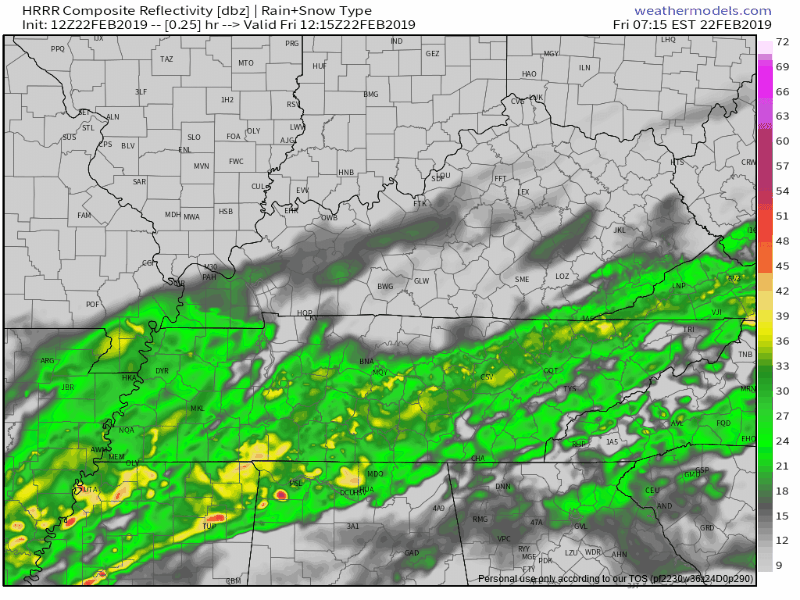 This is the "training" rain we're most concerned about, more than 3″ of rain cutting a path through Will Co and the SE side of Nashville: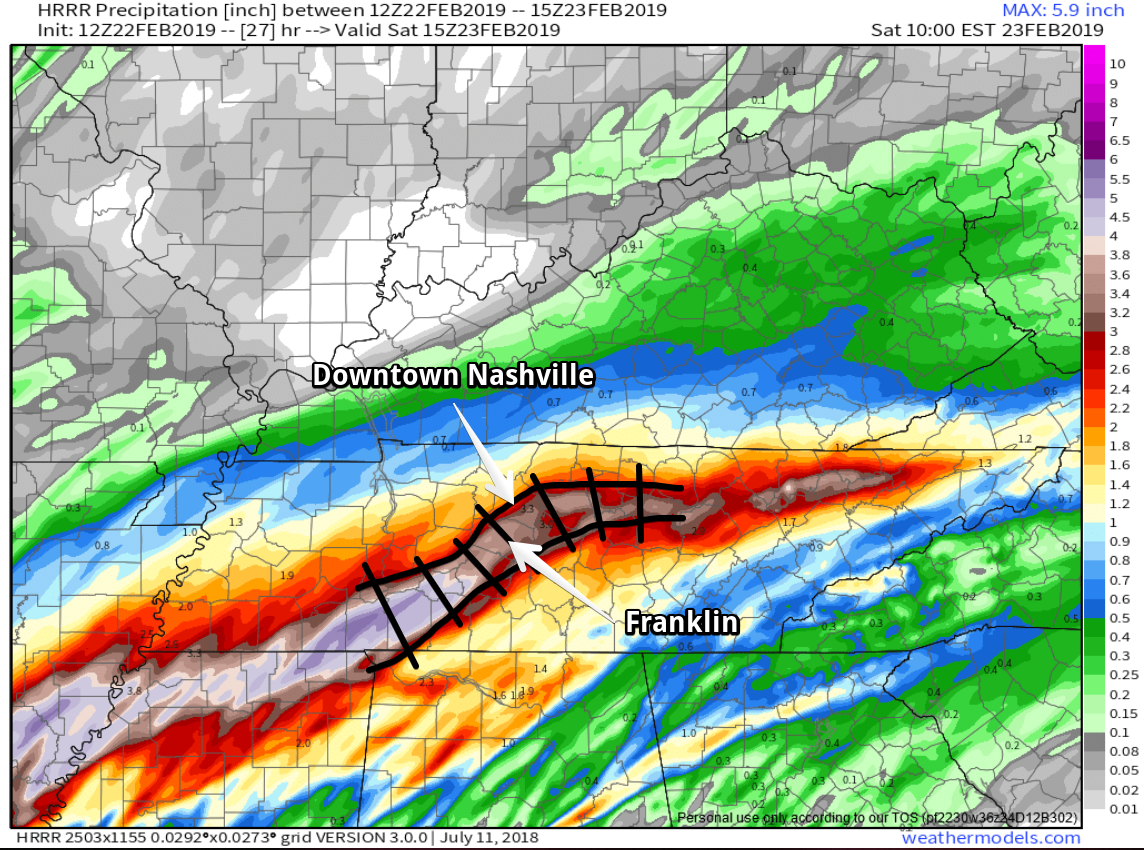 The HRRR model is fallible so we should look at other models.
NAM3 MODEL
This model thinks the heaviest rain will train south of us, but note even though the worst of it is south of us, we still get 1.6″ to 2.0″ of rain, which should cause flooding.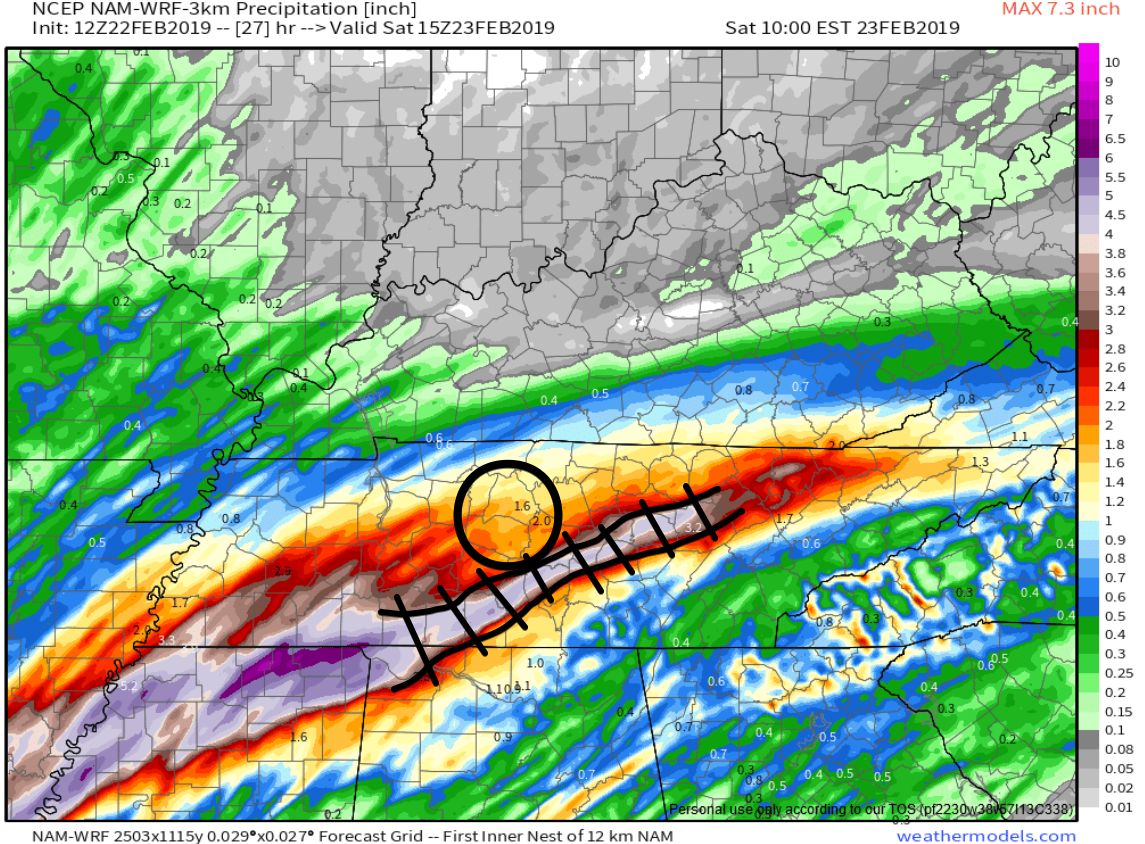 EURO MODEL
This is has over 2″ through 9 AM Saturday morning.
Thus the flooding concern is legit.
Models predict, but the radar shows what's really happening. Watch radar, heed warnings, use common sense, and avoid walking through or driving across water covered roads. It's not worth it.
NWS-Nashville has this message: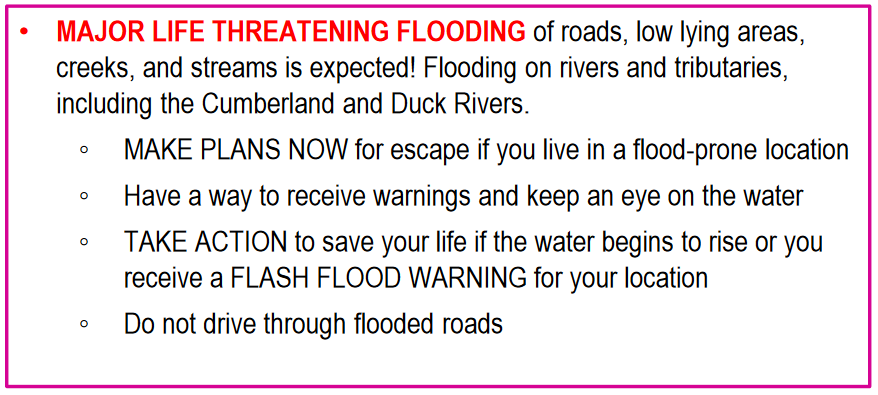 More Rain & Storms Saturday
Saturday Storms
If there is good news, it's that the significant severe weather outbreak discussed yesterday by the Storm Prediction Center does not appear to be quite as threatening.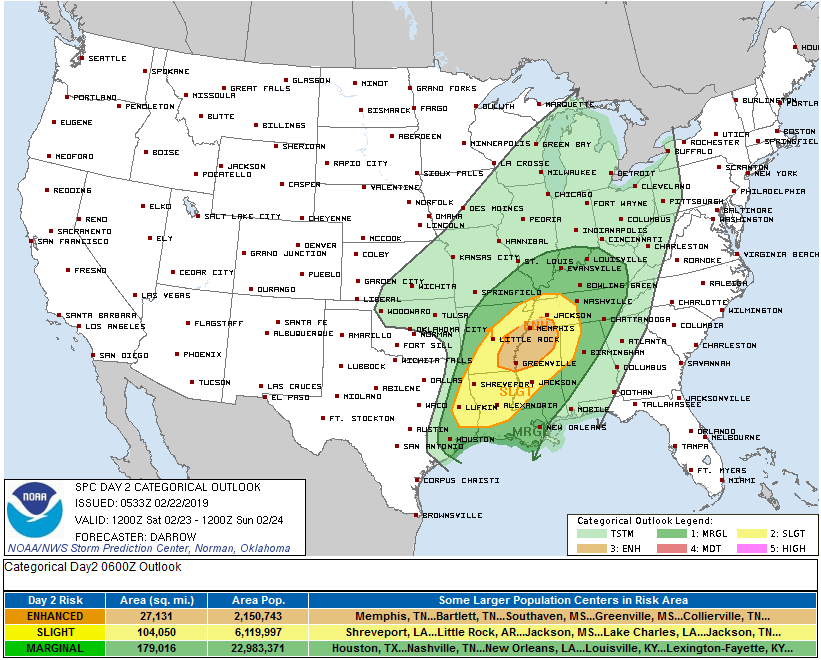 We were removed from the "Enhanced" and "Slight" Risk.
What happened? Models shifted, suggesting a decrease in Middle Tennessee of a key severe storm ingredient: instability. Although the rest of the atmosphere will be capable of several intense storms Saturday afternoon and evening, without instability, the worst storms can't happen. Kinda like you can have a pan, stove, spatula, ham, cheese, and a world class chef, but if you only have a little bit of egg you can't make that ham and cheese omelette.
Models may be wrong. If we get instability (someone shows up with a dozen eggs), storms could be strong and/or severe when they arrive late Saturday. About that, SPC wrote:
"Severe threat will migrate into the TN Valley [that's us] and central Gulf States during the latter half of the period [late Saturday]. In addition to the tornado threat, damaging winds are likely with the frontal convection."
Thus we will closely watch instability levels Saturday as a line of storms forms to our west and southwest, and moves toward Middle Tennessee.
More Saturday Rain
Models indicate a break in the rain mid/late morning Saturday, but rain will still be off and on through Saturday afternoon. A few cells scattered across Middle Tennessee should contain particularly heavy rainfall, and I hope they don't wander over us.
For example, the HRRR models drives these heavy rain cells overhead around/after lunch Saturday: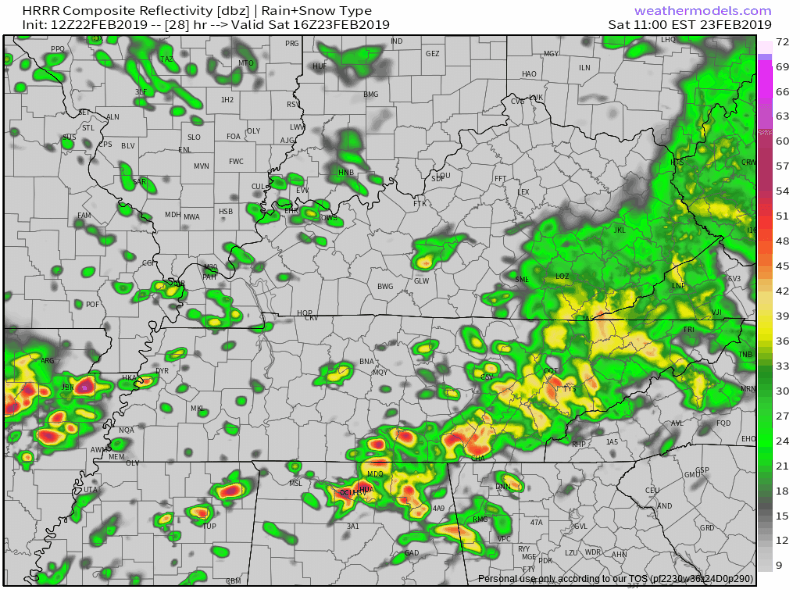 These may include thunderstorms, and will be watched closely for severe storm potential and a low-probability chance of a few spin-up tornadoes.
There is no for-sure "it won't rain" window open Saturday, but expect a decrease in rainfall Saturday afternoon — if the data is right.
Saturday night, a broken line of heavier rain will be the last wave.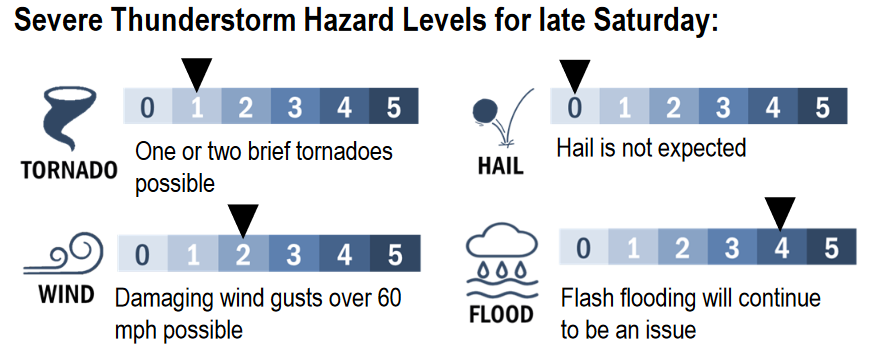 Watch Where You Park: High Winds
Saturday afternoon, winds will gust up to/over 30 MPH. Maybe even higher in a thunderstorm. Ground is super saturated. This weakens tree roots and increases risk large trees will fall. Consider whether the tree you're standing or parking under is at risk of falling over. Fallen trees cause serious injuries, even fatalities.
Total Rainfall
Total rainfall of 3″ to 4″ expected Friday through very late Saturday night: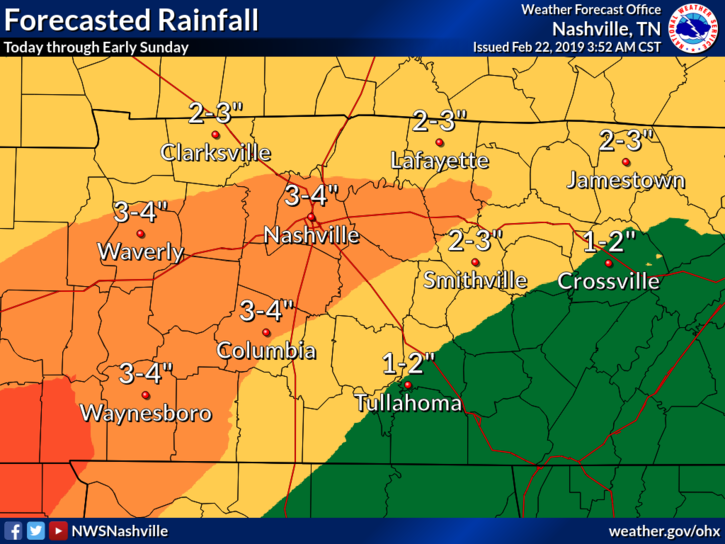 Nashville needs 1.72″ to beat the all-time rain record for the month of February. It's a good bet we'll break it tomorrow, on February 23.
We'll update everything today on Twitter @NashSevereWx, then do another blog tonight, Saturday morning, and Saturday night.
Rain ends early Sunday morning, when the Flash Flood Watch expires. We should be rainless Sunday, Monday, and Tuesday.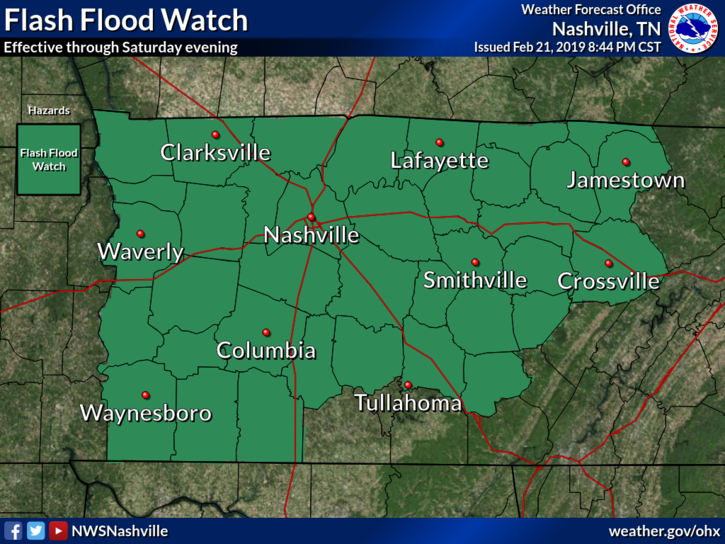 One last thing, as this seems to be a hot topic.
2010 brought more rain and the flooding was worse than what is being forecast today and Saturday. But all floods are different. Nashville and Will Co are very different compared to almost nine years ago. Water moves through here different and it won't behave the way it did in 2010. Those not impacted then may be impacted now, and vice versa. While we don't expect this to be the catastrophe that was 2010, it doesn't have to be to cause you impacts. All flooding is personal. Water over a road is the same in 2010 as it is today. Treat it with respect. No swift rescues today and tomorrow, please. Your response to this forecast should have nothing to do with how you compare it to 2010.
---